Funny Resign Letters
Life goes on - and even the most interesting jobs get mundane after a while. And unlike the generations before us, it is not uncommon for us to switch jobs once in a while. However, when it comes to resignation letters, some people are more creative than others, and some seem to be really unsatisfied with their job and took the letters to the next level. Here are some quirky resignation letters.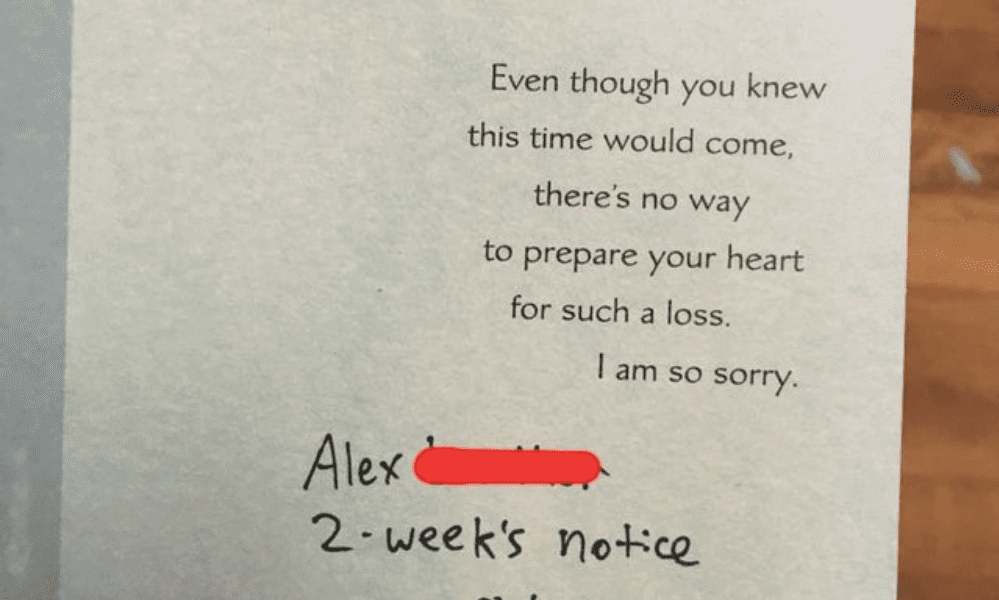 ---
Ahoy! 
Sailing on the open seas, traversing through the fathomless oceans... a life of sailing is something that's both scary and romantic at the same time. However, someone took it a bit too far when he claims that he is going to pursue a career being a pirate in his resignation letter.  But hey, like what they say, follow your dreams. Now we wouldn't like to know if he's looking for a First Officer still.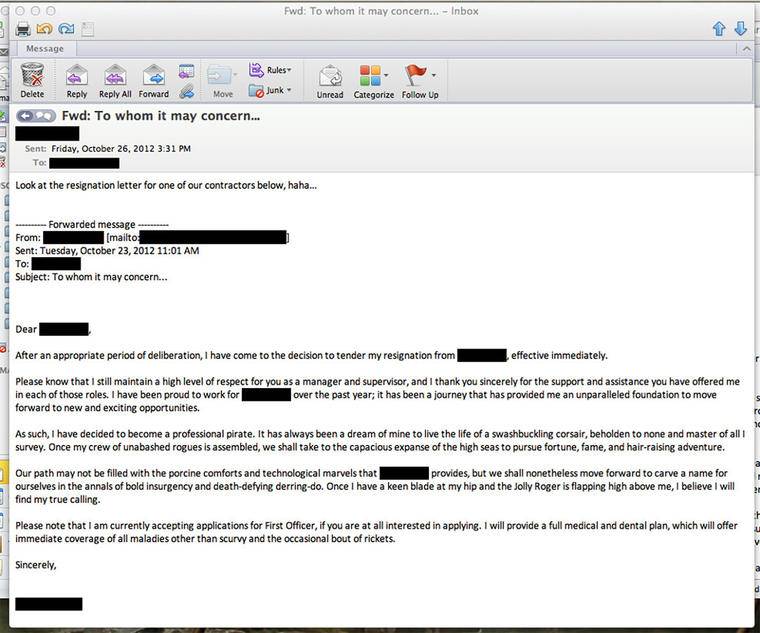 ---
All Redditors! Assembled! 
Reddit is great for a lot of things (such as the research needed for this article); however, giving Redditors the reign over your own resignation letter might not be the best idea out there...or is it? At first, it seems... normal. But then as you read on something's not quite right... We are not sure if Redditor kittylicker actually submitted this letter, but we would love to see the reaction from the corporate. And seriously, Redditor TacoTweets should consider a career in writing.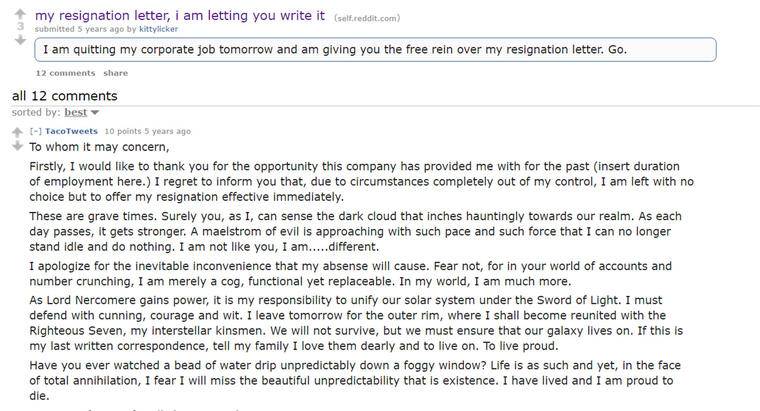 ---
Do What You Love
You know what they say, do what you love! YouTuber nalts seemed to have grasped the meaning of this, as he posted a video on YouTube declaring his resignation as a Product Director at a big company. We are not sure if this considered official, but hey, he got a fantastic voice!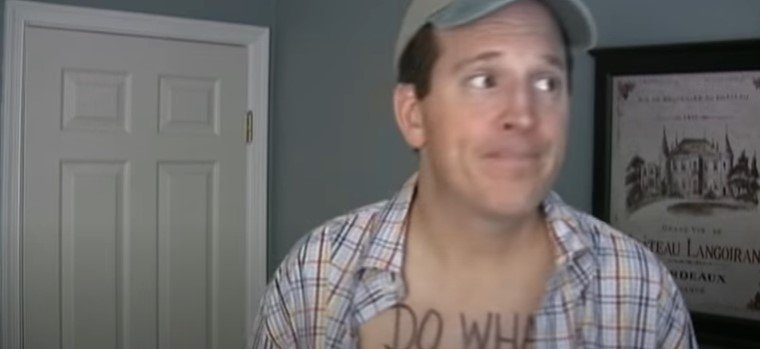 ---
Two Weeks Notice 
Art imitates life. And sometimes, life imitates movies. This is the resign letter from Twitter user Stephen Sparco, and we have to appreciate the creativeness behind the "letter." But we hope he's not working in the art department though, cause this is certainly not the best photoshop we've seen in our lives. 
---
An Unfortunate Chain of Events
Well, work can be hard sometimes, if you are working for a job you do not enjoy, it might end up affecting your health - and perhaps it's time to consider a change in career. However, this employee took it to the next level, by explaining every single chain of the events that led to his resignation...in a rather unique manner.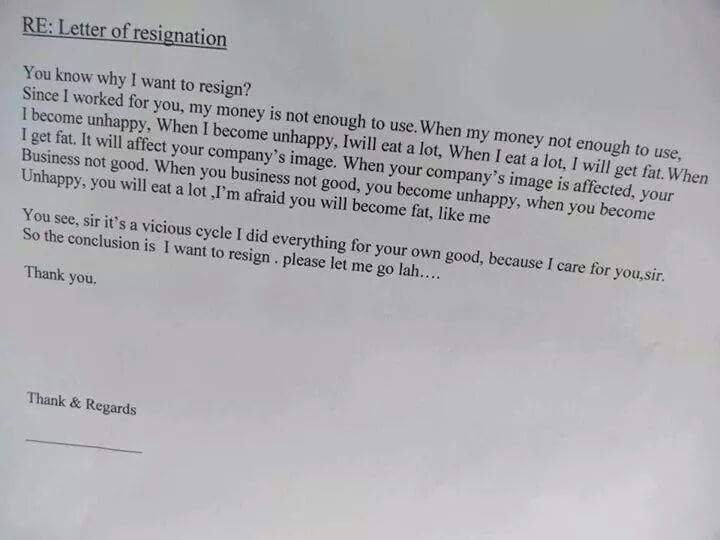 ---
Not a Care in the World
Well, well, well... if anyone is going to quit with style, this will be it. Although honestly, since it was claimed that he/she was fired, we are not entirely sure if this is considered a resignation still. But regardless, this person surely took it to the next level. Is it legal? We are not sure. Is it savage enough? Absolutely.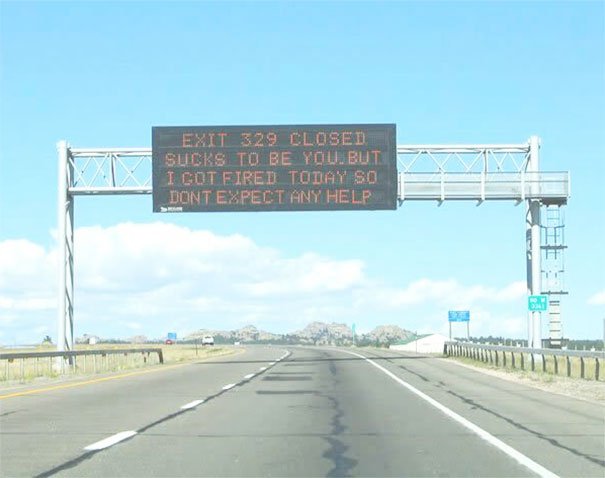 ---
Off We Go
Sometimes working in the office is like a cog in a machine - sometimes it might not function without you, but sometimes it doesn't matter that much. It seems that no one really notices that Brooks and Rich were gone, and the only trace of them leaving is a simple note on the screen.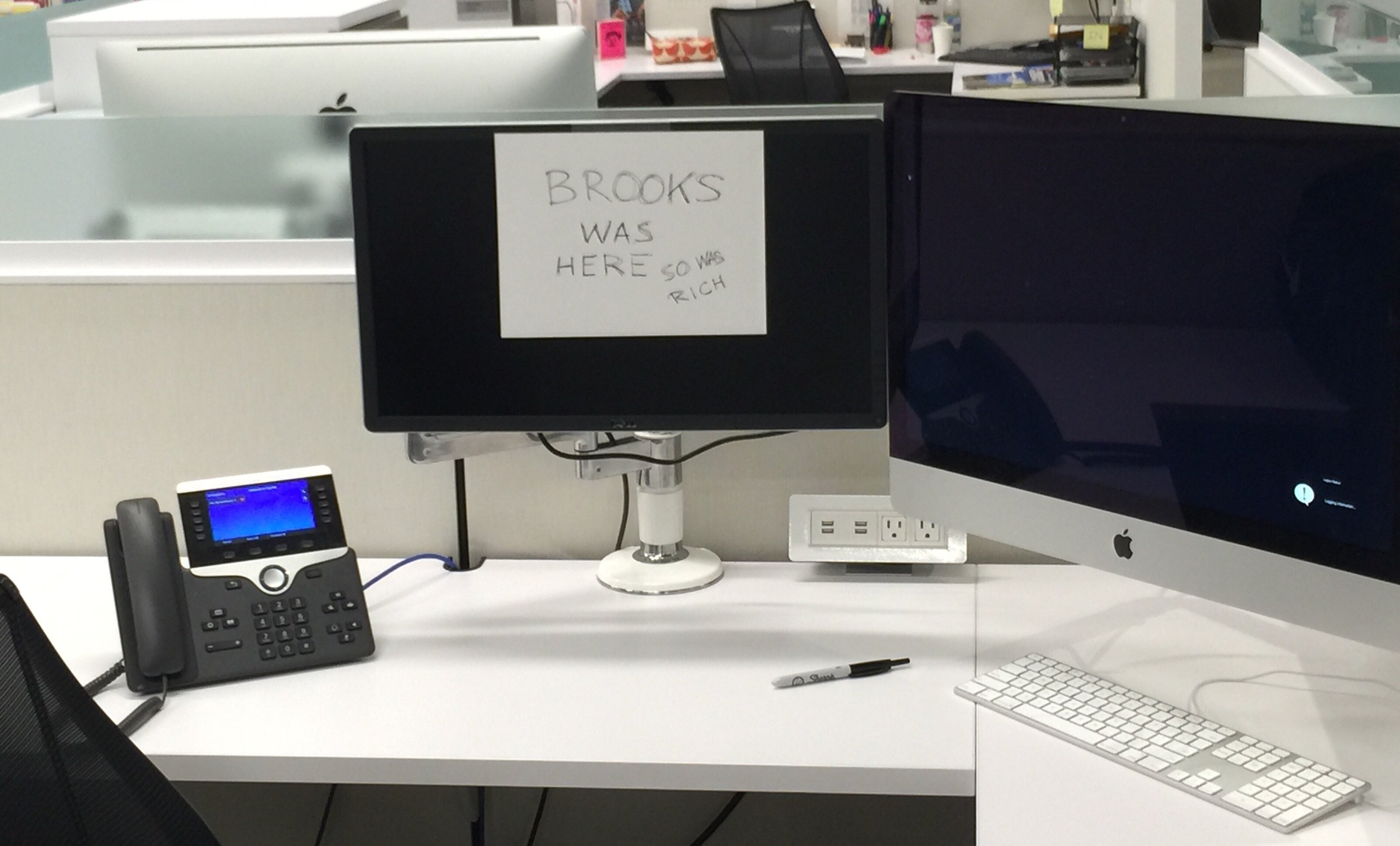 ---
Well Coordinated 
It's sort of an unspoken tradition that upon leaving the workplace, the person who's leaving will bring a cake or treats of some sort as a farewell token. But instead of a single cake, there's two - from two different employees, with well-coordinated messages. Well played, guys. Well played.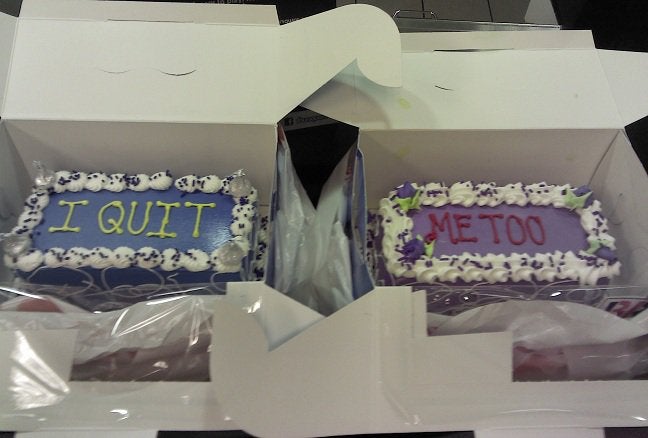 ---
We Out Fam
Simple. Straightforward. Straight to the point. Life would have been easier if a resignation letter can be that simple. There's a total of eleven alphabets on the resignation letter. Only eleven. The employee managed to get the point across in only eleven alphabets - if that's not a talent we don't know what is.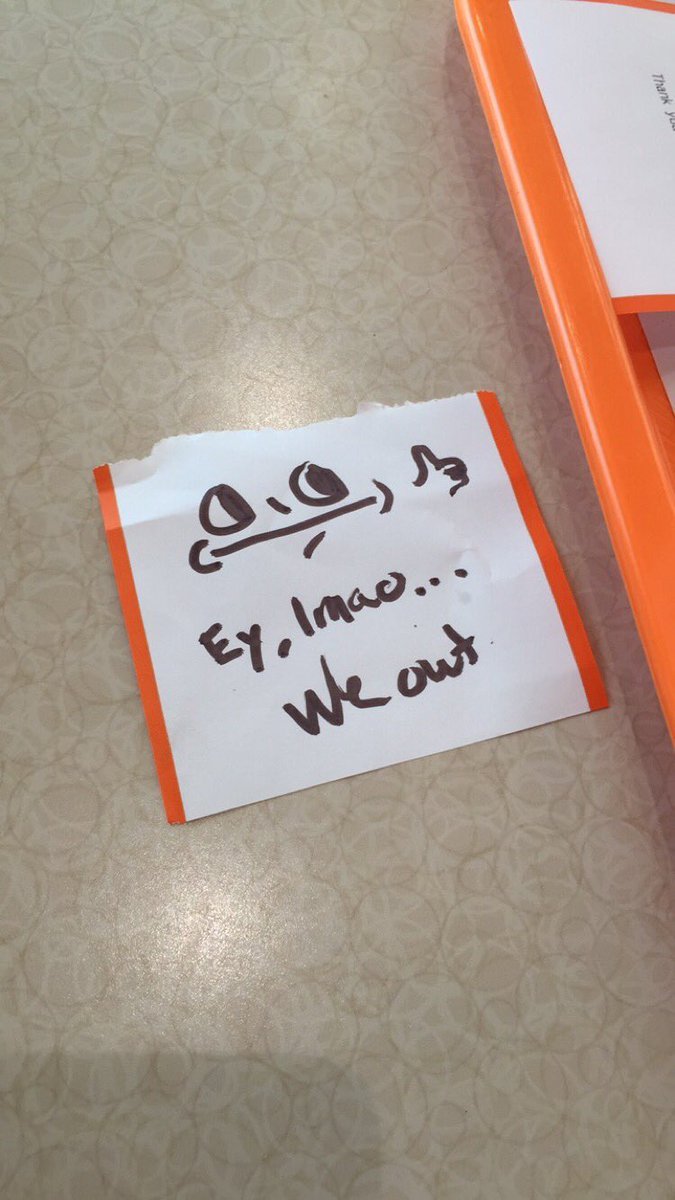 ---
Down the Drain
Passive-aggressive resignation letters is a thing apparently. Hey, it happens. You know, the job didn't go so well, your boss and colleagues are a pain to work with, and the company is simply being bad. But then again, this person took the extra step by writing his resignation letter on a piece of toilet paper to voice out his dissent. A direct message indeed.
---
Fare-thee-well
Writing a resignation letter can be difficult - been there done that. But Redditor springmint5 seemed to have found the easy way out (no puns intended.) Instead of drafting a resignation letter, he simply got a card of condolences somewhere and put an extra line to it—effort 4/10; creativity 10/10.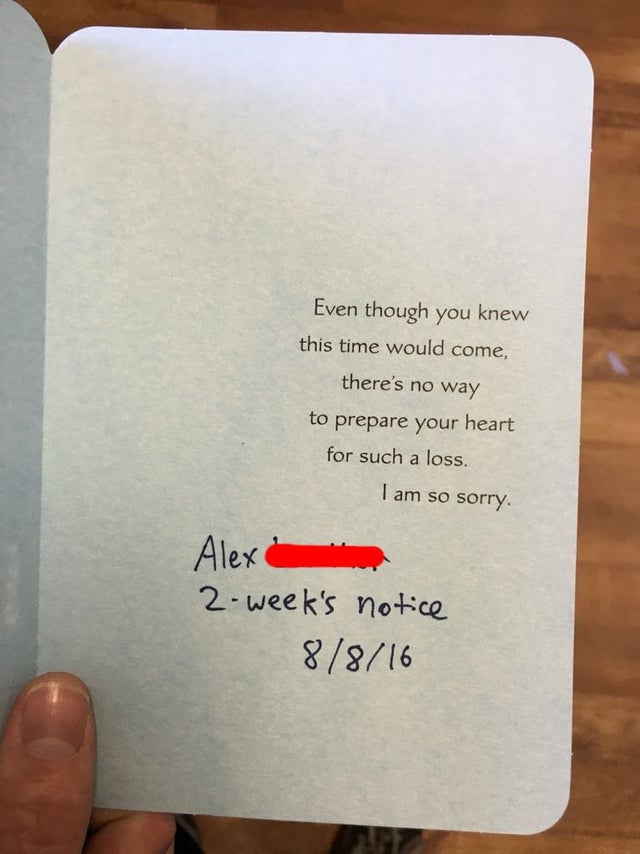 ---
Here's a Chicken Eating a Taco for You
If drawing on a resignation letter is not a thing already; it definitely should be. But yea...we gotta say that the writing is not the best, as it does look like a letter that's handwritten by a 12-year-old, but that drawing... a chicken eating a taco? Is there some sort of hidden message we are unaware of?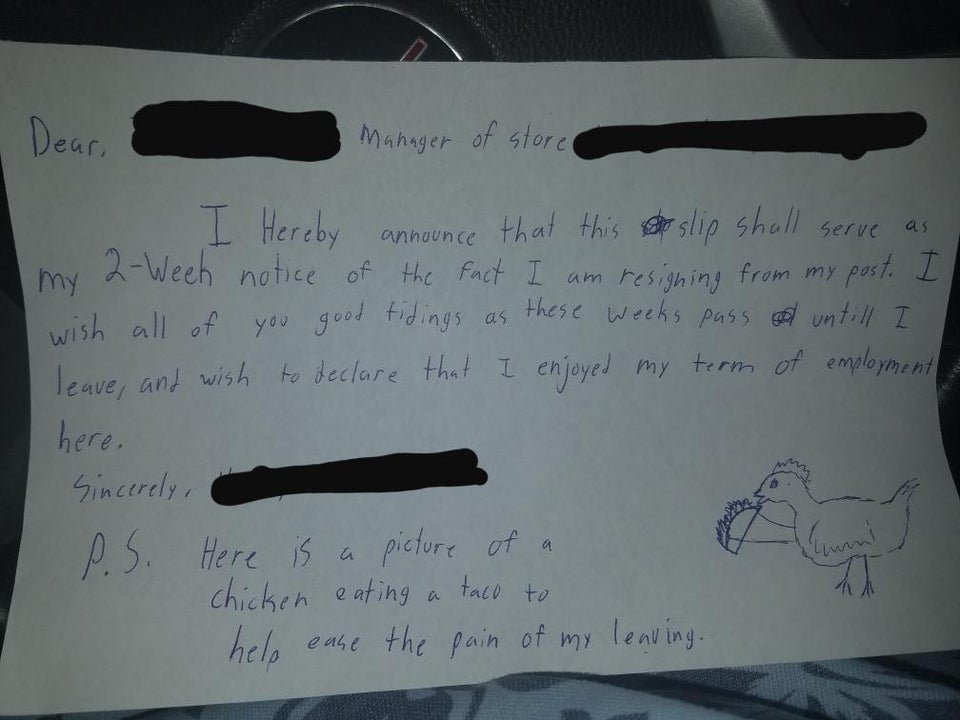 ---
It's me, Cat. 
Another low effort resignation letter - if it works, it works, right? Well, we certainly hope this actually worked. This is the resignation letter Redditor notyouraveragestupid submitted to his/her work. But well, there's still some truth to it - his/her team lost a very special friend for sure. 
---
The Attention to Details
Well, honestly we are not sure how's the relationship between this employee and his employer, but commenting on the unzipped fly on your resignation letter is next level passive-aggressive. But seriously, now we're wondering why Mitch is quitting his job...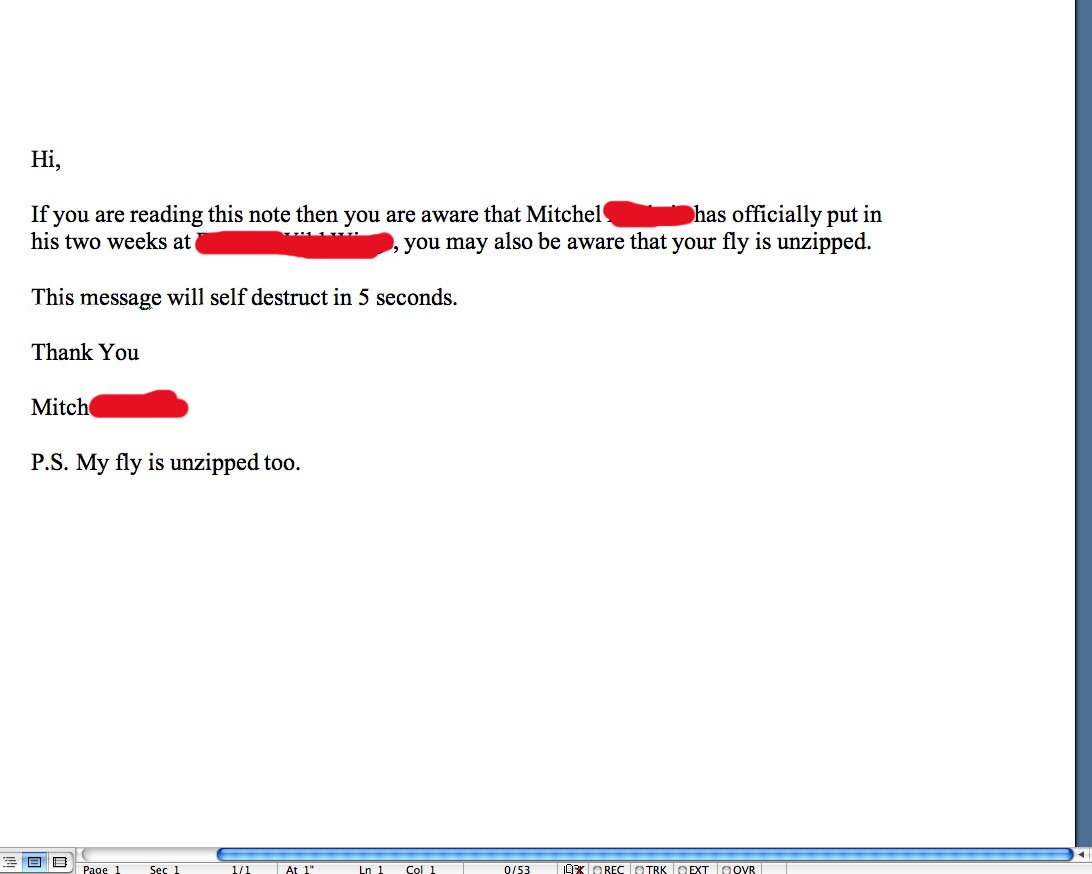 ---
A Poetic Farewell 
Redditor JGoins61 submitted this letter of resignation to his/her boss upon his/her boss's request. We gotta say, this is extremely well written in an unconventional sense. Yes, the same old trick by using a card instead - but the poem! Life is short, and debt is high indeed... talking about that, if you're reading this in the bathroom on your smartphone, you better go back to work.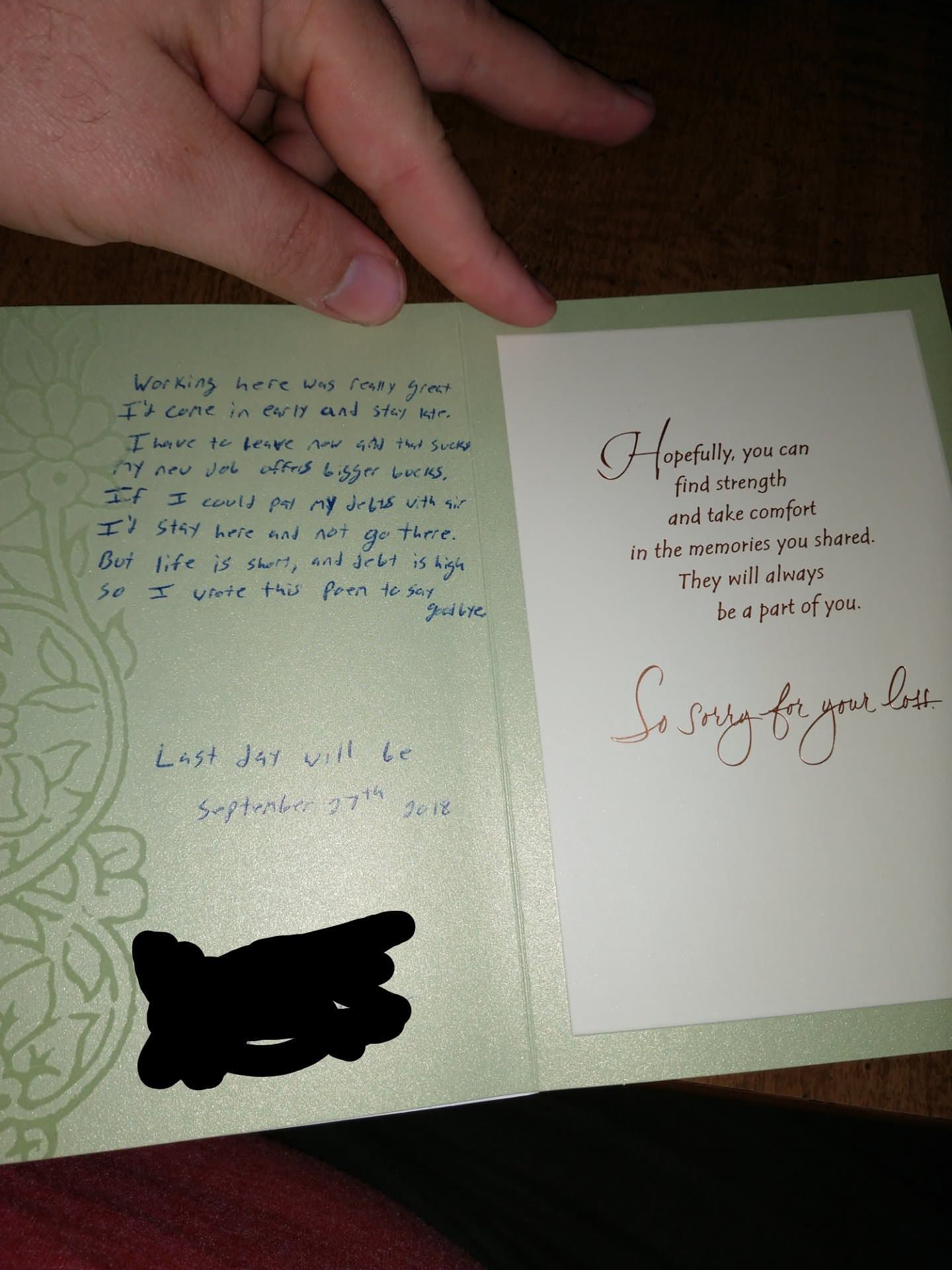 ---
Nyan Cat
We gotta admit that's quite an interesting resignation letter - there's absolutely nothing wrong with the text, but the design itself is hilarious. Honestly, never have we imagined a resignation letter with a Nyan cat on it. Though it might have been even better if the song is playing in the background as he submitted that letter.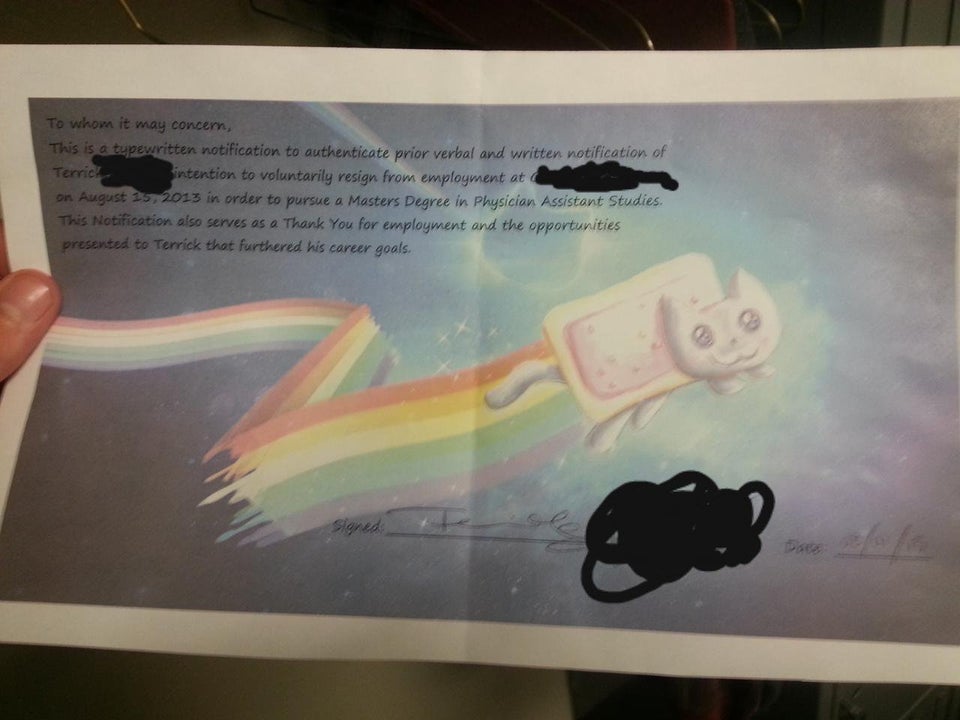 ---
Coded Message 
We have all been there - horrible working environments, but due to various constraints, it is just impossible to voice out the frustration openly. Well, this person certainly found a way to voice out her concern and frustrations. Working under a horrible boss can be extremely disturbing, and we wish the staff all the best for her future.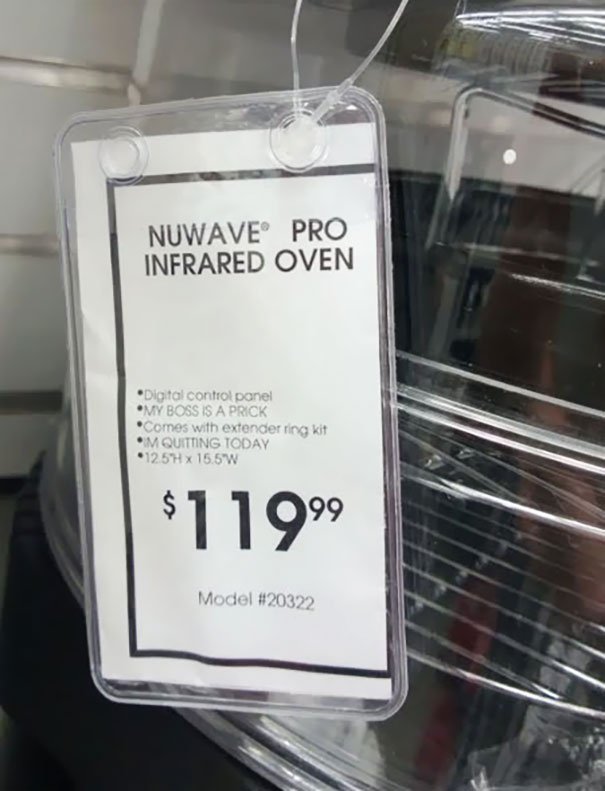 ---
R.I.P., Mr. Printer
This one is a little bit different - this is a resignation letter from a trusty companion, LaserJet 4050. He served the company well for 14 years, presumably a lot longer than the ones who worked there, but there's a time for everything, and this time it's time to bid farewell to an old friend. Whoever wrote the letter - this is wholesome.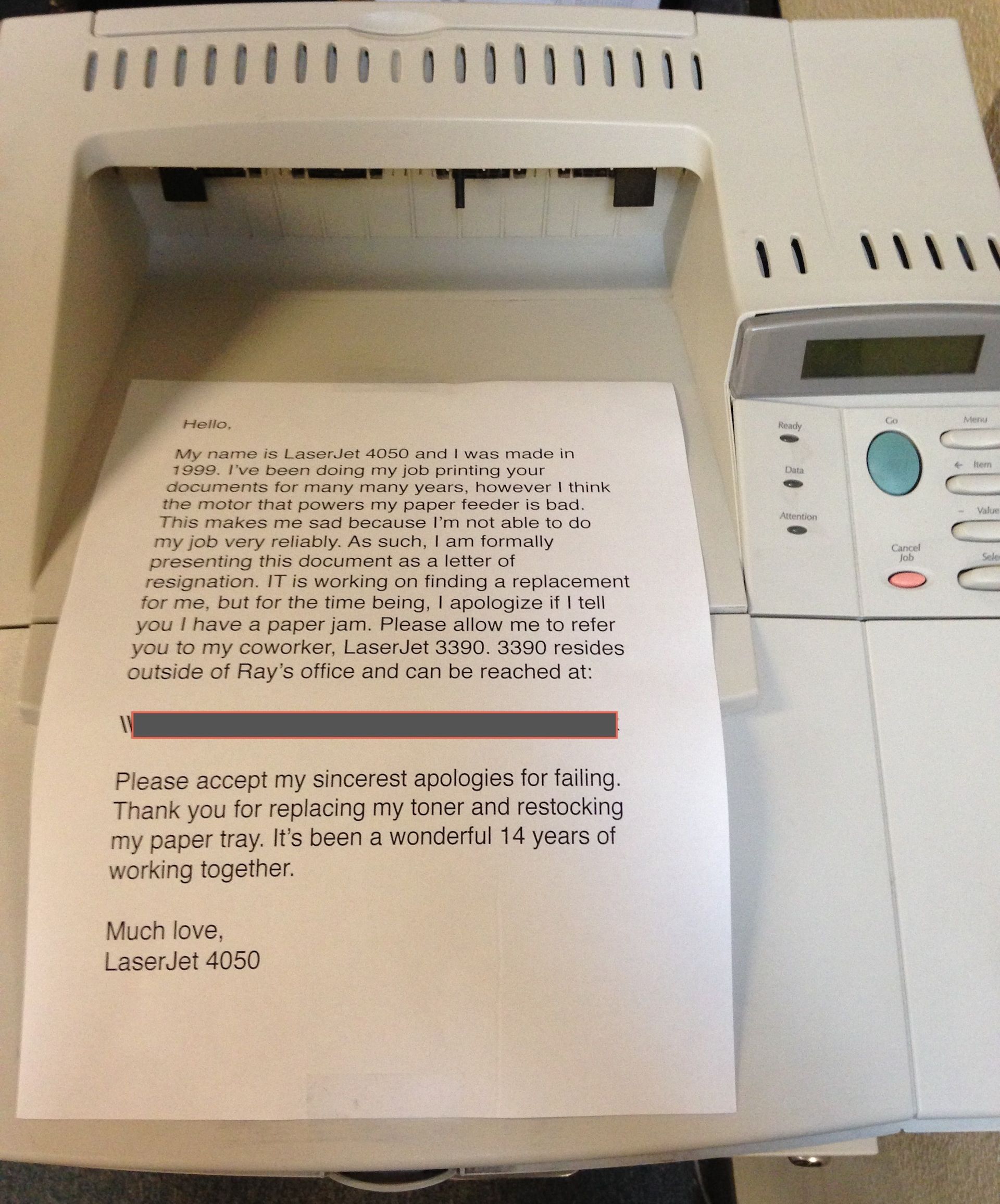 ---
Upon a New Horizon 
If a traditional resignation letter is too conservative for you, this letter from Pat might give you some inspiration. Instead of banal, mundane talks about how much you learned from the company and working there, why not bring a more human touch to it, and address the letter to the ones you care about? This might not be a great resignation letter, but this is certainly a great farewell letter.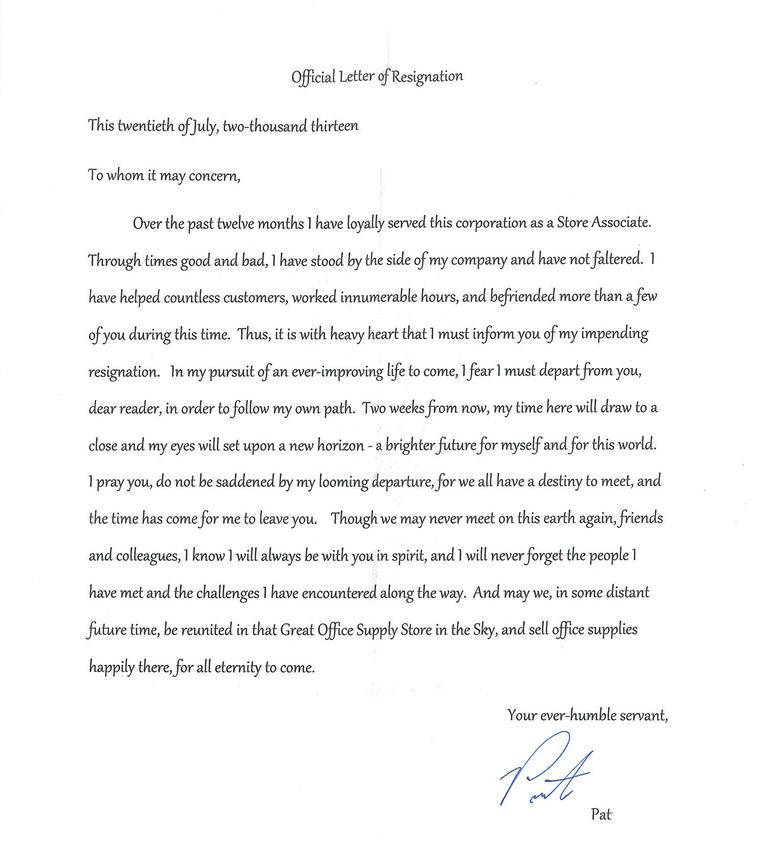 ---
T-Rexignation 
We are not sure if this has happened to you before when you have to write a resignation letter, but you're not sure what you should write. Well, it definitely happened to us before, but we resorted to templates found online. However, this person took it to a whole new direction by simply drawing a dinosaur on it. Nothing more. But then at the same time, the face of the dinosaur seems like a clear "Nope."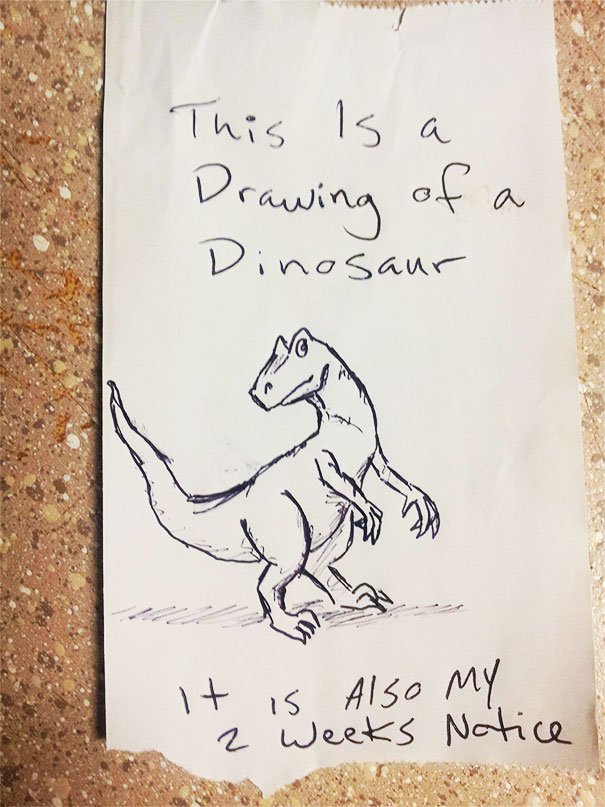 ---
Straight to the Point
This Redditor posted this picture, saying that "My ex-manager wouldn't give me my last paycheck without a resignation letter..." and this is presumably his/her response. Gotta admire the straightforwardness and courage for pulling off something like that. Well, it is a resign letter, albeit not a very good one. We hope he/she got her last paycheck in the end.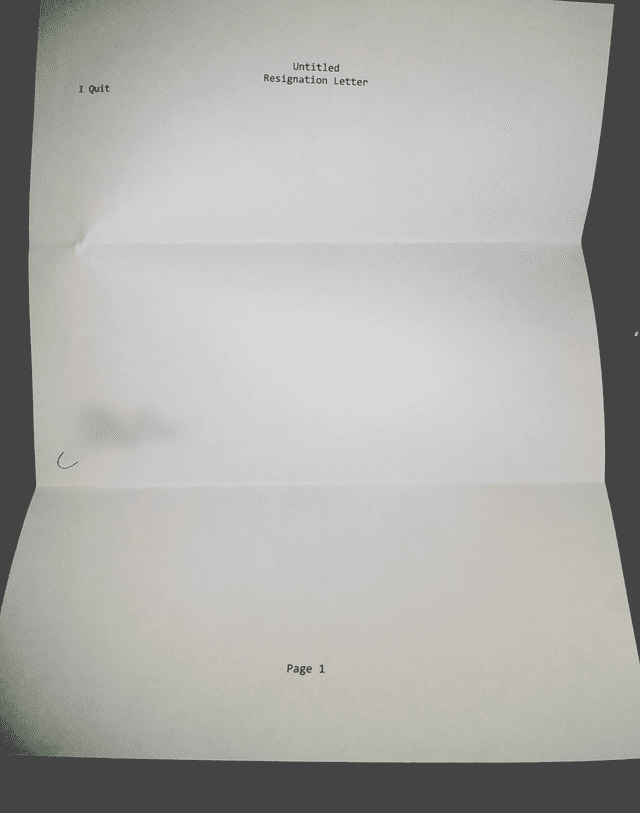 ---
Office Space 
A list of resignation letters won't be perfect without some Office Space reference. If you have ever worked in an office before, you would probably understand the humor there. Cynically funny, the cult classic really captured the ridiculousness of corporate culture If you don't get the reference in this letter, seriously, check out the movie. You won't regret it.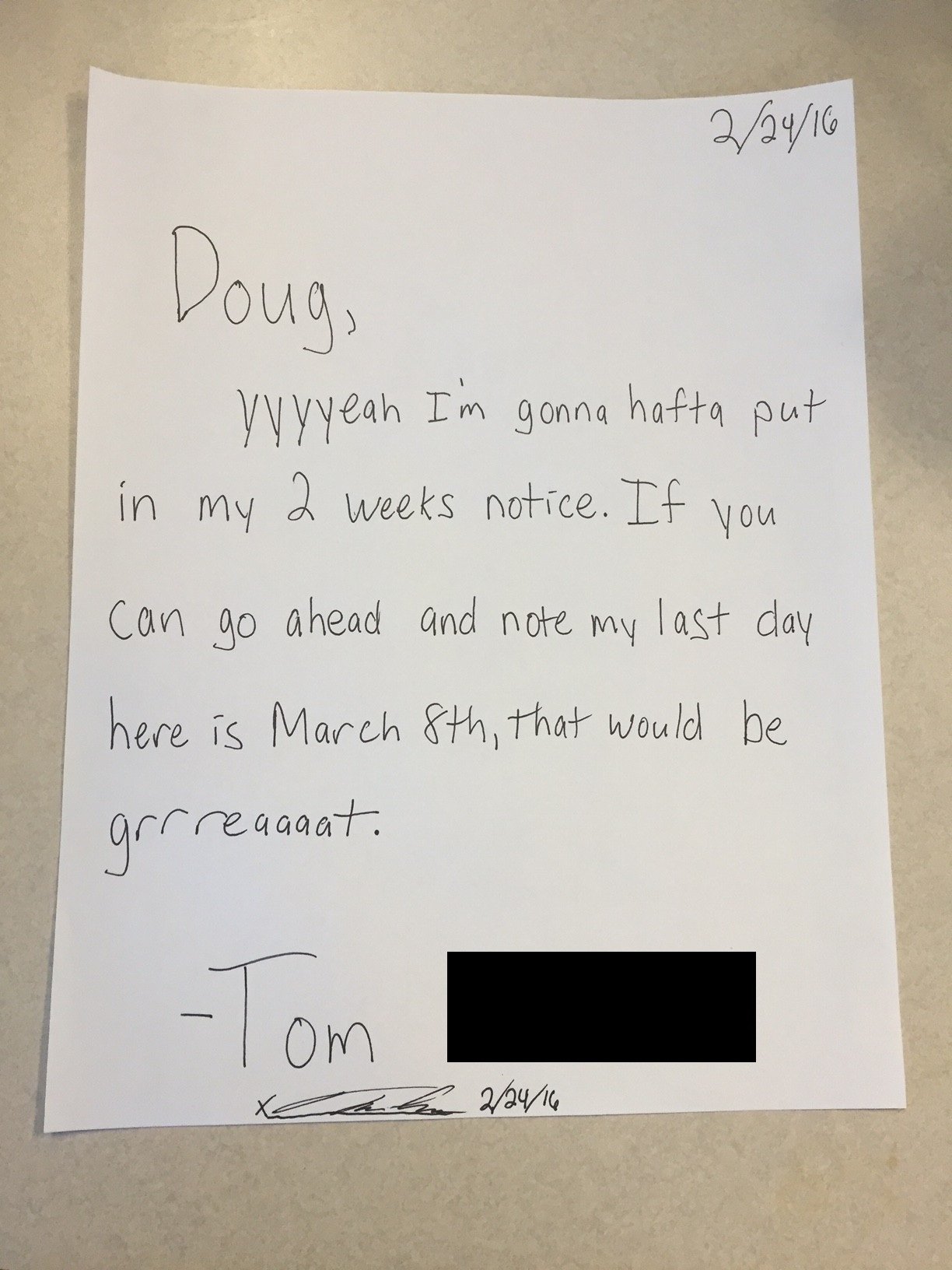 ---
Flushing You Out 
Well, you know what they say, gotta get rid of all the toxic things in your life, just like what your body does. Luke clearly knew this... therefore we have this letter here. However, writing this on a piece of paper as a resignation letter is a next-level genius - he must have hated his job we bet.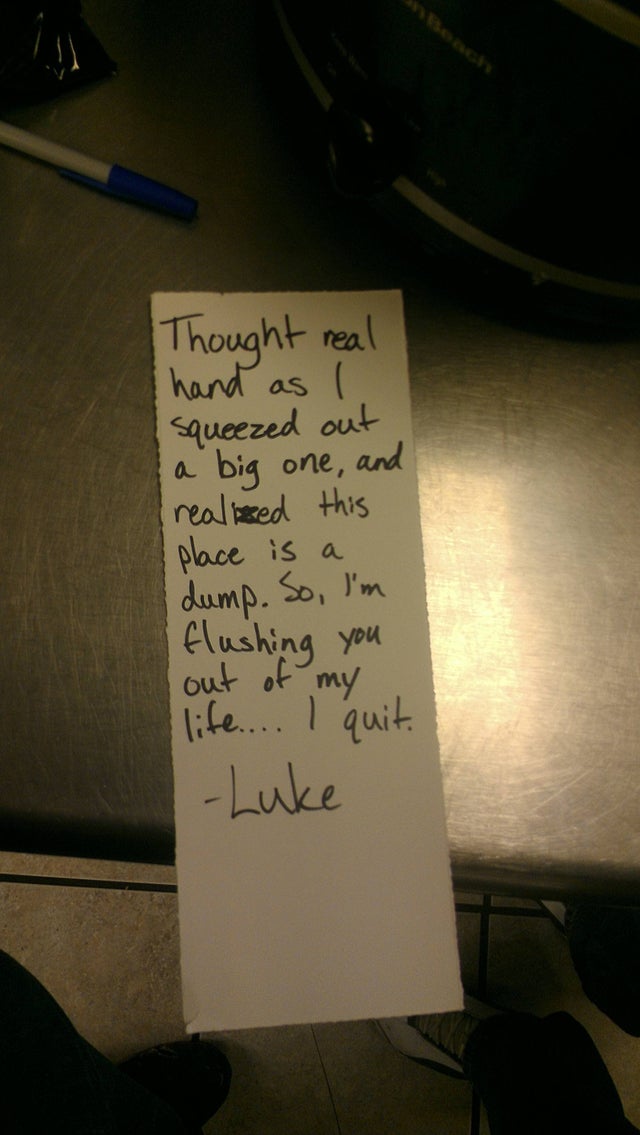 ---
Rage Comics 
Ah...rage comics. One of the best things that happened to the internet during the 2000s, all the nostalgia is coming back now. As if a drawing on a resignation letter is not enough, this was printed on a cake. Dude, we are impressed. Seriously though, what happened to rage comics?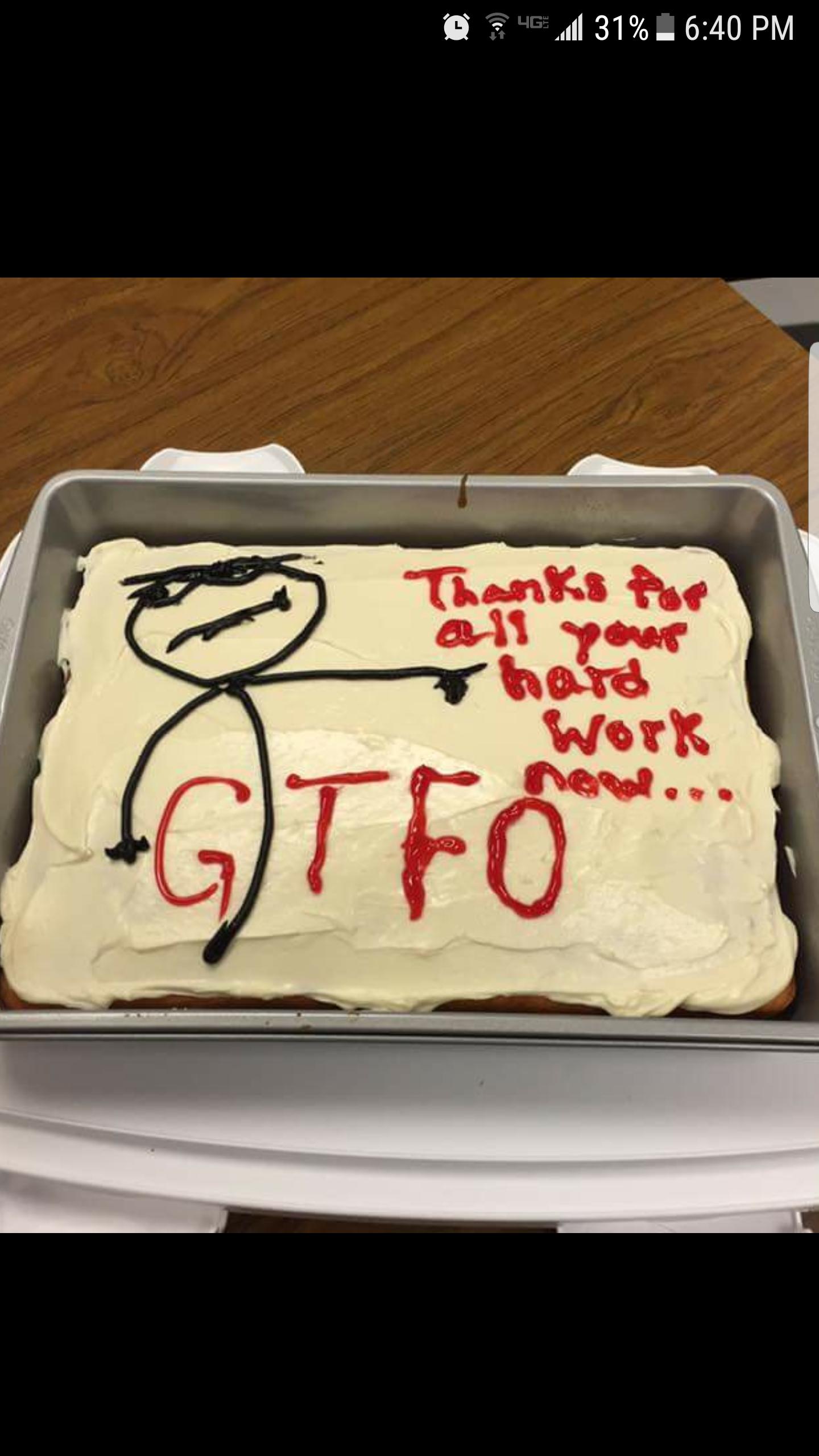 ---
Peace Out
Though there's no mic-drop involved in this resignation, it looks as if we can hear that out of thin air. Instagram user mattjsosa decided to quit his job, and he did so with style. He wrote "Seeing as I no longer work at Pavillions in 1 hour and 20 min. I think it's time to write up my official #resignationletter and post it! Totally left on boss-man's desk."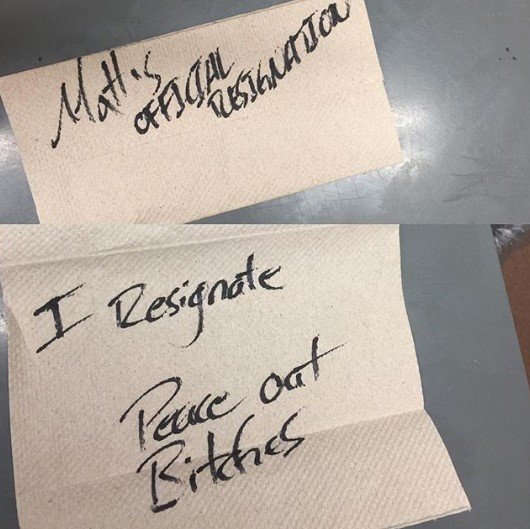 ---
Up Yours
Sometimes, a picture speaks a thousand words... or this time, a gesture speaks a thousand words. We don't even have to read anything here, the glove and the shape say it all. And honestly, the "I love U.S.A." sticker sort of added an extra layer of hilariousness to it.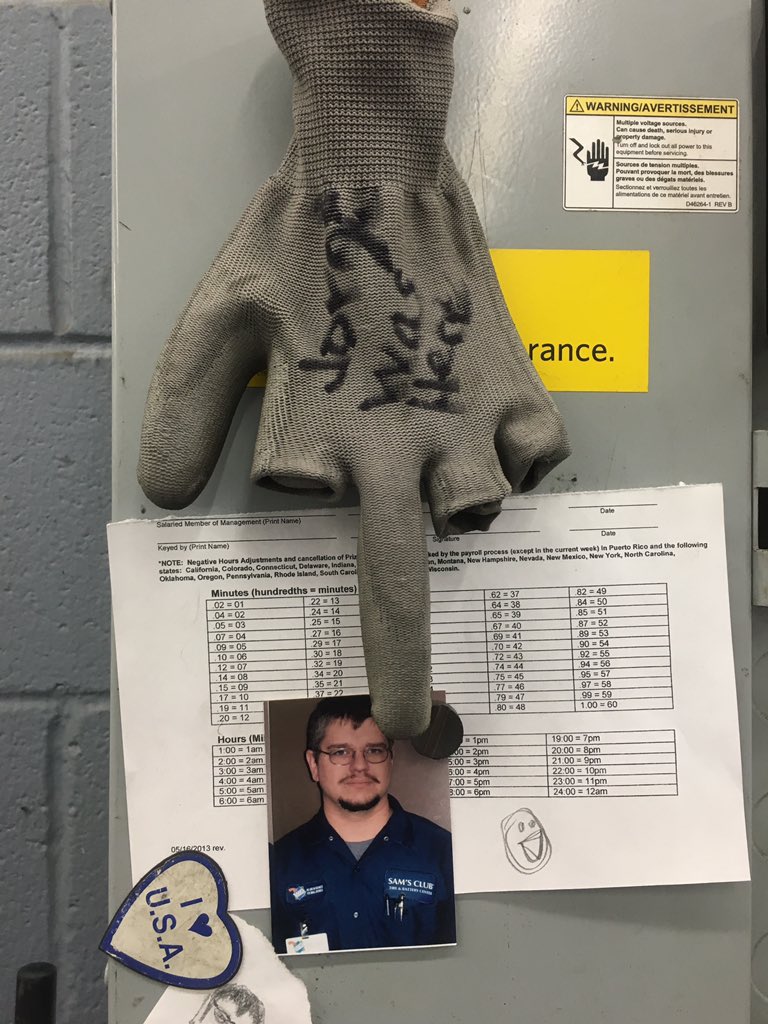 ---
Don't Judge a Book by Its Cover
Don't judge a book by its cover, and don't judge a man by his uniform. Who would have expected that this resignation letter was penned by an employee at Home Depot? Seriously, look at his writing, it was seriously a waste of talent for someone like this to work at Home Depot. We hope he pursued a career in writing instead.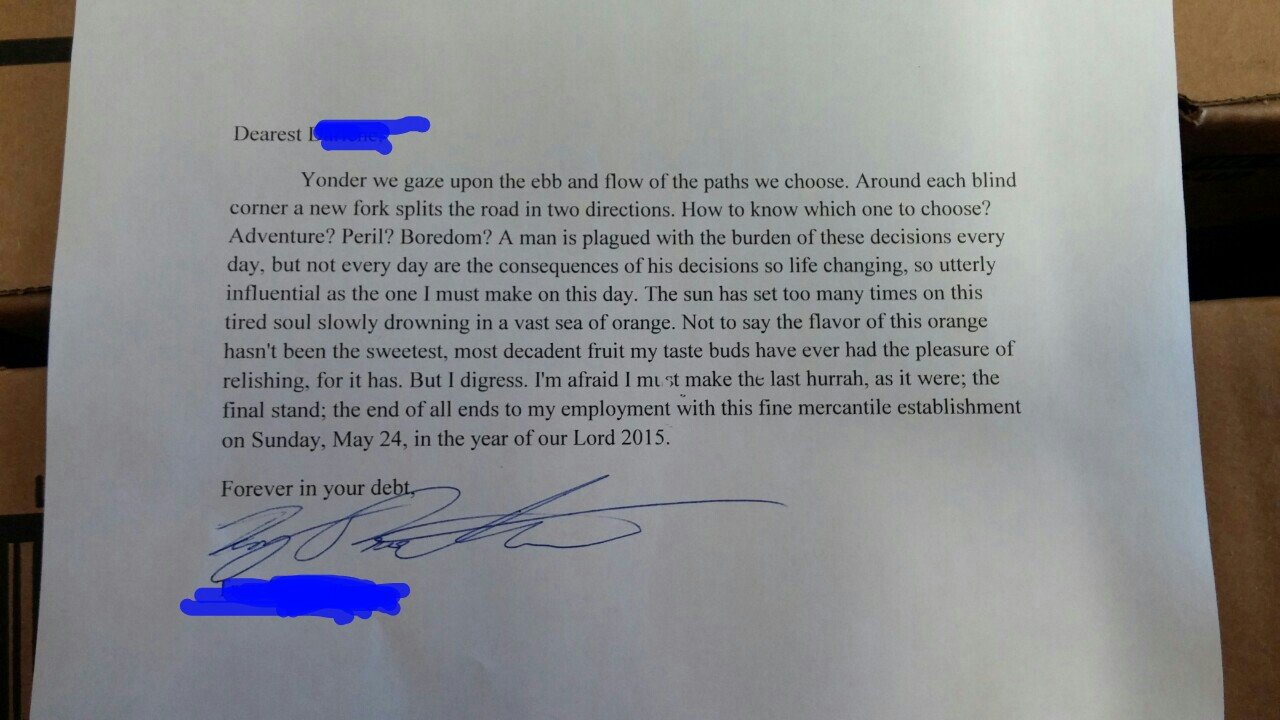 ---
Autoresponse
According to Redditor keon, instead of penning a resignation letter, this legend of a man called his boss, quit his job, set this autoresponse, and then left the building. For those who never worked in an office before, normally when you're out of the office for an extended period of time an auto-response is sent to people, telling them when you'd be back.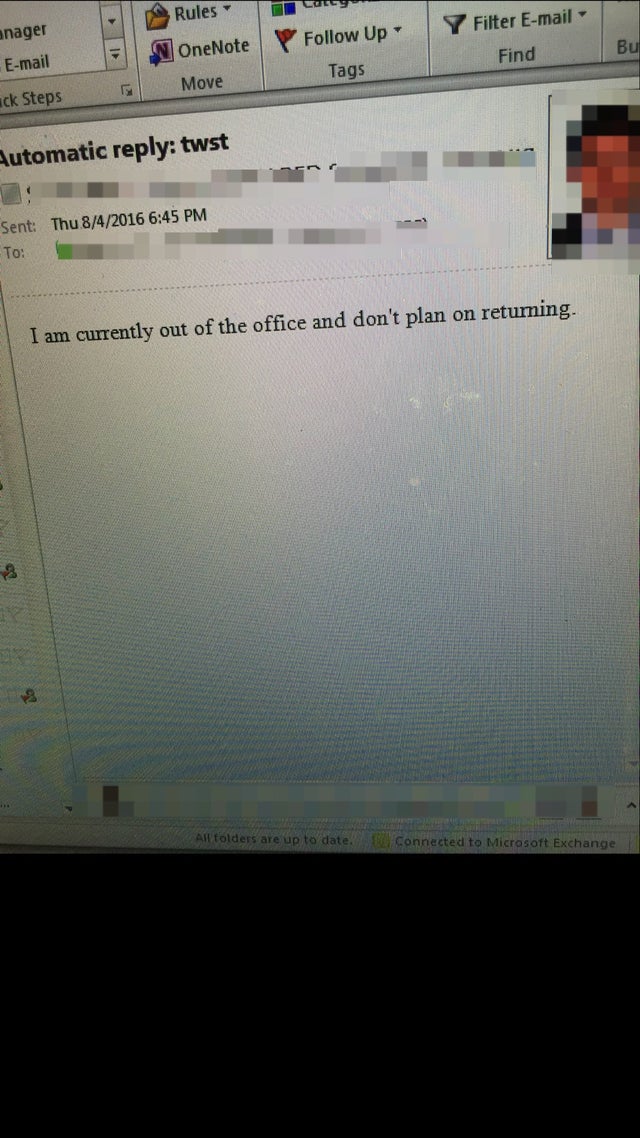 ---
I QUIT!
This resignation letter is special in different ways - apart from the obvious, bold, and straightforward I QUIT! message, the other reason why this resignation letter is a masterpiece is written at the bottom... P.S. I'm still coming to the Christmas party. We admire the audacity to submit a letter like that and still come to the Christmas party. Seriously, this guy got balls of steel to pull this off.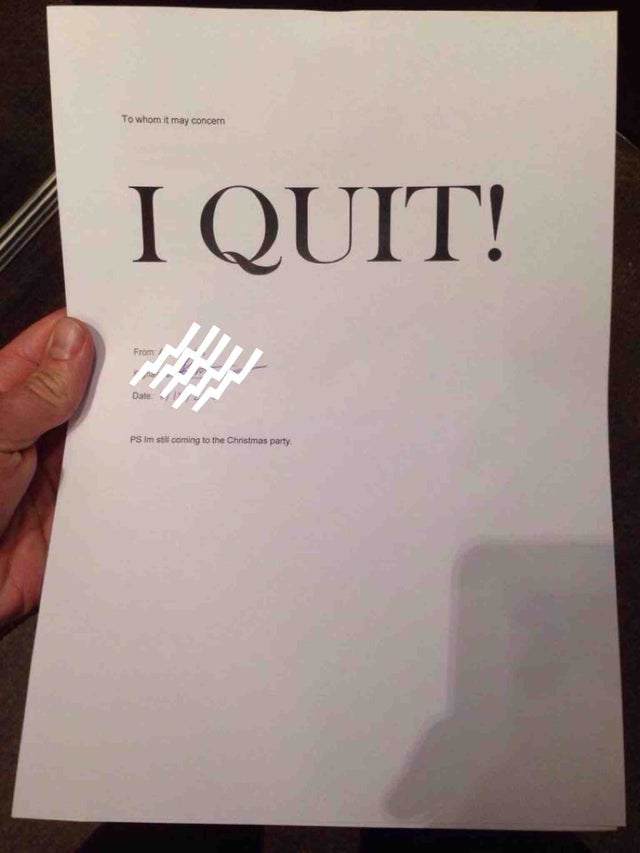 ---
Moving On
Let's be honest, getting a job at McDonald's is probably not the best thing you can do with your life (unless you work for corporate, which might be even worse.) So when Imgur user rubmyphil's sister left this "I quit" message at the McDonald's she worked at for 7+ years, she did not hold back at it. We hope she didn't look back on it either.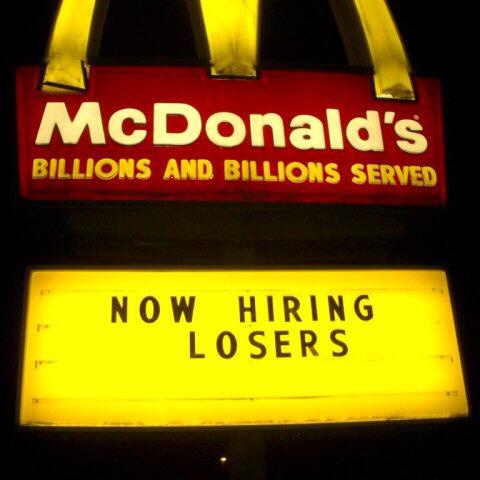 ---
I'm Leaving 
We already covered quite a lot of resignation cakes on this list, but this one tops it all. Instead of the regular "I quit" or "Peace out" messages written on the cake, this guy decided to use a simple exit sign and put his face on it. Now the question arises - who took that part with his face on it?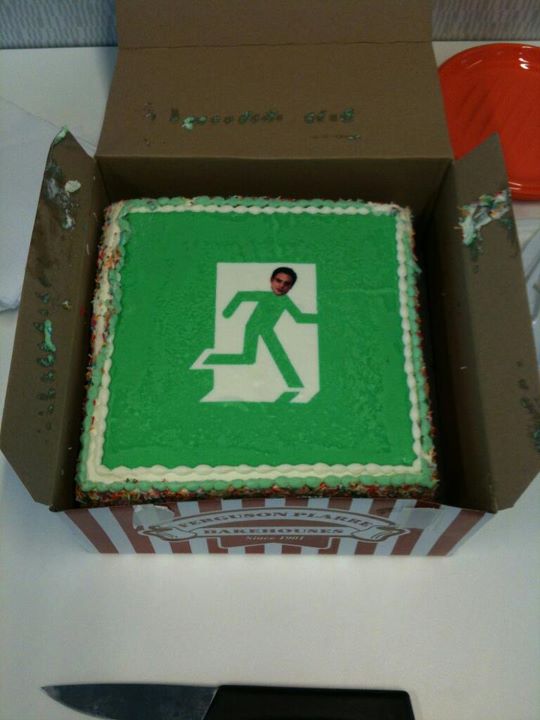 ---
A HOSTILE ENVIRONMENT 
While it might sound a bit passive-aggressive, this employee definitely got the point across in an efficient manner. Not directed at anyone, simply stating the fact that the working environment can be better. Whoever wrote this message, we wish they found a better job elsewhere.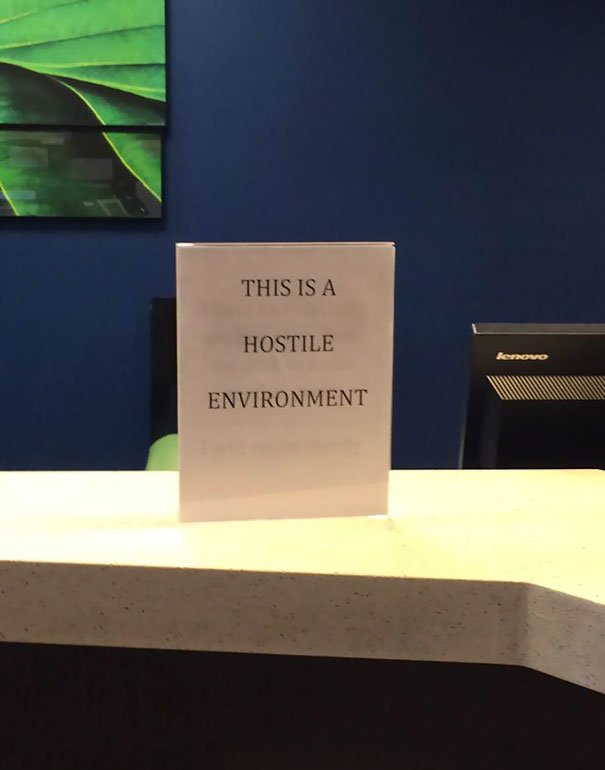 Here are some of the interesting resignation letters we found? What about you? Have you written a letter of resignation before? Or have you seen your colleague's resignation letter before? If you know someone who's leaving their job soon to pursue a new career, why not share this with them?
Source: Reddit, Career Addict, Comedy Central