10+ People Who Made Live TV Unforgettable
Live videos will always show us a side of the situations that we did not expect to observe, in addition to showing us the true nature of the people. It can also be very educational to see the reactions of other people to uncomfortable situations to get some advice. In the following list, you can see some tricks and tips that will allow you to escape from embarrassing situations quickly and with some grace.
40. Not green!
One of the biggest mistakes that can be made on television is to wear green when you want to use a green screen to show some graphics, or you risk becoming something totally unexpected. One person took the opportunity to turn this representative of the White House into an improvised "screen" and play with some images, showing her the mistake she had made in using that color on television.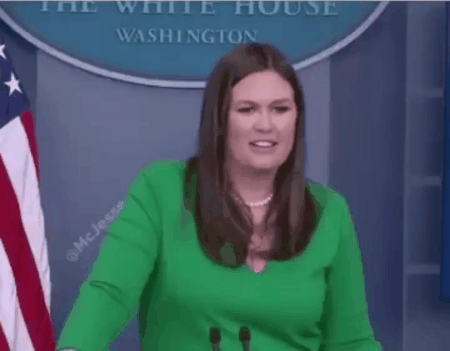 Chroma Key is an audiovisual technique that is widely used in film, television, and photography, and basically consists of replacing a color of the image (usually a specific shade of green or blue) with another image or content with the help of specialized equipment or a computer that does the work. This is a technique that is often used when it is too expensive or unfeasible to record scenes in a particular setting or location.
39. Don't try this at home
There are many ways to open a bottle, and opening it with a knife is something that can be done but not everyone knows how to do it. Therefore, a live broadcast is not the place to learn how to do it because you can cause a serious accident. This person tried to make it look simple, but there's a problem with this trick. If you don't do it correctly, the whole bottle can explode and bathe you in champagne.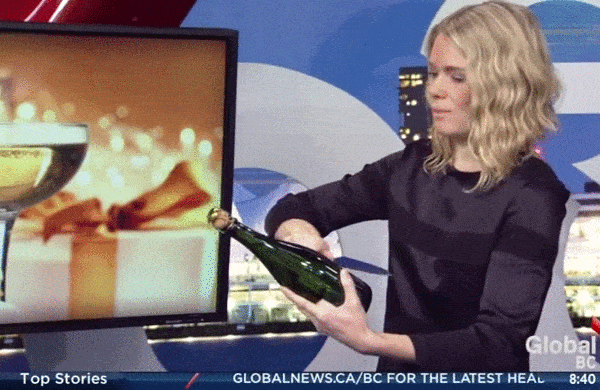 There are specific instructions on how to do this. You need to understand that, because of the carbonation of the liquid, there's always an amount of pressure from inside the bottle. You should hold it on a 30 degrees angle, the champagne should be very cold, the knife should start its movement on the neck of the bottle and you should aim to the annulus of it, which is the ring around the top.
38. Do you want to be famous?
Live television is one of those very few opportunities that some people will have to be famous. They can not stand the desire to say to themselves, why are they? The problem of trying to get your minutes of fame during a live broadcast is that the people in front of the camera will concentrate on doing their job at all times, and may end up doing something wrong without realizing it.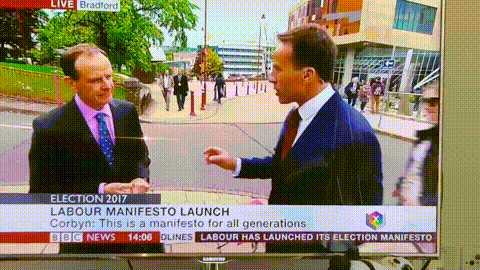 In the interview they were doing to this person about the Labor Manifesto Launch, the lady who appears in the background wanted to appear on camera to give her opinion about the subject, but the journalist was so focused on keeping up with the interview that he pulls her away by placing his hand in the wrong place. For that, he won a blow from her before retiring from the scene without accomplishing her goal.
37. Watch your steps!
This reporter decided that his report would be much more interesting if he looked at the camera while reporting on the situation. The problem was that he was not careful where he stepped and, while looking at the lens, forgot to see in front of him ... until something went totally wrong and he smashed his face against a signal that was placed on the place. Be careful where you are going!
You can be very distracted by what you are saying, or try to look more professional in front of the cameras by looking certain of yourself while doing your job, but you should always be careful where you are going to avoid accidents. This journalist was unharmed, but his fate could have been worse if he had hit himself harder or had fallen into a sewer and had broken his foot for trying to exaggerate the news.
36. Sports can be gorgeous
We often forget what we are saying when someone interrupts us, but doing it live as Vanessa Huppenkothen, reporter of the Mexican World Cup, did it is something that left her mark in the history of the World Cups because of the way she confused all the fans with her looks. She made her appearance in front of the camera totally unforgettable for all sports viewers that would love to see her again on any sports event.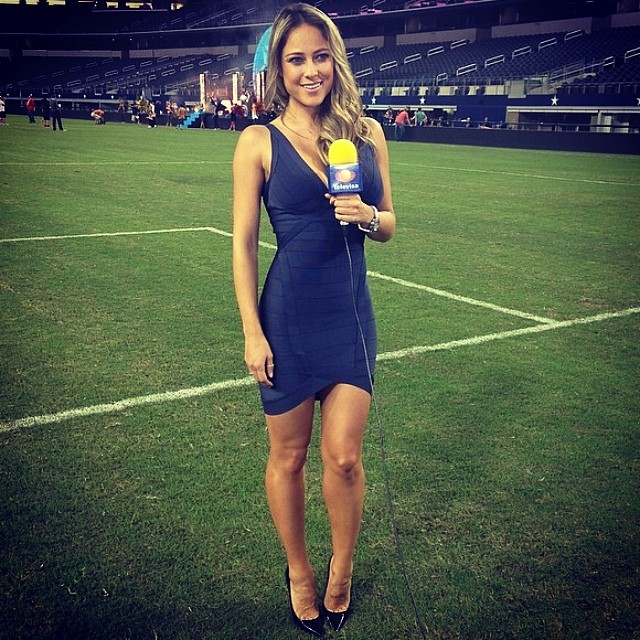 Huppenkothen reported on the 2014 FIFA World Cup in Brazil for Televisa's coverage of the Mexico national team. On that occasion, she generated considerable attention for all the fans because of her gorgeous look and the way she talked about the matches. After that, she was featured as the cover feature model for GQ in June 2014, and her fame rose pretty quickly as she traded her work in Televisa for a spot on ESPN Mexico.
35. The perfect smile
Errol Barnett was the person who knew how to win people's hearts, but he began to earn much more than that because women wanted something more than a smile from him, and that made his work a bit difficult because women start chasing him every time he was on the street covering a story or for some other event. The perfect news anchor: Once he starts talking, it's hard to get distracted.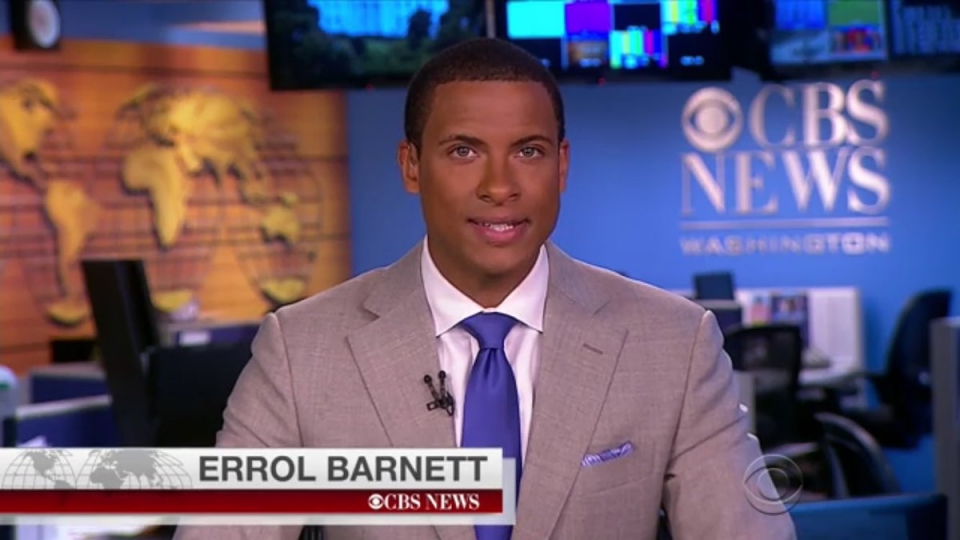 He is a British-born American anchor and correspondent for CBS News based in Washington, D.C. He worked previously on CNN Newsroom during overnight hours in the U.S. after hosting CNN International's cultural affairs program Inside Africa. He also became an internet sensation during CNN's coverage of Missouri protests because of his response to his co-anchor's suggestion about the use of water cannons. His face was so funny that he became a meme for internet users.
34. He was in a hurry
In some occasions, an unfortunate animal becomes the protagonist of the news without realizing it. This incident occurred during a French pastry program and attracted the attention of many people. As you can see during this segment, the cameraman was making a general shot of the bakery when a small cat ran out and did not notice the presence of the glass door, crashing into it, and recording this painful but funny moment.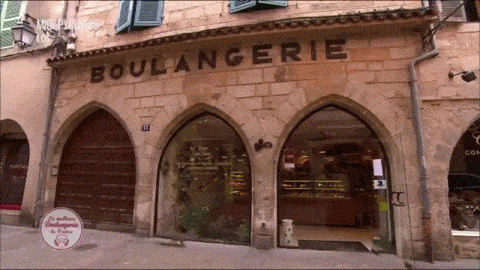 'La Meilleure Boulangerie de France' is a French television show broadcast on M6 and produced by EndemolShine France. This program is an adaptation of a British contest program called 'Britain's Best Bakery.' Although the fragment where this small accident occurred did not formally belong to the program, it was not removed from the final recording, so the entire public had the opportunity to see and share it through networks.
33. If you fall to the ground …
When you are on live television, the most important thing is to not give up and move on no matter how many times you fall to the ground, as in the case of these basketball players and their consecutive falls. This is a clear example that you cannot give up at any moment, not even after falling for the fourth time while trying to get up and continue the game.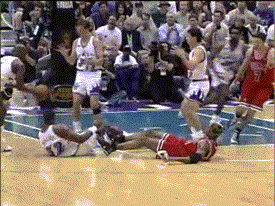 This particular clip belongs to the 1998 finals and shows Karl Malone and Dennis Rodman tripping repeatedly as they tried to get up and continue the game. The rivalry between them worsened that day and continued for a long time, and included participating in a confrontation of the WCW to finish solving their disputes through a squared circle ring fight involving other recognized fighters such as Hulk Hogan, Brutus "The Barber" Beefcake, and Diamond Dallas Page.
32. I'm invisible
Although you try hard to avoid ruining the work of your colleagues, sometimes there is not much you can do to change the fact that you appear in the wrong place, at the wrong time. Even if you use all the tricks that you know to disappear from the scene, the most likely thing is that you appear at the back of the scene making a fool of yourself and being recorded for the posterity of the internet.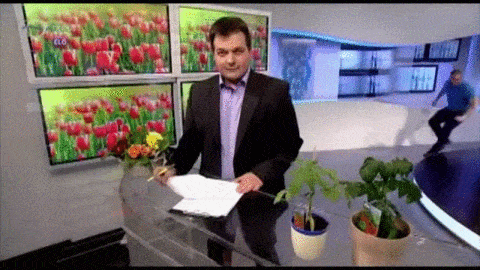 The person who appears in the background seems to have arrived very late to the live program where he would be interviewed, but despite his attempts to go unnoticed, his skills were recorded on camera. Maybe the weather caused him problems to get to the television station, but the highlight of this scene is to think: Who would do a dive to try to get out of a situation like this?
31. When you are hungry …
People who work on television sometimes have to make sacrifices that are not always in their favor to make the story more reliable or interesting. In addition to that, the people around them are not always going to behave in the right way when they are starving, and they could try to satiate their hunger on live television, as we can see on this particular screenshot of a very hungry sports fan that could not wait to get home.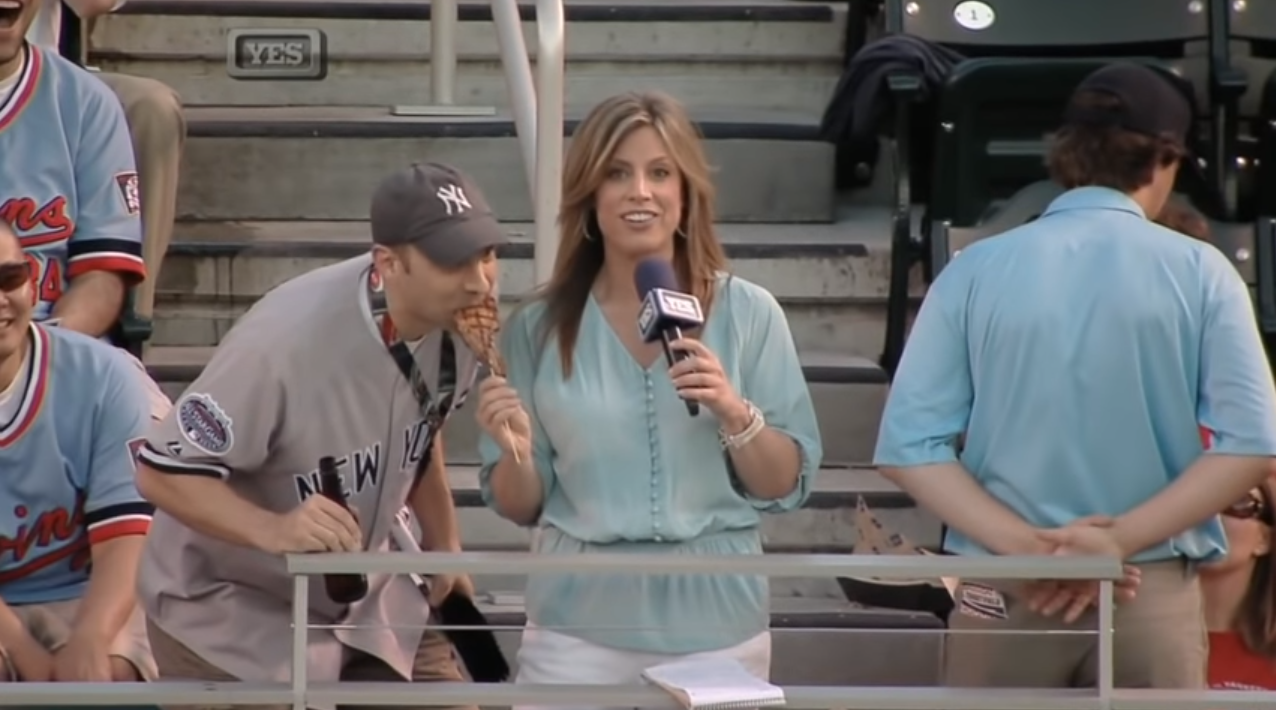 In this scene, you can see as a fan of New York takes a bite out of YES reporter Kim Jones' pork chop as she gives an on-air report during a game between the Twins and the Yankees. The situation seems planned to advertise the pork chops that the food stands in the stadium sell's, but it is still a very sad situation in which you must sacrifice your dinner to give some fun to your work.
30. Be like Madonna
No matter what happens, you should not lose control, and an obvious example of this was the one shown by Madonna at the Brit Awards of how to act when something goes wrong. The result was not perfect, but it looked as natural as possible. If you fall or lose balance in a situation like this, the best you can do is try to make it look like part of the show and continue doing what you're doing.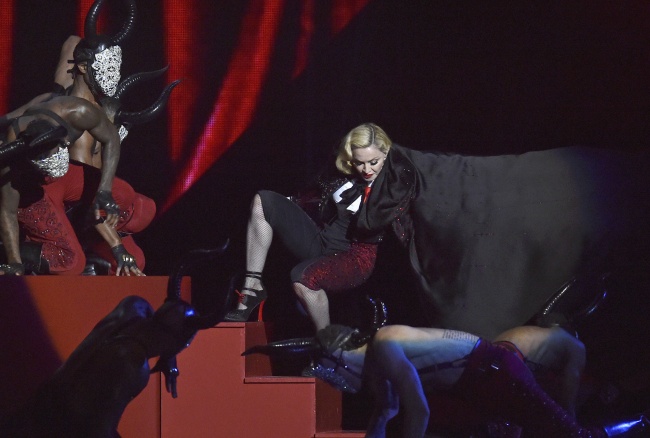 This scene comes from the 2015 Brit Awards live presentation of this famous artist. She was performing "Living For Love" from her 'Rebel Heart' album, and even after falling to the ground because of her complicate outfit and shoes, she stood up to the show and gave an amazing presentation that most people remember for her singing, and not for the minor accident that cloak caused while going up those stairs.
29. Children on the room
The children of Professor Robert Kelly made this particular interview memorable and took the real people to the television screens again. No matter how important you are, your children are your children, and they would do what they can to be with their father, no matter how busy he is, or if he is on a live interview that could be the most crucial one of his career. Also, you must recognize the effort of his wife in the background.
Robert Kelly is an American political analyst on inter-Korean affairs and is an associate professor in political science at Pusan National University. That interview in 2017 made him, and his family, rose to fame because it was one of the most hilarious things people had seen on the internet. He gave another interview, but accompanied by his wife and children, to explain the situation to the public and laugh a bit about it.
28. Runny Nose
 When your own nose betrays you on live television, you should do everything possible to avoid being noticed, but unfortunately, there are situations in which you can not control your nose and snot can escape into the microphone. If that happens to you, and there's nothing you can do to avoid it, you just have to keep doing your job and hope that people won't remember you for that sad occasion in which the snoot won the fight.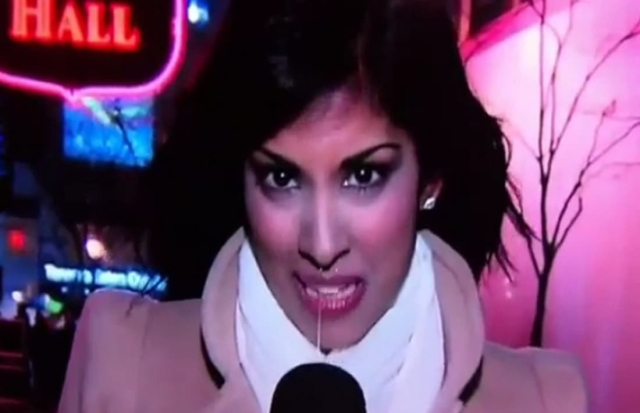 The reporter of this image is Saphia Khambalia. She is an anchor for the Weather Network and works as a spokesperson for the Parkinson Foundation in Canada. She usually works on the green screen or in-studio explaining weather maps with her own brand of casual, polished presentation, but she can also be found in the field reporting on various weather stories. She was truly ashamed of the situation behind this footage, but the weather and her body played against her.
27. Splash!
This poor Dutch reporter was very comfortable conducting an interview with the mayor, but she did not pay attention to what was around her, and she trusted that the rope could support her weight. Unfortunately, it wasn't like that. The reporter crashed into the cold water and the camera crew helped her out, but the memories of this accident will hunt her forever since the situation turned into a meme and was even showed on The Ellen Show.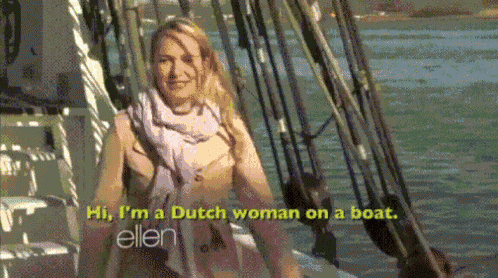 Her name is Martje Oesterholt, and she was interviewing the mayor of Kampen about an upcoming sailing event in the town from the deck of a boat. The authenticity of the accident was called into question because it emerged Ms. Oesterholt was in charge of the PR for the sailing event, but nonetheless, the video caused quite a splash on the internet with a lot of views and laughs.
26. Don't touch my food!
This is a glaring example of why you should not play with food, much less if it does not belong to you. During a daytime news program in Texas, one of the hosts tried to annoy a monkey by removing his food, and he did not react very well. The monkey recovered his food and even attacked giving her a slap on the face so she'll learn that you should not take an animal's food.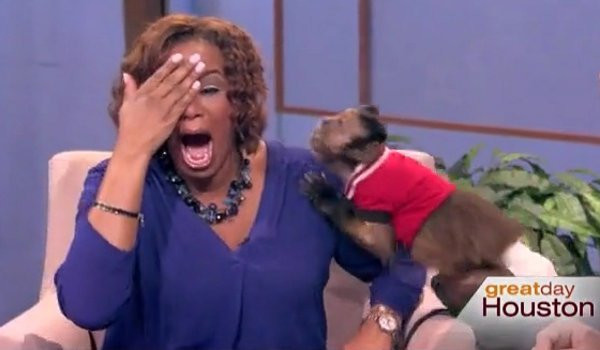 In the video, you can see KHOU TV host Deborah Duncan teasing Wiston, the monkey, with a grape before he slapped her in the face for it. She later apologized to Wiston for playing with his food, but got a good laugh about it and learned to be careful with the primate's food next time. The TV Station, KHOU, even has the full clip hosted on their website for the entertainment of their public.
25. Gone with the wind
This Irish meteorologist became a viral sensation because, during one of his weather reports, the reporter was literally dragged by the wind while emitting some cries of surprise that made the scene much funnier. The scene got better as you can hear the uncontrollable giggles of his co-workers back in the station, which turned the video in an immediate internet sensation that many people still enjoy since it was posted on several sites.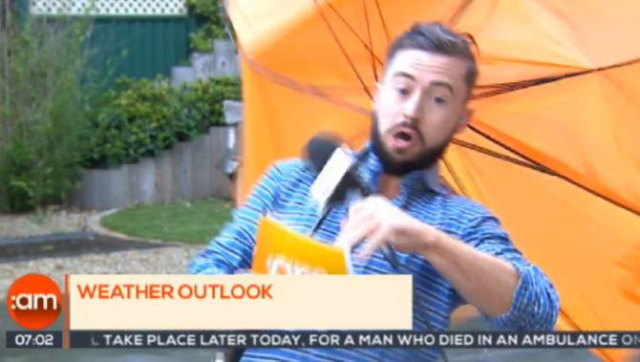 The meteorologist of this video belongs to the television network TV3, and is called Deric O h'Artagain. He shared the video for the fun of all the people, assuring that nature won the battle again. The signal was cut while Deric was recovering, but his co-hosts, Sinead Desmond and Mark Cagney, could not stop laughing as they said he was fine and had not suffered any accidents during the recording.
24. Insects Attack
Insects also have prominence on television, and this was evidenced when a group of giant cicadas attacked this reporter on the top of a military tank, and she had a hilarious freak-out on live television. This shows that these insects are not a threat only for trees and neighborhoods, but also to the people and especially, news reporters that try to do their job while they attack them in the middle of a live story.
KSNT Reporter Katya Leick did her best to maintain her composure as she talked about the return of the cicadas after a 17-year slumber, but several of them wanted to appear on television and started fluttering around. The reporter was scared by the possibility that they were entangled in her hair, but despite her professionalism, she could not help but go crazy when they alighted on her several times.
23. California is what?
This American presenter made a very uncomfortable mistake while reporting on the fires in California. He should have said, "California is fighting ...", but a slip of his tongue made him utter the word "farting" assuring that California is a very gaseous state that now has to worry, among other problems, about the methane gas that comes from people excessively farting around the state. It was one of the most hilarious and commented moments ever!
MSNBC's Stephanie Ruhle couldn't trust in her own tongue for this special report. The 42 years old broadcaster was talking about the California wildfires when she accidentally confused the words and said "farting" instead of "fighting." She apologized for the mistake but looked like she might burst out laughing despite clearly attempting to be professional and continue her work. Social media took the gaffe to express that the whole thing made them love her even more.
22. Teleprompter Down!
Salma Hayek and Paul Rudd had a very uncomfortable moment during the 2013 Golden Globes because the teleprompter began to fail and the couple had to improvise while they resolved how to present the award for Best TV drama. When they noticed that the device was failing, they started to look for ideas and tried to keep it casual as they chat with each other, but everyone could notice that something was wrong after a few minutes.
Their background as actors allowed them to improvise while the production team solved the issue, but it was a very weird situation for both of them. Hayek most important role was in the 2002 film 'Frida,' such as Frida Kahlo, thanks to which she received a lot of nominations and awards, and Rudd is better known his role is 'Clueless' and, more recently, as Ant-Man in the Marvel Cinematographic Universe.
21. Who is it then?
When you are live, you must be very careful with what you say in front of the camera to avoid a disaster. This hostess adjusted the top of her clothes and joked that her colleague was cheating on his wife in 2007, which translated on one of the most embarrassing moments of all her career. It seems that her co-workers didn't notice that she was live waiting for her show to start.
The Anglia TV Host, Emma Baker, wasn't aware that she was live and started rambling about one of her colleagues and his affairs. She also was adjusting the top of her clothes but you can't really see anything on the footage except for her attaching the mic to her clothes. It seems like Baker didn't realize her mistake until after the show was over, but there isn't a lot of info about it.
20. Looking at the phone
Even an accomplished professional like Joanna Gosling can have some kind of slip on live television. This time, the news anchor of the BBC was caught playing with her mobile just when the camera was approaching her earlier than expected. Gosling took the situation like a professional and continued her work as nothing happened, but we can see that even the most experienced ones can do wrong on some occasions.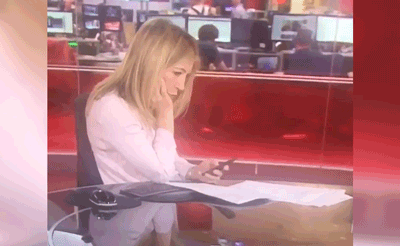 She's an English television news presenter, broadcast journalist, and author. She presents on the UK news channel, BBC News, since 1999, and is occasionally on the first half of the 11 o'clock news hour on BBC2. She had worked for Independent Local Radio, Central Television in the Midlands and Sky News. Even with all her years in front of the camera, sometimes a message can be too interesting and could caught us distracted on the work.
19. Gotta Catch 'Em All!
Although you are very entertaining playing, you must think about where you are. Allison Kropff, a WTSP host in Florida, was so focused playing Pokémon Go that she did not realize where she was walking. Even if you are having so much fun that you literally forget about the things around you, you need to realize that it's a place and time for everything and you need to avoid having this kind of problems on work.
The weatherman Bobby Deskins could not believe what he was seeing, and he tried to keep doing his job while on live TV, but it was too difficult for him to ignore the situation and he had to comment about it to avoid losing his composure on air. We get it, it's a great game that people enjoy a lot in their free time, but you can't run around your office looking for a Shiny Pikachu and disturbing everyone.
18. Travoltifying
The 2014 Oscars had a bizarre moment that will last for many years. When John Travolta introduced Idina Menzel, he pronounced her name in a very strange and erroneous way, which is why the Broadway legend annoyed him with this for a long time. Travolta seemingly called the 'Frozen' beauty "Adele Dazeem," and that started a strange situation that people started calling the "Travoltifying" name trend in which they turned the name of famous people in something utterly bizarre.
E! News revealed later that the 'Grease' star sent Menzel a giant bouquet of flowers to formally apologize for the snafu, which occurred on stage at the 86th Annual Academy Awards. Menzel took it as a joke and didn't make a big deal about what happened, but she got her revenge on the 2015 Oscars, in which she presented Travolta as "Glom Gazingo" and made everyone in the public laugh about her creativity.
17. Jump around to cover it
When everything goes wrong, you must find a way to solve the situation quickly. During a Saturday Night Live performance, Ashley Simpson was caught lip-syncing the wrong song on a prerecorded track and was seen jumping uncomfortably all over the stage to "fix it." After a few minutes of awkwardly jumping around, the singer flew from the stage to avoid embarrassing herself more than she already did with this disastrous presentation.
Simpson, who had already performed "Pieces of Me" on SNL earlier in the night, was supposed to sing her second single, "Autobiography," but when her first song started playing she didn't know what to do, so she looked around confused before dancing a jig to cover the mishap and sneaking off the stage. Her band continued playing before the show cut to commercial. The singer later appeared to apologize, but the damage was already done.
16. And the winner is …
Everyone remembers this awkward moment when Steve Harvey announced the wrong winner during the Miss Universe. Harvey is an expert about the embarrassment that comes with announcing the wrong winner on live TV. He mistakenly announced that Miss Colombia had won the Miss Universe 2015 pageant, but had to take it back moments later since he mistakenly said her name while reading the results. Miss Philippines was the real winner on that occasion.
Mostly Colombians, but a lot of people got mad with Steve Harvey for that mistake. He was mocked for it in the following years, and nobody allowed him to forget that mistake because, for many people, it had been something very serious. The Colombian Ariadna Gutiérrez was the most affected by this error because she could only keep the crown for a few seconds, and sadly, she had to accept the reality of having been excited in vain.
15. New Year's Rockin 'Eve
The technical problems during the New Year's Rockin 'Eve of 2017 made Mariah Carey give a really disastrous and uncomfortable presentation. She did her best to cover the technical difficulties on the stage, but it was an undeniably awkward performance that people could not forget in a few years. The issues were not her fault, but the public doesn't know about what's happening behind the stage, and the artist is who's takes the blame in most cases.
Carey returned the following year and redeemed herself with an outstanding performance, but the memories of that 2017 event still haunt some people. She rose to fame in 1990 after signing to Columbia Records and releasing her eponymous debut album, which was on the U.S. Billboard 200 for a lot of weeks. She then became the only artist ever to have their first five singles reach number one on the U.S. Billboard Hot 100 chart.
14. Artist of the Millennium
During the 2002 MTV Video Music Awards, Michael Jackson thought they were giving him an imaginary prize when they tried to celebrate his birthday with a cake. As the event took place the same day as his birthday, MTV arranged for a birthday cake to be brought to the stage to celebrate that occasion. When Britney Spears show him the cake, she said that he was the "artist of the millennium," and he misunderstood that.
Jackson thought that he was being recognized with an award for being the "Artist of the Millennium," which did not exist in the MTV Video Music Awards, and went on to give an acceptance speech about how honored he felt for receiving the award and all the people that made is possible. It was an honest mistake since it was a surprise for him, but Spears made it worse by using that phrase and not explain the error to Jackson.
13. One Second to the Direction?
At the 2014 Billboard Music Awards, Kendall Jenner was to introduce the band "5 Seconds of Summer," but she had another group in mind and almost said "One Direction" instead. People said that she had one member of that boy band in mind and that's why her brain trick her, but we can't be sure as she said it was a reading error and since she saw a number, she confused the bands.
After she flubbed and started to say "One Direction," she laughed hysterically on air and told the public that she was "the worst reader" ever. It's not weird for the Kardashian-Jenner sisters to make this kind of mistakes, but this one stood up because she did it on a live show and the public didn't understand how could she mistake them since both are very different in genre and style.
12. How is she?
Kathie Lee Gifford made the serious mistake of asking Martin Short, who stopped at the studio to promote Madagascar 3, about his wife, who had died two years earlier. This happened in 2012, and during that interview with Kathie Lee and Hoda, Gifford asked Short about his wife and about how they kept their relationship alive and happy without knowing the truth about his wife and her death after battling cancer.
The actor didn't say anything about it at the moment to avoid a difficult scene, but it was extremely awkward for anyone that knew the truth, and probably for Gifford after she found out what she did on live TV. She usually doesn't make this kind of mistakes since she is a very renowned host and interviewer, but she probably didn't think about it at the moment and was just trying to make some conversation.
11. Cute tan!
During the 2015 SAG Awards, Rashida Jones was praised for her beautiful "tan" when in fact her skin color is natural and the comment became somewhat racist on live television. "You look like you've just come off an island or something," Demski said. "You're very tan. Very tropical." Jones' response was perfect for the occasion since she didn't want them to feel bad at the moment, so she said: "I mean, you know, I'm ethnic."
Rashida Jones is an American actress, writer, and producer. And she's mainly known for starring as Ann Perkins on the NBC comedy series 'Parks and Recreation.' for which she received a lot of fame and acclaim. Her father, Quincy Jones, has some ethnic background since his paternal grandmother was an ex-slave in Louisville. Her skin color is natural, but she took the misunderstanding as a compliment to her ancestors.
10. Uma, Oprah …
During the 1995 Oscar Awards, David Letterman, who was the host, tried to make a very clumsy joke about Uma Thurman and Oprah Winfrey and the moment was very uncomfortable for all the public and the viewers of the event. He tried to do something funny, but neither Thurman or Winfrey understood the joke and kept laughing nervously as he continued with the show, not knowing exactly what happened on stage.
David Michael Letterman is an American television host, comedian, writer, and producer with a lot of years on the small screen. He hosted late-night television talk shows for 33 years and its recognized as the longest-serving late-night talk show host in American television history, surpassing his mentor, Johnny Carson. It's not weird to see him trying to be funny in the wrong situations, but he usually ends up with a few laughs.
9. Winning Smile
In the Miss USA 2013 beauty contest, Marissa Powell, also known as Miss Utah, response to the assigned question made no sense and she ended with a call to the United States to "create education better." Her response was not even about the question, which made the public and the hosts doubt if she had listened to it, but that didn't stop her and she continued her rambling until she finished with a message that confused everyone.
Her complete response was this: "I think we can relate this back to education, and how we are continuing to try to strive to... figure out how to create jobs right now. That is the biggest problem. And I think especially the men are, um, seen as the leaders of this, and so we need to figure out how to create education better, so that we can solve this problem."
8. Not the Anthem!
Christina Aguilera made the disastrous mistake of messing up the lyrics of the National Anthem during Super Bowl XLV in 2011 and many people criticized her for it. If you're going to make a mistake about the lyrics of a song, you better do it with anything else but the National Anthem of the United States of America, as she discovered after messing up the words and the huge backlash she received for doing so.
Aguilera is a renowned singer with a lot of years in the music business, she's also a songwriter, actress and television personality that has five Grammy Awards, one Latin Grammy Award, and a star on the Hollywood Walk of Fame, but that didn't stop the public for shaming her about this incident. She nailed the vocals perfectly, but flubbed a lyric, saying "what so proudly we watched" instead of "o'er the ramparts we watched."
7. A white top
It's annoying when you find a person wearing an outfit very similar to yours, but this news anchor was upset and resolved the situation ... while the cameras were filming. We can understand that the situation has been uncomfortable for her, but the way in which she reacted left her co-workers, and to the public at home, with their mouth open because the situation was a bit violent.
Channel 9 News anchor Amber realized her colleague and guest were both wearing white tops, and her partner had to deal with her passive-aggressive anger over which of the two should put on a jacket to solve the problem. After two minutes of discussion, Julie lost the battle and changed her outfit to later appear defeated, but smiling, in front of the cameras while they continued with the interview they had scheduled for that segment.
6. Yom Kippur
This Chicago reporter wished everyone a happy Yom Kippur without realizing that the image he showed was that of the star that Jewish prisoners were forced to use in the concentration camps. It's not clear if the reporter was aware of this or if the production team of the news did a horrible mistake by putting that image on the screen, but the Jews that watched the news reacted negatively to this mistake.
Way to go Chicago!! way to use the Holocaust Yellow Badge symbol to wish the city a Happy Yom Kippur!! WGN pic.twitter.com/0ubnjN3pT7

— Steven Feffer (@sfef84) September 23, 2015
Those yellow badges, also known as Jewish badges, were patches that the Jewish people were forced to wear in public during certain periods by the ruling Christians and Muslims, mainly in Nazi Germany. They used these patches as a way to mark the person who wore them as an external religious person, or from a different ethnic origin than the ruling class, so they served as badges of shame that separated people.
5. Two Easy!
Education in the United States is so easy that the person who prepares the graphics of this news channel gave a sample of how much he learned in his years at school. This image is an example of the way in which people in the United States of America criticize their educational system without realizing that they come from it, so they have the same mistakes they criticize.
Despite having a very clear objective, the reporter who presented this report failed to realize the repercussions that could bring to her viewers, and the mistake made by the person preparing the graphics of this television station made them realize that it's not that the school is too easy, the problem is that the children are not really learning and just focus on leaving school quickly.
4. Blind Pride?
This reporter had a strange mistake during her report, confusing homosexuality with blindness. Sure the guest of the program did not enjoy the confusion as she didn't realize her mistake until a few moments after confusing them. Although anyone can make a mistake, confusing these two things is not common, and less on live television, so the reporter had to improvise quickly.
The guest of this program reacted in a very calm way to what could have been a big problem for the presenter, but in reality, it is very probable that initially he would be annoyed by the comparison. The sexual preferences of the people are their own decision, but being blind, whether from birth or by accident, is not something that people can or want to choose, so it is not something that can be compared.
3. The wrong alliance
This Spanish news station accidentally used the sign of the Rebel Alliance of Star Wars as a symbol associated with al-Qaeda during one of its newscasts. For a person who does not know much about the saga of Star Wars is difficult to recognize these symbols at first glance, but those responsible for the production of television programs should be diligent enough to investigate previously on the subject they are going to discuss on air.
The symbol that they used in reference to the al-Qaeda terrorist group belongs in reality to the Rebel Alliance of Star Wars, and being an image that is used mainly in this saga and in everything that is related to it, it should not be confused with something as macabre as the acts performed by that group of people. Some preliminary research and a little common sense are necessary to avoid this kind of accidents.
2. The Fat One
While this reporter told on air how his wife always tells him that he is fat. The traffic reporter proceeded to say that he has always been the fat partner without knowing that her microphone was still on and everyone could hear her. It is not the best way to let your co-worker know what you think about his extra pounds, but unfortunately, it happened live and the reporter had to apologize quickly and endure the embarrassment.
It is a mistake that occurs very often, as we have seen in this article, but one of the first rules that should be followed in this kind of programs is to verify which microphones are turned on, and avoid saying things that you may later regret so that situations like these don't end up as part of a compilation of embarrassing moments on the internet. The traffic reporter of this TV station must have apologized for many months after this.
1. Say My Name!
The most frightening moment in the life of a news anchor is confusing the person that he's interviewing, and it's even worse if this person is Samuel L. Jackson and he is tired of being confused with someone else. Confusing the person you are interviewing is a blunder that can cost you your job, but sometimes like this, it can become something totally unexpected and exasperating from which you don't know how to escape.
Samuel L. Jackson is an actor with many years of career, incredible lead roles, and a gift for acting that many people envy, but is also known to be a direct person who is not afraid to say what he thinks. After realizing the error of this reporter, Jackson made sure that he never again confused any of his guests by expressing his annoyance in a very elegant way.
The vital thing in this kind of situations is to keep in mind that, whatever happens, there is always a positive side in any case and you must go ahead and act as natural as possible. It is much better to remember these situations in a humorous way and keep going by learning from these mistakes. How many times have you experienced a similar situation? Do not forget to tell us what was your most iconic moment in a live video and share with all your friends who feel like TV stars.
Sources: Brightside, Mirror.co.uk, Digitalspy, Harper's Bazaar
Related: