Texts From Uber Drivers That Passengers Had No Choice But Share
Uber has become a popular driving service in many countries. However, when total strangers text each other and share a car ride, some odd things can happen. The following are a bunch of weird texts and scenarios during these encounters. Some involve animals, drunk people, and some wholesome moments. Let's find out more!
50. NICE-GUY DRIVER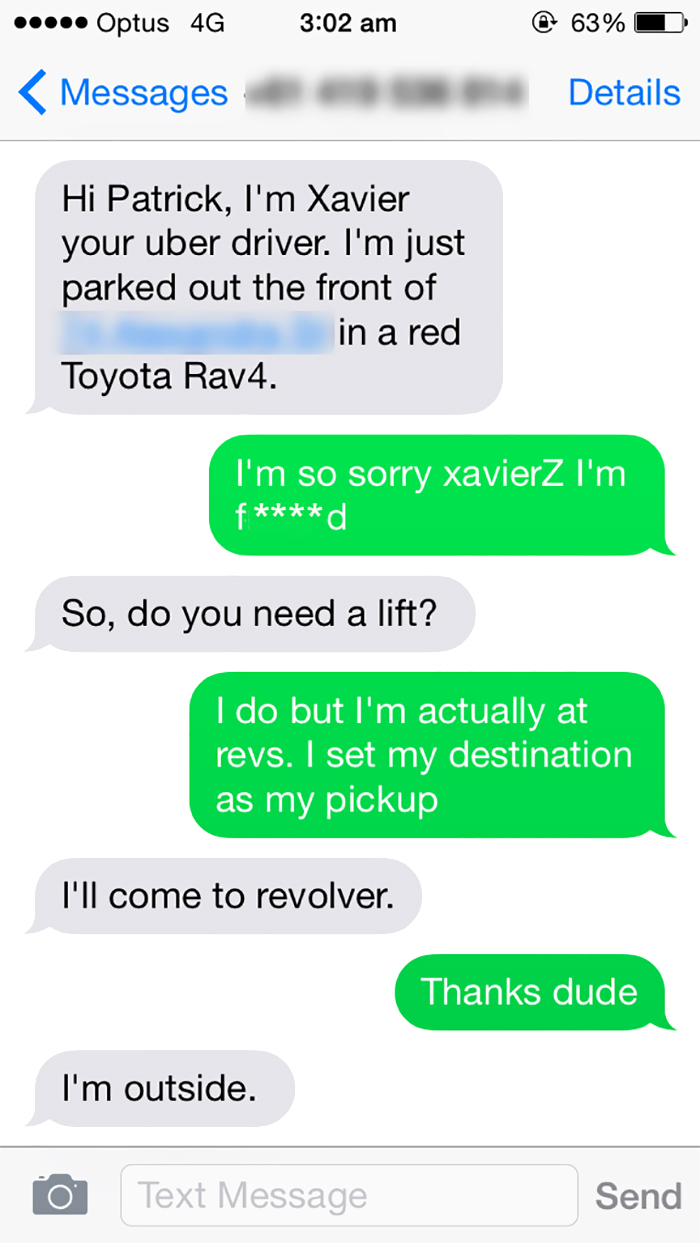 The service has become particularly popular among drunken people. It can definitely help them avoid driving themselves or getting lost while in a vulnerable position, but it's also a bit dangerous to get into stranger's cars under the influence of alcohol. Also, some people do not respect the drivers and end up using swear words or treating them like they are slaves. That's never alright. Luckily, this person found a tolerant driver, and things didn't get out of hand. The driver also understood that someone was too drunk when they requested the ride and made a mistake. We hope the client gave him a 5-star rating.
49. COULDN'T YOU WALK?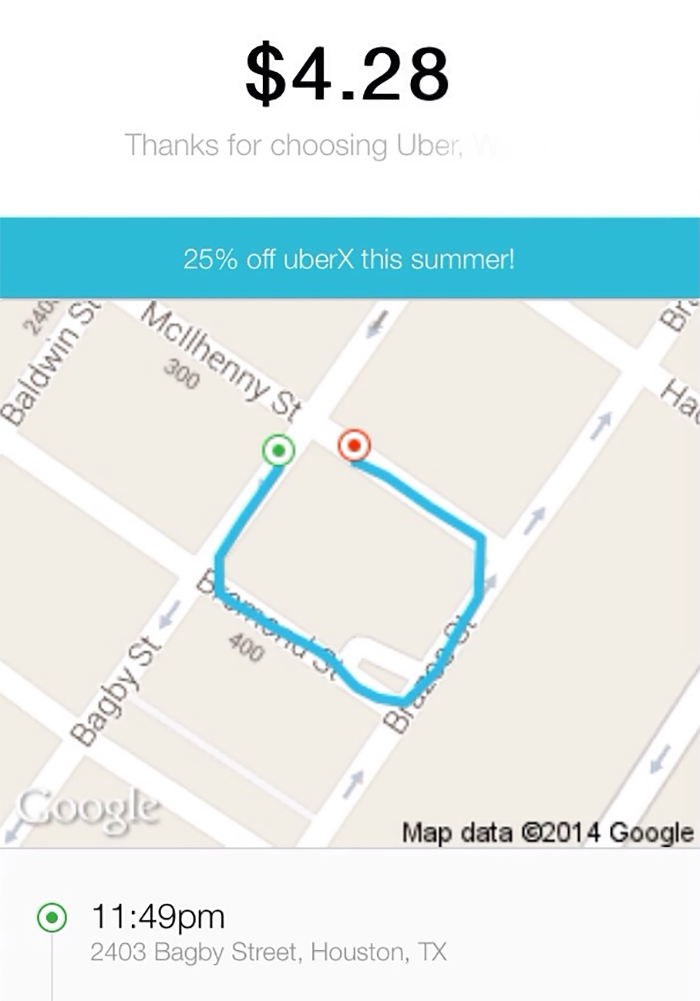 One of the crazy things about using Uber is that you can go literally anywhere. A regular taxi driver would've told this person that his location was right there and that he just needed to walk diagonally. However, using Uber this person paid almost 5 bucks to make a weird trip. The client might have chosen several stops to pick something up too. It's not that illogical to believe that the person had to run some errands before going to the final destination. But, other Uber experiences have really shown that there are a few customers who take lazy to brand new levels.
48. MAYBE A LITTLE LOST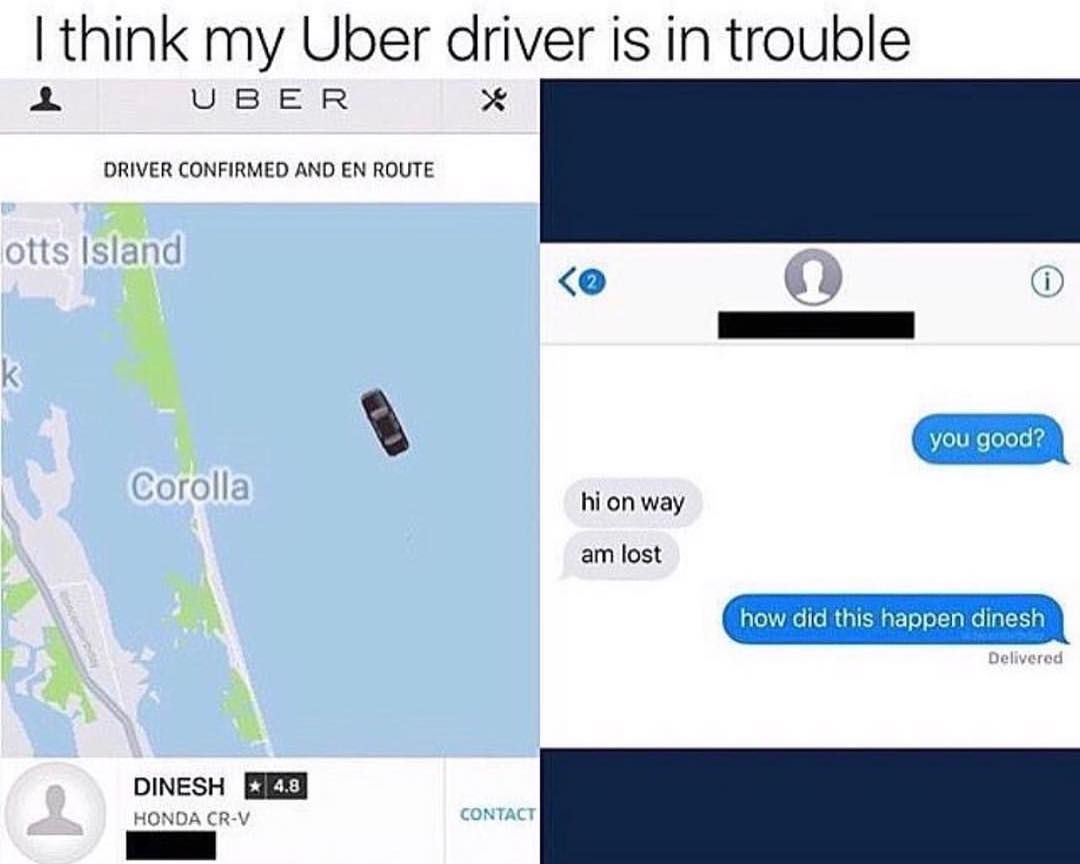 With technology, glitches are part of the deal sometimes, and something was awfully wrong with Dinesh's GPS. We hope his car wasn't really in the middle of the ocean, but the story probably made that client's day. It's pretty hilarious, and it's just innocent. There have been cases where Uber glitches have led to overcharging customers, which is never ideal. It can be a pain to get reimbursement. One recent situation charged people more than 100 times more than the original fare, especially for short trips, and that was surely infuriating for all affected.
47. NO LUCK WITH THE FINE GUY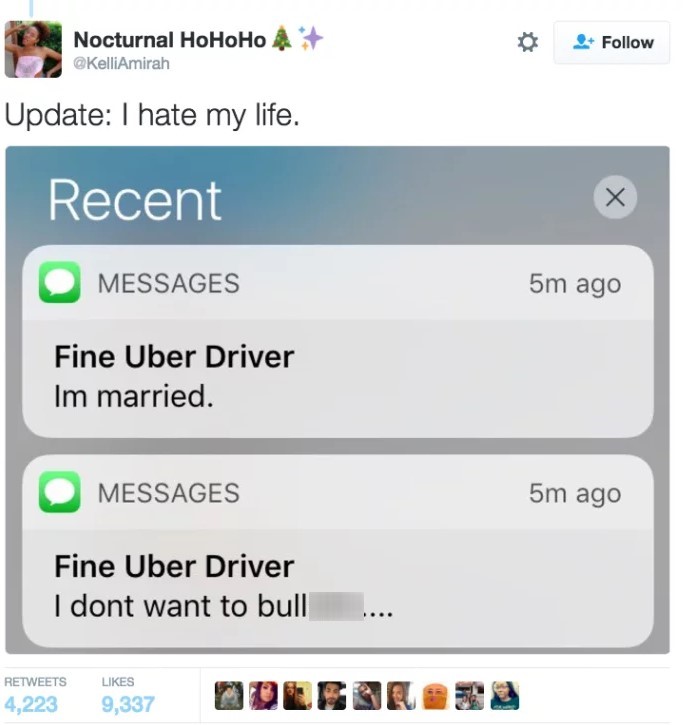 Sometimes you happen to meet a cute guy, and you already have his phone number thanks to Uber. You might have taken a chance, but rejection is part of life and dating. This poor girl had a crush on her driver, but he explained that he was married. He was refreshingly honest too, and it's better that way. You don't want someone in your life that is going to treat you like a side-chick. Some men think that doing that makes them stronger or more virile, but that's just a lie.
46. NOT A FRIEND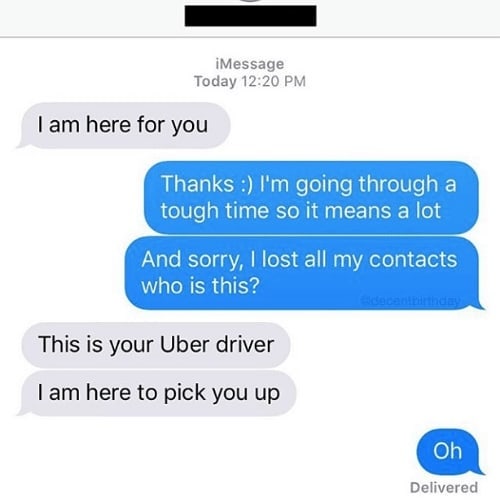 Yes, the words "I'm here for you" also have another meaning than being there to support a friend. The Uber driver had just arrived to pick someone up, but this client was going through something and understood something else. It was probably a bit embarrassing, but there's nothing with it. While this situation is pretty funny, it might be fake. It went viral on Twitter, and people immediately started calling it a hoax. There are some users who will do anything to go viral and get retweets, but would they make up a conversation?
45. EWW, NO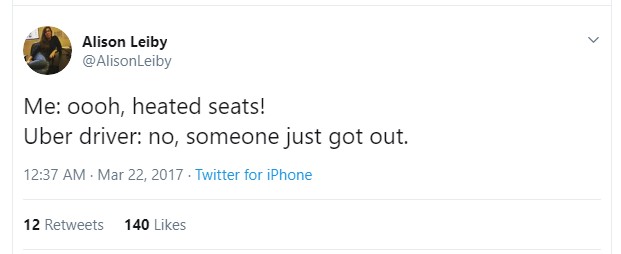 Unfortunately, this is something that has happened since taxis were invented. Sometimes, the cabbie has been busy, and the seats don't cool off in time for another client. However, the driver should've kept that detail to himself, perhaps, because that just sounds nasty. How long was the previous customer in there to get the seats that warm? What kind of person was he? That girl was probably a bit uncomfortable the rest of the drive, and she might have regretted saying anything in the first place. How do you make conversation after that?
44. EVERYONE IS WELCOME, BUT PLEASE...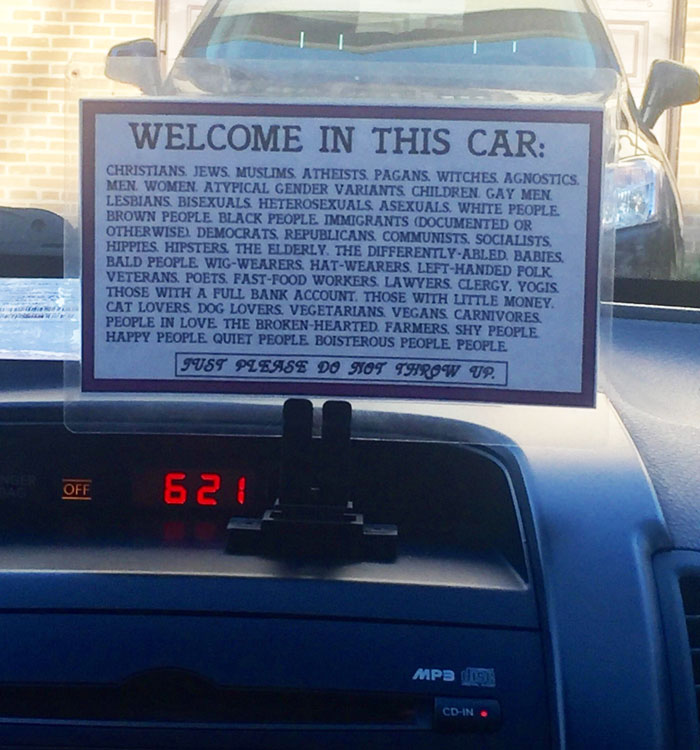 It must be horrible for drivers to get clients who are inebriated, and it's probably even worse to have to clean up their cars due to certain accidents. Therefore, this cabbie has made it clear that everyone can ride in his car as long as they do not puke. Sadly, there have been some cases where clients were falsely charged cleaning fees for vomit or others, and that's not fair either. Cleaning fees vary depending on what happened, but throwing up might end up costing the client anywhere from $40 to $80. If more damages are done, they might get a fine of $150. Some customers have been scammed, and others have lost the use of the app because Uber's guidelines state: "Riders are responsible for damage to the interior or exterior of a vehicle caused by incidents such as vomiting or food spills."
43. COOL GUY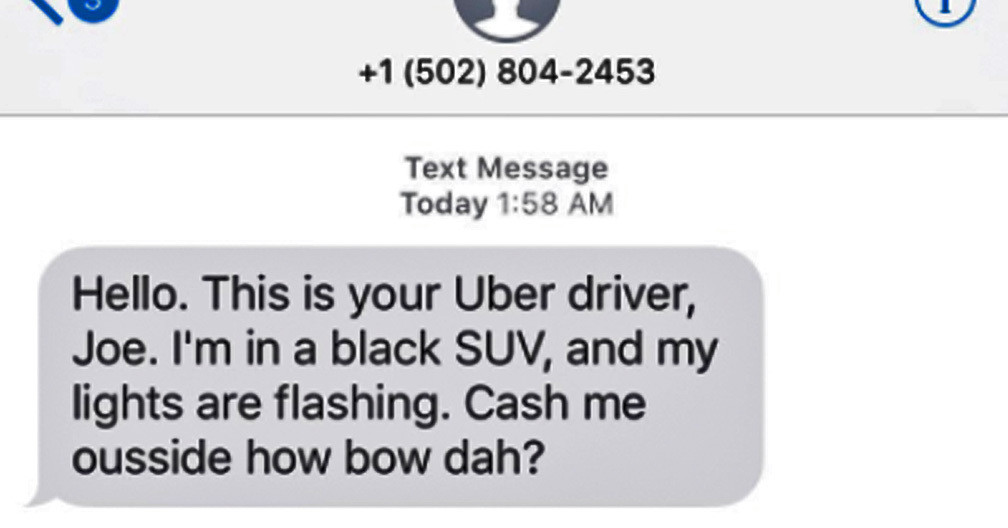 Some people have learned a lot from getting a ride with an interesting driver and this homie seems cool enough to text his client that way. We wonder if has some interesting stories to tell. Also, being friendly can lead to pretty awesome ratings. Neil Parischa from Fast Company found an Uber driver, Vishwas Aggrawal, with a 4.99 rating after more than 5,000 rides, which is almost impossible. "The five-minute drive home blossomed into an interview I did with Vish the following week (in the back of his Uber, of course) for my podcast". Vish showed him what he does to get such amazing reviews. Keep reading to find out more!
42. THE BEST RIDE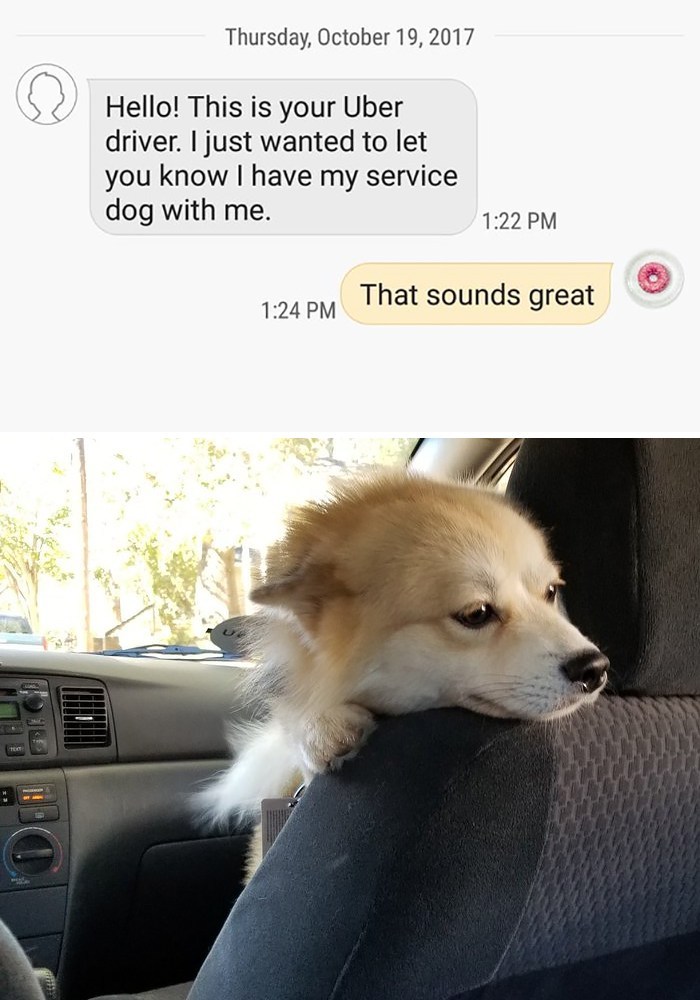 Some people might not be comfortable with animals in a vehicle, but that's the great thing about having your client's number. You can let them know if there's anything out of the ordinary that day, and this customer was clearly in love with his fellow passengers. Who wouldn't be? Meanwhile, Vish the driver also likes to start his rides by letting clients know that he is there for them. He asks them if they have enough room and tries to move the seat right away. He also says something like, "It will take 11 minutes to get to your destination. Does this sound good to you?" You can find out several details with just that question. Keep going for more tips with one of the best Uber drivers.
41. LET'S TAKE AN UBER HOME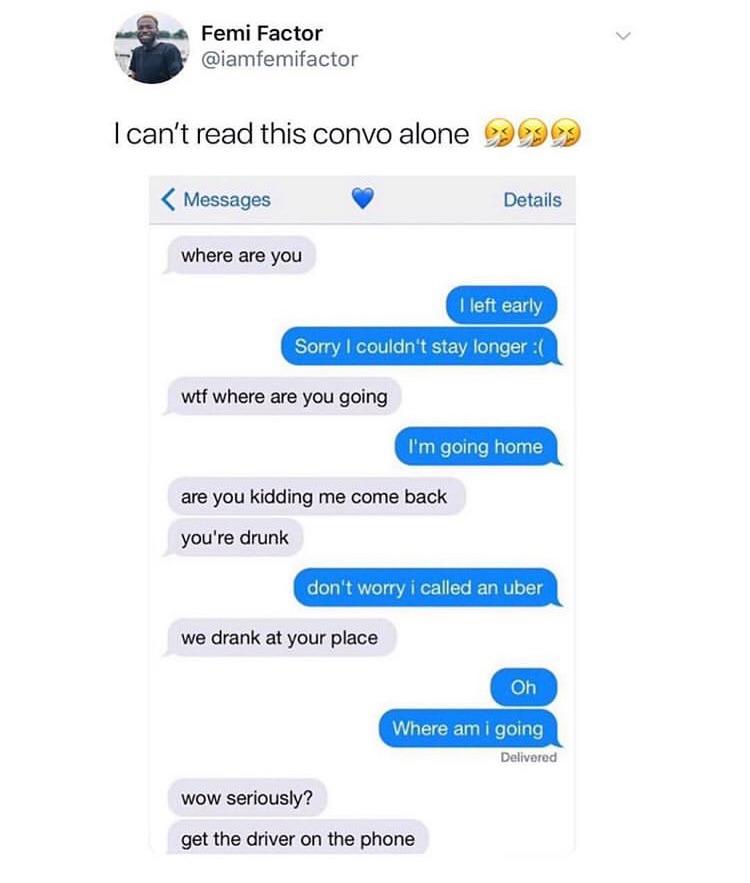 This is one of those scenarios when drunk people shouldn't be allowed to call their own Uber rides. We cannot imagine how drunk that person was that he got a ride even when he was home. It's just hilarious in every way, and we hope that the driver understood. However, he needs to get paid for his services because the dude made a mistake. Back to Vish's story, he was born in Indore, India where he got an MBA. Sadly, when he moved to Toronto, he needed to find work. "Doing Uber was not my first choice." But, he knows how to do business because of his past experience.
40. THE UBER MENU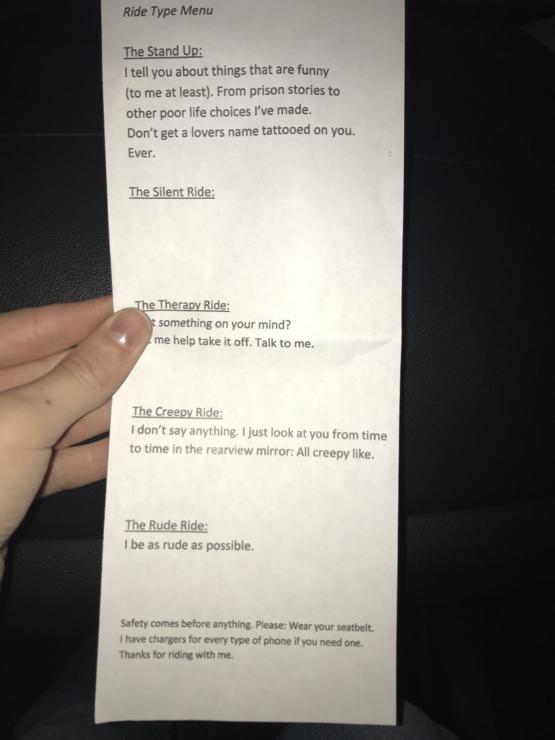 This is another Uber scenario that has gone viral. A lot of people were talking about it online, and it's perfect because it suits everybody. It was created by driver George Ure, 38, to make people more comfortable, but also to make them laugh a bit. Luis Arguijo, 21, tweeted the image and said, "He's the best Uber my friends and I have ever had. We chose the 'Therapy Ride' and from the start of our ride, he was a really good listener and understanding. We could tell he was a genuine guy. I'm glad he's received all this love, he deserves it."
39. YEEHAW!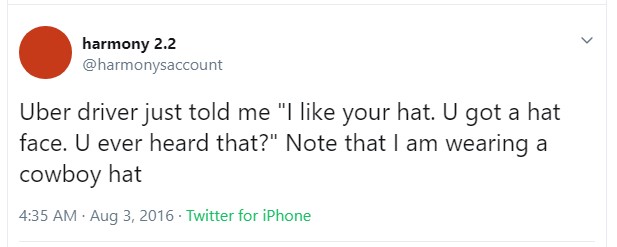 Everyone loves to receive a compliment, and that driver might have gotten a really nice rating thanks to his kind words. Cowboy hats might seem like an American country symbol, but they go back to the horsemen of Mongolian in the 13th century. The big-brimmed hat with a high crown provided them with insulation and shade. Hot and sunny climates require even bigger brims such as the ones worn by Mexicans. No one knows exactly how the cowboy hat got its name, but you might be surprised to learn that in the American West, they preferred bowler hats, and Lucius Beebe even referred to it as "the hat that won the West".
38. UNCOMFORTABLE DRIVER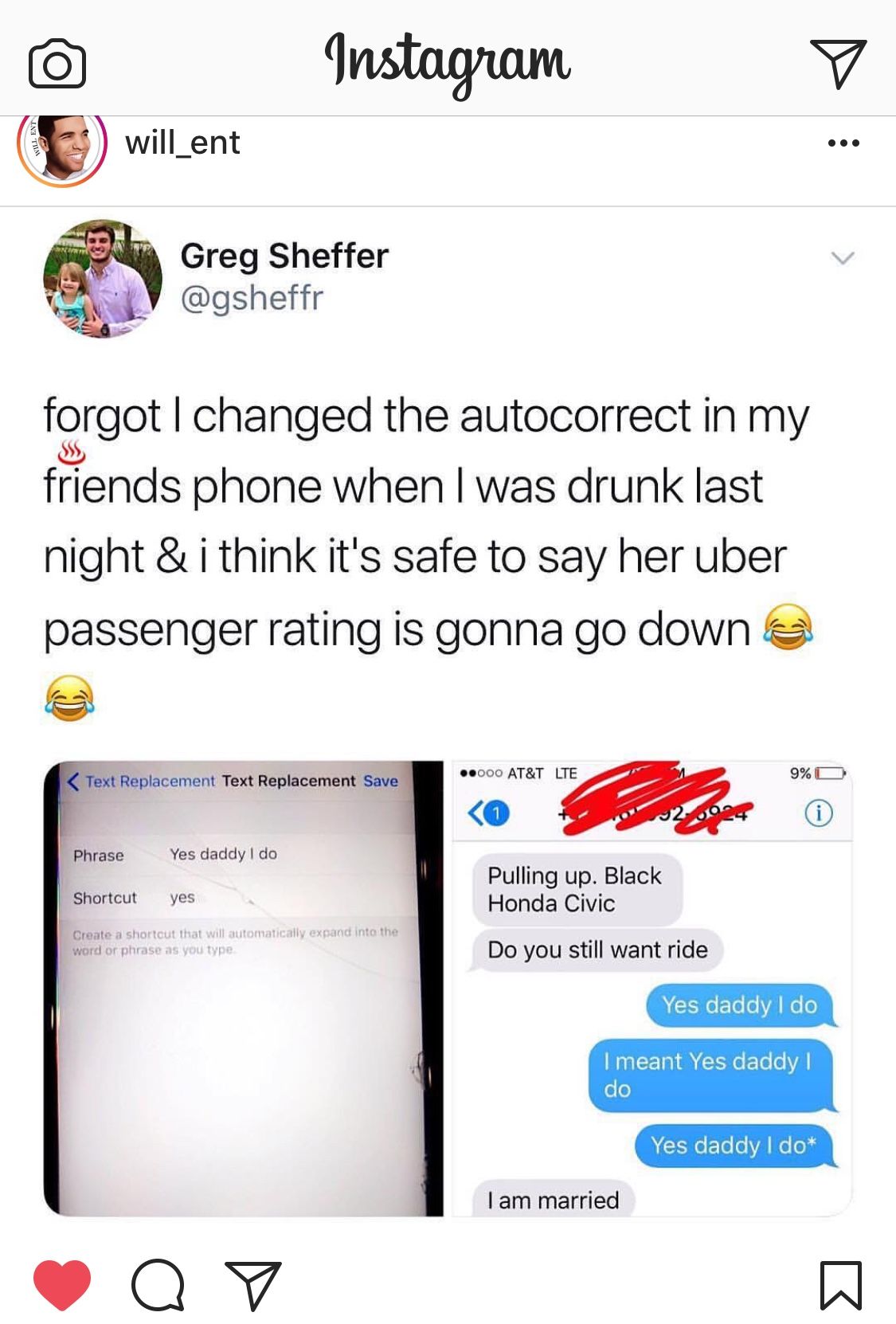 Playing pranks with the autocorrect feature on iPhones has been entertaining people for a while, and it can be pretty hilarious when we do it to our friends. However, this is a little weird. The poor driver thought the person he was picking up was just a bit crazy for answering the phone like that. Back to Vish's story, he revealed that one of his mottos is, "Either I do the thing, or I don't do the thing. But if I do the thing, I do it the best."
37. SARCASTIC DRIVER
There are some drivers that love using humor with their clients, and some people love it. But, sarcasm can be taken in a weird way if they use it while texting. Sarcasm is not just about what you but about how you say it. Therefore, this message might seem funny to some people, but there are several customers who might actually report you or give you a bad rating for a comment like that. Sarcasm is described under irony on Dictionary.com, and it reads: "In sarcasm, ridicule or mockery is used harshly, often crudely and contemptuously, for destructive purposes. It may be used in an indirect manner, and have the form of irony, as in "What a fine musician you turned out to be!," "It's like you're a whole different person now...," and "Oh... Well, then thanks for all the first aid over the years!" or it may be used in the form of a direct statement."
36. MAKING DRIVERS FEEL WEIRD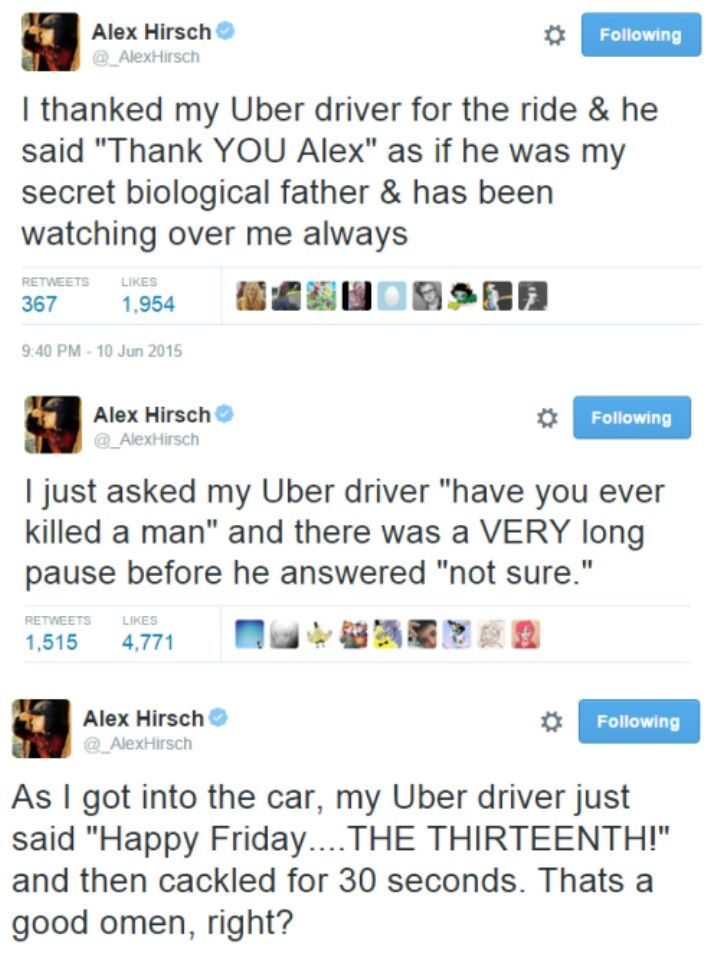 Alex clearly had some interesting encounters with several of her Uber drivers, and she took the time to make them all feel just a bit odd. However, the last one turned the tables on her and sounded like a villain in a low-budget horror movie. Regarding Vish the great driver, he said that every passenger has to be treated like the first, and he cleans out his seats after every single night. "This car is my office. This is the only office I have in this business, so I'm supposed to keep it up, I'm supposed to maintain it, I'm supposed to clean it."
35. I NEED THE FOOD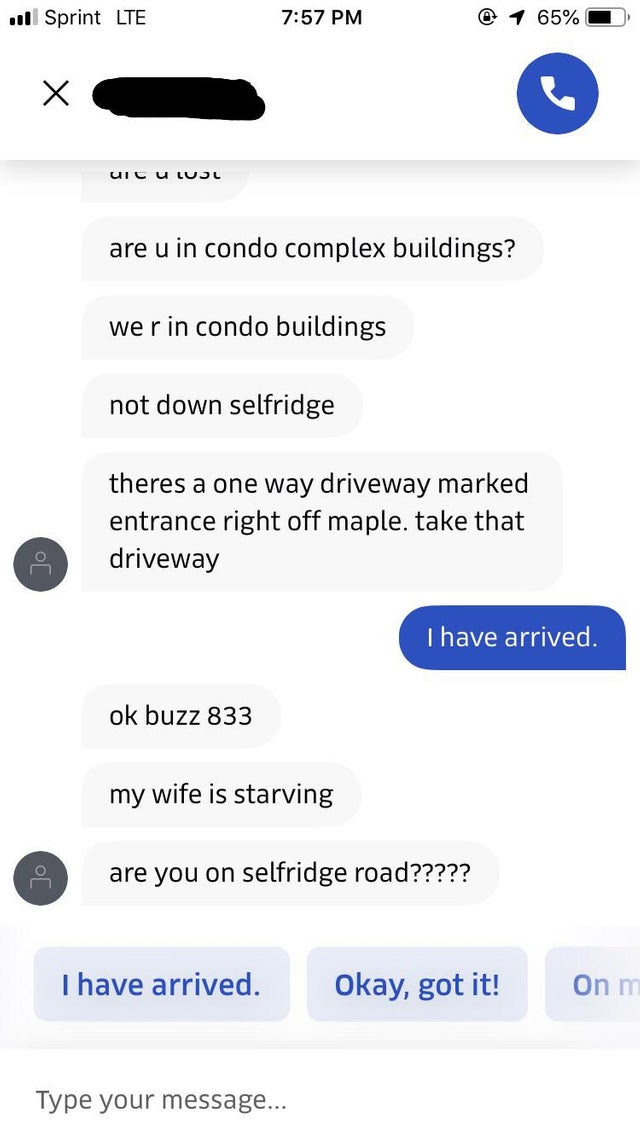 Uber Eats is a great service to use when you don't want to leave the house and your favorite spot doesn't have delivery. However, this client might be a little too desperate for his food, or his wife is the one going crazy. Could she have been pregnant? Unfortunately, there have been some reports of Uber Eats drivers stealing people's food, and that person might have been concerned that his driver didn't get lost but actually took the food for himself.
34. JESUS IS COMING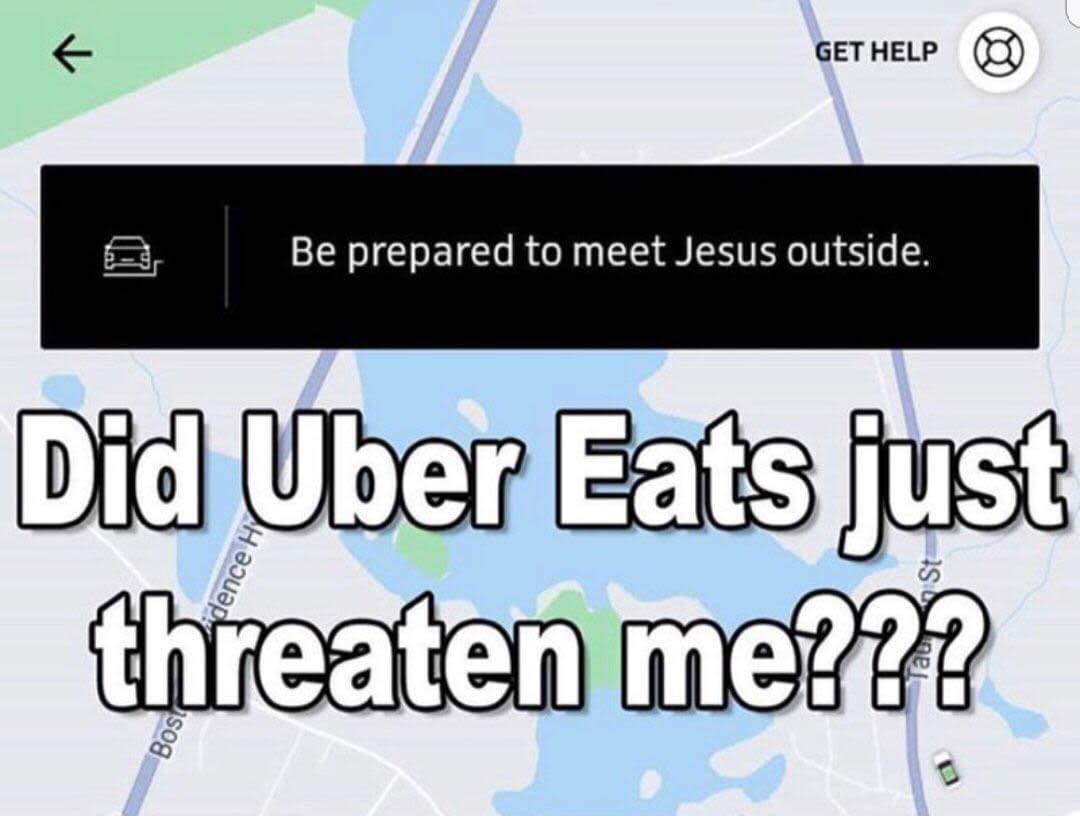 Messages like this are really funny because the driver is called Jesus just like a lot of people in the world, but the comment might make it seem like Christ is coming for the client. Is it the second coming? Not really, but Uber does sound a bit more compelling that way. People might take a second to think about doing anything wrong when Jesus is on the way. In regards to tips from Vish, he places his phone on silent and has an automatic response so that he can reply without losing focus on his route or his client at the time.
33. THAT WASN'T A SMART CHOICE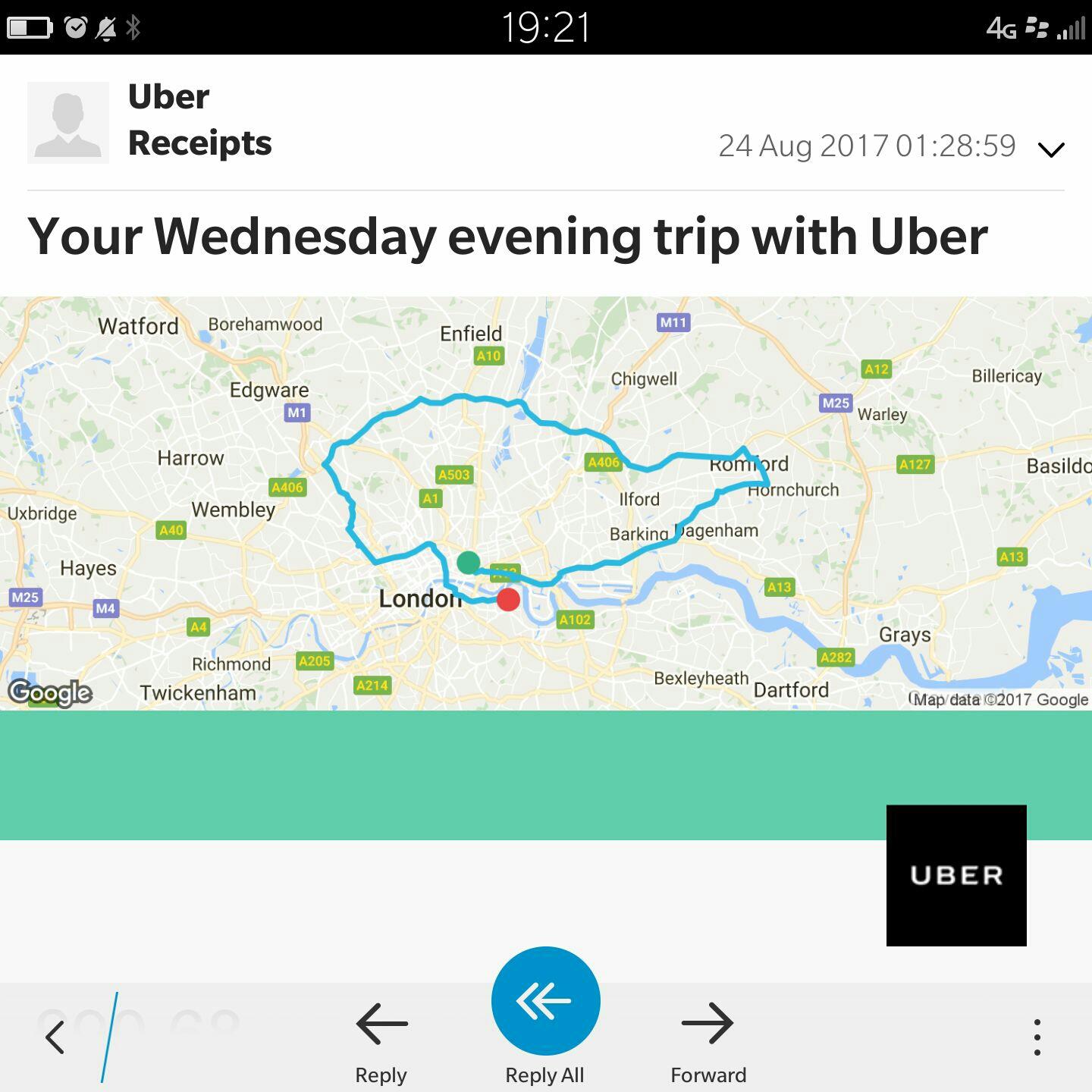 This is another example of a cab ride that doesn't seem to have a purpose. It's not a round trip because the client didn't end up in his house, but again, they could have had several stops along the way. However, the end map makes it look pretty funny. There is also the possibility that neither of them knew exactly where they were going and ended up at the beginning.
32. DO NOT DRINK AND UBER-EATS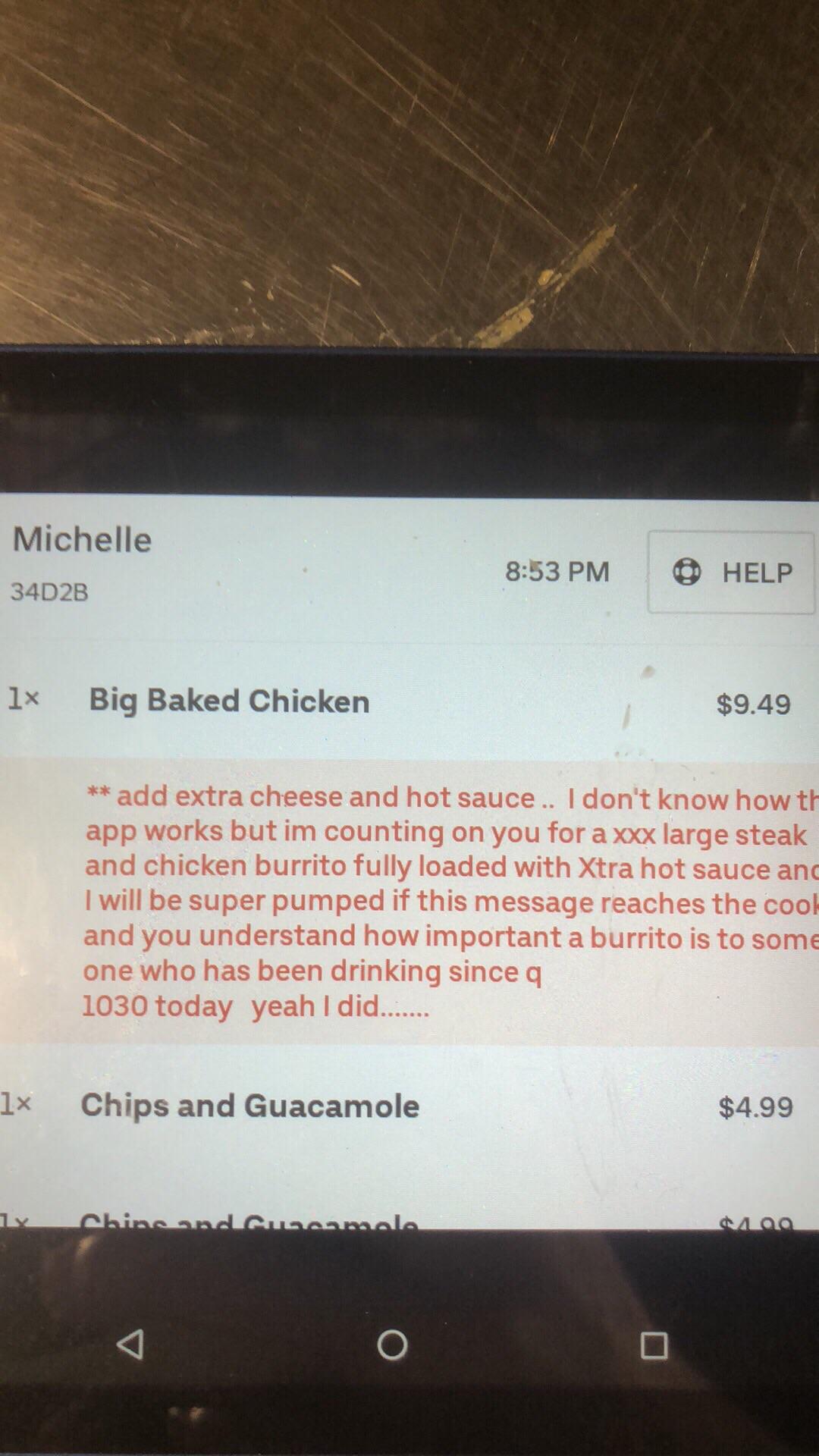 This is an oddly specific set of instructions for Uber Eats. Only when you are drunk enough can you really understand the importance of a burrito. We have to wonder if the driver got the order correctly and if the customer actually remembered eating that tasty Mexican delight after being that inebriated. When it comes to eating, the good driver Vish also has a policy. If he has to eat in his car, he only consumes salads or raw vegetables that won't give off any unpleasant odors. "His car needs to be a blank slate that passengers can immediately feel ownership of, not like they're suddenly in somebody else's kitchen."
31. AWESOME MUSIC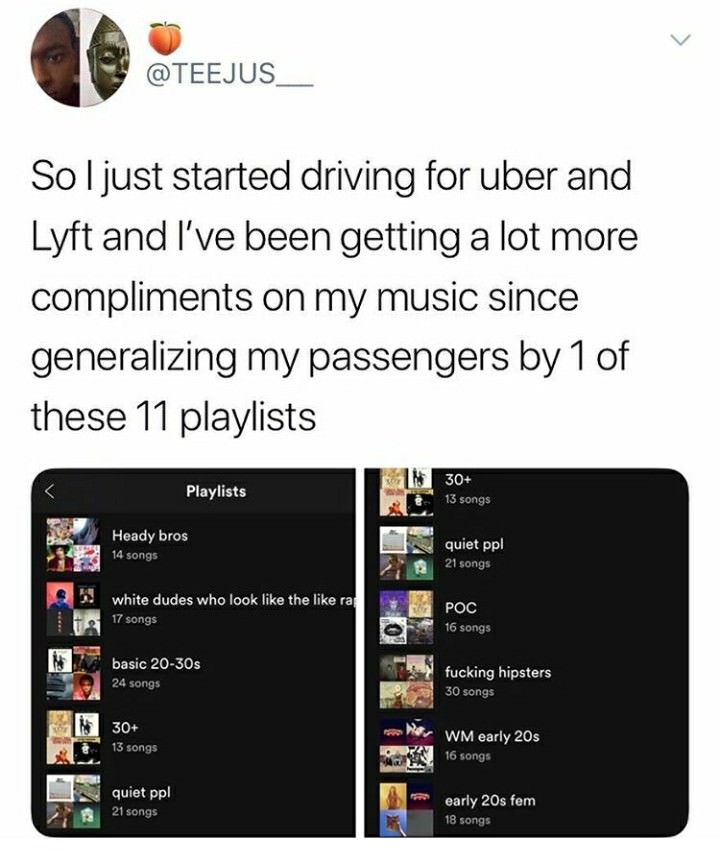 Good music has a way of defining someone's experience during a ride, and we all have different tastes. This driver received a bunch of better ratings when he started catering to many people. His playlists seem ingenious. Meanwhile, Vish feels the same way about sounds that he does odors. Therefore, he never has anything playing when a customer gets in. If that particular client wants the radio on, he will kindly turn it on, but he makes sure to turn it off before picking up someone else.
30. WHERE ARE YOU, RAJESH?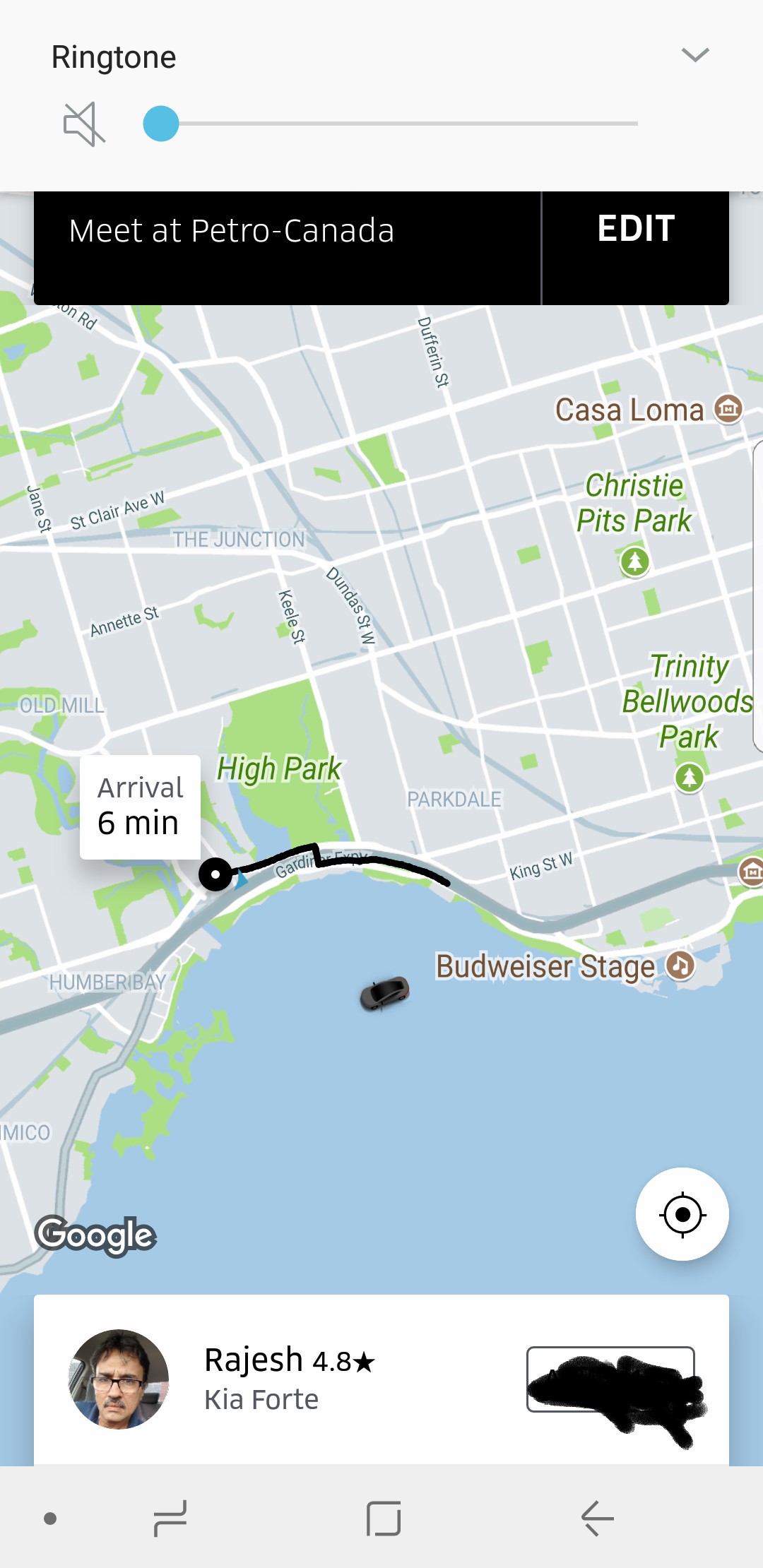 Rajesh clearly suffered the same fate that Dinesh did above, except we don't know how he got lost, and what happened with the customer. You might be wondering what happens if your driver gets lost. You can communicate with that person directly to explain exactly where you are. Sometimes, you might be charged too much because the driver took the wrong route, and you can ask for a fare adjustment. That would have to depend on the pick-up location you entered and the drop-off. If you accidentally wrote the wrong address, then it's not the driver's fault.
29. WE ALL GOTTA EAT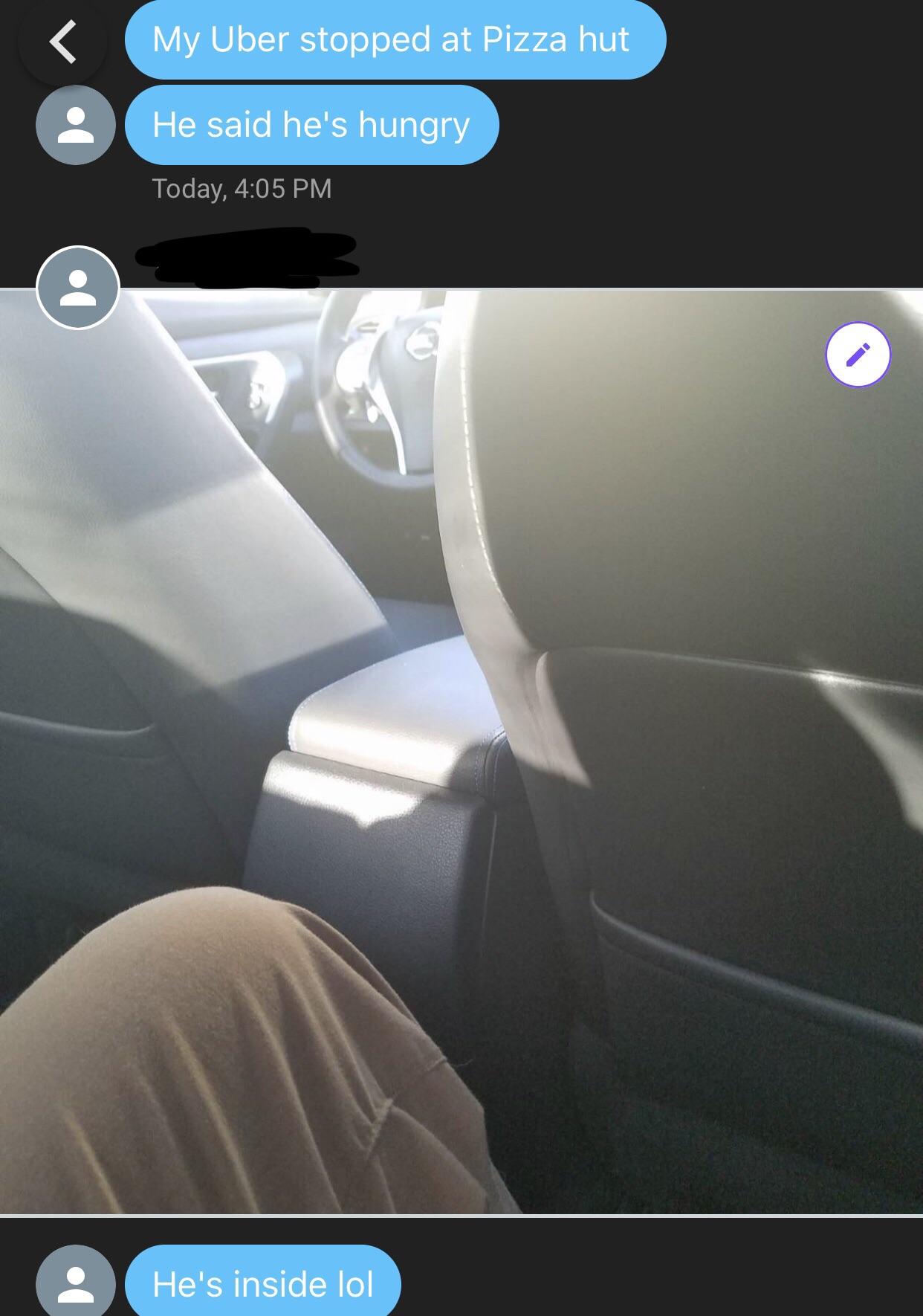 Sometimes, drivers don't have to time for anything, and it's great when there are clients who don't mind if they stop for a bit to eat. However, there are many who wouldn't be alright with that because they want to get somewhere fast or don't like waiting around. This customer was laughing about it, but we don't know if he gave his Uber driver a good rating that day. It takes some time to make a pizza, after all. Hopefully, everything went smoothly.
28. WE NEED A BOAT HERE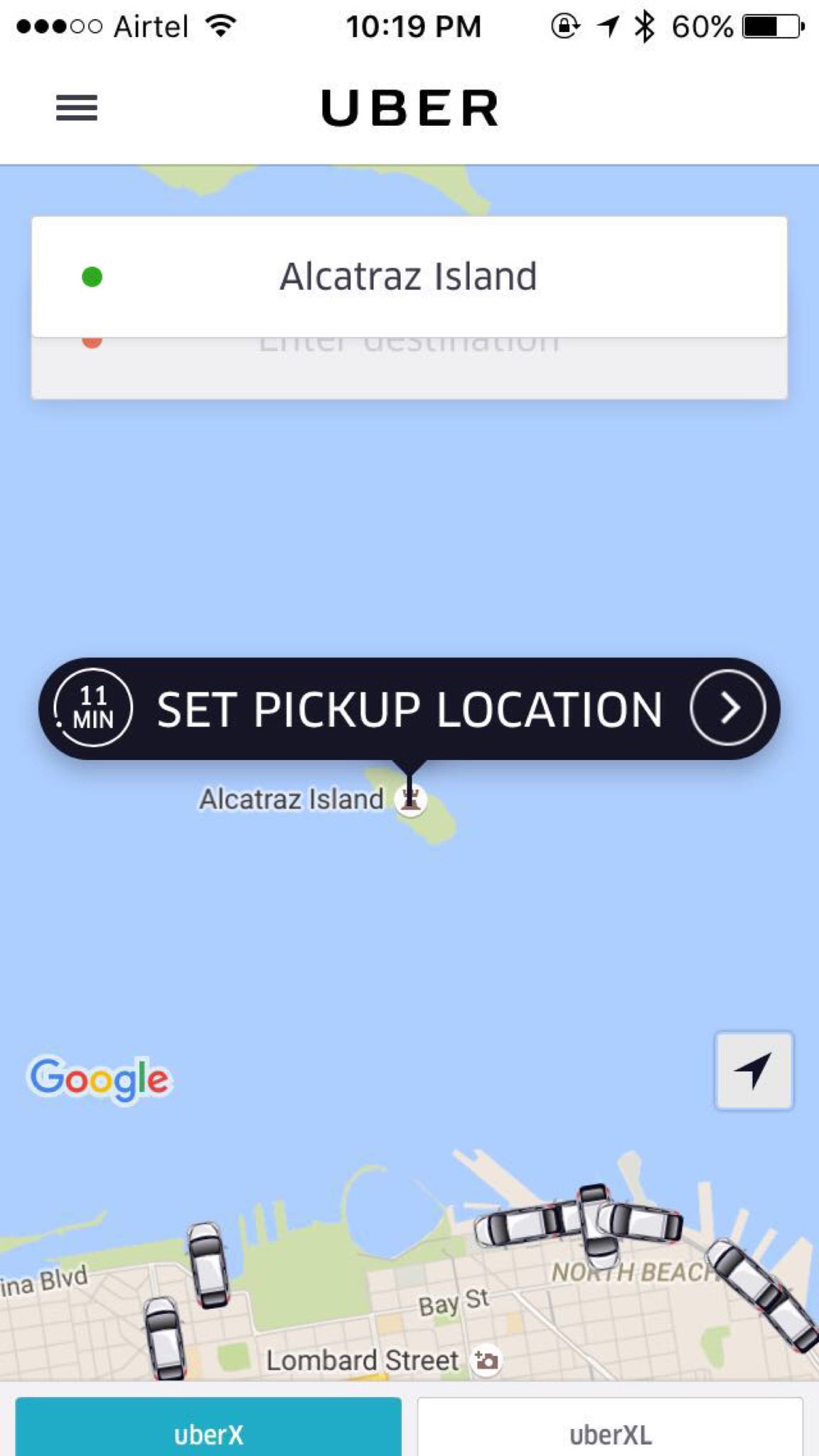 There some people who might play jokes on Uber drivers and send them to impossible locations. That's rude, and it's a waste of time for these people who are just doing their jobs. This driver was sent to Alcatraz, and we hope that no matter what happened, he got his money for the trouble. On the other hand, if the prison wasn't abandoned years ago, we might think that one "clever" inmate was trying to escape using the service.
27. RUN!
It's always important to check if you are getting in the right ride because there are many people looking to take advantage or even hurt innocent passengers. Sadly, one student recently got killed because she got in a stranger's car thinking it was her Uber. Her body was dumped down the road in Columbia, South Carolina, and police wouldn't say exactly what happened. But, they found her blood on the car of a 24-year-old who was charged with the murder.
26. A LITTLE AGGRESSIVE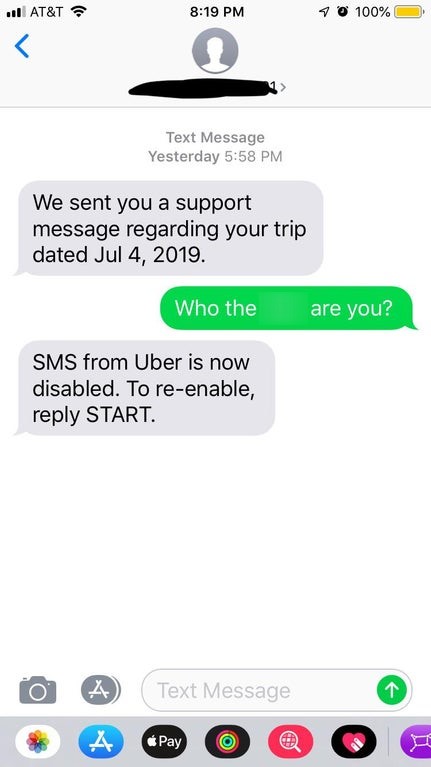 Of course, not many people save the number of their Uber driver, especially if you use the service a lot. However, you don't have to answer text messages in such a rude way. This client was clearly having a bad day. Luckily, it was just an automatic message, and nobody was actually affected by that reply. It's still pretty funny that someone tried to insult a machine.
25. WHERE IS HIS LETTER TO HOGWARTS?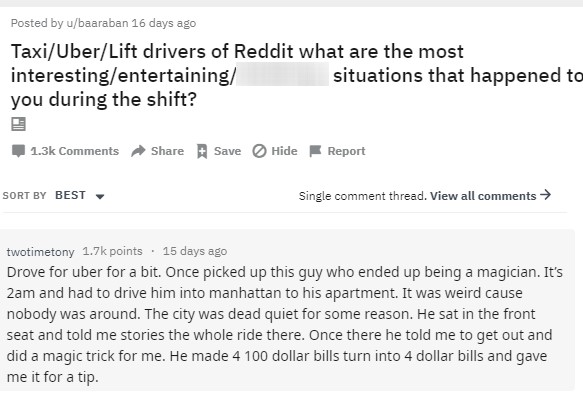 While text message conversations and experiences with Uber or other driving services can be funny, there are also many encounters that have been documented on Reddit. Sometimes, crazy things happened in real life, and the client or driver doesn't have screenshots to prove, just his or her memories. They are also pretty hilarious sometimes. Many are a bit odd, and then, there are some like this that are pretty cool.
24. CAN'T GET OFF THE TRACKS

We wouldn't advice doing something like this, but some people really need the money and the great ratings. It could have been a dangerous situation for that female driver, and we hope she kept in constant communication with her daughter or someone else the entire time because it did seem a bit sketchy. Luckily, we love when things turn out alright. It also makes us think about train drivers. They cannot just stop their turn their vehicle and stop at a fast food joint for something to eat. Therefore, Uber Eats was this man's only option.
23. THAT'S A SOLID NO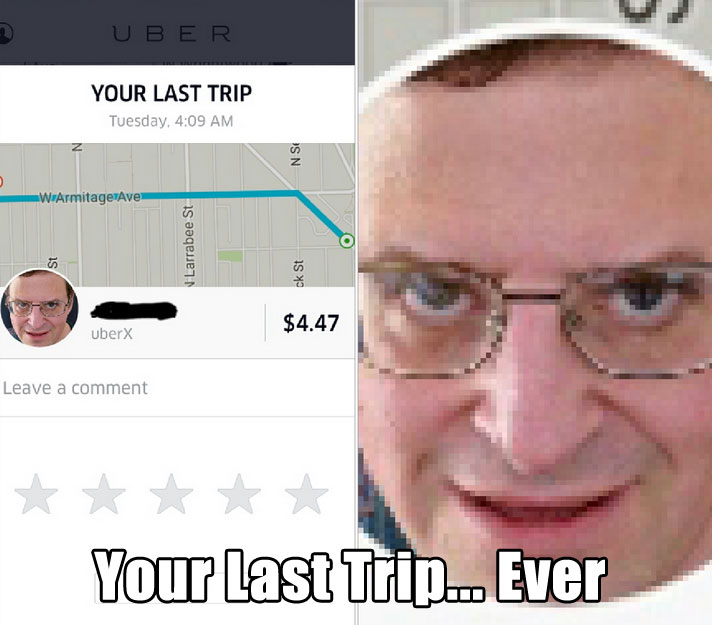 Yes, we agree that judging people based on looks is bad, and no one should do it. However, this meme was little too funny not share with our readers on this list. To be honest, we hope it's fake because we cannot imagine anyone posting a picture like that on a site that depends on reviews. Then, getting into a car with that person might be a bit weird depending on their attitude. Vish, the good driver, like to treat his customer almost like friends. He doesn't ask their name. Instead, he asks, "Is it Neil?" like he is happy to see them.
22. HMMM...ALL FOR IT? OR NOT?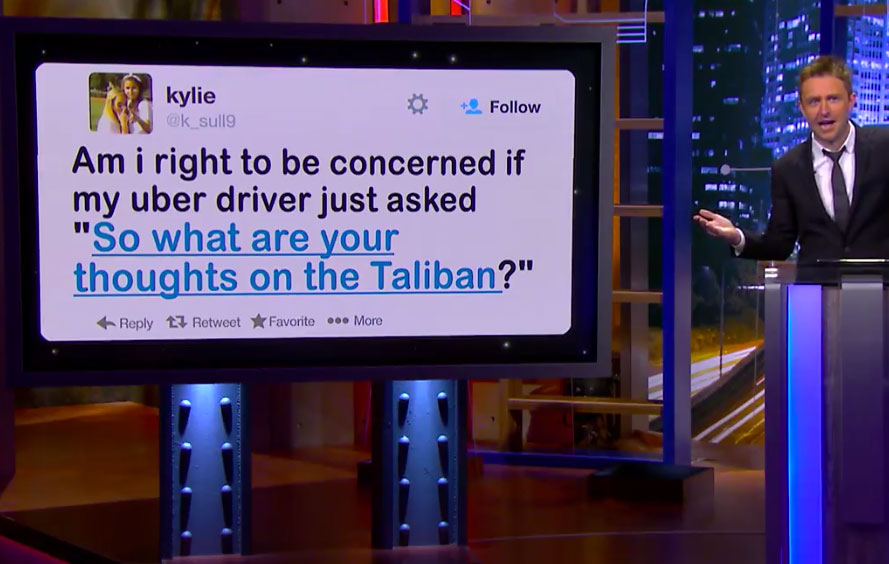 Conversation with strangers can be a bit odd. You might find out that someone is racist or has odd political opinions. We should always be respectful with everyone's differences, but that's why in polite discussions, especially small talk, it's better not to bring up weird subjects. In America, talking about the Taliban might get you weird looks from others. It might make them feel like getting off their Uber.
21. SHOULD'VE KISS IT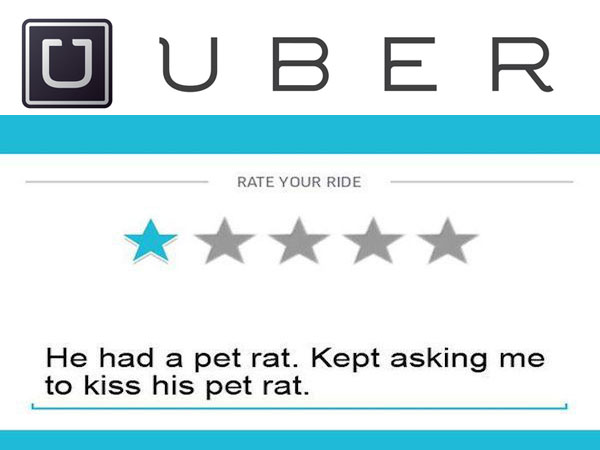 We love seeing animals on Uber, but there are people who are not comfortable with rats yet, although some have had them as pets for many years. Chinchillas, rats, mice, and other rodents can be adorable, but there's a huge stigma with some of them due to diseases, and people think they are dirty. However, that's not really the case when they are pets. On the other hand, we must never force people to like our pets no matter what. The driver just needed to tell the client that he had his pet rat with him and nothing else. Asking them to do things that make them uncomfortable will result in bad ratings.
20. MUCH CHEAPER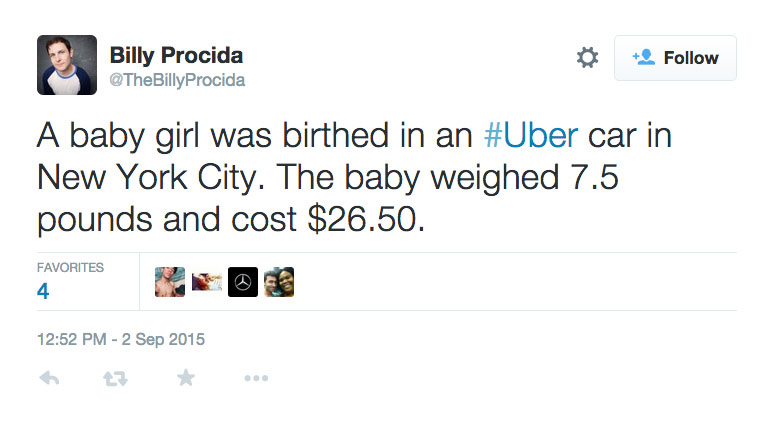 That's not the only story like that. In fact, there are many instances where people have purposely decided to use Uber instead of calling an ambulance to take them to the hospital. This could've been unintentional, but it was still much cheaper than using the ambulance and delivering the baby at the hospital, especially in the United States where healthcare is so expensive. Research has even discovered that certain cities have seen a 7% decrease in ambulance use after Uber became popular. It's a great option because a person can choose the hospital they want instead of the nearest.
19. NOT A GREAT EXPERIENCE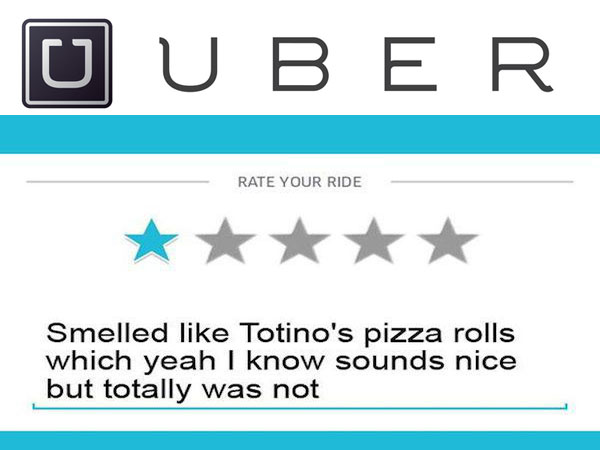 Keeping a car fresh is important when there is a new customer, as we have already learned from Vish's experience as the best Uber driver. But, this client didn't have a nice ride. Pizza might smell good when it's in the oven, but when someone has already eaten it, things change. Another interesting piece of advice from Vish is that people like being treated well. "I try to break the ice by appreciating people. When you appreciate someone, you are not giving a discomfort to him or her. They will surely come back with a positive remark or a positive affirmation, sentence, or a line or a word to you." He added, "If you start with a smile, 99% of people will smile back."
18. ALL THOSE CARS AND AN UBER?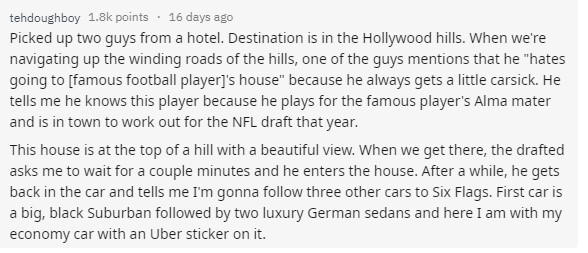 We don't know why this client needed an Uber when there were a bunch of cars already set to drive everybody around. Maybe, you need one to get to that famous person's house, but why not leave with them too? It's an odd experience, but when nothing bad happens, those are the memories that stay with us for a long time. Everyone loves hearing a good random story from work.
17. CAN I BORROW...?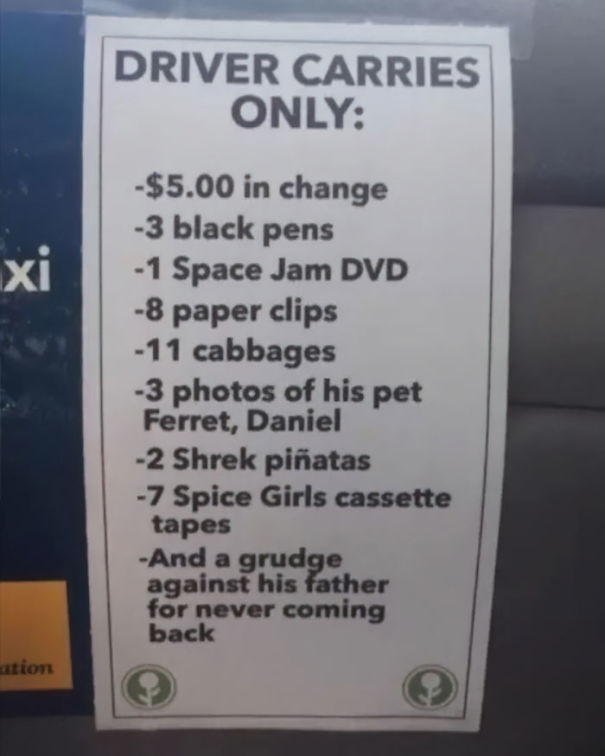 We would've been interesting in watching some 'Space Jam' if there was a DVD player in the car. However, some clients might need a pen or something else from the driver, and this sign is definitely helpful. We hope he managed to make peace with his father, though. Meanwhile, this driver knows what kind of clients he normally gets, and Vish actually revealed that he targets certain people. For example, he doesn't take fares from drunk people. When partygoers start requesting him, he heads home for the day because it's important to know your limits.
16. YOU GOTTA HAVE GOALS!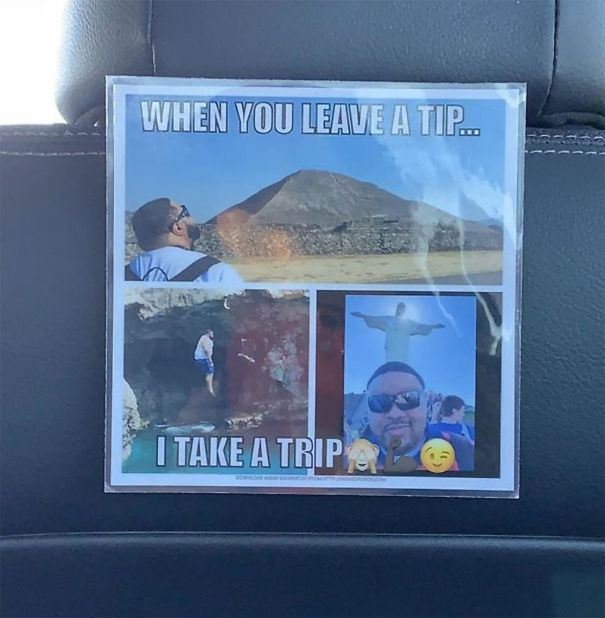 This is the kind of message that makes us want to tip more. People work to pay their bills and have food on the table, but you also need to have fun in life. Travelling is important and can educate people about things we never even imagined. Being a taxi or Uber driver doesn't mean you can't have goals like that. Anyone doing an honest job for a living also deserves a bit of pleasure, and we hope this driver got another trip for his work.
15. THE DRIVER SAID HE WAS WITH HIS CAT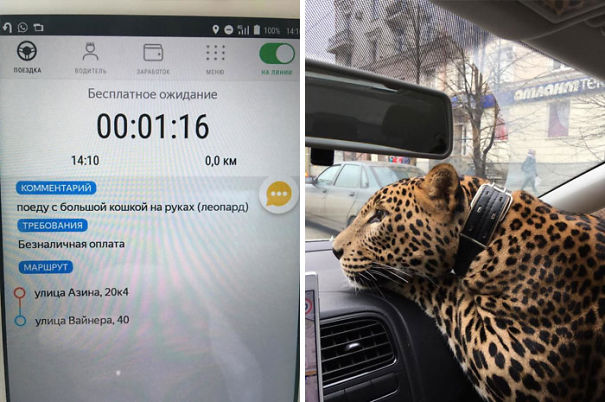 This is another example of a pet on Uber, but this client probably didn't expect to have such an exotic animal on board. While we don't where this happened exactly or if someone made it up, it's surely fantastic. Furthermore, the driver was not technically lying. It is a certain kind of cat. Of course, some people would say that keeping wild animals as pets is a horrible practice that people should stop doing. But, maybe this driver rescued him from a bad situation and couldn't return him to the wild. We have to know more before we judge.
14. SNEAKY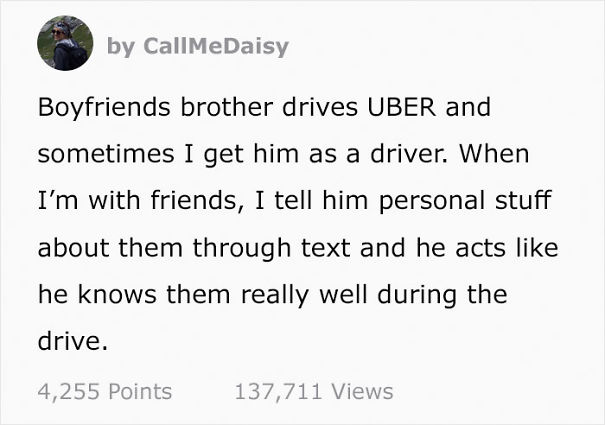 There's nothing better than trying to trick your friends, and those girls were probably freaked out that a total "stranger" knew stuff about them. It's a little evil to be honest because there is so much information about people on the internet. A random person could actually know a bunch of stuff about you just by searching your name through several sites like Facebook, Twitter, Instagram, LinkedIn, and others. But, we all love living in the era of technology.
13. SHOULD'VE TOLD THE COPS?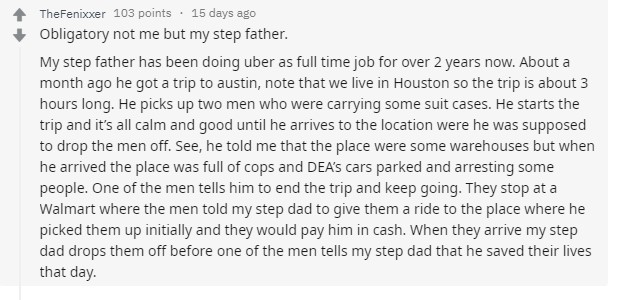 This story sounds like it should have been a movie. It could in different genres like suspense, action, or even horror, but it needs to happen. However, that driver should've told those people to get out of the car. They seemed like criminals, especially of the DEA (Drug Enforcement Administration) was involved. We have to wonder what they carried in those suitcases, and what would've happened to the driver if troubled ensued.
12. GREAT DEAL

This driver got to keep a set of very expensive headphones, and he also gets to say that they belonged to that famous person. We are especially glad that he was honest to try to return them, even though that football player could probably afford to get another pair easily. Honesty is the best policy, especially when you are in the service industry. Meanwhile, Neil Pasricha had this to say about the good driver Vish, "Driving an Uber wasn't his first choice, and it isn't what he intends to do indefinitely, but he's doing more than just making the most of it. He's enjoying what he's doing–and creating an unbelievably positive experience for everyone he interacts within the process."
11. PRETTY SCENERY

Searching through Reddit for interesting Uber and taxi fare stories usually end up in a lot of NSFW scenarios, but every once in a while, you find a wholesome tale that stays on your mind. This person's GPS took him through a weird route, and the couple on the back got to see a bunch of things they didn't even know where right in their city. The fact that this driver thinks they were his best clients restores our faith in humanity. It's about enjoying the little pleasures in life. Those small moments of innocent joy that can be found when you discover something new are precious.
10. SOME PEOPLE CAN'T TAKE RESPONSIBILITY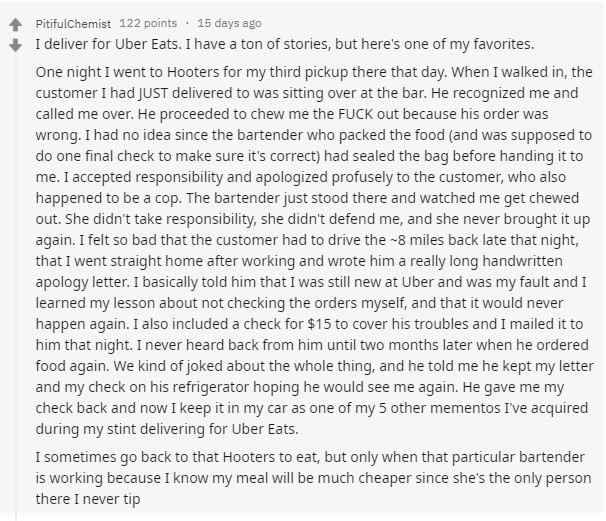 This is a long story, but it's worth reading. Uber Eats can be a little tricky because the driver is not supposed to go through your food, but he or she is supposed to bring the correct things. Most of them probably trust that the service person will do a good job because they are also getting paid, but not everyone will own up to mistakes. Maybe the waitress was having a bad day, but being honest about something is best. We applaud the driver's attitude, as he took responsibility and didn't cause a scene when it was clearly not his fault.
9. OOPS...

Bachelor parties can get pretty crazy, but this situation is also kind of innocent. They were drunk but were also acting like goofy kids. Naturally, there was some trouble but took responsibility, offering everything the driver needed to get his car fixed after that minor accident. However, neither of them expected that plot twist, and it's hilariously ironic. Uber bought scooter makers Jump in 2018, and CEO Dara Khosrowshahi said that the purchase would help the company "bringing together multiple modes of transportation within the Uber app—so that you can choose the fastest or most affordable way to get where you're going, whether that's in an Uber, on a bike, on the subway, or more."
8. IT WAS 10 A.M.!

Like we mentioned earlier, Reddit has the craziest stories about people and their drunken encounters while using this service or around Uber drivers. This situation was neither the driver nor the passenger's fault, but we have to wonder why Jeff got drunk at 10 a.m. on a random Tuesday, and why he bought such an expensive kebab. Also, why was he naked? We have so many questions. We will never get the answers because life is mysterious like that.
7. A RIDE FOR CAPTAIN AMERICA

Some people don't realize until way later that they have met a celebrity. You don't expect to see them during your daily life. Furthermore, most drivers don't look too closely at their clients because they are literally facing the other way to drive them. Fortunately, the actor was probably happy that he did not ride with a crazy fan. But, we have to wonder where he was going? Could it have happened during the 'Avengers: Endgame' filming? What would you have said to Captain America if he got in your car?
6. FIGHT BETWEEN CABBIES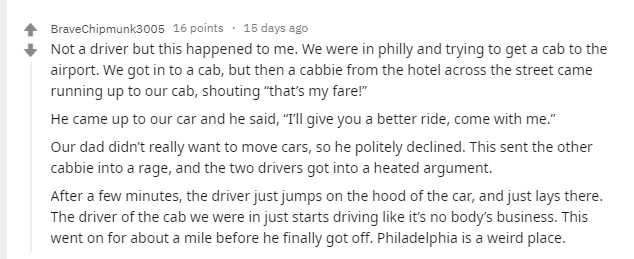 Well, clearly, the taxi business in Philadelphia is a bit crazy, especially if two cabbies were upset enough that they got into a fight in the middle of the street for a fare. Some people have road rage, and there have been situations where they even get arrested. Another similar occurrence is that some taxi drivers have actually fought against Uber drivers because they are "taking their business". Sadly, the market changes all the time with technology, and private taxi services need to find a way to stay current. People love anything that is convenient.
5. LUCKY FARE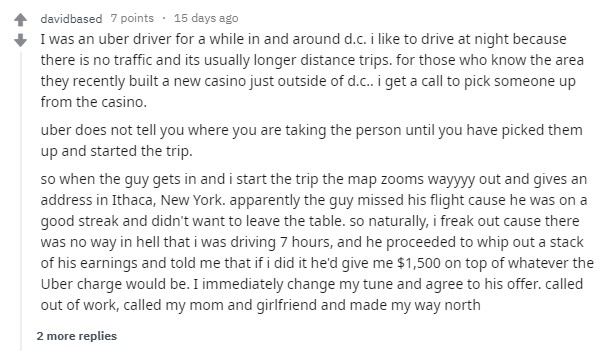 No taxi driver would appreciate the fact that someone wants them to drive so far away from their home. It uses up a lot of gas, and if the car is old, it can actually damage it. However, both these people were lucky because the gambler got what he needed, and he also used his earnings to pay for the service. The driver got to accept cash without having to pay commission, and that's like receiving a huge tip on top of paying off the 7-hour fee. Meanwhile, Uber has tried hard to implement different features to accommodate longer trips to make things convenient for clients and fair for the drivers.
4. LAZY CLIENT

We have to laugh at the laziness of this client. He was right next door, but sometimes, you don't want to leave your house or get changed out of your pajamas. To be honest, anyone with a bit of money would try doing this at least once in their lives. Also, we applaud the client for tipping $10, even though the driver didn't have much trouble or a big route to take. It's a silly situation – not crazy at all – but it's funny to think that it might happen more often than that.
3. LET'S JUMPSTART THE PLANE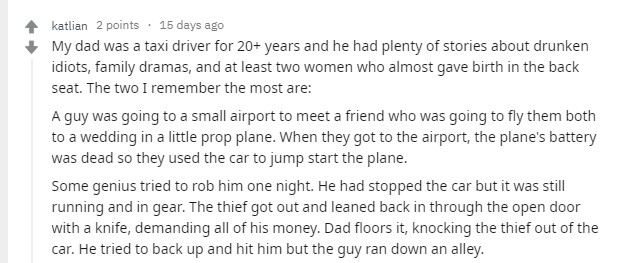 We would never get on a plane that needed to be jumpstarted by a car. No, we are not that brave. That sounds insane, but we are glad that the driver was kind enough to offer some help for these silly flyers. Regarding the other story, that burglar seems like a newbie. Any other criminal would have asked the driver to get off the car way earlier, especially if he only had a knife and not a gun. Once the driver floored it, there was nothing that bad man could do to stop him with that weapon.
2. YOU CAN'T BE STRAIGHT

This is just hilarious. It seems like the brothers had some sort of bet that the gay one couldn't pick up a girl even if he tried. Also, he didn't help him because he ruined his game completely. Another scenario could be that the brother wasn't actually gay, and the other one was just trying to get him riled up by saying he was gay. Either way, it looks like the driver had a lot of fun with those customers.
1. MAYBE SHE WAS ALLERGIC?

She was completely irresponsible because leaving the car in Drive can be dangerous, and she also risked her passenger. Yes, might have been allergic, though, because the Journal of Asthma and Allergy says that 5 to 7% of the population is severely allergic to the stings of bees. Most people will just experience a bit of inflammation and some soreness, but others could have more serious symptoms such as dizziness, vomiting, and/or difficulty breathing due to a swollen throat.
Some of these things were funny, but others were a bit scary. Let us know if you have ever experienced something weird like this during a ride. If you liked this article, share it with your friends who need a distraction today! See you next time!
Check out other related articles: