Revealing Historical Photos That Show The Past From A Different Angle
While we learn about history in school and read many subjects about different events, it's hard to really imagine anything without photographic proof of their existence. Luckily, the camera has been around for several decades now, and we have recorded the most incredibly powerful moments. Let's take a look at these images to remind us that life is bigger than ourselves. 
51. THE FIRST WOMAN AT THE BOSTON MARATHON
This is an image of Kathrine Switzer running in the Boston Marathon from 1967. She was the first woman to complete the race with a number, but race organizer Jock Semple can be seen trying to stop and take away her numbered bib. Luckily, he was actually pushed away by Kathrine's boyfriend, Thomas Miller, who was running beside her. Sadly, it took several more years – until 1972 – for women to be officially allowed at the marathon. While training for the race, Switzer's coach told her that it was too much for a "fragile women", but she did it carrying the number 261 with backing from the Syracuse Harriers athletic club.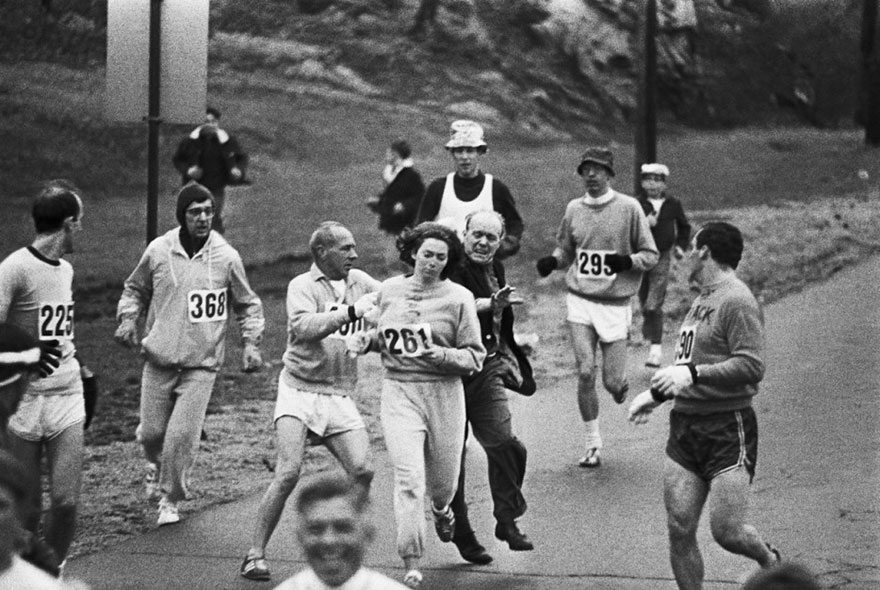 The runner was able to finish the whole circuit in 4 hours and 20 minutes, but she was behind the first woman to finish the race, Bobbi Gibb. Unfortunately, Gibb was not officially registered. The reason that she had number is that Switzer used "K.V. Switzer", although the runner cleared up that it wasn't to trick the organizers. It seems that she always used the gender-neutral abbreviation for a long time and even in college essays. Also, Kathrine said that her name was misspelled on her birth certificate; so, it became a habit.
50. AUSTRIAN BOY WITH NEW SHOES
This is an image of an Austrian orphan who just received a pair of new shoes back in 1946. The pain of World War II affected everyone, but the history of National Socialism in Austria has a mysterious origin. According to Professor Andrew Gladding Whiteside, the country has its own version before the occupation as the result of the problems between the German and the Czechs. However, he said that it wasn't a predecessor of German Nazism. When the Austro-Hungarian Empire broke up at the First World War and the Habsburg monarchy ended, there were three political parties in Austria.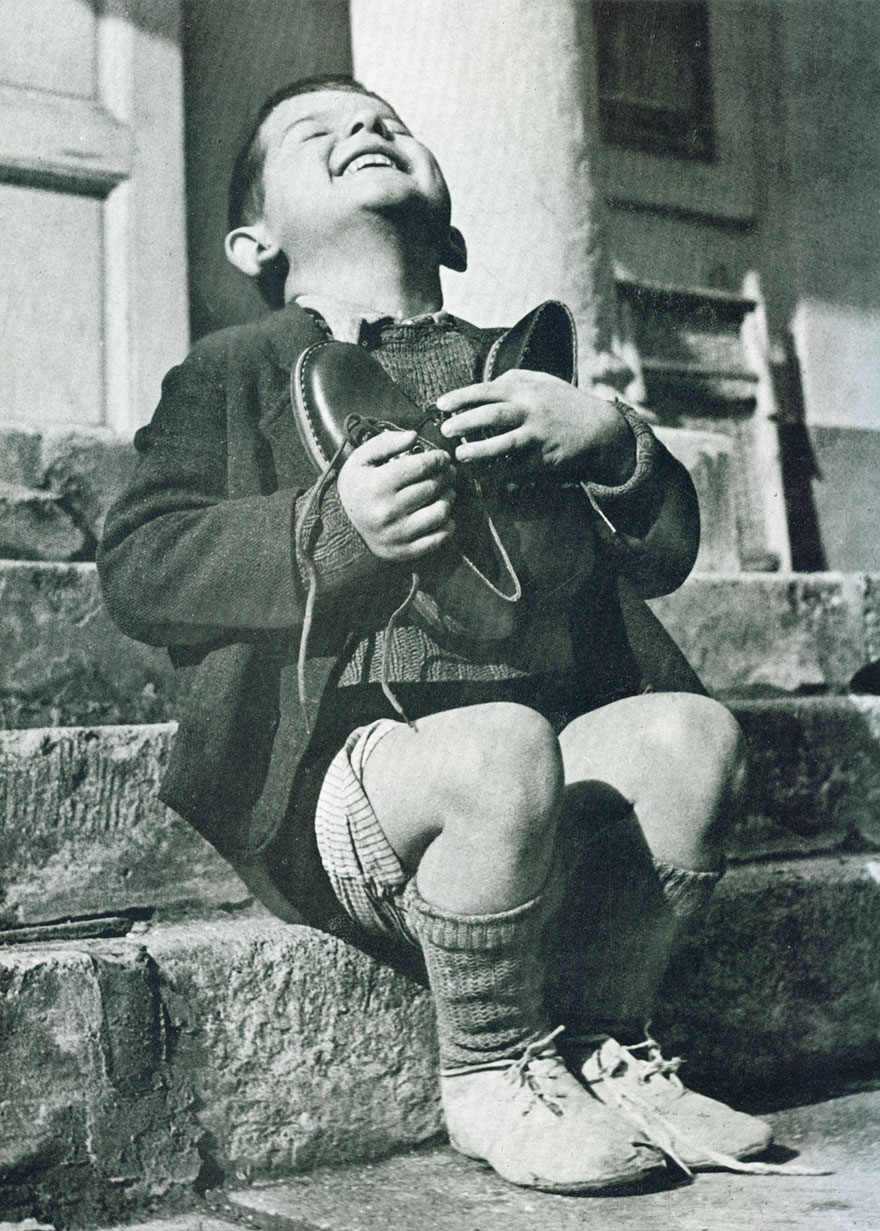 These were the Social Democratic Party of Austria (SDAP), Christian Social Party (CS), and the nationalist Great German Union (Großdeutsche Vereinigung). The communist party and the socialist parties were smaller, and they had nothing to do with the Reichsrat or the Nationalrat. However, the big ones were strongly in favor of joining German Austria with the country, but the smaller unions wouldn't hear of it including the monarchists. In 1919, they signed the Treaty of Saint-Germain, which prohibited the union with Germany, and declared Austria an independent republic. Sadly, WWII was another story.
49. NIKOLA TESLA'S MAGNIFYING TRANSMITTER
This image shows Tesla in his laboratory with the "magnifying transmitter". Tesla was a Serbian-American inventor, engineer, and genius who is actually the biggest contributor to our major electricity system. He grew up in the Austrian Empire and studied engineering and physics in the 1870s. In the 1880s, the engineer worked for Continental Edison, the new electric power industry. But in 1884, he moved to America and became a citizen. He worked at Edison Machine Works for a while in New York but ventured on his own later. Tesla found sponsors and eventually started his own laboratories in the city to work on electrical machines.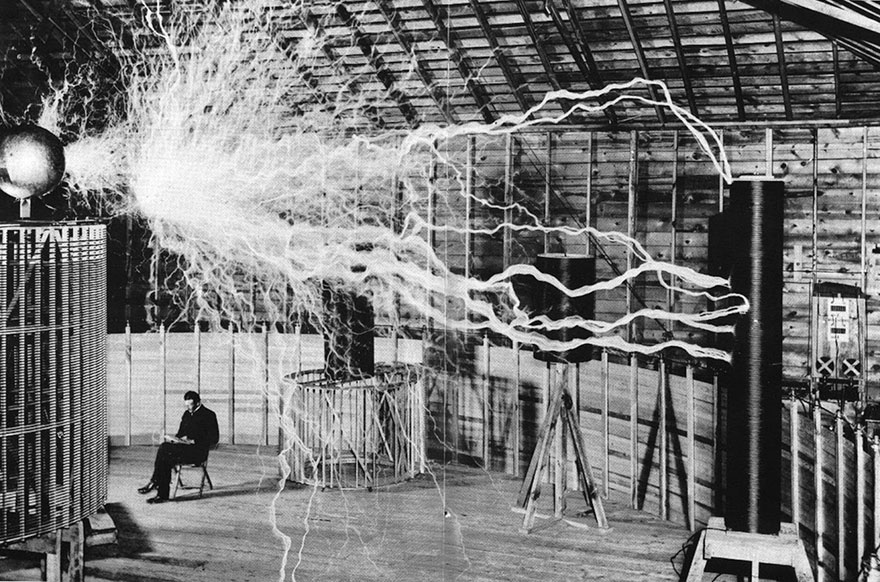 He patented the alternating current induction motor and related polyphase AC, which were licensed by Westinghouse Electric in 1888. As a result, he earned a lot of money and became a household name of the polyphase system. Nikola would continue to invent mechanical generators, electrical discharge tubes, and more throughout his life. Even celebrities and rich people would come to his lab to see his creations. Additionally, it was said that he was very good at showmanship. In the 1890s, he worked on wireless lightning and also talked about wireless communications with his inventions.
48. DOROTHY COUNTS
This picture shows Dorothy Counts, who was the first black girl in an all-white school in America. It was taken in 1957. You can see how her classmates from Charlotte's Harry Harding High School mocked her, but she went on to become an American civil rights activist. Sadly, after four days in that school, her parents transferred her out. That year, only 3 other black students were enrolled at white school: Gus Roberts, his sister Girvaud, and Delois Huntley. Dorothy's first day of school was far from easy. People blocked her father's car from getting near the entrance.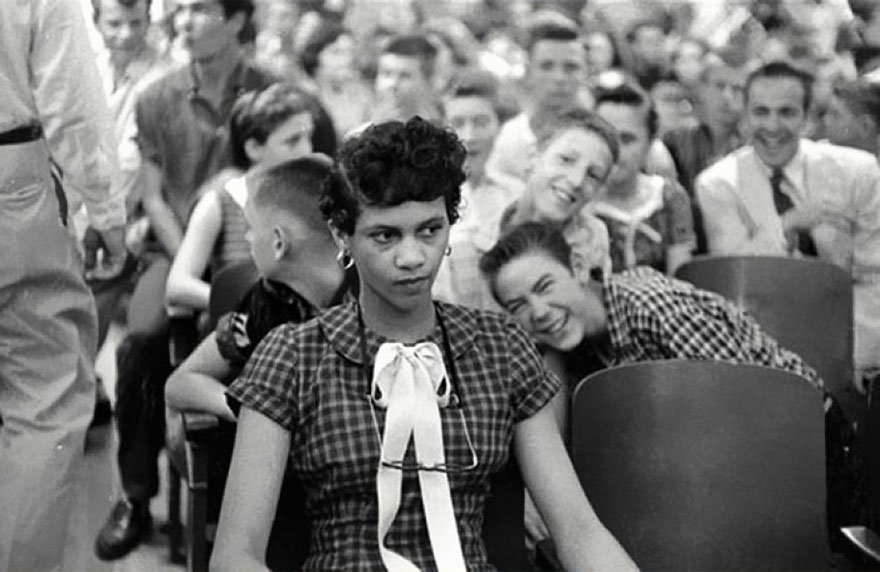 The harassment was brutal was the wife of a member from the White Citizens Council told the boys at school to "keep her out". Dorothy later told the press that some kids had thrown rocks at her and that students would form walls. This picture was taken by Douglas Martin, who won the 1957 World Press Photo of the Year with it. Unfortunately, Counts got ill and had to miss school for several days, although she was looking forward to class because she had befriended two girls. Sadly, when she returned, the girls told her they couldn't be friends anymore.
47. CRYING GERMAN SOLDIER
This picture shows a German soldier crying during World War II, and you might have noticed that they look really young. That's because Nazi soldiers actually started recurring underage kids to their armies. One such organization was called "Hitler Youth", and they would indoctrinate the children with their political ideals. It managed to reach around 8.8 million members, but when the war started, it decreased to less than one million because several leaders were drafted for the national army. The average age for a soldier was 24, but during the war, some were around 16 or 17. Those in control had to oversee around 500 other boys.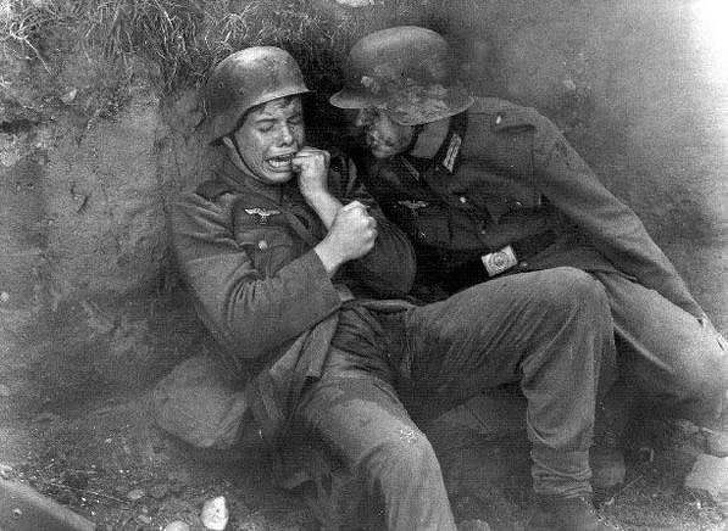 There was one soldier, Heinz Schuetze, 15, who received one his SS uniform after only one day of training with the Panzerfaust in the Hitler Youth. A lot of the members of these groups were taken off schools and trained to throw bombs, dig trenches and other things. However, they were told they had to enjoy doing these things, which would eventually kill them. They had to follow the Nazi party or be killed. They fought for the first time in the war during the British Air Raids in 1940. It's definitely a side of the war that no one talks about ever.
46. WOMEN IN SHORTS
On a cheerier note, this is an image of women wearing short shorts in the 1950s. The name "shorts" came about because they were the smaller version of pants that would normally cover the whole leg. Most people wear them every day during the summer and don't know how they came to exist. There are several different kinds such as knee-length short trouser that can become a bit more formal, and many others. Some shorts are only worn by women like culottes, which seem like a skirt. In the 19th and early 20th century, these garments were used by mostly boys in both America and Europe.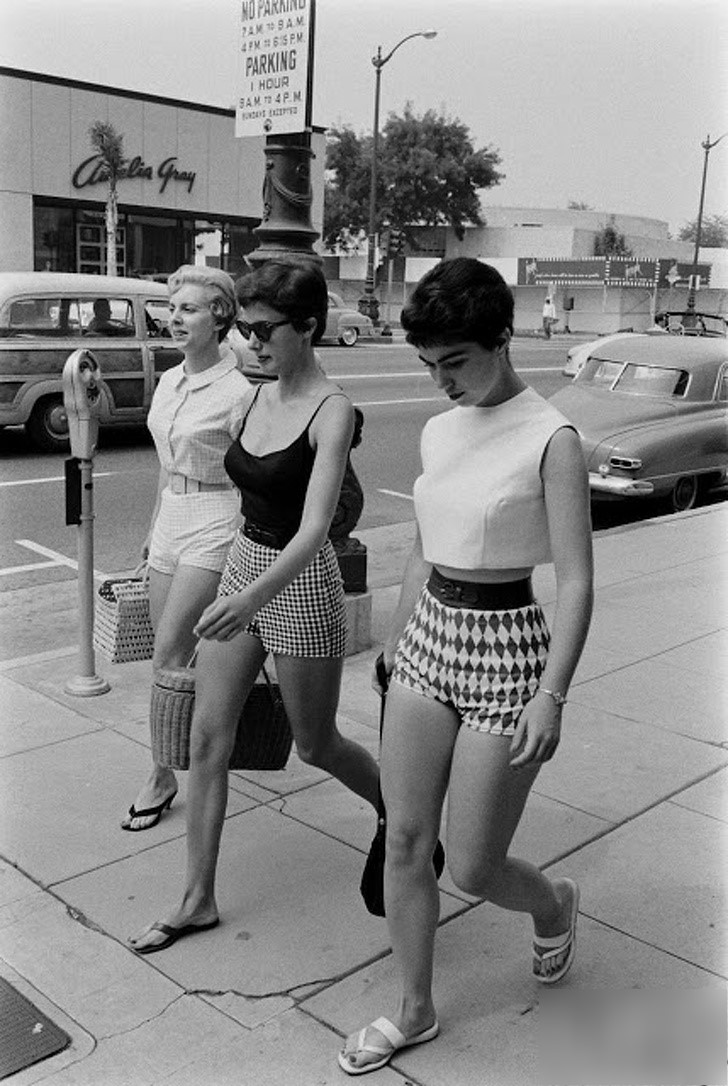 When they became older, they would start wearing pants normally. However, the practice made it seem like only boys were allowed to wear them and men would never dare. Women were not fond of them because of the cultural perception that they needed to use skirts or dresses. In the late 1800s, boys in America would wear "knee pants", another kind of short pant. It wasn't until the 1930s that boys and girls started using them for comfort, but it was still considered weird to use them outside.
45. LOVE IN TIMES OF WAR
This is an image of a young girl during a heartfelt moment as she said goodbye to her love in Connecticut in 1945. Love must have been hard for many people during both World Wars, and that is why the "Baby Boomer" generation has that name. As many soldiers returned home to their bride and started making big families. We are all hopeless romantics, and there are several novels about love in times of war that our readers might be interested in. 'War Bonds' by Cindy Hval is all about holding on to the love of your life. It is based on the author's story, and her husband was the one who told her to write it because he didn't want the story to disappear.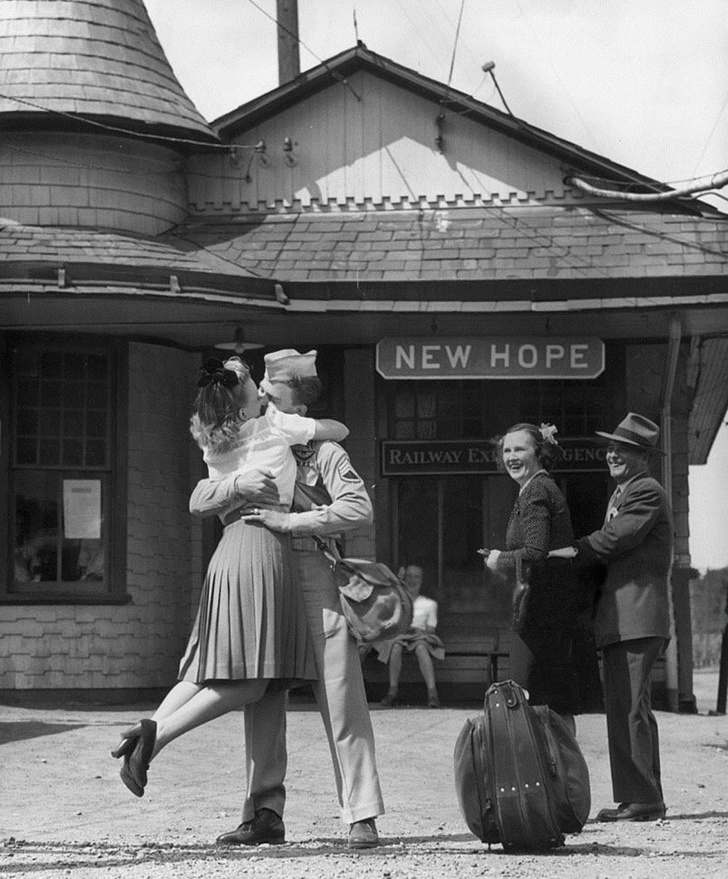 However, it also includes a bunch of other love stories of many couples who took their chance at romance in a time when they had no idea if they would get to spend their lives together. The anthology reminds us that we should always tell those we love how we feel. Another book, 'Eve of a Hundred Midnights' by Bill Lascher is a great option. It's the story of two war correspondents that have to make a hard decision once WWII started. It is the story of Lascher's cousin, and how he was married for just a month before he and his wife had to run when Manila fell and the Japanese were invading.
44. A BOY ABOUT TO GO ICE SKATING
Anyone who loves ice skating can attest that falling is incredibly painful. This image shows a Dutch boy wearing pillows on his butt as a cushion in case he falls. Ice skating is ubiquitous in colder countries, but its origins might be dated back more than 4,000 years ago. Apparently, it happened in Finland, and they did it to save energy during harsh winter walks. However, real ice skating as we know it today started when the steel blade was integrated, which cuts through the ice instead of moving above it. That was invented by the Dutch in the 13th or 14th century.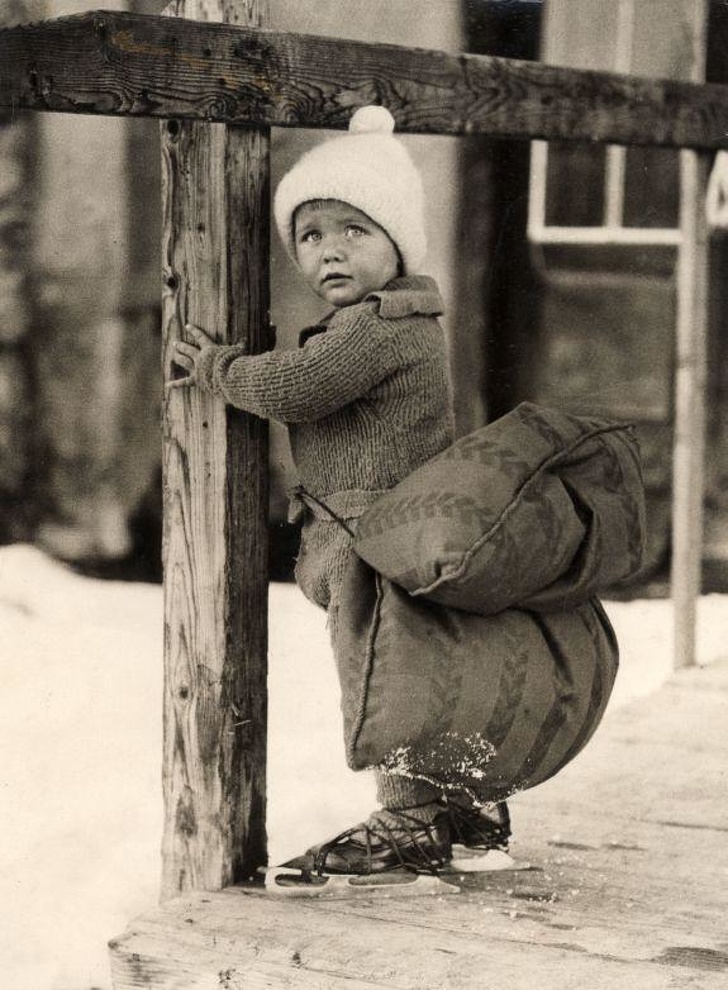 Although many old inventions have been modernized over time, the making of ice skates has remained basically the same since its inception. In the Netherlands, ice skating was practiced by people of all classes, and it soon made its way to Britain, when James II returned home after a short exile. He called a "new sport" and showed it to other aristocrats, but luckily, everyone could enjoy it as well. The first recorded club was the Edinburgh Skating Club founded in the 1740s. They were even mentioned in the second edition of Encyclopædia Britannica from 1783.
43. BELGIAN MINERS
This image shows Belgian miners from 1900, and by the looks of it, they were probably working with coal. Coal mining has been done for thousands of years, but it skyrocketed after the Industrial Revolution in the 19th and 20th centuries. They used it to power steam engines as well as heat buildings and creating electricity. It's still a major practice in many countries nowadays because it can produce a lot more energy compared to wood fuel, for example. However, while it was once used by everyone at home, coal is mostly used in industries these days.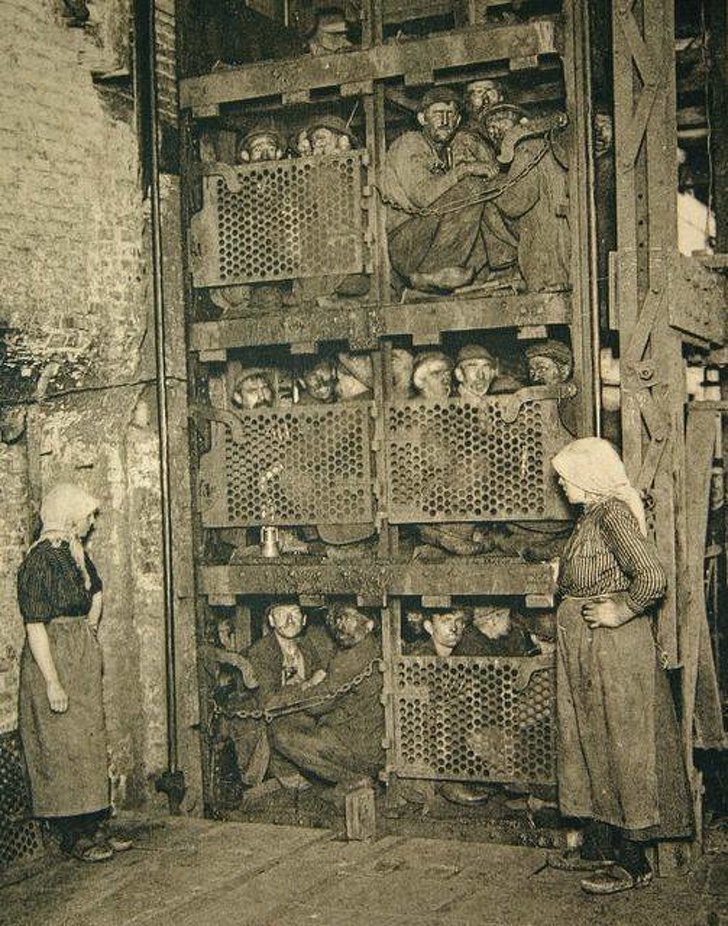 Coal was the main source of energy for transportation during the 18th century up until the 1950s. It's not that expensive, and there is a lot of it, unlike other fuels. But, today's miners might not look at all like the ones in this photo. Mining is done on a large scale now, and Britain was one the pioneer of underground coal mining. On the other hand, by the 1860s, oil and gas were also gaining momentum. The Belgians had a big coal industry, which they used to steam engines. Their coalfield was located near the River Meuse.
42. THE GREAT SPHINX
The Great Sphinx of Giza is one of the most incredible landmarks in human history as well as other monuments in Egypt. A sphinx is a fantastic creature with the body of a lion and the head of a human, and most historians believe it to represent Pharaoh Khafre (c. 2558–2532 BC). It is located on the Giza Plateau west of the Nile River in the African country. The structure measures 73 meters long from paw to tail, and 20.21 meters high from base to head. This picture is from an excavation somewhere around 1850. While it's believed that it was built during the Old Kingdom, there are no inscriptions on it to determine its use or if it's, in fact, from that period.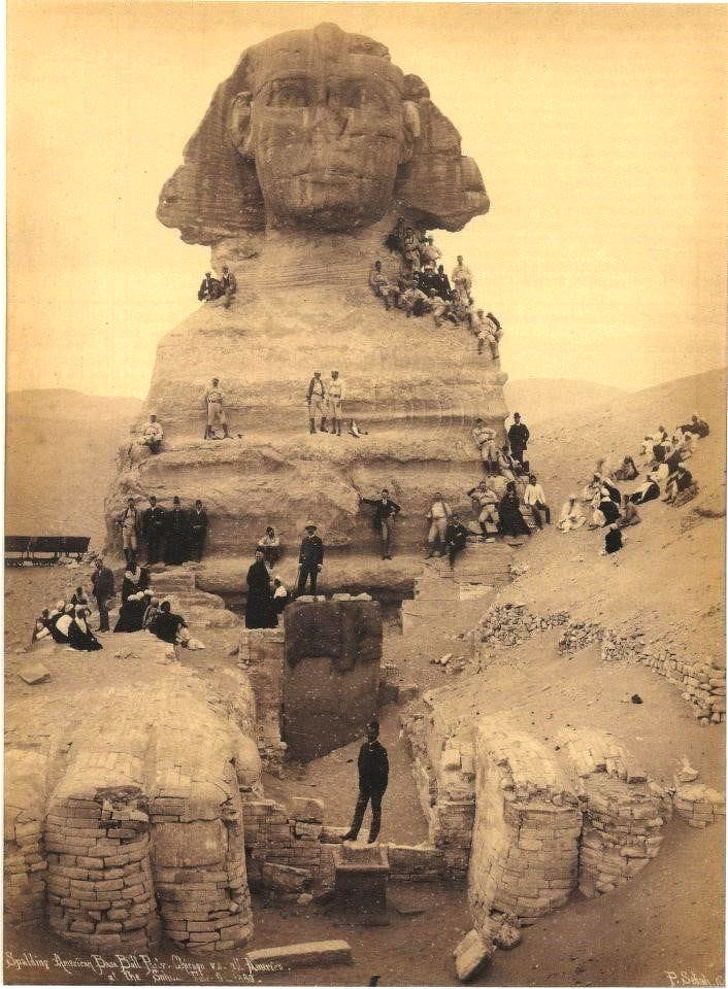 In the New Kingdom, they worshipped it as a solar god called Hor-em-akhet, and Pharaoh Thutmose IV called it his "Dream Stele". It was called Sphinx almost 2,000 years after its suspected construction based on a creature from Greek mythology. The Greek legend had the body of a lion, the head of a woman, and the wings of an eagle, and the tale says that it strangled anyone who couldn't respond to her riddle.
41. WINTER IN THE NETHERLANDS
This image shows an "ice table", which was created from the ebb-tide of a beach in Rockanje, Netherland in 1963. That winter is often referred to as the Big Freeze, especially by the British. It was the coldest December, January, and February ever experienced in the United Kingdom. Even rivers would completely freeze up. That December, London was foggy and suffered a great smog – the last ever before they signed the clean air law, which reduced the use of coal fires – but the snows started falling between the 12 and the 13th.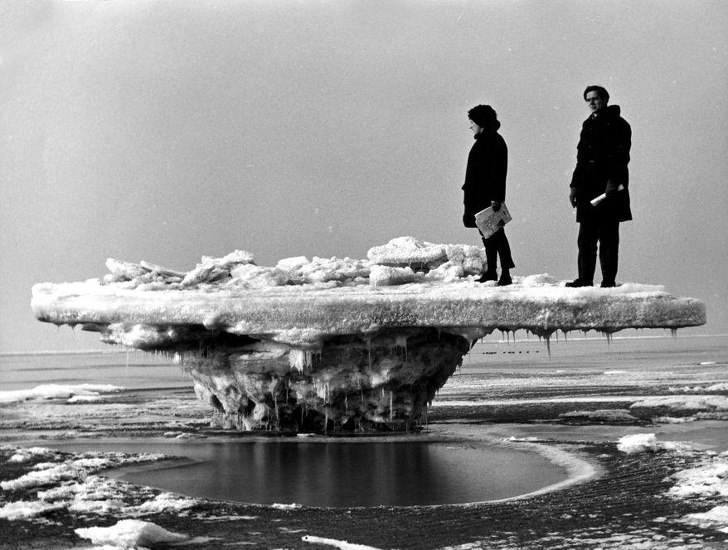 Things turned worse when an anticyclone brought colds winds from Scandinavia and Russia. By the holiday seasons, the colds from Scandinavia had lessened but another anticyclone formed in Iceland. There were heavy snows in the New Year after a blizzard went through South West England and Wales. Some areas were completely covered for nearly two months. In Manchester city, the snow was 6 inches deep, but other places like Staffordshire experienced 18 inches of it.
40. THE CYCLOMER
This is an image of the Cyclomer, the first amphibious bicycle created in Paris in 1932. It featured hollow wheels and floats, but unfortunately, it never worked neither in land nor water because there was no traction. Other bikes were designed to replace it. An amphibious cycle is supposed to work on land and water, and the most popular of its kind if Saidullah's Bicycle, which has four floats filled with air as well as two fans for propulsion. Meanwhile, Moraga's Cyclo Amphibious is shaped like a tricycle with 3 floats that allow for flotation and shove. The wheels also have wings which allow it to move forward much like a normal bicycle.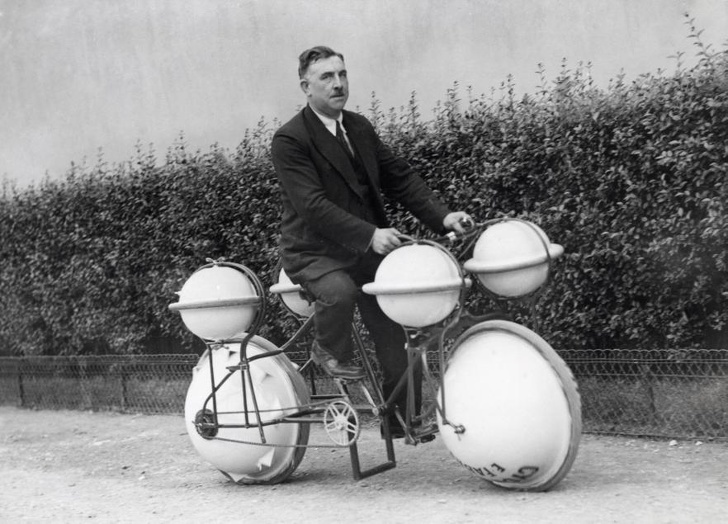 Another version is the SBK Engineering Shuttle-Bike, which has 2 floats with straps that can include a passenger. Additionally, this one can be folded to move it around easily. Furthermore, seven students from the University of Southampton created the Amphibious Cycle, which has a reclining mount with several floats that are moved with a paddle wheel. They reached speeds of 1.12 m/s during testing on the water. Moreover, the cyclist could go through water and land without problems.
39. BOYS PLAY IN THE NETHERLANDS
Unfortunately, even kids have road accidents with their toys. All kidding aside, this image is from the Netherlands in 1935. You might be surprised to learn that toy vehicles started being marketing around Europe at the same as real cars. They were later sold in the U.S. Most of them were made with lead and brass, and later figurines from the 20th century were created with plaster or iron. Tin and pressed steel vehicles – such as those manufactured by Bing of Germany – started circulating in the 20s up to the 40s. These models, however, were very crude representations of the real deal.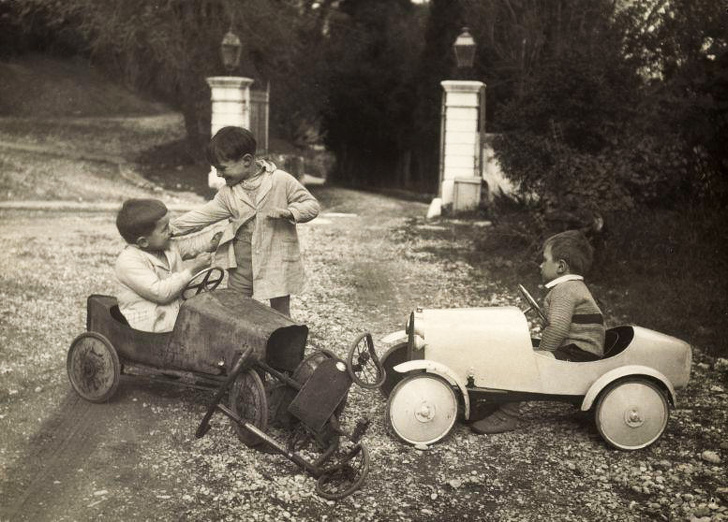 Those made from alloys – mostly zinc – became popular in the 30s and continued long after WWII. By then, people were making with them with pressed tin and diecast zinc in most of Europe and Japan. After a while, making different scales of cars started becoming a thing with real vehicles makers just so they could figure out all the best parts and the proportions. The larger scales were not that common, but the smallest ones became very popular in the 1980s, with models that were only a bit bigger than an inch.
38. TESTING A ROLLER COASTER
This is a picture from 1958, where a death row inmate was chosen to test a roller coaster. Unfortunately, things didn't turn out well for that man, but luckily, the practice was discarded long ago. On the other hand, there is a concept called the Euthanasia Coaster, which was meant to actually kill passengers. Lithuanian artist Julijonas Urbonas, PhD from the Royal College of art in London, make up with it. He was a former amusement park employee, and his idea was for people to die "with elegance and euphoria".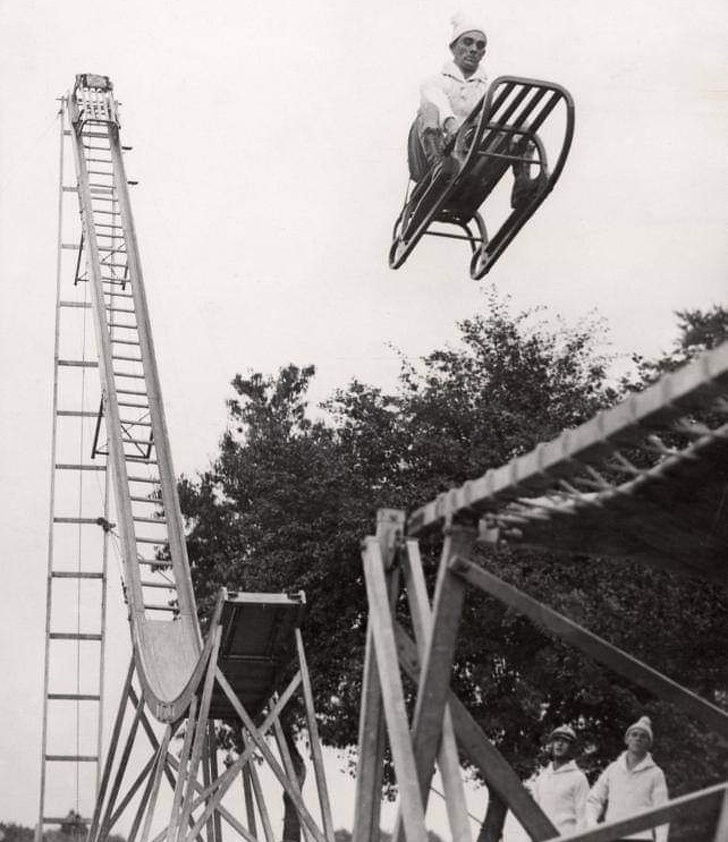 The artist would say that it "euthanasia" or "execution". He was inspired by John Allen, the president of the Philadelphia Toboggan Company. Allen talked about "the ultimate rollercoaster", which would send out 24 people on a ride, and they all returned dead. The design started with a steep lift going up to the 510-meter top, which would take 2 minutes. Then, they drop at 220 miles per hour and would speed rapidly through seven clothoid inversions. Each one had a smaller diameter to keep up the "lethal 10 g". Finally, there is a sharp turn where they would unload the corpses and new passengers would board. That's just crazy!
37. OSTRICH READING THE NEWS
This is the image of an ostrich reading the paper from 1951, and you might be surprised to learn that these big birds have been kept as pets since the Bronze Age of Mesopotamia, meaning the 18th century BC. Several Assyrian annals talk about hunting them, and monarchs had them in private zoos, but also, to collect their eggs and feathers. Nowadays, people have tried keeping them as pets, but after a year of life, they turn into huge animals of around 200 pounds with aggressive attitudes. The more successful practice is ostrich farming, which produces red meat much like beef and venison.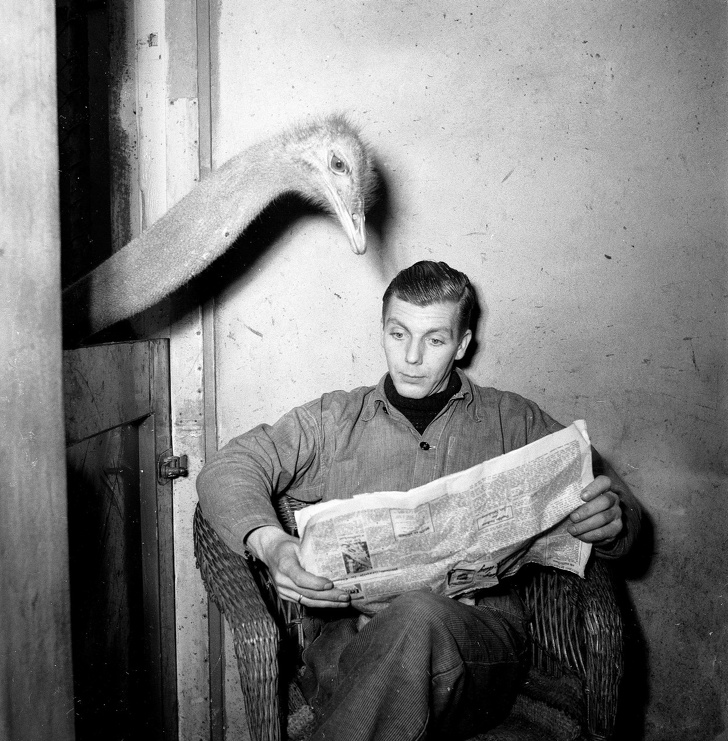 Additionally, their hides are similar to leather. The market for them varies, but by 2012, there were several hundred ostrich farms in the United States. There only a couple of sub-species of ostriches: four in Africa, one in Asia, and one in Arabia. Wild species are located in North Africa and Central Asia. The South American ratite species are not that much alike to those. Wild ostriches are known for eating grasses and forbs, but they might eat flowers and leaves as well. They reach maturity after four or five years and can live up to 40 years.
36. A PEDDLER IN THE NETHERLANDS
This is the car of a peddler in the Netherlands in the 30s. A peddler is also known as a hawker, solicitors, monger, and other weird words, but they are salespeople. In England, the term was used for those that traveled the countryside and through small towns. Some called them tinkers or gypsies, but in London, they used the word costermonger. Over the years, these sellers were convenient because they would be much close to home than the local market. They were informal economies, but they bought surplus things from the big stores and fairs and resold them to their clients.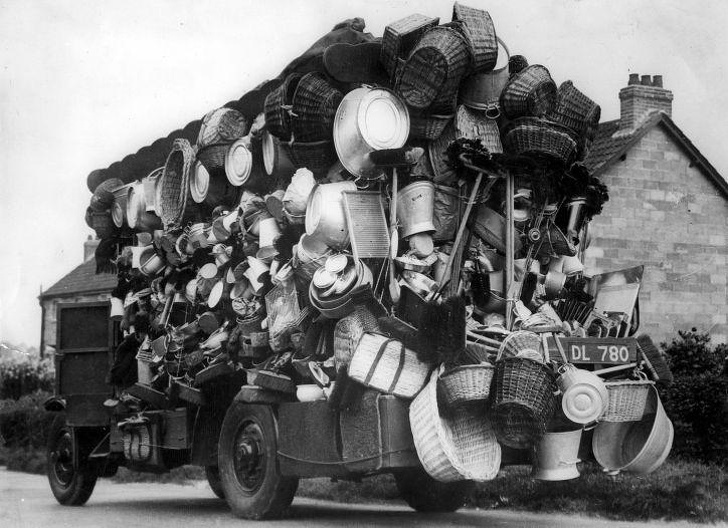 The best part was that they would go to more isolated places such as the mountainous parts of Europe, and they would be near people who couldn't always go to the market to get their supplies. They were an important part of trade routes, and some would actually work for big companies. Therefore, they are the predecessors of the modern-day traveling salesman. Images of these people go back to the 12th century, and they were popular among Orientalist painters and artists of the 18th and 19th century. Some would paint them as bad people, but others romanticized them.
35. THE FIRST PICTURE TAKEN FROM SPACE
This was the first picture taken from space in our history. They took it on October 24, 1946, from a rocket launched from the White Sands Missile Range in New Mexico, USA. It was hovering around 105 km over the ground. They called it the German V2, and the launch happened after WWII thanks to many scientists and experts from the Nazi rocket organization, which was vital for both the U.S. and Russia's space programs. The V2 was actually the cause of fear in London and other cities during the war, but when the fighting end, the explosive part was taken away, and it became a tool for scientific research.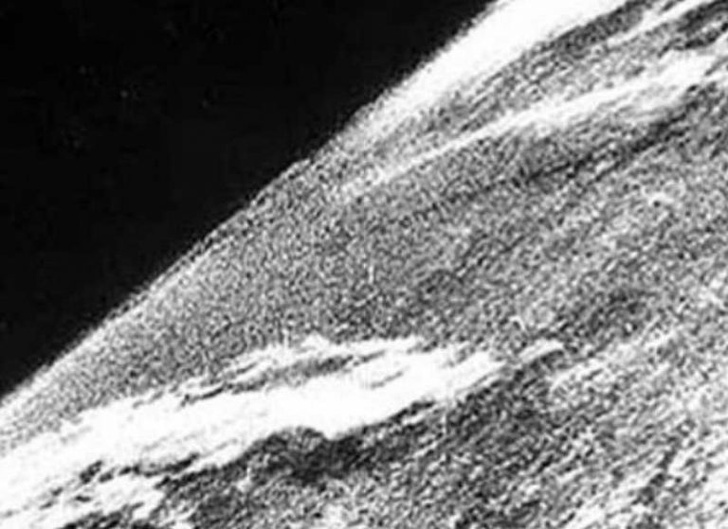 Among the instruments added to the rocket was a 35mm motion-picture camera that took a shot every 1.5 seconds. The film was later dropped back to Earth in a protective container, and the images in them were nothing humans had ever seen. At the time, the highest photo ever captured had been 22 km above ground thanks to a high-altitude balloon. These showed that curvature of Earth, but these images opened a whole new world of opportunities. The engineer who made the camera, Clyde Holliday, said that we would be able to map the world with these images.
34. A PYRAMID OF LIQUOR
This image shows a large pyramid made with barrels, and it's from 1924. You might remember from school that the 1920s were the era of Prohibition in the United States. It was time when alcohol was illegal in the country, and the ban was in effect from 1920 to 1933. After the 19th century, when alcoholism, violence, and corruption were rampant in the country, prohibition was established by the pietistic Protestant. They wanted to cure the ills of the community and threatened their political opponents. In the beginning, only several populations started banning alcohol, and it was a huge issue.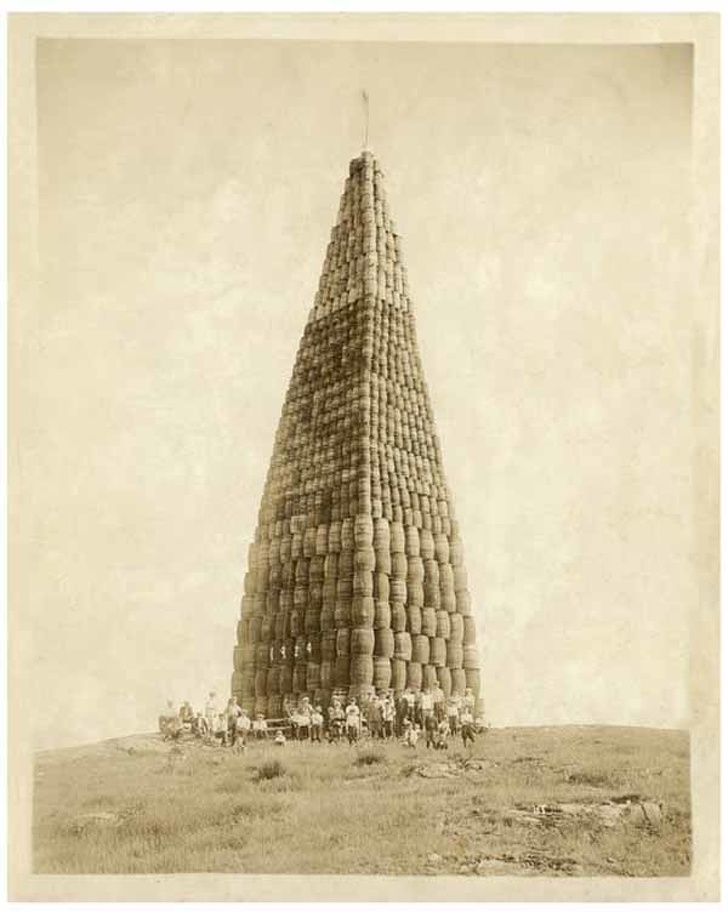 Those that supported the notion were called "drys" and said that it would restore the morals and health of the public. Meanwhile, the opposition was called "wets", and both parties protested for their ideals. However, the main supporters of the wets were the Catholic and German Lutherans, and after the war, the German community fell into disrepute. The government shut down brewing companies in every state until they added the Eighteenth Amendment to the U.S. Constitution in 1920. There were a few exceptions such as the religious use of wine, and private ownership of alcohol and drinking were illegal.
33. GERMAN SOLDIER WELDING DURING WWII
This image captures a German soldier while he welds something in 1941. Many tales have been revealed about German soldiers over history, but what happened after the war ended? Germany surrendered on May 8, 1945, and the capitulation was signed the next day by Karl Donitz, president of the Reich and the successor of Adolf Hitler. However, the momentum of war cannot be stopped as easily as just signing a paper. It took some time for German troops to actually stop their fighting. Some went months before finally giving up. There were some soldiers that didn't know what was going on, and others lived in fear that the Soviet's would get their vengeance.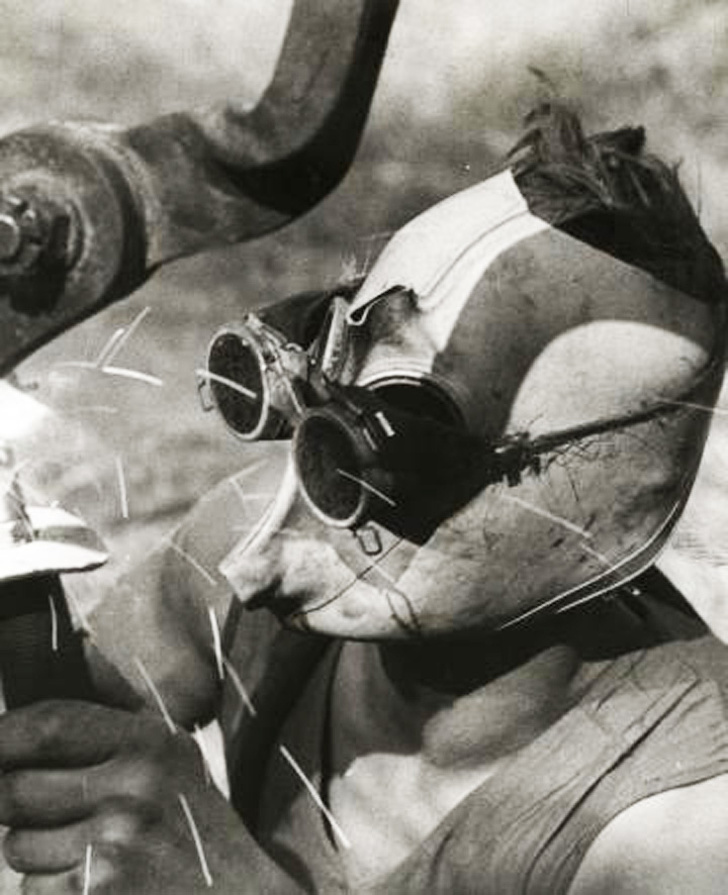 On the other hand, several were still bloodthirsty and angry with their loss; so, some kept fighting until their deaths rather than surrender. There were many squabbles before an actual ceasefire. When the official capitulation came up, several soldiers were still in enemy lines. Soviets would not stop just because of an agreement, and they wanted to reach the Allied lines, hoping that the Americans would be merciful. The history of the surrender is just as interesting as the war itself, but then again, everything about this war was mind-blowing.
32. WAITERS WITH MASKS IN GERMANY
This image shows waiters wearing masks to celebrate Mardi Gras in Munich, Germany in 1933. Most people might have heard about Mardi Gras thanks to the celebration in New Orleans, USA, but this tradition goes back for thousands of years. It is actually linked to Roman pagan holidays to celebrate spring and fertility. Saturnalia was the name of one party, and it goes back to 133-31 BC, where they worshipped the god, Saturn, and it was about sowing winter crops. However, this particular one usually came in December, and in the Julian calendar used by Romans, the winter solstice fell on December 25, which became Christmas.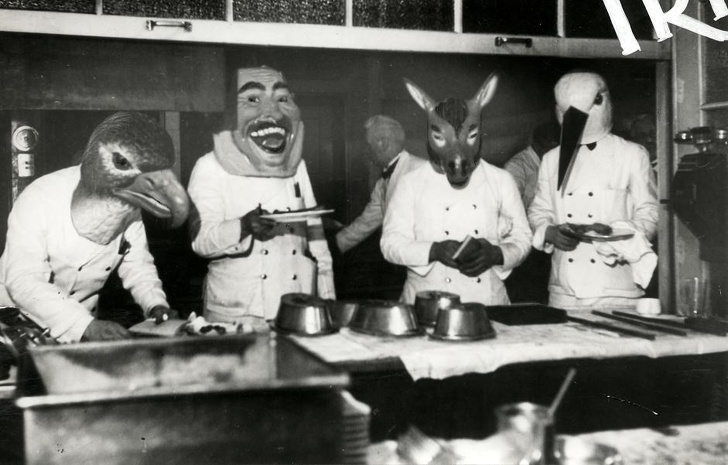 Either way, Mardi Gras was linked to Christian tradition. In the Gospel of Matthew, the Three Wise Men visited Jesus with many gifts, and therefore, twelve days after Christmas, they celebrate the feast of Epiphany, where many people from different religions were allowed to see him. Thus the Carnival parties came, which went on until Ash Wednesday, and that would soon be followed by Lent. Therefore, before having to deprive themselves of enjoyment, they celebrated big time. The feast would be only for Christians at first, but they expanded to others so that their neighbors could join.
31. A BOY WITH A RADIO-CONTROLLED BUS
This is another old picture from the Netherlands. It's a boy playing with a radio-controlled bus from sometimes in the 60s. It's said that that the first remote-controlled car was created the Ferrari 250LM by Elettronica Giocattoli in 1966. One year later, a company called Mardave from Britain started mass-producing them. Meanwhile, Model Car Enterprises and WEN began making their own and called them "pan cars". They were 1/8 scale and powered by a 2-stroke model airplane engines. In 1968, Elettronica Giocattoli made the Ferrari p4. In the 70s, they made nitro-powered RC models because the technology took a leap that decade.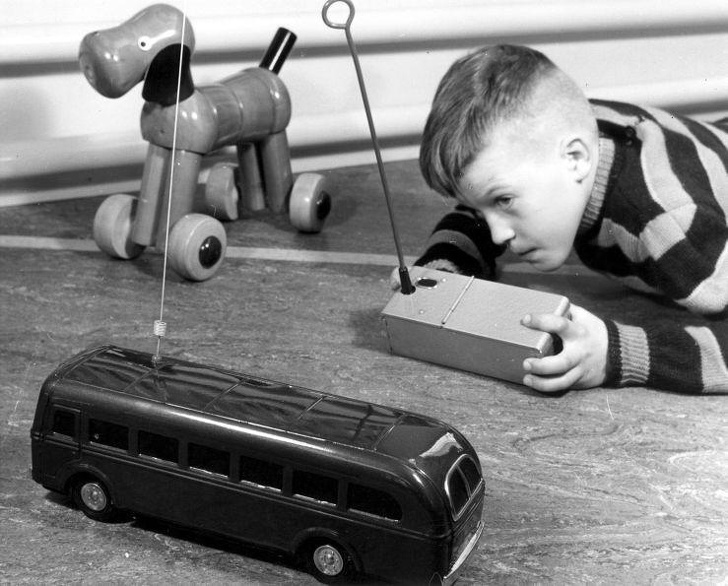 They went from a single-piston engine to a double. The standard was the K&B Veco McCoy engine, and it was made with aluminum chassis. This decade was also important for the introduction of electric cars, and these models helped the hobby that was rapidly gaining momentum. A company from Japan, Tamiya, made its first electric on-road RC in 1976 and called it the Porsche 934.
30. BILL GATES WITH A CDROM
This is a picture of Bill Gates, the founder of Microsoft, in 1994, and he said, "This CD-ROM can hold more information than all the paper that's here below me." The CD-ROM was a huge game-changer in the world of technology, although it's no longer used now. It was a pre-pressed optical compact disc that held data, but it was originally a read-only kind of memory – at least until they created rewritable ones. In the 90s, they were the most popular way to sell software for computers and even fourth-generation video games for consoles.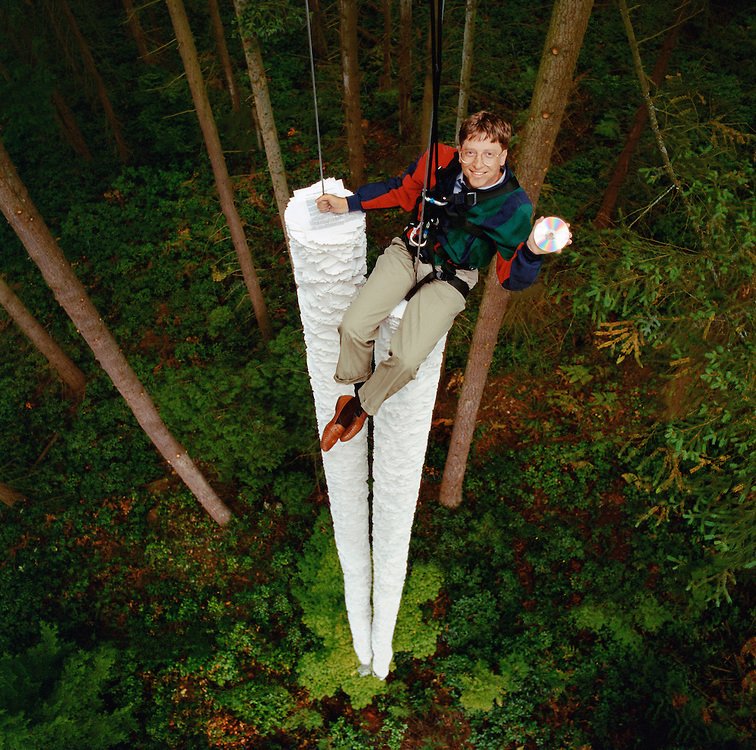 Later versions were made for both computers and stereos that had CD players. The format was first developed by Japanese company Denon in 1982 as an extension of the Compact Disc Digital Audio. They introduced it with Sony at a computer show in 1984. Depending on your age, you might remember using CDs for most of your childhood and teenage years. Also, you might have own CD Discman, which was used much like iPods or MP3 players today.
29. SLEDS IN THE NETHERLANDS
This is another image of children in the Netherlands, specifically Scheveningen. They are being pulled on sleds by a car in the snow. Unfortunately, the date is unknown, but we what do know is that the use of sleds has been going for many years, mainly in zones were the winters included a lot of snow. They were used to transport things as well as people, and they would work better than other vehicles after heavy falls of ice. Most of the early designs included those for hand-pulling but also for dogs, horses, and ox. Examples of these devices were encountered in the Oseberg Viking ship excavation.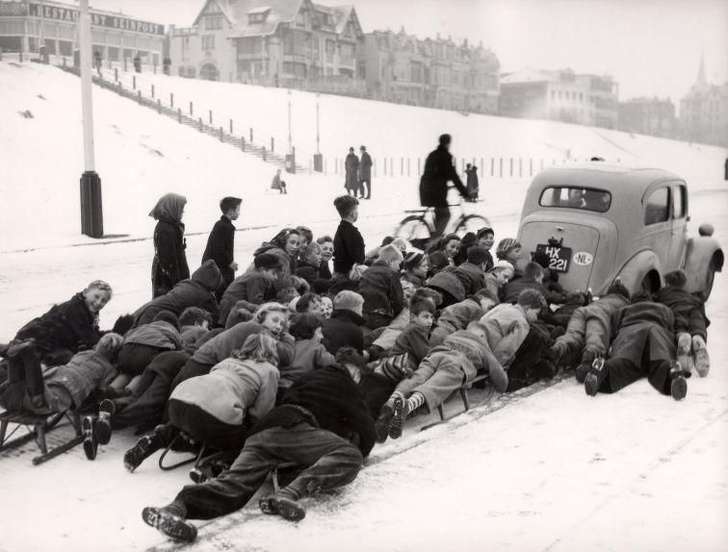 Additionally, the Toboggan sled was used by the Innu and Cree of northern Canada, and the Ancient Egyptians would have sledges to move things through the sand during constructions. Sledding refers to going down a hill with a sled, and many objects have been used for this purpose. Plastic, aluminum disc, bags, trays, cardboard, and more have often been turned into objects of fun wherever you encountered a hill.
28. SPACE INVADERS CHAMPIONSHIP
This is a picture of a Space Invaders championship from 1981. Space Invaders was an arcade game from 1978 made by Tomohiro Nishikado and sold by Taito in Japan. It was later licensed in the US by Bally. It was the first fixed shooter game and pioneer of the genre. Players have to fight against many aliens by moving horizontally through the screen and earn points. The game gained popularity quickly, and by 1982, it had earned $3.8 billion. Taking inflation into account, all the version of the game were estimated to have gathered $13 billion by 2016, and it's considered the highest-grossing video game of all time.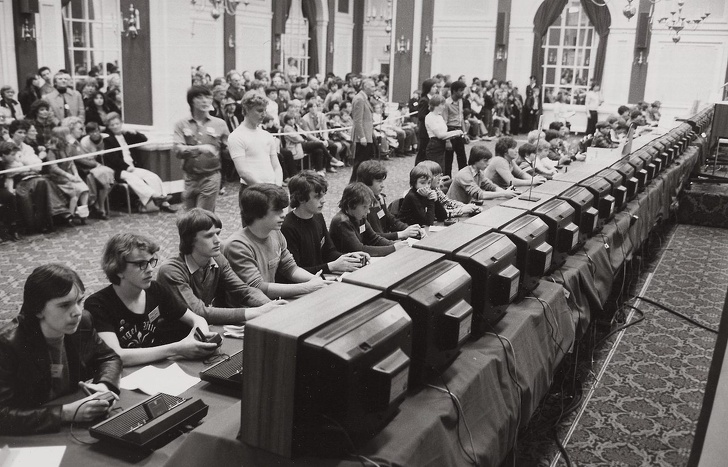 Space Invaders changed everything, as video games were considered something new, and it catapulted the industry into a major business, creating "the golden age of arcade video games". Several other games were inspired by this one, and the pixelated alien foe was a pop culture icon. The inspiration for it was 1976's game Breakout as well as 1975's Gun Fight. Nishikado also thought about fiction like 'The War of the Worlds' and 'Star Wars'.
27. SOCCER ON MOTORBIKES
These men are playing soccer on their bikes at the Crystal Palace in London, England in 1923. Some people might never have heard of it but motorcycle sport is an extensive field that adds motorbikes to common games. They are designed to test a person's riding skills. This one is called Motoball or Motorcycle Polo. It's similar to soccer but all the players, except the goalkeeper, have bikes. Also, the ball is much bigger. It became an organized sport in the 1930s, and France has even hosted many matches. It was included in the first Goodwill Games.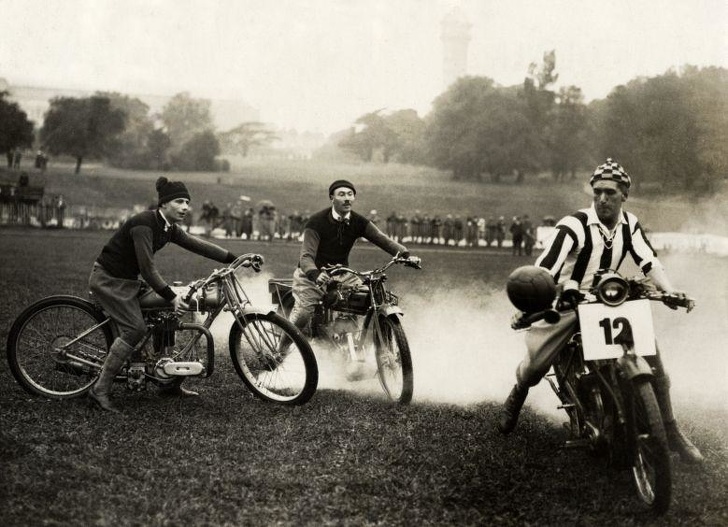 Since bikes are added to the game, everything happens at a faster pace than normal soccer. Most sports need speed to capture attention, and some people feel that bikes are what they're missing. Maybe motoball could become a major sport in America, which hasn't embraced soccer until very recently. Naturally, it's more dangerous. It's still only followed by certain Europeans, but there are teams in all their countries.
26. A RECORD STORE IN THE NETHERLANDS
This image shows a group of boys listening to music at a record in the Netherlands in 1957. Music is an important part of life, and luckily, we can have entire albums at home in just moments. However, decades ago, things were very different. The oldest record store in the world is considered to be Spillers Records in Cardiff, Wales, opened by Henry Spiller in 1894. It sold phonographs as well as cylinder and shellac discs. Shellac and vinyl records were the standard for music until the 1990s when CDs became the most popular kind of recorded music.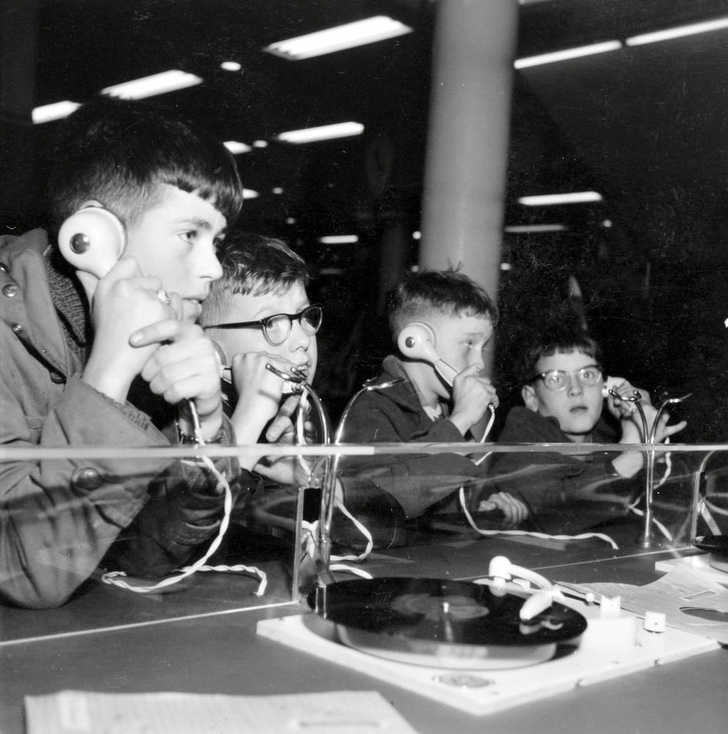 Of course, there were also tapes before CDs. However, once the internet was more accessible to people, and buying online became a thing, sells are record shops plummeted. Many of them had to close, although there several new shops popping up because vinyl records are becoming popular again. But, important chains from the UK and North America closed in the past decade such as Our Price, Zavvi, The Wherehouse, Andys Records, Music and Video Club and Media Play.
25. ENOS THE CHIMP
This image shows Enos, the second chimpanzee that was sent to space by NASA. It's from 1961, and he was the first chimp to return safely after orbiting the Earth. His flight happened on November 29, 1961. Enos was from the Miami Rare Bird Farm, and he was trained for more than a thousand hours at the University of Kentucky and the Holloman Air Force Base. His precursor, Ham, didn't have to train as hard as Enos. He was selected only 3 days before launch and completed the first orbit in one hour and 28 minutes.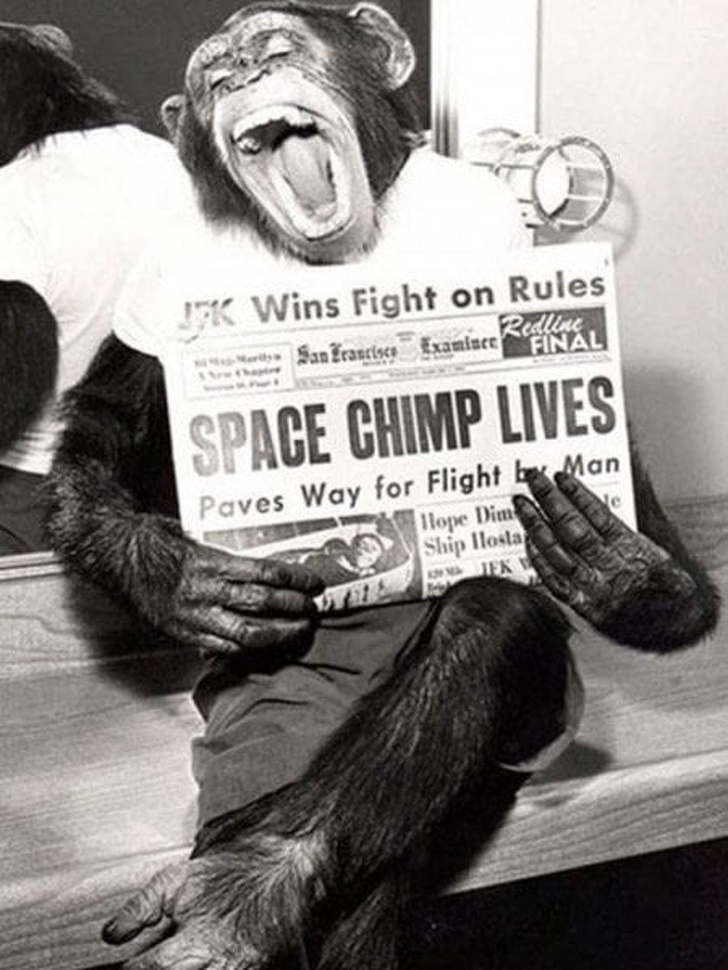 The monkey was originally supposed to make 3 cycles, but they canceled the mission because the capsule was overheating and a malfunction was giving electrical shocks to Enos. NASA learned a lot from his flight, and it led to the launch of Mercury on February 20, 1962, where John Glenn became the first American to orbit Earth. Sadly, Enos died on November 4 that same year from dysentery, which was resistant to the antibiotics back then.
24. THE STATUE OF ANTINOUS 
This is an image of the discovery of the statue of Antinous in Greece from 1894. It was found during an excavation in Delphi. This Greek man had been for being beautiful and from Bithynia. He became the lover of Roman emperor Hadrian, but he died in the Nile River due to unknown circumstances. Hadrian was distraught with his lover's death, and since he was a fan of Greek Antiquity, he commissioned several statues of him to be placed in sanctuaries all over the empire. Hadrian was also the benefactor of the Oracle of Delphi.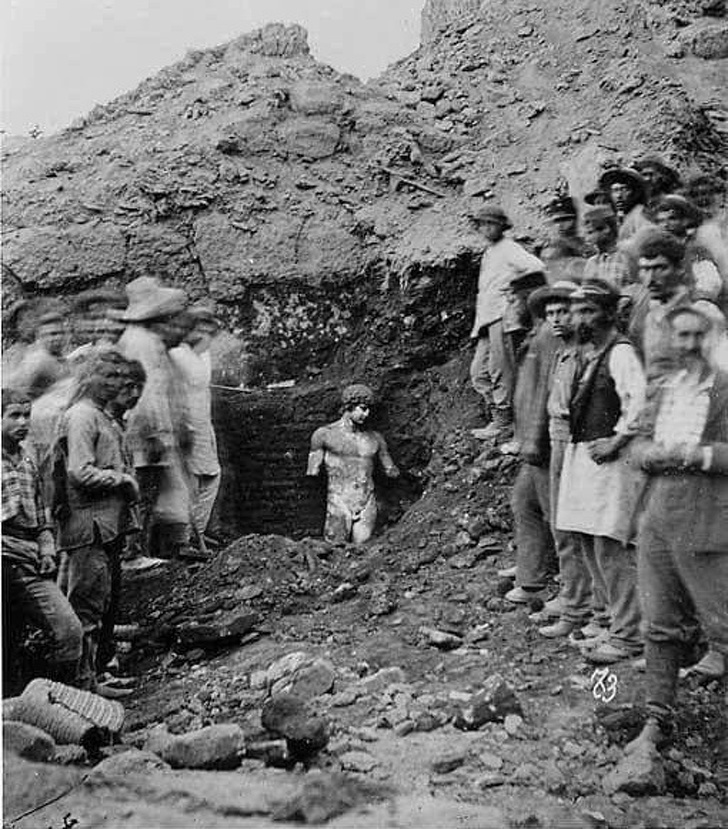 Furthermore, the emperor also created Games in tribute to Antinous, who was adored as a god since then. This statue from the sanctuary of Delphi was created in 130 A.D., and it continues to be admired as one of the most beautiful in the world. When it was discovered, the statue was next to a brick wall near the holy Temple. Luckily, it was found in relatively good condition, and the ideal features coupled with the polishing on the marble surface were typical of Hadrian's era.
23. A BIG APRIL FOOL'S JOKE
This is an image of a woman milking a cow with an elephant's head. Of course, it's not real at all, but it was part of an April Fool's joke from Het Leven Magazine in 1932. It's hard to say why the magazine decided to celebrate April Fool's Day that way, but the "holiday" or tradition has been held in several countries for a long time. Unfortunately, its origins are still unknown. Some experts believe that it goes back to 1582 when France changed their calendar from the Julian to the Gregorian; a decision made by the Council of Trent in 1563.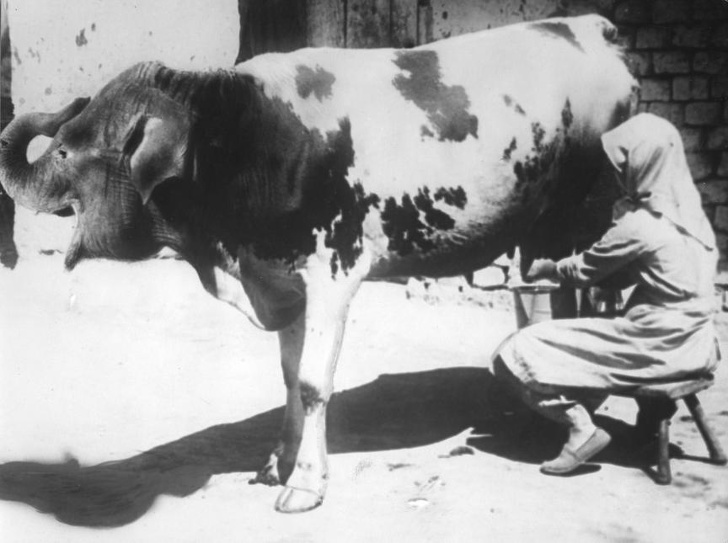 There were some people who didn't realize that the New Year had been moved to January 1st, and they celebrated it during the last week of March through to April 1st. Therefore, the date became all about jokes and trickery. Several pranks involved having paper fish placed on the back and being called "poisson d'avril", which means "April fish". That refers to a person that is easy to fool. Other historians have also said that April Fool's Day relates to festivals like Hilaria, where the Romans dressed in costumes.
22. SUNBATHING IN THE NETHERLANDS
This is a picture of several people sunbathing in the Netherland in 1961 with a foldable reflector. Tanning has been part of many cultures for a long time, although it loses popularity every once in a while. Before the 1920s, having darker skin was linked to being part of the lower class because usually, those people had to work outdoors and receive a bunch of sunlight. Most women took great pains to keep their milky-colored skin. It was sophisticated. Therefore, women used clothes that would protect them from burning such as big hats, full sleeves, and scarves. Some would add lead-based makeup to make themselves whiter.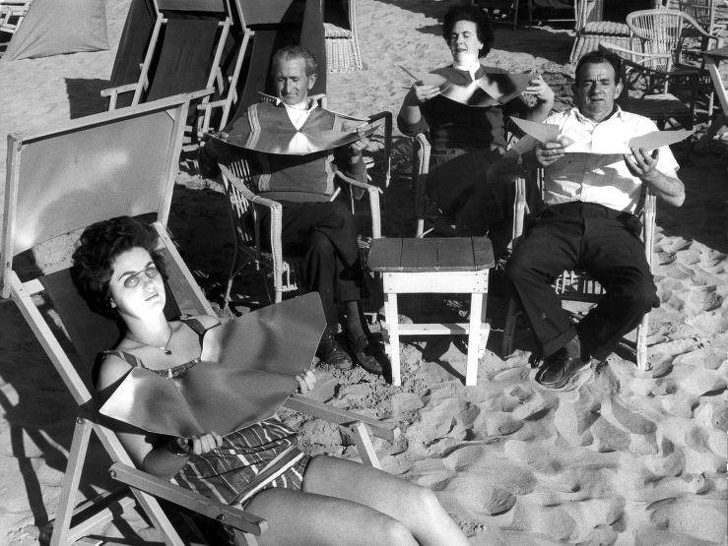 Sadly, if improperly handled, these cosmetics brought lead poisoning. The desire to look whiter continued up to the end of the Victorian era. In the 20th century, some people discovered the good side of being exposed to sunlight. Apparently, it was linked to curing diseases like lupus vulgaris and rickets, especially because the latter was due to lack of Vitamin D. Sunlight increases the natural production of Vitamin D in people. Therefore, by 1913, sunbathing became popular to the upper class.
21. THE TROUSER PRESS
This picture shows a woman showing a trouser press at an invention fair in Westminster, England, in 1936. Little did they know that this invention would become a hot commodity later. It is used to remove the wrinkles from pants. In the 1960s, most people from the British middle class used it. There were songs and shows that referenced the Brits' consumerism, and it was mocked by comedians. Journalist Ira Robbin created a music magazine called Trouser Press, and later, released a book 'The Trouser Press Record Guide: The Ultimate Guide to Alternative Stone'.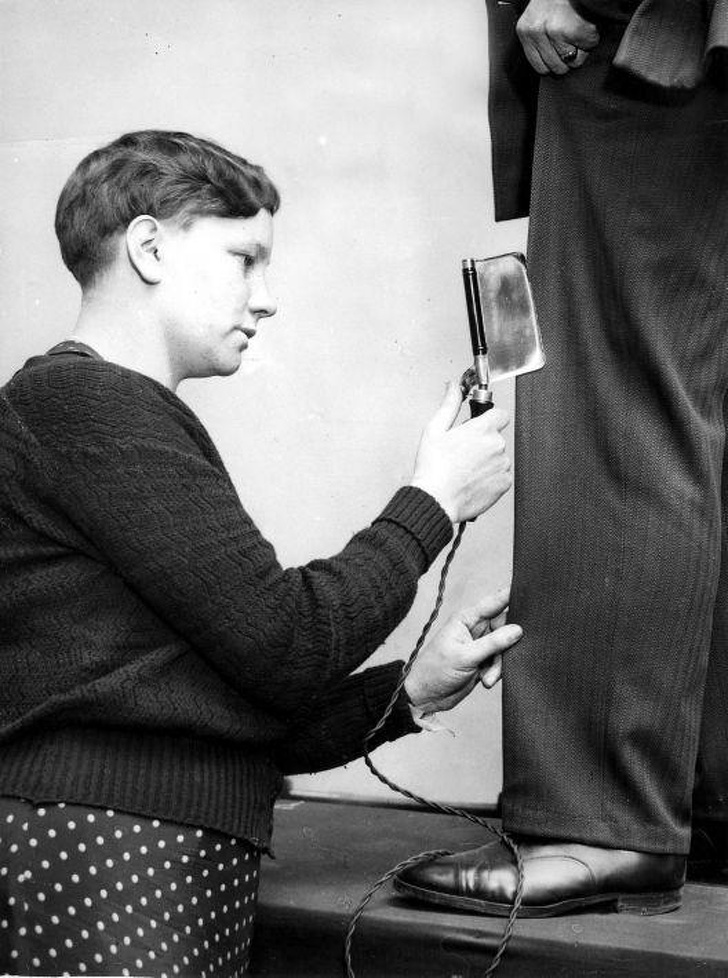 The product would appear in any number of commercials, and it was in all the hotels. It became as important as "tea and coffee making facilities" as British comedian Bill Bailey would say in his standup. He even had a tour called "The Tea, Coffee, and Trouser Press Census", and it was included in his 'Part Troll' DVD. The Corby Trouser Press brand was one of the most important and founded in Windsor, Berkshire in 1930. He began making valet stands, but added pressing area and then the Corby trouser press was released. In the 60s, it was finally electrically heated.
20. THE GORGEOUS AUDREY HEPBURN
This image shows the amazing Audrey Hepburn, one of the most believed actresses in the world and a vital part of the Golden Age of Hollywood. She was born in Ixelles, Brussels, and named the third-greatest female screen legend of the Golden Age by the American Film Institute. Furthermore, she was also inducted into the International Best Dressed List Hall of Fame. As a young child, Hepburn moved around Belgium, England, and the Netherlands, but she studied ballet in Amsterdam with Sonia Gaskell. In 1948, she moved to London where she studied under Marie Rambert.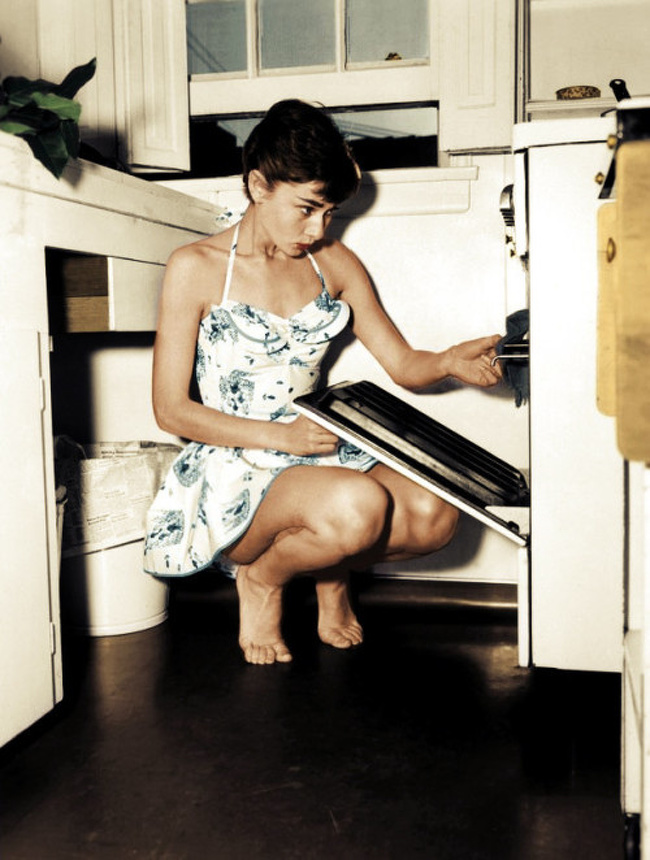 Soon enough, she started appearing in productions at the West End. Hepburn managed to land some smalls roles, but her big break was 1951's 'Gigi', a Broadway play based on French novelist Colette's work. Colette was the one who discovered Audrey. She played the lead in 'Roman Holiday' in 1953 and became the first actress to win an Academy Award, a Golden Globe Award, and a BAFTA Award for the same role. Later that year, Hepburn won a Tony Award for 'Ondine'. She went on to make amazing films like 'Sabrina' (1954), 'The Nun's Story' (1959), 'Breakfast at Tiffany's' (1961), 'Charade' (1963), 'My Fair Lady' (1964), and 'Wait Until Dark' (1967).
19. THE FAKE CITY
This image shows a city that was built in Seattle during World War II to confuse Nazi. However, it was completely fake and created on top of Boeing Factory – specifically their Plant No. 2 – where a lot of b-17 bombers were manufactured. They completed the "neighborhood" in 1944 and tore it down one year after the end of the war. The Seattle Daily Times published a photo of the town on July 23, 1945, and called it "Boeing Wonderland".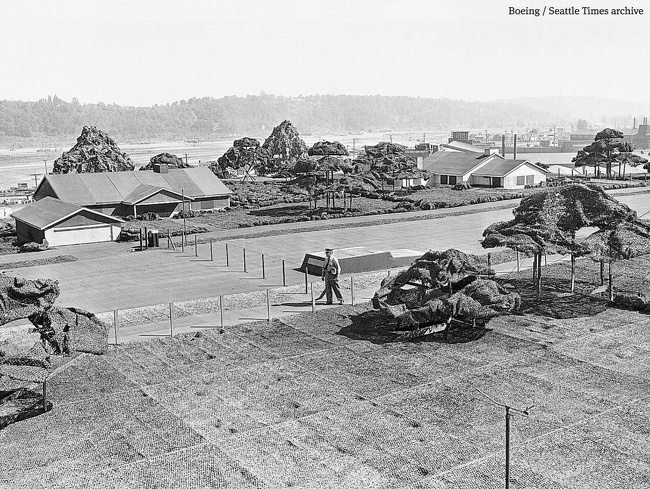 It was printed on their paper a few days before V-J Day. The builders used burlap and chicken wire to create the base, and they had lawns and trees made with chicken feathers as well as spun glass. The wooden buildings were just 4 feet tall, and the whole deception filled an estimated 26 acres. In an obituary from February 20, 1982, G.W. Dennis was named as the designer. Can you imagine expending money like this just to trick your enemies? We must admit that it was a clever idea, but did it really work?
18. IN HONOR OF HORSES
This is a tribute picture where 650 officers were honoring the dead horses from cavalries that fought in the First World War. The "Great War", as it's often called, starred in Europe on July 28, 1914, and ended on November 11, 1918. It is considered one of deadliest in history, where more than nine million soldiers and seven million civilians died. However, genocides and the 1918 influenza pandemic led to even more deaths shortly after. It's estimated that around 50 to 100 million people lost their lives due to those.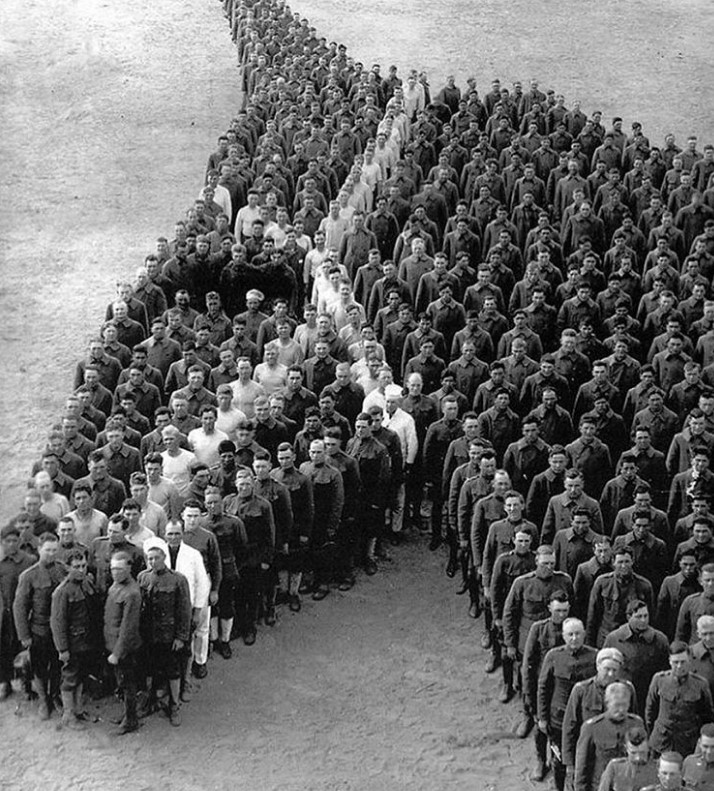 Famously, the war started when Gavrilo Princip, from the Bosnian Serb Yugoslav national party, killed the Austro-Hungarian heir Archduke Franz Ferdinand in Sarajevo. That started the July Crisis. Austria-Hungary went into war with Serbia. Due to the alliances, what started as a conflict in the Balkans, ended up involving most of Europe. By that July, there were two coalitions, the Triple Entente, which had France, Russia, and Britain, and the Triple Alliance of Germany, Austria-Hungary, and Italy. It's crazy to think that so many human lives were lost, but also how many animals were affected. It's also sobering, and we hope it never happens again.
17. THE OLDEST PERSON ON PHOTO
This is a photo of Hannah Stilley, who is the oldest woman on record to ever be photographed. She was born in 1746, and this picture was taken in 1840 when Stilley was 94 years old. Hannah was born 30 years before the creation of the United States of America, and she was 10 years older than Mozart. Additionally, she was 23 years older than Napoleon Bonaparte, and 24 years older than Ludwig van Beethoven. It truly makes you think about the birth of photography, and the first almost successful photograph was made around 1816 by Nicéphore Niépce.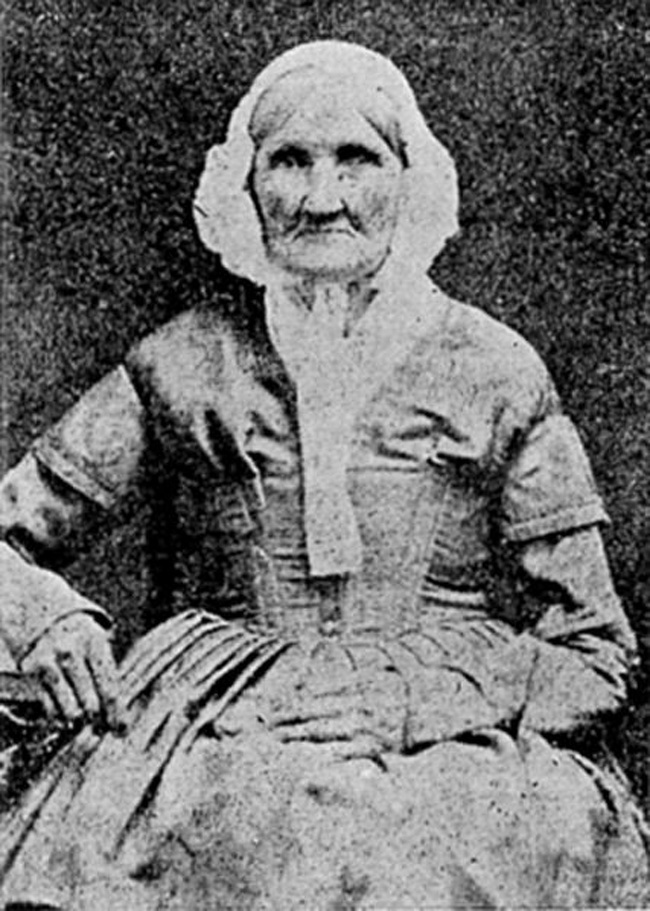 He used a small, self-made camera with a piece of paper covered in silver chloride. The substance helped darken those areas where the light hit. Unfortunately, Niépce didn't how to remove the rest of the silver chloride from the paper, and it eventually turned completely black due to all the light exposure. In the 1820s, he used a wooden box camera created by Charles and Vincent Chevalier, who were opticians from France, to experiment with Bitumen of Judea on several surfaces. This element hardened those places that connected with light, and the rest dissolved on its own. There is only one photograph from that period called 'View from the Window at Le Gras', and it's the oldest camera picture ever.
16. MOTHER AND SON
The adored Princess Diana was a great mother as well, and this picture was taken at Thorpe Park in 1993. Diana wanted to raise Princes William and Harry as normally as possible. She didn't her kids to miss the fun things in life just because of their privileged status. She would take them to eat as McDonald's, on bus rides, and even take them for holidays at the beach where the press wouldn't find them. Diana was so down-to-earth that the staff at the park was told to treat them like anyone else. They stood in line for the ride without any special treatment – aside from all the attention.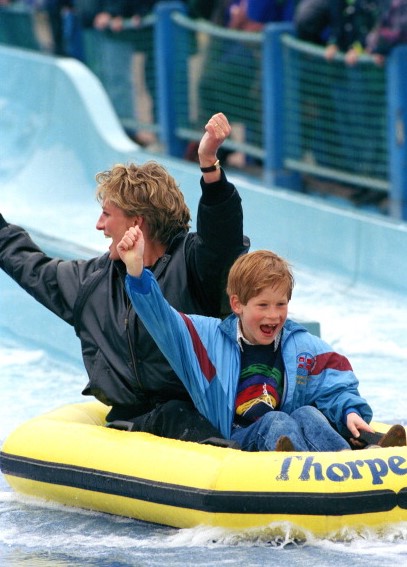 The princess wore a Hard Rock Café black leather jacket, black jean, and flat boots. They look like the perfect picture of a happy family. This picture only shows her with Prince Harry, but Prince William was with them as well. They rode the rollercoaster as well as the water slide. They also got super wet at the huge log flume in a ride where Prince William sat in front, Prince Harry in the middle, and their mother right behind them. It's eerie to think that only a few years later, these boys would lose their mother, and the world would lose a role model.
15. ALBINA
This is Albina Mali- Hočevar, a girl from Yugoslavia who was part of the National Liberation Struggles, and she was wounded many times during World War II. She was born on September 12, 1925, to a working family of eight children. Her father died in 1934; so, Albina started working to help care for the family, but she went to school in Ajdovec and had just graduated when the war started in 1941. That summer, she joined the People's Liberation Movement, and party leader Herman Heningman assigned several tasked to her.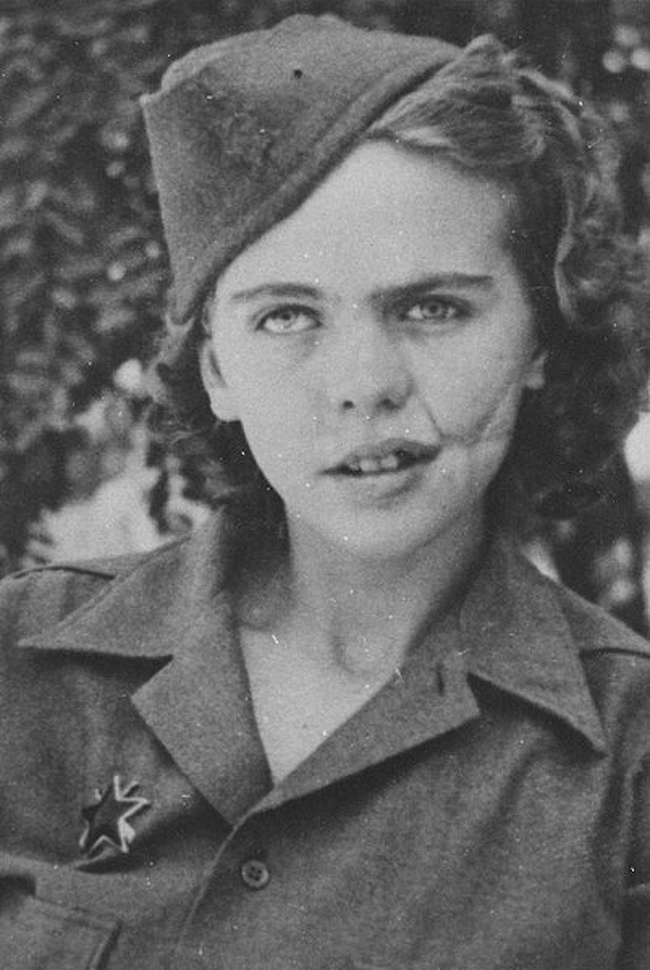 Albina was responsible for maintaining communication between New Town and Brezov Rebar. She later assigned to New Town and spread the word of the party there. She was the liaison between several towns, and but then left to Vrezovo Rebro. She was later part of the League of Communist Youth and also served as a nurse in the brigade as well as in the battalion.
14. BRAD PITT FOR ROLLING STONE
This is a picture of Brad Pitt for Rolling Stone Magazine in 1999. We live in an era where people are trying to throw away traditional gender-norms, but this famous actor was doing it long before it became "cool". It's been almost 20 years since this photoshoot by Mark Seliger, and Pitt actually several other dresses. It is a bit confusing because the image is mixing masculinity with femininity in an odd way, but they work because Brad is so wonderful. There is nothing "drag" about this picture aside from the fact that the actor wore a gown better than most girls out there.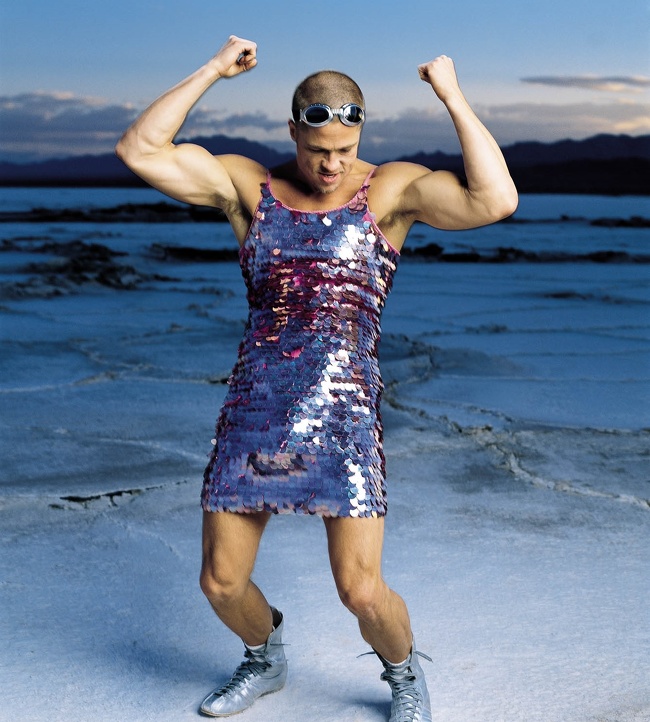 Pitt's full name is William Bradley Pitt, and he was born on December 18, 1963. He gained a lot of popularity of the 1991 film 'Thelma & Louise', where he played a hitchhiker, but his big roles came later with 'A River Runs Through It' and 'Legends of the Fall'. Finally, he was famously in the film adaptation of Anne Rice's novel, 'Interview with the Vampire'. The actor earned his first Golden Globe Award for '12 Monkeys', and he also got an Oscar nomination. He has been in many movies since then, both blockbusters and critically acclaimed, and everyone loves him.
13. TRAMCARRIER IN LENINGRAD
This is a picture of a tramcarrier in Leningrad in 1979, and these were major transportation systems in Russia. In case you don't remember from high school history class, Leningrad is modern-day St. Petersburg, which has changed names a lot in history. At some point, it was also called Petrograd, but it was renamed to Leningrad in 1924 after the death of Vladimir Lenin, and in 1991, it was changed to St. Petersburg. Regarding the trams, St. Petersburg actually had one of the biggest networks in the world with an estimated 340 kilometers of tracks by the end of the 1980s.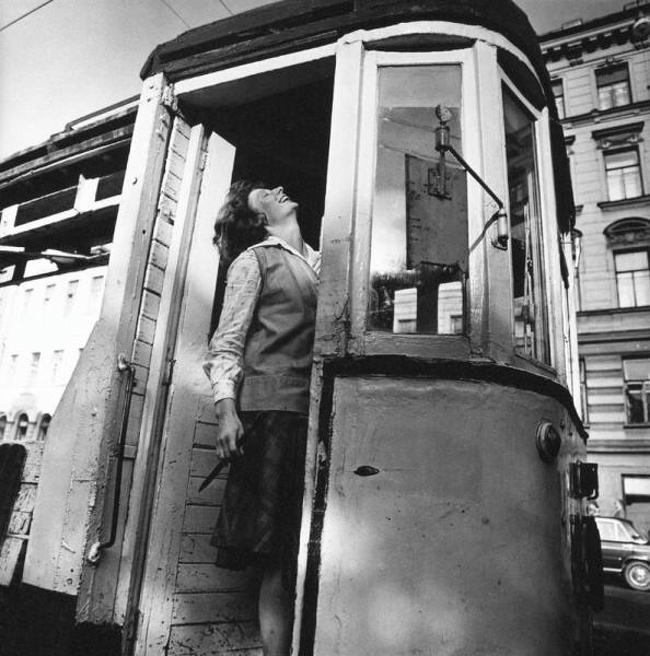 Unfortunately, they started to disappear in 1995 when tracks were removed, particularly in the center of the city. They cut down to 285 kilometers of tracks by 2002; so, Melbourne, Australia stole their record. Nowadays, they have around 200 kilometers left. The trams were handled by Gorelektrotrans, an organization that controls the city's 41 trams routes and the trolleybuses as well. This network started appearing in the 1860s with three passengers in the middle of the city.
12. THE WRITERS
This picture shows the writers of 'The Simpsons' in 1992. The animated series was created by Matt Groening for FOX, and it showed a family comprised of Homer, Marge, Bart, Lisa, and Maggie. It was meant to mock the daily life and culture of America. The show debuted on December 17, 1989, and 662 episodes have aired. Therefore, it's considered the longest-running America sitcom. 'The Simpson Movie' premiered on July 27, 2007, and earned $527 million worldwide.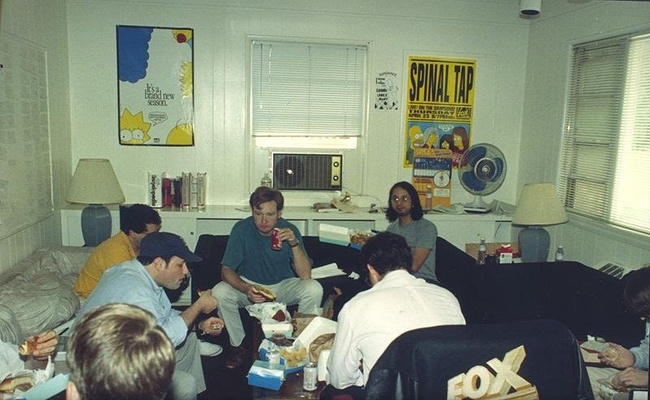 Joel Cohen worked for the show for 16 years, and he talked to INSIDER about the experience,
"Simpsons is amazing. I mean, it's it's — I am the dumbest person in any room I'm in, but particularly in that room. It's a lot of Ivy League-educated, really smart, funny, talented people who have this job that they just are creating what's become this iconic, cultural fixture for almost 30 years. And it's great. It's people sitting around yelling stuff at each other and at a TV screen trying to get the next joke in to move us to the next joke. And we do it every day for 52 weeks a year and crank out 22 episodes. It's amazing."
11. BRIDE IN UKRAINE
This picture shows a girl from Mariyka, Ukraine wearing a wedding gown, and you might be surprised to learn that this Eastern-European country has several interesting traditions for weddings. One of them is "paying the ransom", where the groom has to go to his bride's parent's house to pay ransom for the girl. His best man and other family members can come to support him. The groom can arrive with some sort of gift, but he greeted by the bridesmaids who have to protect the bride from being "stolen". They increase the price of the ransom by asking him questions about his bride.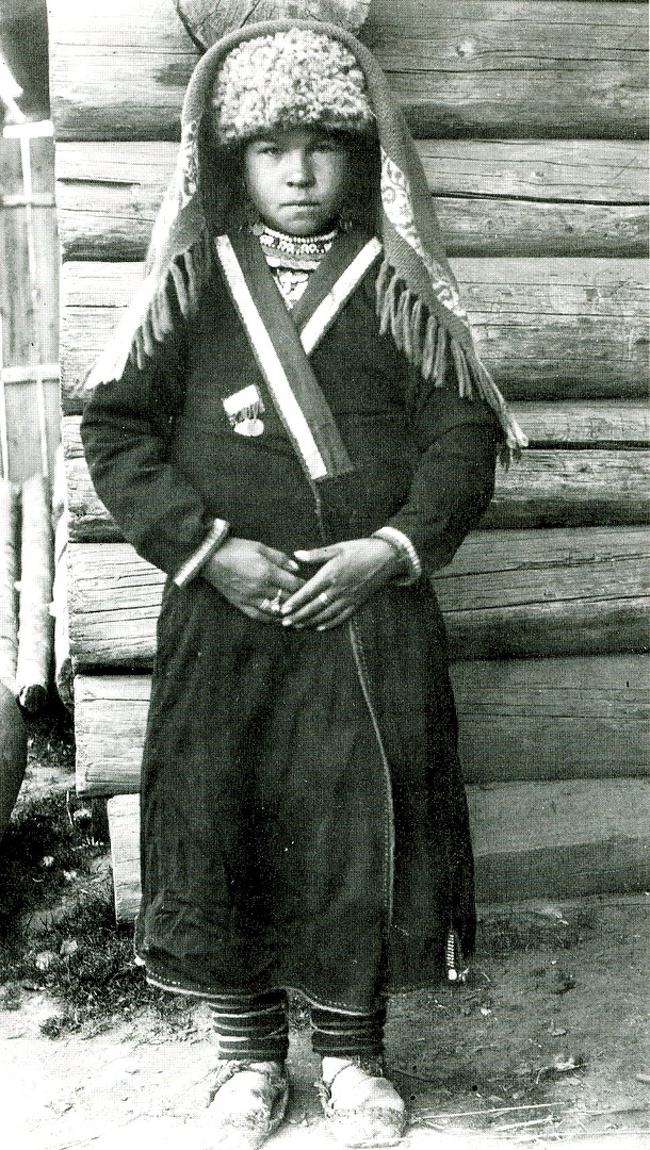 Other versions of this tradition say that if the parents of the groom meet him at the door with a pumpkin, it means that they have not the marriage. Therefore, he is given a pumpkin as a consolation prize. Another tradition is "Blahoslovenja" or blessings, which happens right before the ceremony. It consists of the parents and the grandparents giving their blessings to the couple. Another is "stepping on the Rushnyk", which is a traditional cloth. It's said that the person steps on the cloth first wears the pants in the family. But, the groom usually lets the bride step on it first.
10. ERNEST HEMINGWAY IN AFRICA
This is a picture of author Ernest Hemingway in Africa, during a friendly boxing match. In the summer fo 1993, Hemingway, Pauline and a friend embarked on a 3-month safari to Africa. They were inspired by the hunts of Theodore Roosevelt. The author hunted, even capturing a lion, but he later had to be hospitalized due to a disease. They traveled through Kenya and Tanzania, and his experiences were the inspiration of 'Green Hills of Africa' as well as stories of 'The Snows of Kilimanjaro', and 'The Short Happy Life of Francis Macomber'.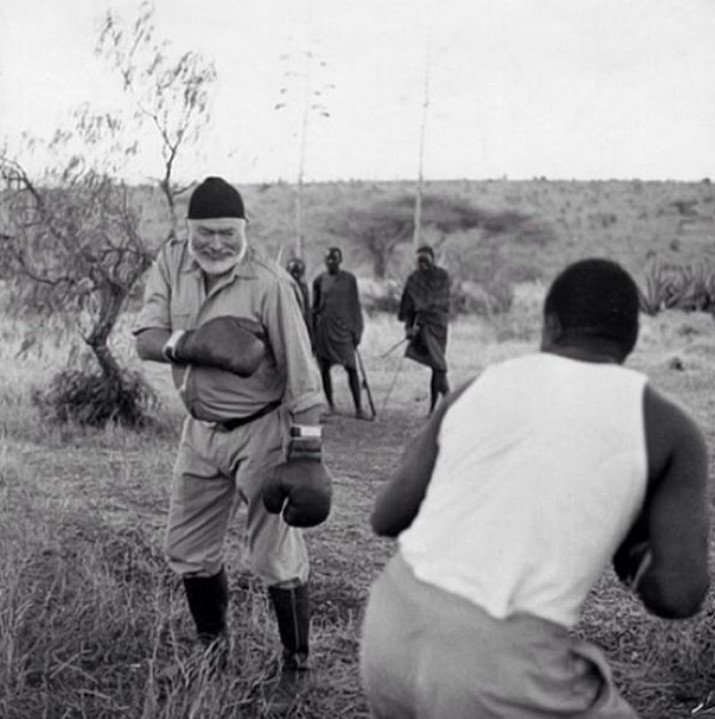 It's said that he went back to Africa around 20 years later with his fourth wife. They traveled over the Belgian Congo, Rwanda, and Kenya, and once again, the author hunted several animals, bringing home a lot of trophies. During his second trip to the continent he went through two plane crashes, but they only inspired him to be more adventurous. Although, several news outlets had actually reported about his death rashly.
9. THE FIRST SELFIE
This is a picture of several men taking what it's believed to be the first selfie ever taken. This was shot in the 1920s on a rooftop in New York City, and it's pretty cool to see something that is so current right now but has actually been around for almost 100 years. Additionally, some people might have trouble taking pictures with their big iPads, but that's nothing compared to the effort made by these men. Of course, the actual group picture taken with the ancient camera is a lot cooler than this one.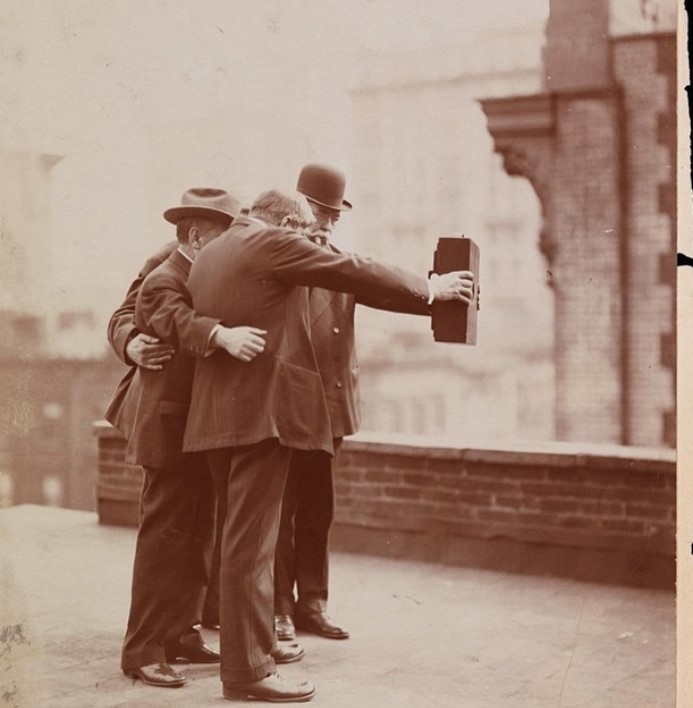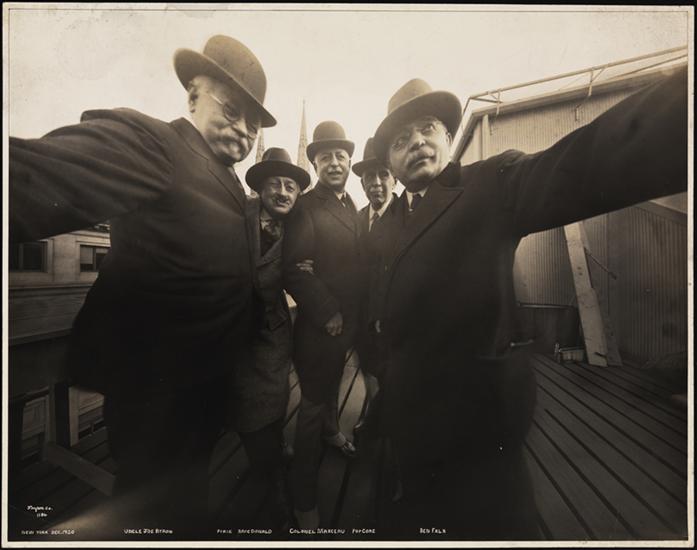 However, they were both made by photographers of the Byron Company, which was a commercial photography studio popular between 1892 and 1942, according to the New York Times. Meanwhile, the actual selfie shows these men (from left to right): Joseph Byron, Pirie MacDonald, Colonel Marceau, Pop Core, and Ben Falk. Falk was the one holding the camera while they tested the exposure. Could it be that they actually invented the "retro" filter?
8. WINSTON CHURCHILL
This is an image of a young Winston Churchill, who was born on November 30, 1874, and died on January 24, 1965. He was a renowned British politician, an officer, and a writer. He became Prime Minister of the United Kingdom in 1940 and served until 1945 for his first period. He famously led the Allied victory during World War II, and Churchill served a second period as prime minister from 1951 to 1955. He was the representative of five constituencies as part of parliament, and while he was an economic liberal and imperialist, the prime minister spent most of his career in the Conservative Party.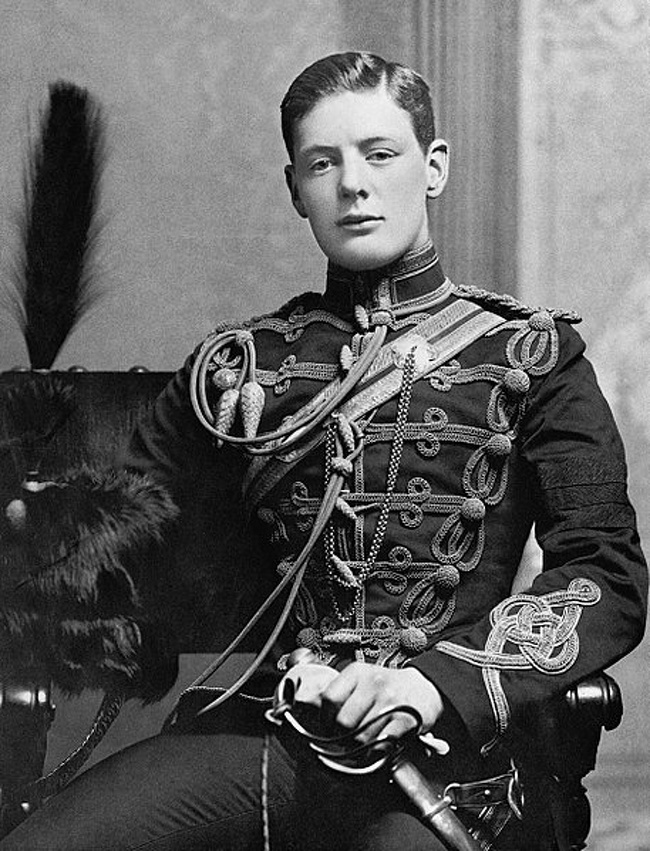 He was the leader of it from 1940 to 1955, but from 1904 to 1924, he was part of the Liberal Party. Churchill was born in Oxfordshire to an aristocratic family and joined the British Army, serving in the Anglo-Sudan War as well as the Second Boer War. The future PM started gaining recognition as a war correspondent and penned stories about his campaigns. He became a member of parliament in 1900, as a conservative at first, but changed to the Liberal Party.
7. FEEDING POLAR BEARS
This photographed was taken in the 1950s during a military expedition in the Chukchi Peninsula of the Soviet Union. Some say that the region has more polar bears than people, and the climate is terrible with temperatures as low as -40ºC. Some bears and their cubs would actually freeze to death. Luckily