40+ Genius Ideas That Can Instantly Improve People's Life
It is common for us to quickly get used to everyday life without realizing that things could be different, even better in some cases. Whether it is problems using the bathroom or accidents when leaving or entering a parking lot, everything in this life may have a solution, although we do not know it yet.
We have compiled a list of great and exciting ideas that are designed to improve your life and make all your worries disappear, at least for a while. You may not benefit directly from them, but we assure you that someone else will appreciate the effort to make them come true.
45. THERE ARE ALWAYS GOOD PEOPLE WILLING TO HELP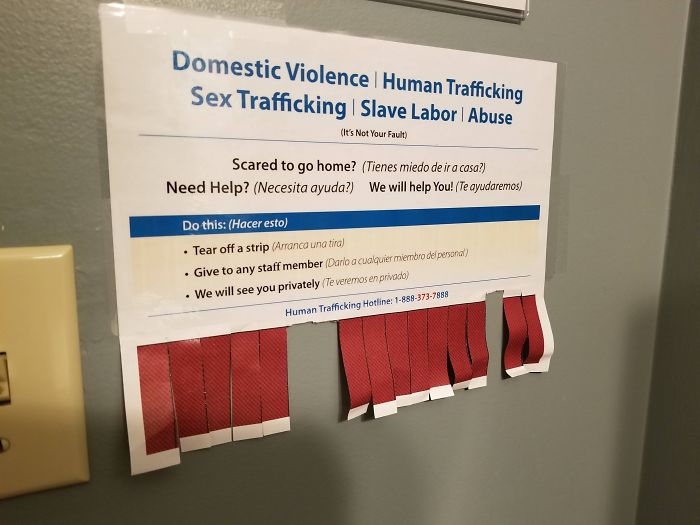 The bathroom of this doctor's office has a very discreet way so that victims of abuse or violence are treated and get the help they need so much. The truth is that many of these victims are afraid to speak up because of their partners and abusers. The more options for these people, the better to help stop the violence.
44. HELPING WOMEN IS IMPORTANT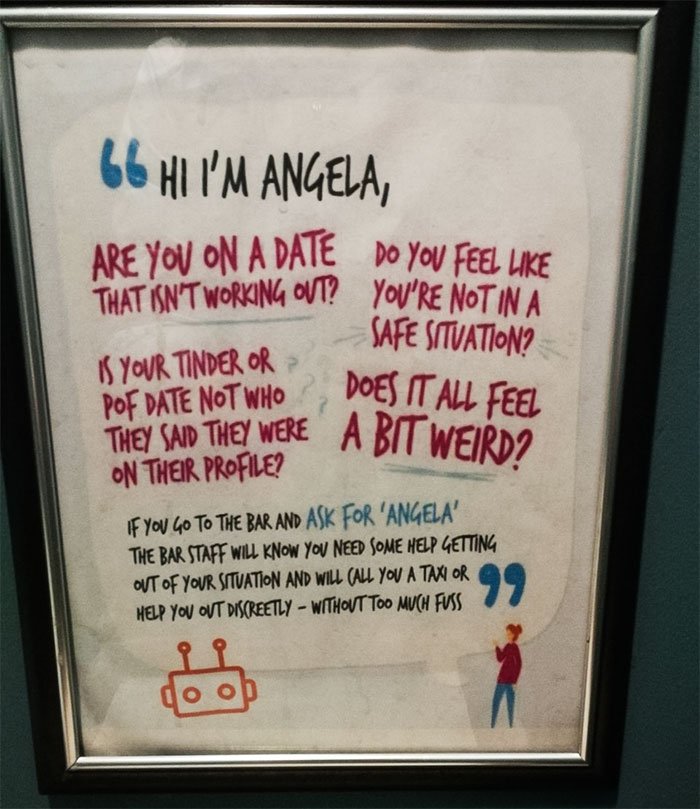 This sign will help you in case you have a blind date and start feeling uneasy. The "Ask For Angela" campaign began in a pub in Lincolnshire, England, in 2016. In the world of social dating apps, it's important to have many options in case things go wrong. Always tell your friends or someone close where you are.
43. JUST LIKE FAMILY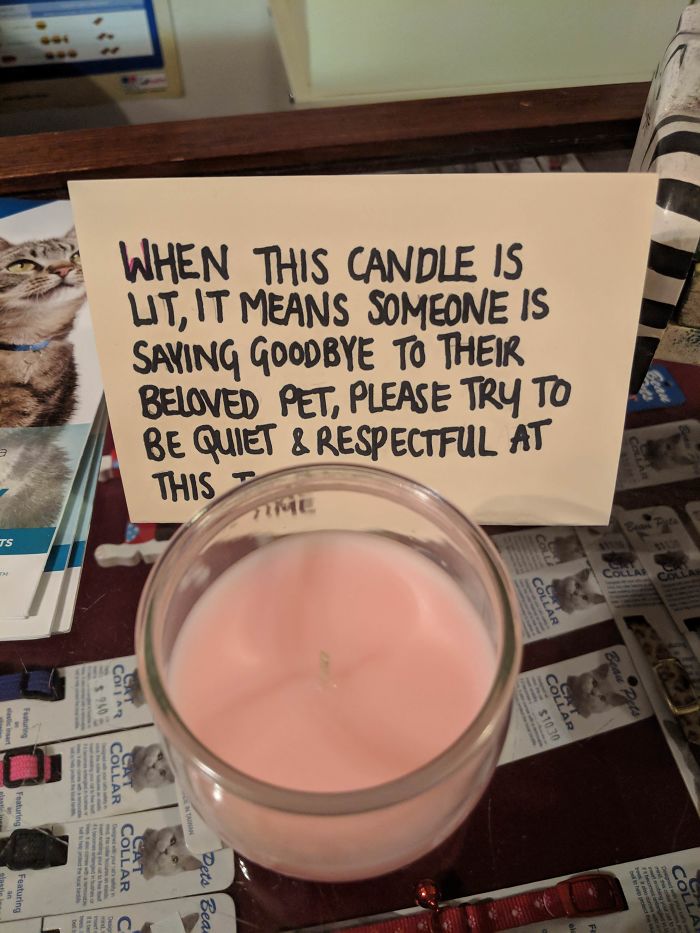 This veterinarian has a very particular signal to tell the rest of the patients when someone is saying goodbye to their pet because they have just passed away. The death of a beloved animal can be just as painful as a family member, and it's important to respect others in their time of need.
42. EVERYONE NEEDS SOME FUN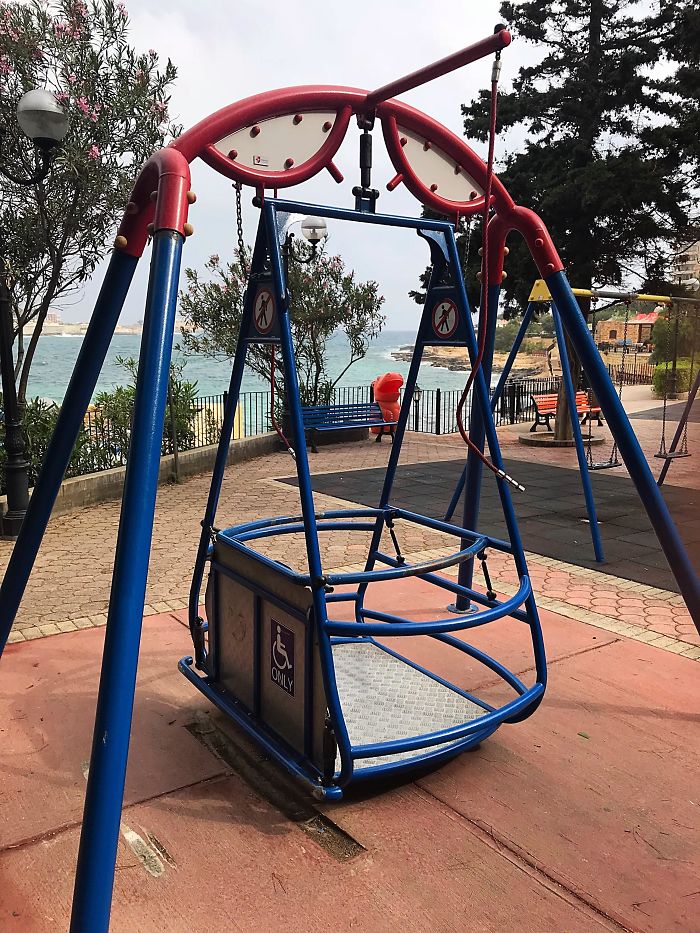 This particular park has an unusual swing so that people with disabilities can enjoy some fun without anything stopping them. Sometimes, these children feel different from others because it looks like they cannot play or exercise the same way. But creations like this one are helping change that perception.
41. IN BETWEEN THE LINES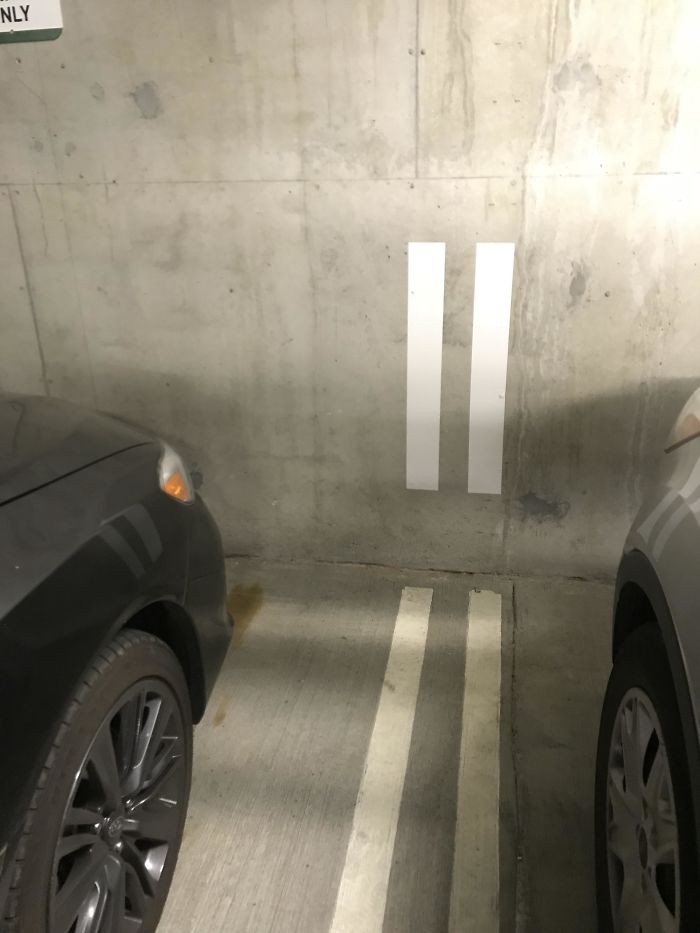 These marks on the wall allow people to see exactly where the parking space ends to make it easier for them to park. Sometimes, we have to open the door to check the line on the floor, and it's a huge inconvenience. This is such a great idea that will save time and stop accidents.
40. ONE TINY DETAIL CAN MAKE A HUGE DIFFERENCE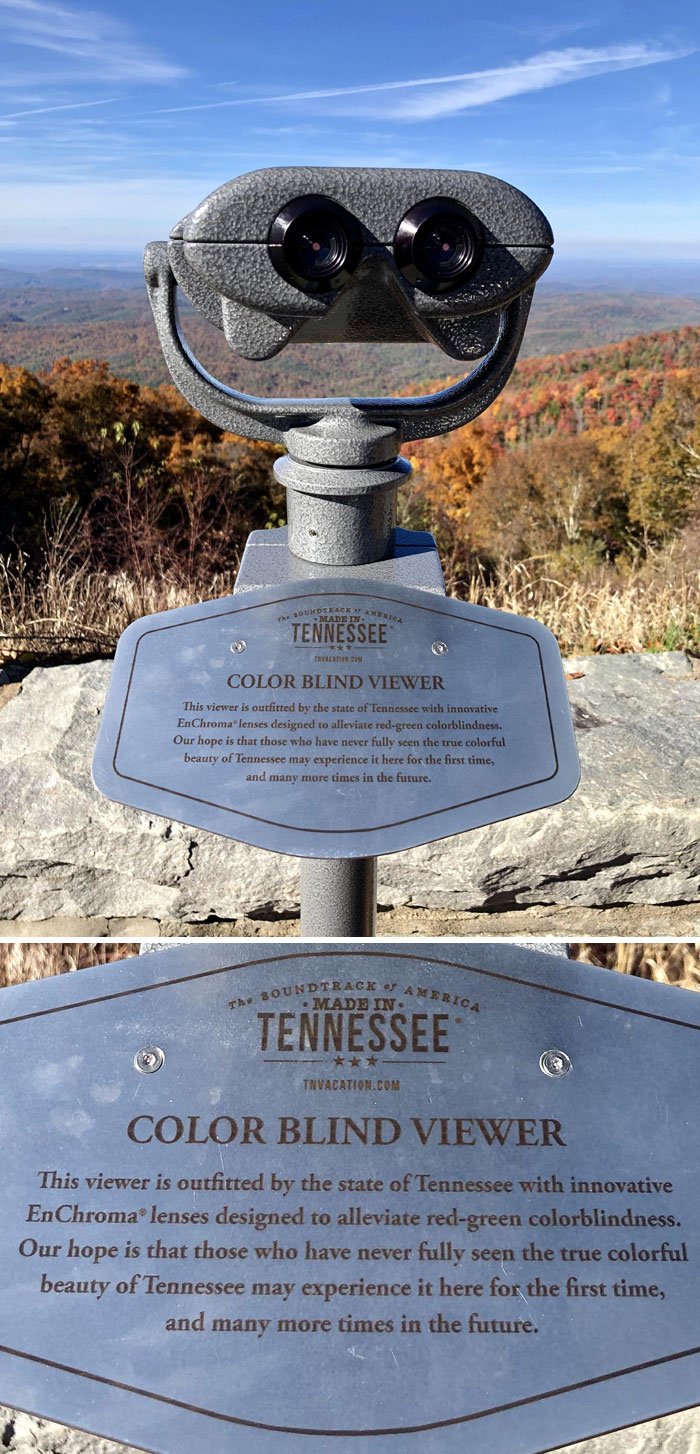 These unique viewers are designed with a technology that allows people with the genetic condition to distinguish the colors and observe the beauty of the park in all its splendor. It's wonderful that someone came up with this idea because most people don't think about colorblindness or the people who have it.
39. THE ELDERLY NEED MORE TIME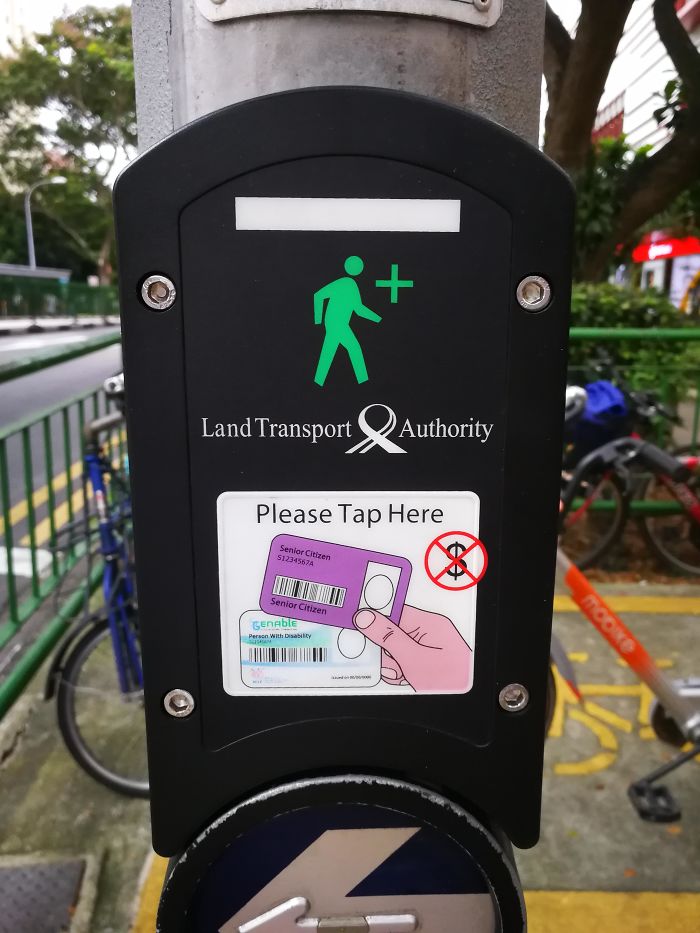 In Singapore, the elderly can use their identification card to lengthen the time that the pedestrian traffic light gives them to reach the other end of the street. It can be tricky when there are desperate drivers on the road, and this way it's a little safer for grandmas and grandpas to walk around the city. 
38. A NEW KIND OF CAST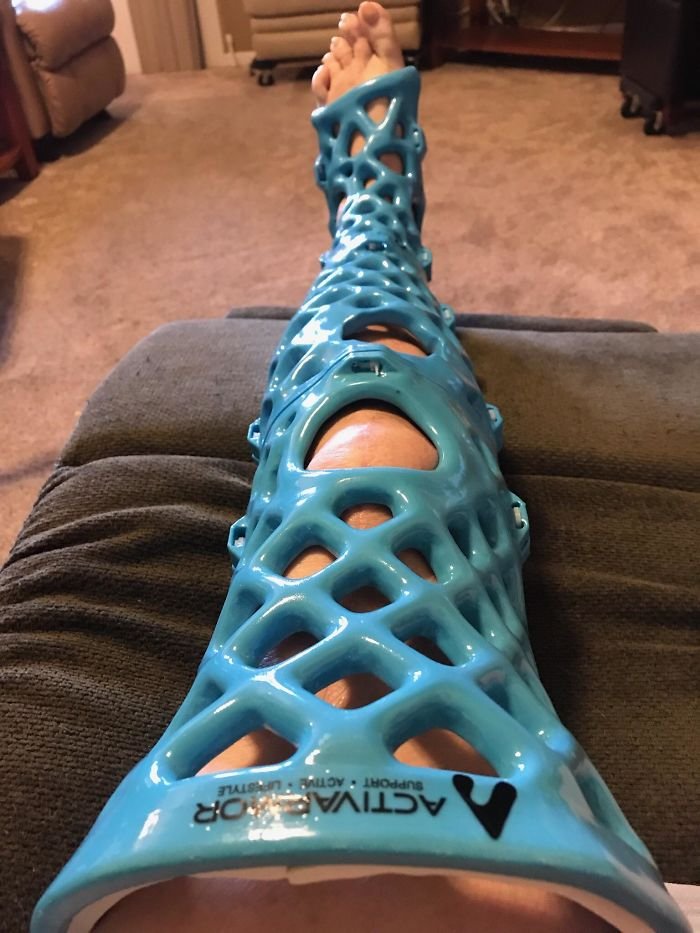 The mother of this boy uses a 3D printed cask that is held with zip ties and allows her to bathe and perform many other activities more efficiently. We bet that she can also scratch herself if there is any need because normal casts make it impossible, and you cannot live with the same itch for months.
37. NO HANDS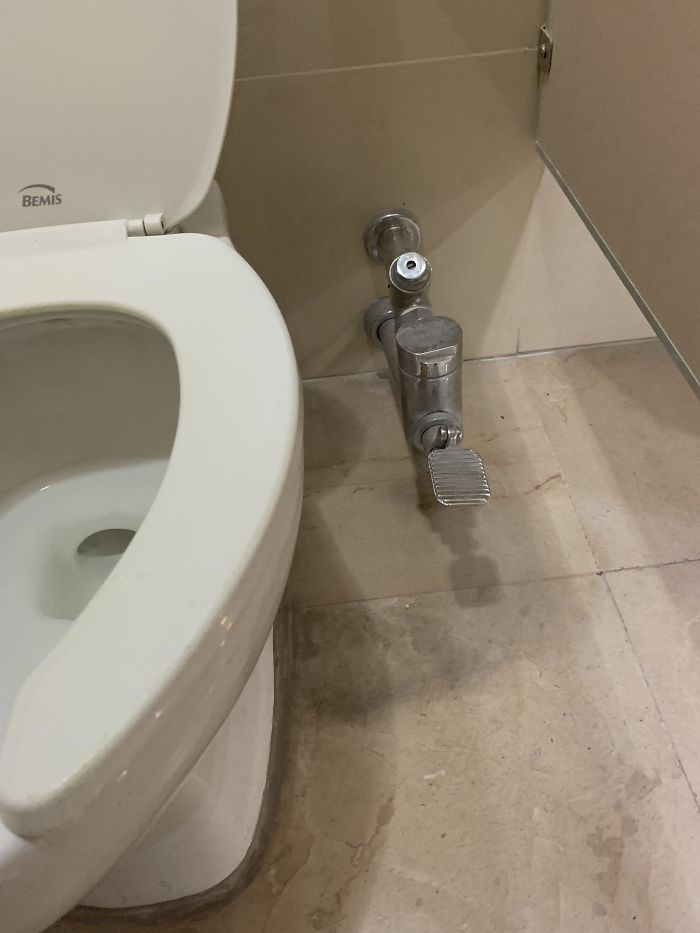 For those people who prefer not to touch anything in public restrooms, this lever allows them to drain the toilet using only their foot. It's simply disgusting using your hands to flush the toilet, but it's even worse to leave your business in there without getting rid of it. Also, it can be a pain to lift your foot so high. This is a great solution.
36. DON'T WASTE ANYTHING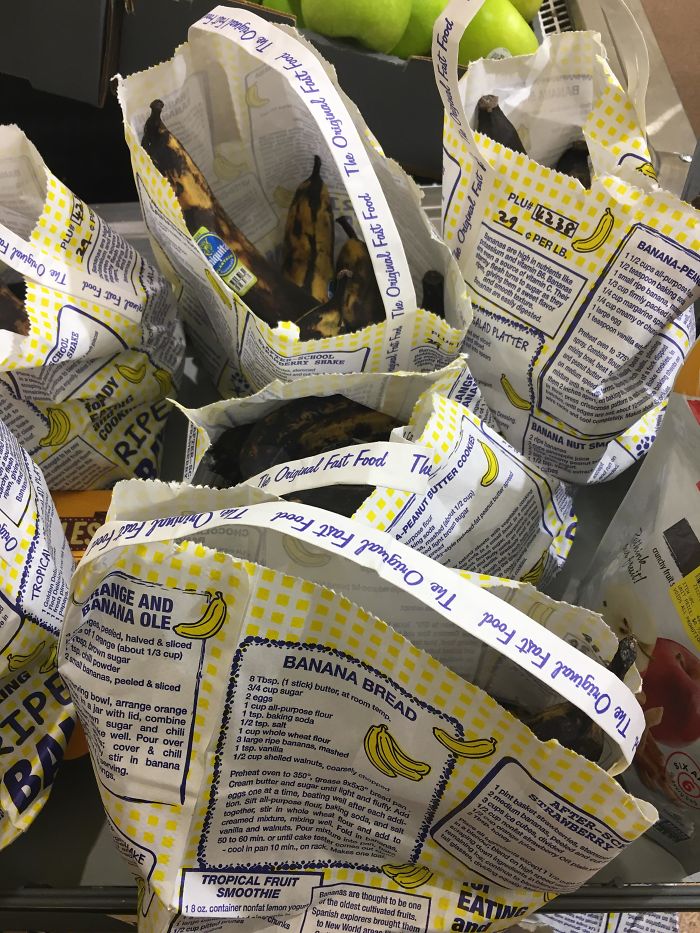 This grocery store started selling ripe bananas with discount and including a recipe in the bag for people to prepare banana bread with them. Unfortunately, supermarkets end up throwing many of their products because they go bad, but bananas can be used in different ways in their stages of maturity.
35. CHEMISTRY STUDENTS REJOICE!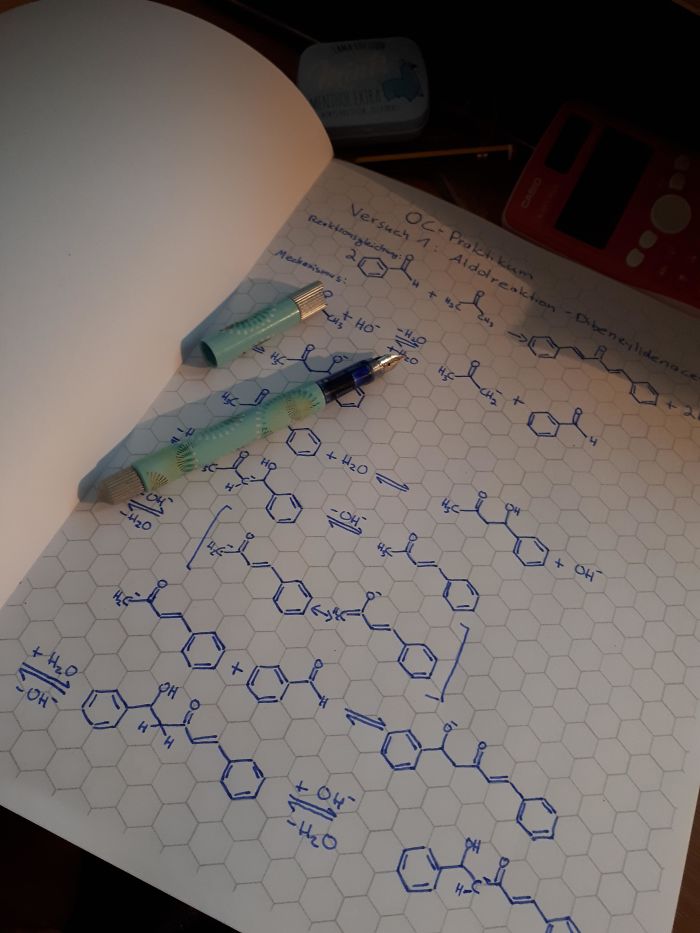 Someone decided to design these special notebooks with a hexagonal grid design that serve organic chemistry students and creators of mazes for Dungeons and Dragons. Finally, you can have pretty notebooks in class instead of weird hexagons all over the pages. We applaud whoever took a chance on this idea.
34. THE COLORFUL SIGNAL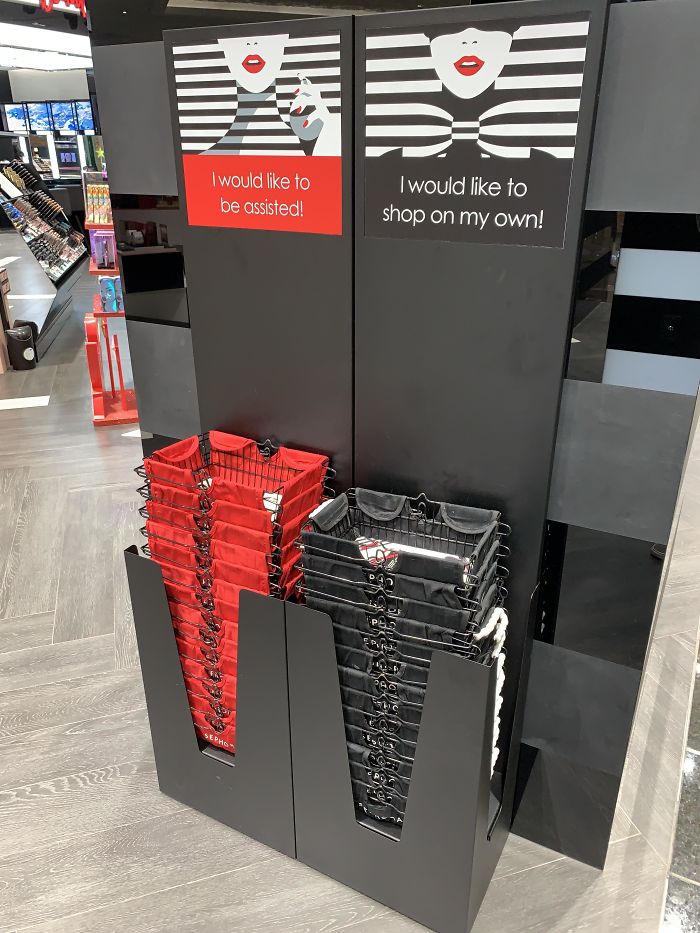 This store has an option for people to decide if they want to buy alone or accompanied by a person to help them choose. There are customers who hate being bothered by eager attendants, and then there are some people who hate when no one walks up to help them. Here is the best solution for both.
33. FINALLY, WE UNDERSTAND!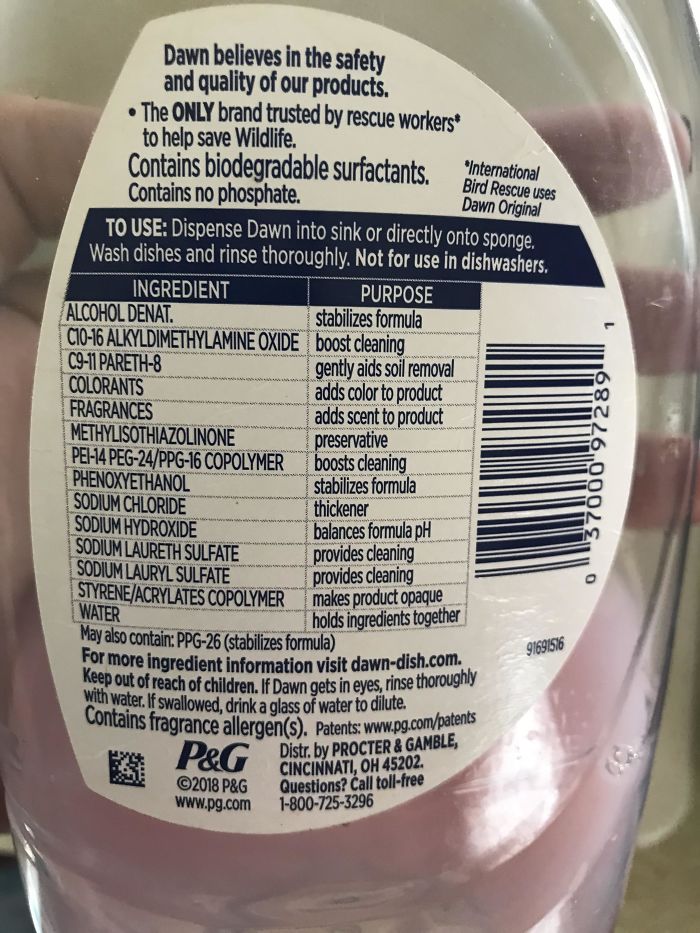 This liquid soap has a special label that lists all the characteristics of the ingredients it has and explains its purpose. Most cleaning products have ingredients that are impossible to pronounce, and only experts know what benefit they provide. Finally, regular people can understand what into the bottle and touches our hands.
32. CREATIVE IDEAS HELP EVERYONE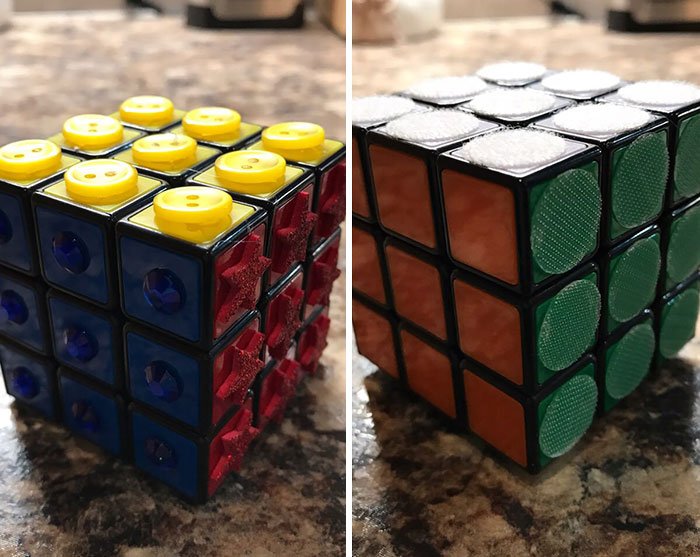 A very talented person decided to adapt this Rubik's cube so that people with visual problems could enjoy this particular puzzle of wit. Blind people need everything to be tactile or auditory, but games are usually hard to redesign for them. We never imagined that it was possible for them to play with this crazy toy.
31. IN CASE OF FIRE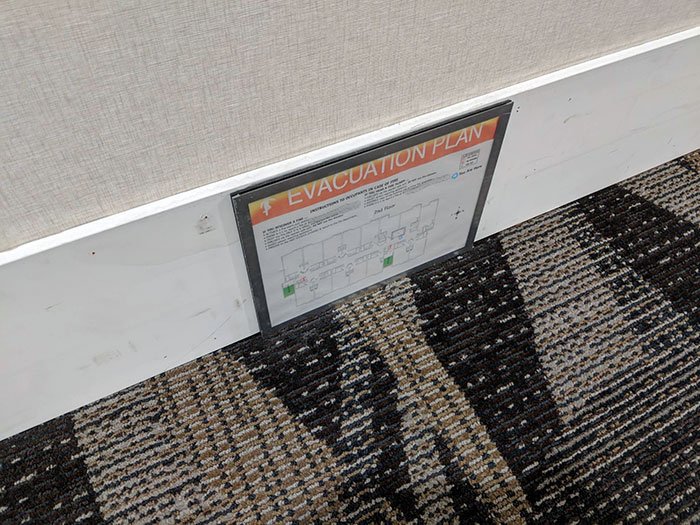 This hotel has the instructions for fire evacuation at ground level in case you have to inform yourself about the exits and the smoke has filled all the corridors. Every public building should have similar signs because what they teach us at school only goes so far. More education always leads to more safety.
30. CLEAN HANDS PLEASE!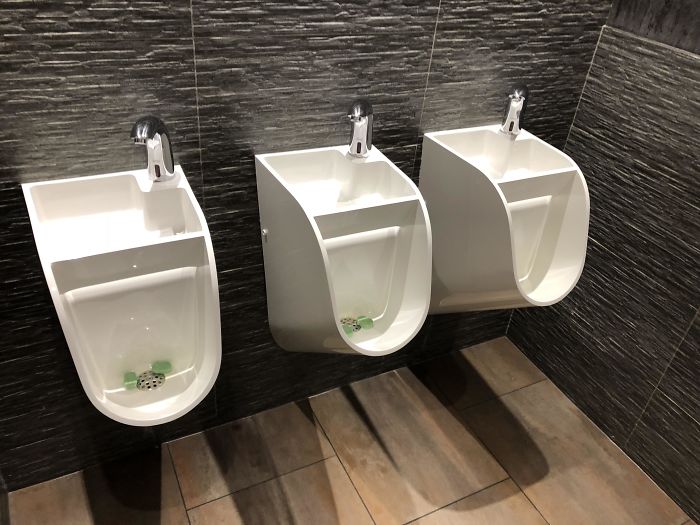 This ingenious design requires using the sink to flush the toilette, which allows them to save a lot of water and the environment at the same time. Also, since the sink water is required, it encourages the users to actually wash their hands after using it. It's a great design for the planet and for general hygiene. 
29. NO MORE LOOKING AROUND AIMLESSLY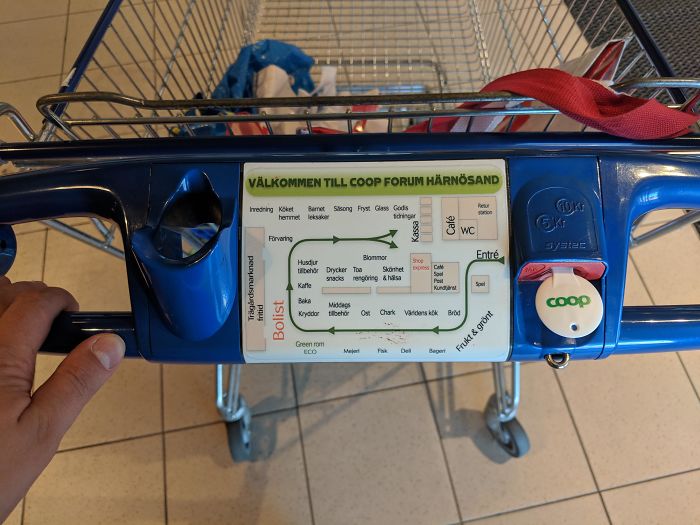 These great supermarket trolleys have a map of the establishment, so you know exactly where you are and what is the aisle of the sweets. They also provide a guide for people so that they can make the most efficient trip and end up at the registers without turning around and going crazy. 
28. DOGGIES ARE SAFE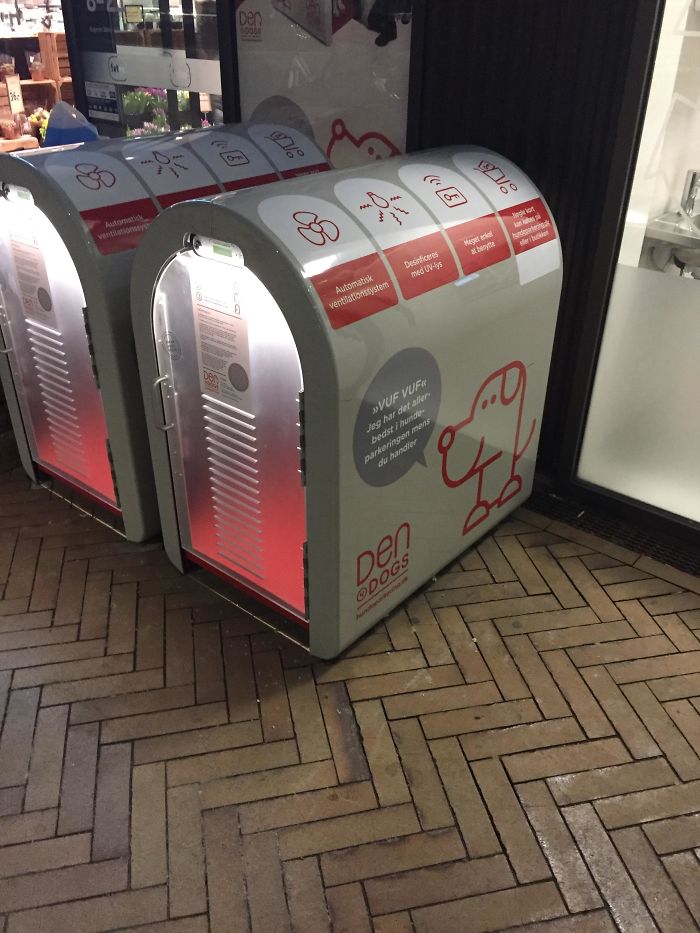 A particular supermarket in Copenhagen has these small cubicles where you can leave your dog without worrying about some disaster that they could cause or someone stealing them. People place a lot of importance in their pets, but they are still not allowed to everywhere in peace. So, this is an incredible solution.
27. A STUMBLING ILLUSION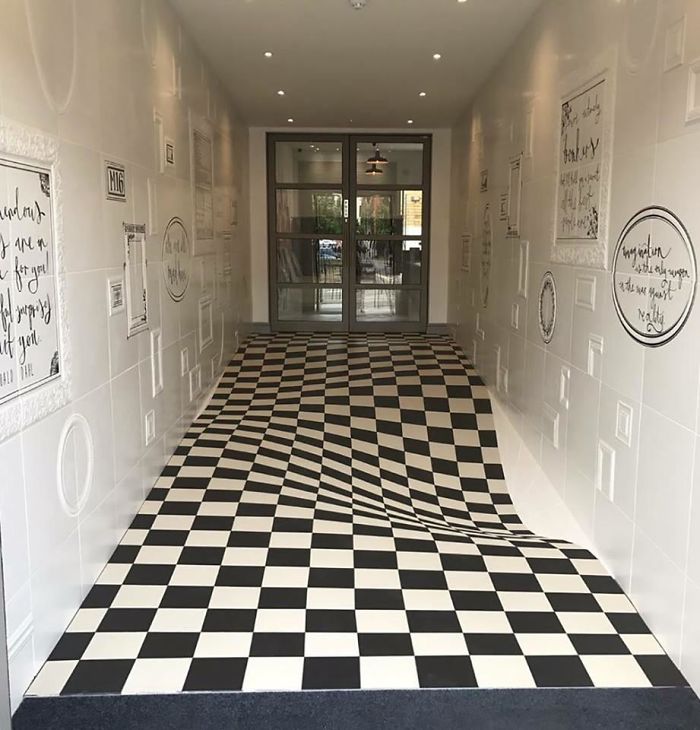 A perfectly flat floor designed with the primary purpose of preventing people from running in the corridors. It causes dizziness just to see it. We bet if someone drunk walks to that door, he will take a stumble because even sober people will find it difficult to go by. It's just such a cool design but scary.
26. ALWAYS KEEP YOUR TIRES IN CHECK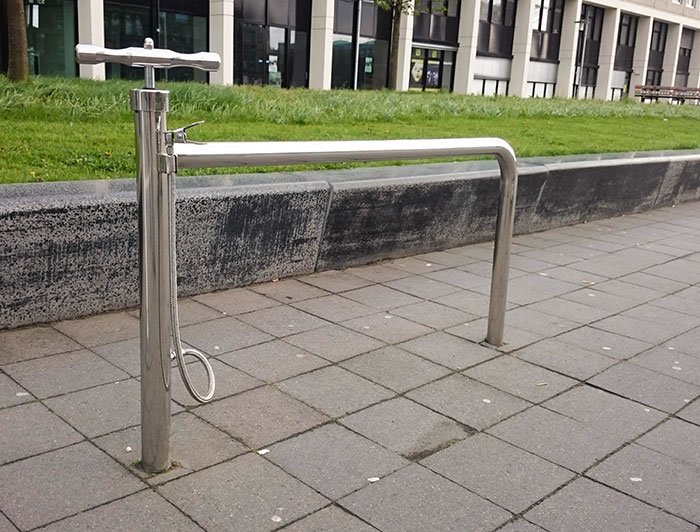 These public bicycle stands have a built-in air pump that allows you to fill your tires in case you need a little more air for that commute home. It's always important to keep your tires filled with the proper amounts to prevent accidents and injuries. Also, remember to wear a helmet whenever you ride!
25. WARNING LIGHT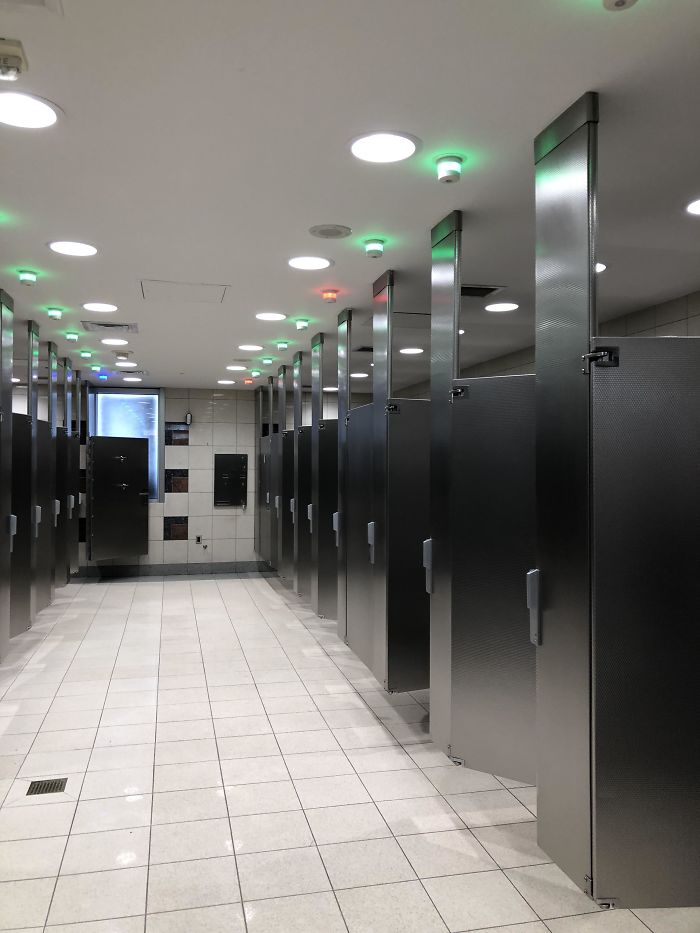 A very particular bathroom at the Atlanta airport that has lights that indicate if the stall is occupied or you can use it, avoiding very embarrassing situations. Most people would just check if there are a pair of legs visible below the door, but that can be considered rude, and the makers of this bathroom had an awesome idea.
24. ALWAYS READY FOR EMERGENCIES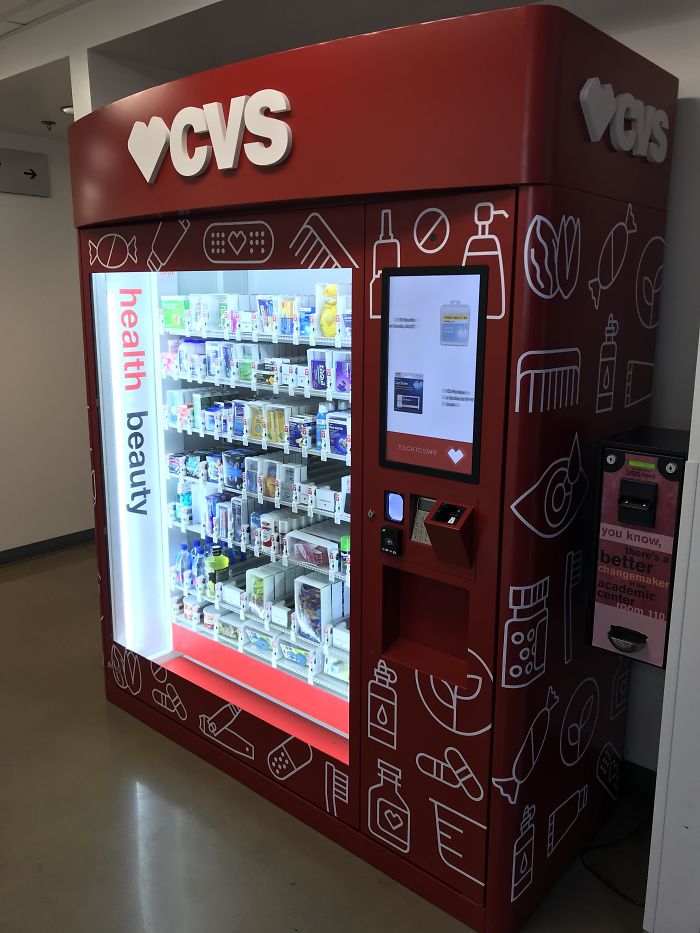 This school installed a CVS vending machine full of hygiene products and medicines so that their students will have everything they need in an emergency. It is probably used mostly by girls because they have more need for many of these products than boys. But in any case, it's actually more useful than a soda vending machine.
23. HAVING FUN WHILE COMPLETING THE JOB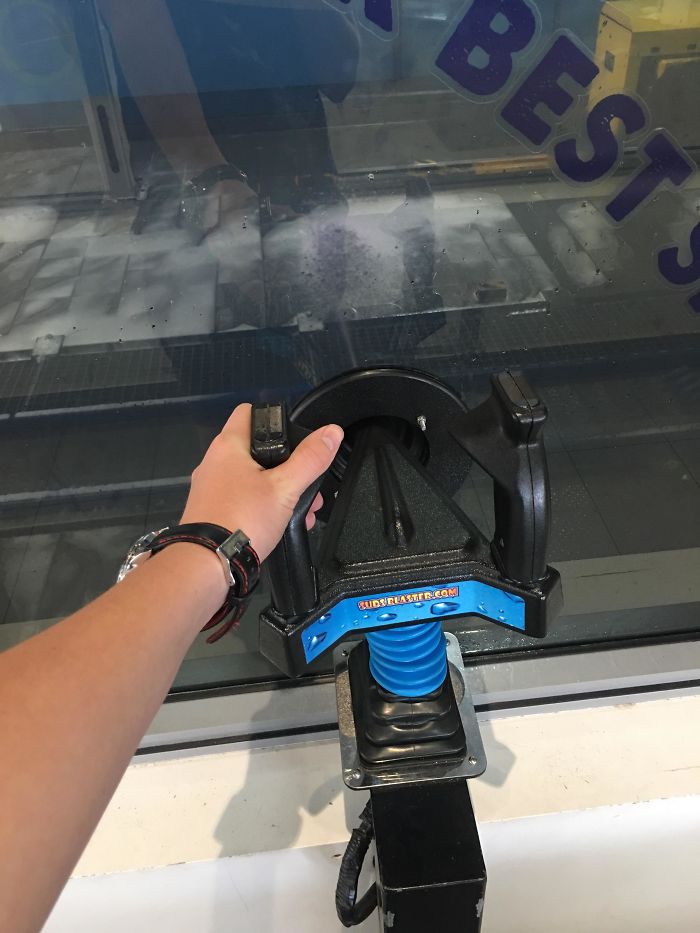 A local car wash that thinks about children, adding a gun that allows them to spray soap foam on the cars that are about to go in to wash. Some parents cannot leave the children at home to complete their errands, and this is a great distraction that will keep from disrupting the employees at the company. 
22. WE LOVE INGENUITY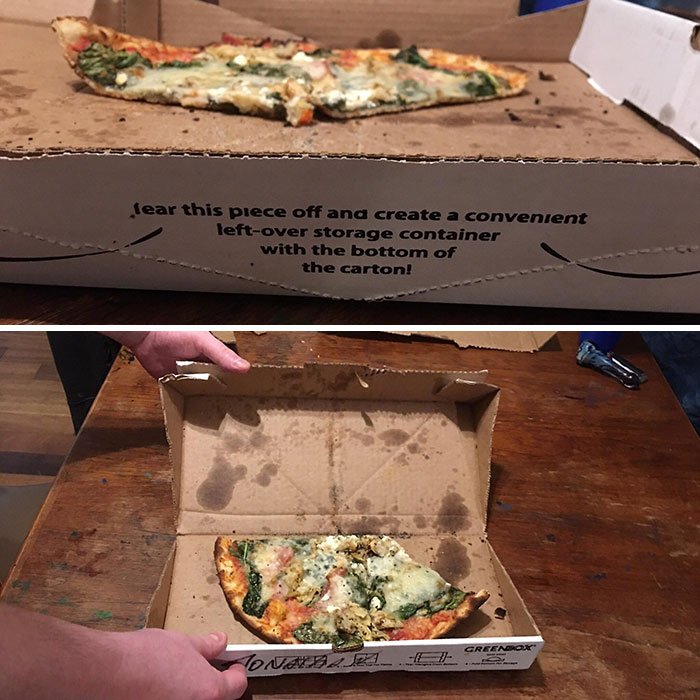 This is definitely innovation! The pizza box can be broken in half and folded to become a smaller pizza box where you can store the leftovers. It's a pain to get a Tupperware container and storing your pizza in the fridge, but this hack from that pizza place is awesome for young people that need practical solutions.
21. NO DENTS HERE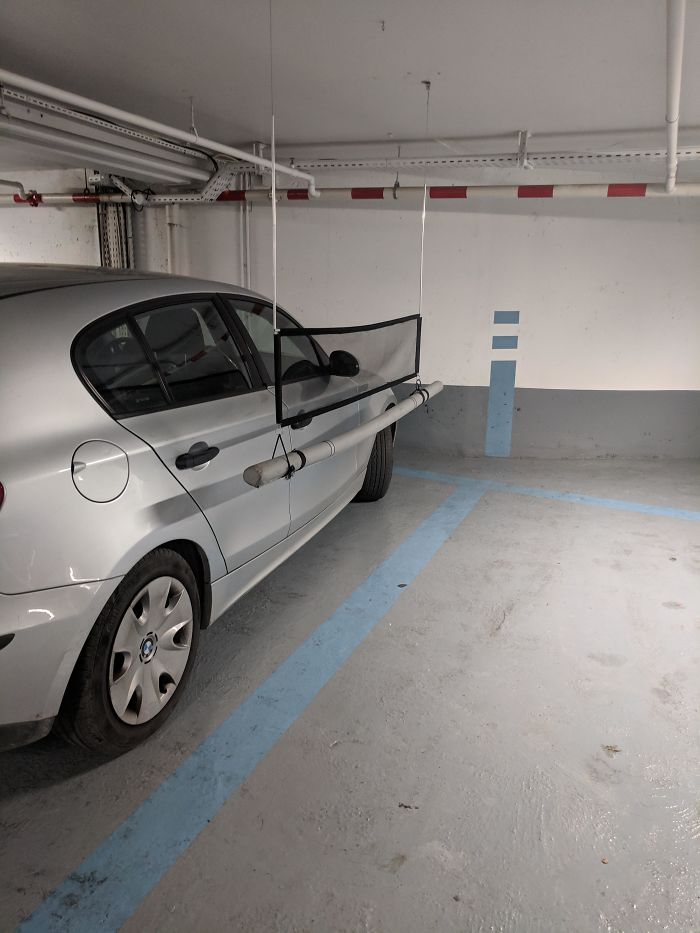 This parking lot in France thinks about other people's vehicles, adding soft barriers between each parking spot to prevent cars from scratching each other. There are many careless people who leave dents in the cars next to them, but this will definitely stop them from incurring harm.
20. IMAGERY IS EVERYTHING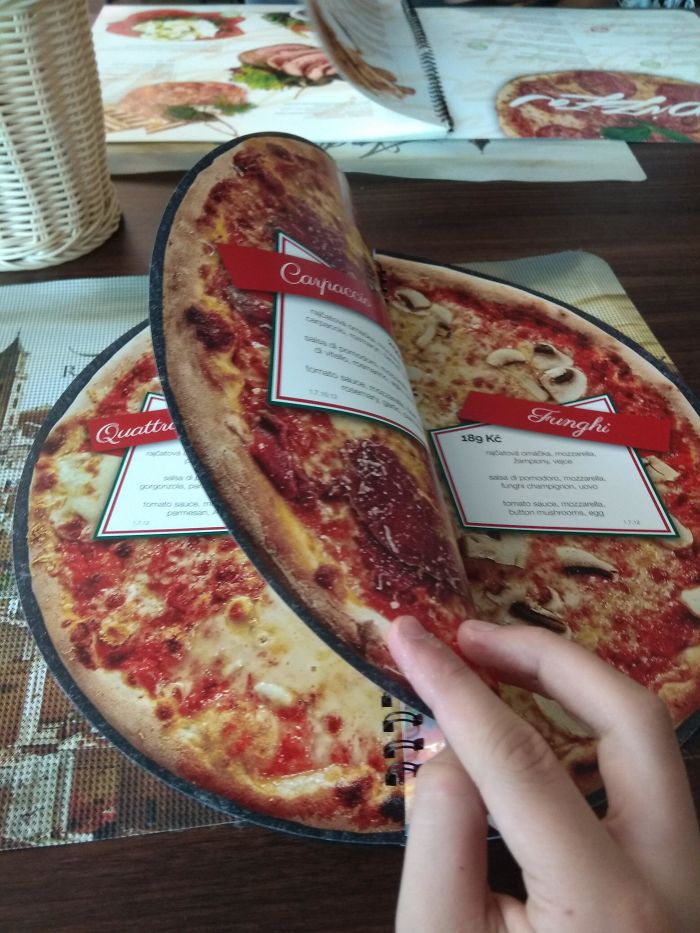 The menu of this Italian restaurant has the shape of pizzas and its ingredients so you can see which one you like the most and decide you want to eat that night. Diners have to think of the best way to attract customers, and when it comes to food, images are always better to make people spend more.
19. TOAST FOR EVERYONE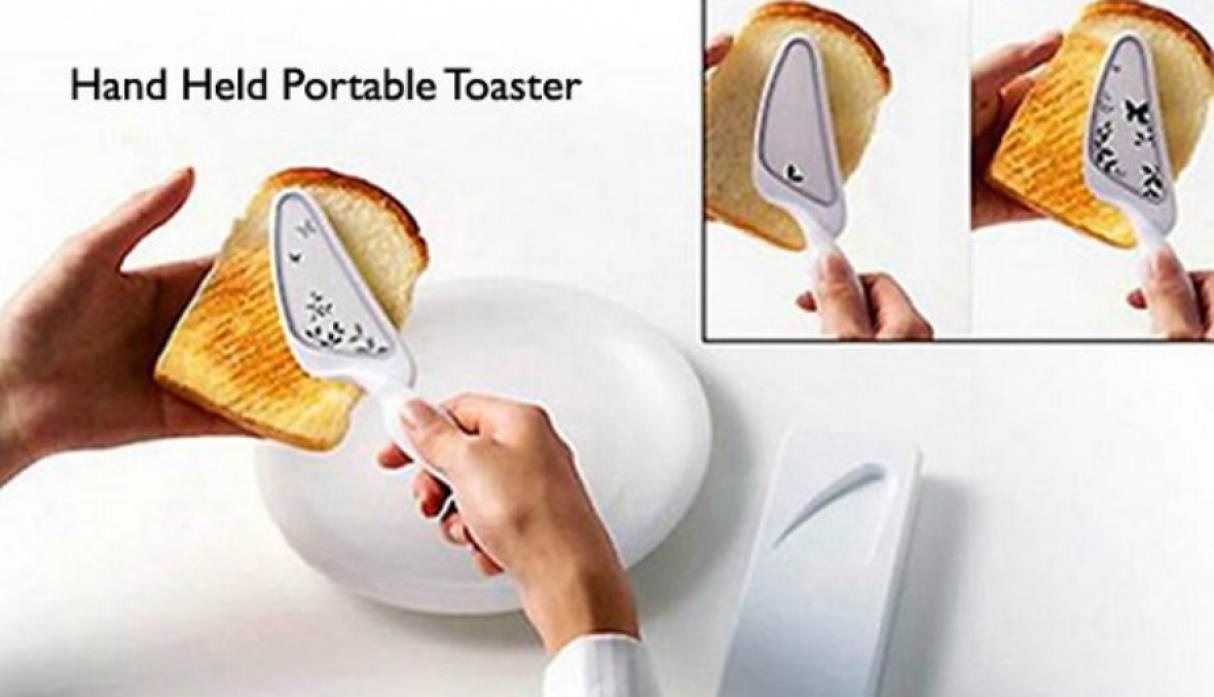 This particular device will allow you to achieve perfect results for your breakfast because it enables you to control the amount of heat that reaches the bread and how toasted you prefer it. It is also a great product for travelers, who can just purchase some things from the market and toast their bread in their hotel rooms.
18. SEEING IN THE RAIN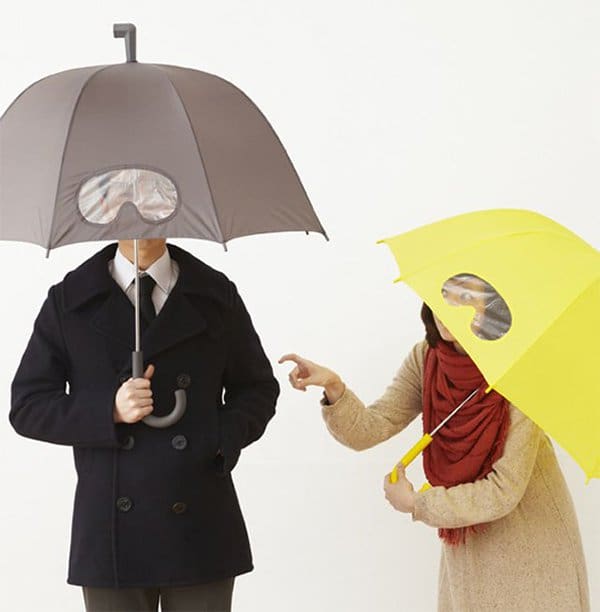 In some cases, protecting yourself from the rain prevents you from seeing correctly where you are heading, so these umbrellas were invented with a transparent section that gives you the desired visibility. This product is both practical and completely adorable. Most girls would take lots of selfies for their Instagram. 
17. BUILT-IN EXTENSION

It is strange that no other person had thought of this before! A socket that also has an extension cord to allow people to have a little more versatility when they need electricity. Buying a separate cord can be a pain and rather pricey. People are always looking for versatile products and this is great for modern homes. 
16. EGGS EVERYWHERE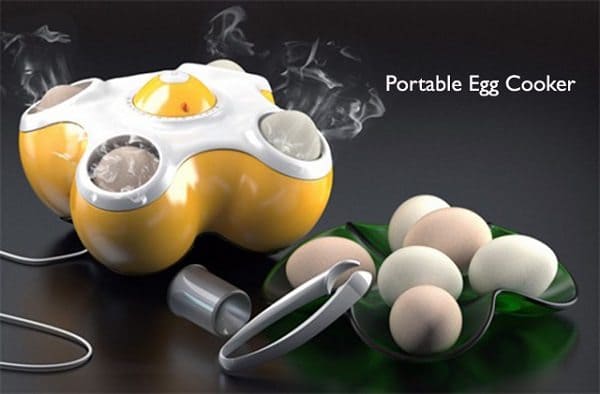 Have you never been on the street with a craving for eggs? This device was invented to help those people who want to take their kitchen everywhere with practicality. If you combine this item with the portable toaster, you can enjoy breakfast anywhere in the world, even without a kitchen. Anything that makes life simpler is awesome.
15. ROCKER AND CRIB IN ONE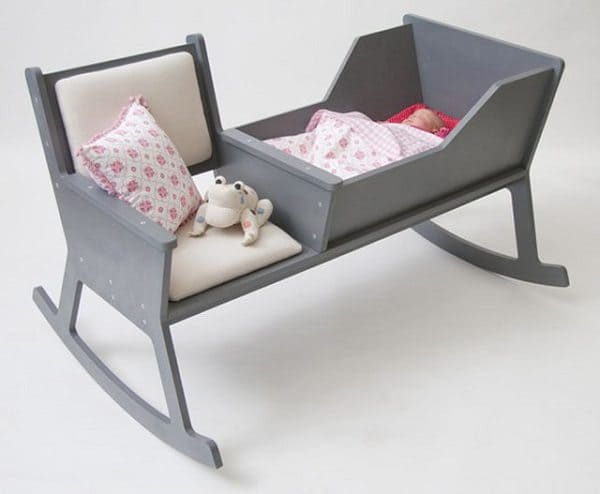 For those parents who want a dual solution to their babies' sleep problems, this rocking-chair/crib allows you to rest while your baby achieves a long night of sleep. This is another example of a product that serves several purposes. It's a crib, but a rocker in one so that both the baby and the parent can be comfortable. 
14. BETTER THAN A VACUUM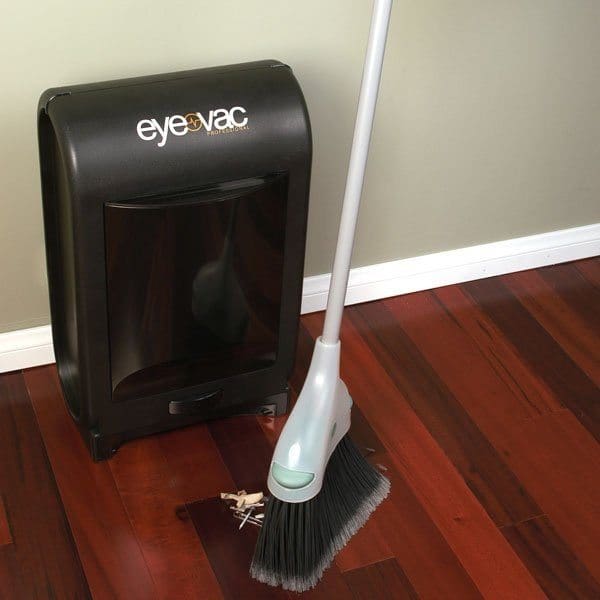 No more dustpan and brush to finish cleaning the house. This trashcan will suck all the dust that comes near it, you just need to sweep the dust to the bottom and the device will do the rest. It's actually better than a vacuum because there's no annoying sound, and you don't even need to bend.
12. PRACTICAL METAL DETECTOR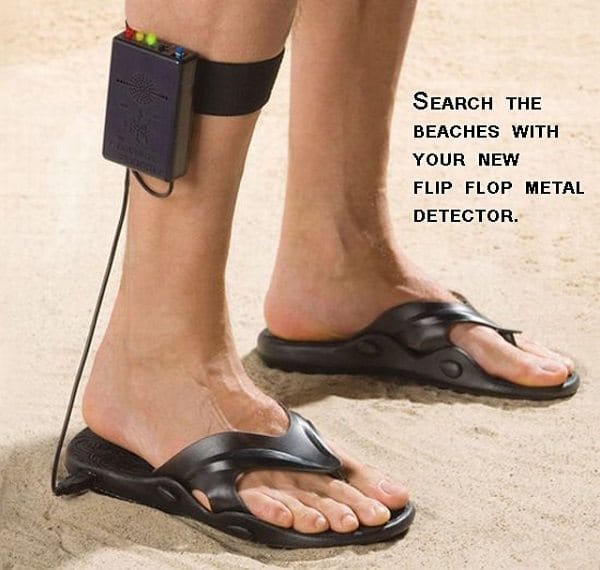 For people who enjoy long walks on the beach, but are also avid treasure hunters who are always looking for something valuable around them. We have to wonder how many people still search for things with one of this, but now there is no need for that heavy and uncomfortable stick that makes you look like a weirdo on vacation. 
11. CHARGING AWAY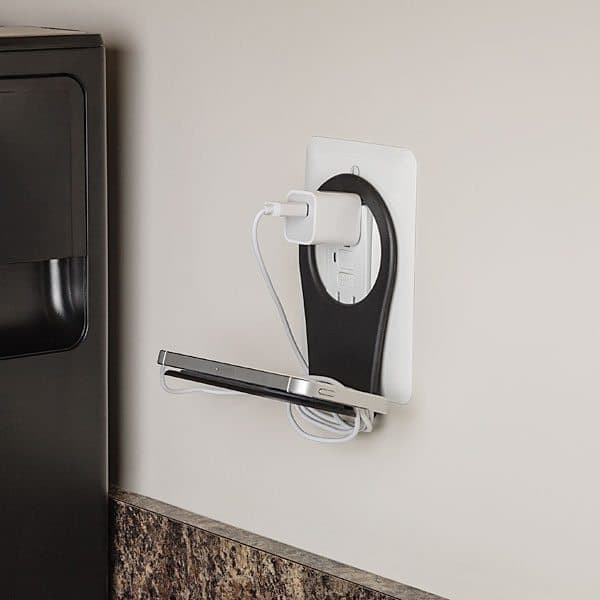 This invention is something that many people have needed for a long time, but they had not had the disposition to put hands to work and invent something that supports their phones. It will also help when your charger has a shorter wire, and when you want to use a public socket that is too far from the floor. 
10. EASY WATERMELON TREATS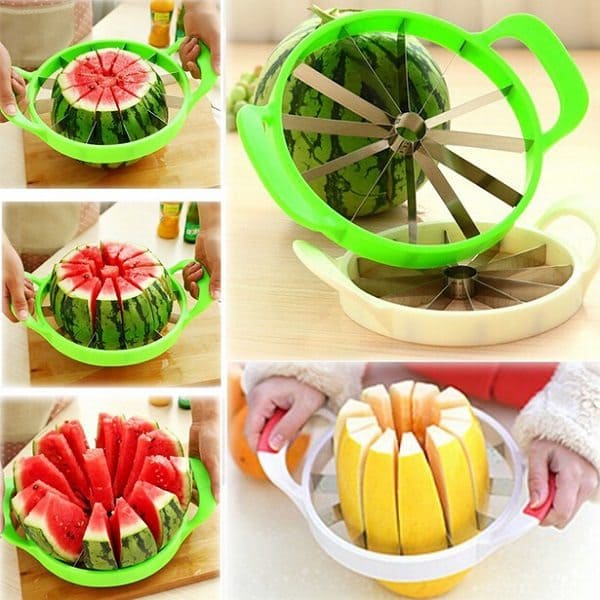 For those perfectionists of fruits, this particular invention allows them to cut uniformly and easily their watermelons and large fruits without turning it into a tedious process. Let's face it, cutting big fruits can be such a pain and also dangerous because the knife can go another way. Luckily this is an easy solution. 
9. SALT AND PEPPER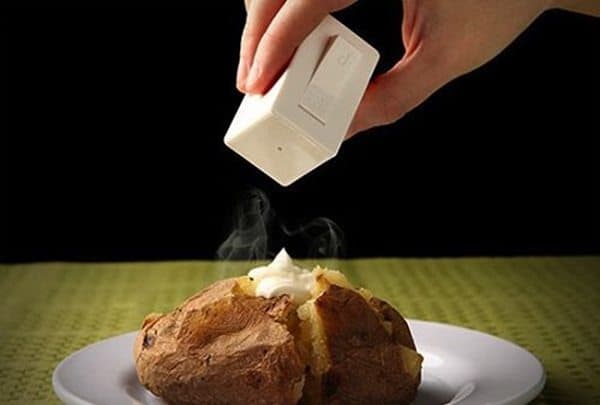 A handy way to use the same container for salt and pepper. You only have to select with the top switch what seasoning you want to add and proceed to eat with a smile. Technology has changed the way we do many things, but flavoring your food is still the same. However, this modern shaker starts a new era. 
8. NO OVEN IS TOO SMALL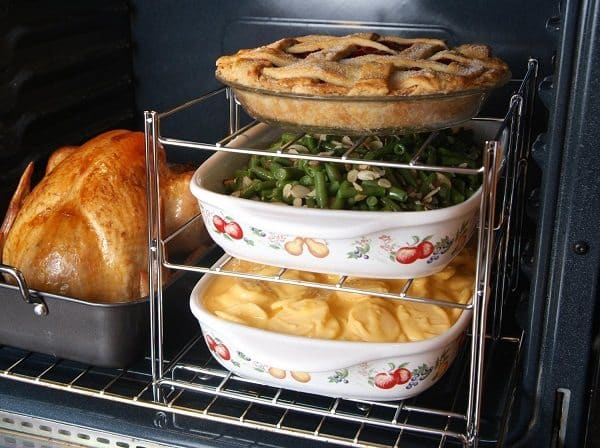 Many people have suffered from having to wait until all the food is cooked, mainly at those big Christmas dinners. So they came up with the best use of oven space. You might need to turn up the heat to cool all that food properly, but it's better than waiting hours for the turkey to finish up in order to start the side dishes. 
7. CLOSE TO PARENTS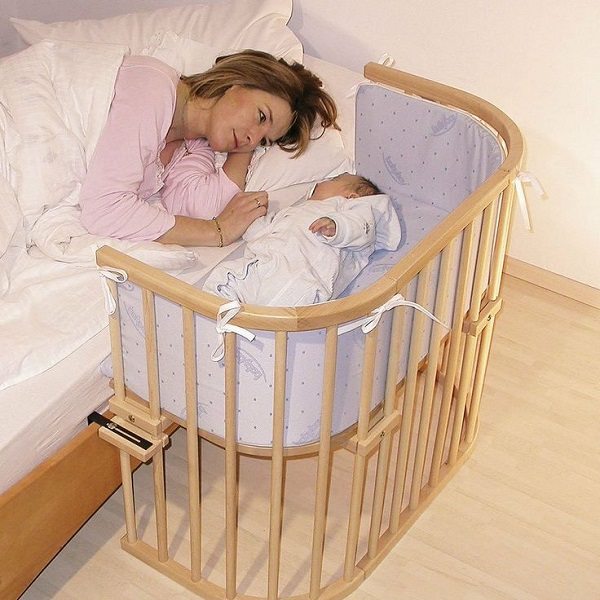 Anyone who has had a baby will know how upset it is to get up in the middle of the night to see that he is okay at all times. That's why this baby cot makes things much more relaxed. When babies are newborn, mothers can be particular clingy, but this will definitely help. It shouldn't be used every day, though.
6. THE CAKEPOP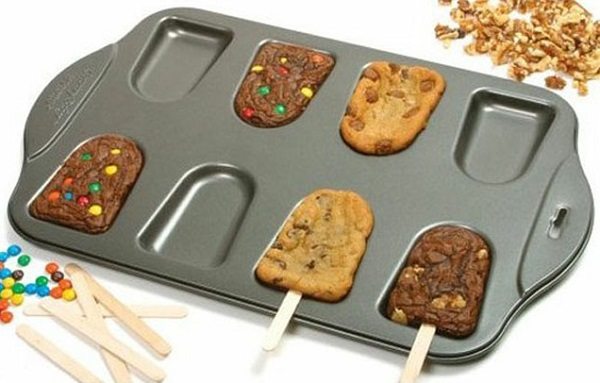 Everyone loves cookies and lollipops, right? Someone decided that joining these two concepts would give them an ideal dessert, so they invent these molds called "Cakesicle". Many mothers will appreciate the fact that their kids will not get their hands dirty with chocolate or peanut butter. Less cleaning makes life easier!
5. SECURITY SYSTEM
When you need the most advanced technology to protect your valuable things, it is logical that the security locks are also updated and allow you to block your belongings using your fingerprint. Technology never manages to surprise us, and no one can steal your code or key with this kind of lock.
4. NO MIXING DIPS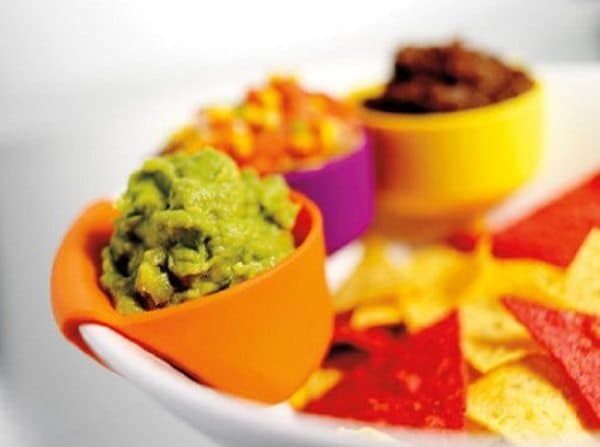 This is a straightforward but functional idea that allows people to have a delicious sauce or dressing where they can dip their favorite snacks while watching a movie in the comfort of their sofa. It's great for parties where everyone has different tastes or even allergies. No sauces will get mixed up; so, there should be no problems. 
3. A SPOONFUL OF SUGAR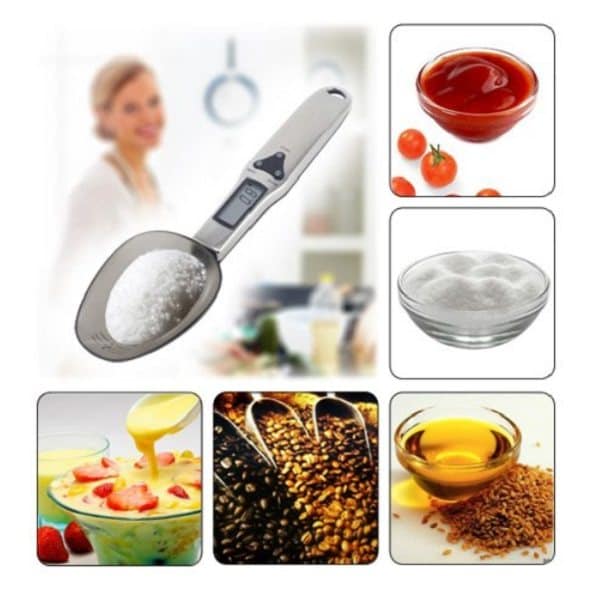 This spoon comes with an integrated digital scale that allows people to know precisely how much ingredient they are adding to their kitchen preparations. Cooks can finally discover how much a spoonful actually is, and perfect their flavors accordingly. Life is so much easier with different technologies for the kitchen.
2. CORN PEELER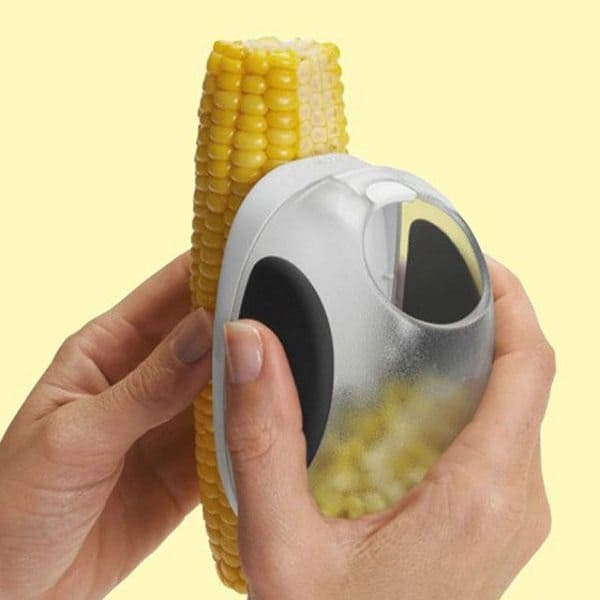 Peeling corn does not have to remain a hard job if the technology starts working in favor of the people who love this food. This corn remover will facilitate your work and will do it in seconds. You can give your children a lovely sweet corn side dish without the threat of choking. We definitely want this one!
1. NEAT CABLES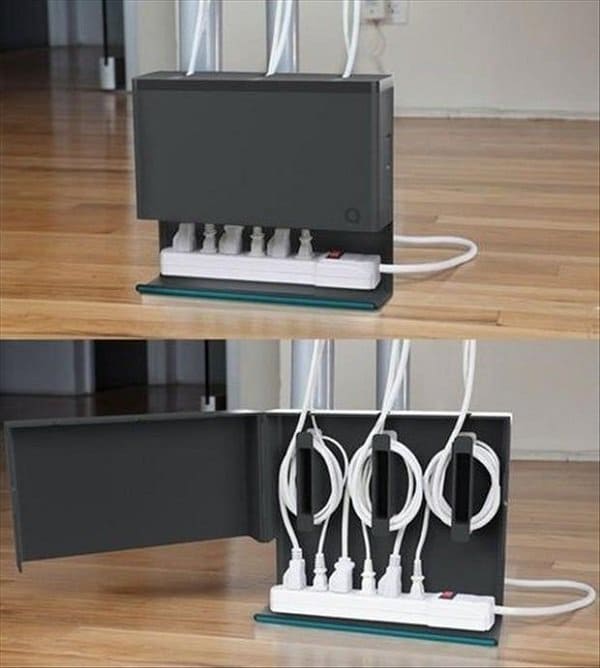 Everyone hates to see a massive amount of untidy cables everywhere, especially on computers. This organizer will allow you to leave your home with an aesthetically pleasing appearance in sight. It makes it easier to clean up around the computer desk and without the risk of water getting into the sockets. 
Each of these great inventions can quickly improve our lives, although they solve things that we did not even know were a problem until we saw this article. What do you think of these inventions? Let us know in the comments section, which is the most useful for your life, and do not forget to share it with all your friends.
Source: BoredPanda, Awesome Inventions