Unique Retro Photos That Show How Awesome People Were Back In The Day
Hollywood stars are just like regular people, but they have fame and fortune aside from looks that make them incredibly interesting to people. Back in the 70s and 80s, there was a show called 'Battle of the Network Star's, where the famous would compete in several competitions, and it was the perfect chance to see your favorite actress in tights or swimsuits. The following list has a couple of shots from that era as well as other old-timey photos that have been digitized. You might be surprised to see Lynda Carter, Madonna, Mark Twain, Buffalo Bill, and many others. Let's dive right in!
42. SUZANNE SOMERS
This is an amazing, and sexy, picture of a young Suzanne Somers from the 70s. She was part of the famous sitcom 'Three's Company', where the actress played the role of a dumb blond. However, Somers had some interesting roles before joining the TV show, such as the part of "Blonde in the white Thunderbird" in George Lucas film, 'American Graffiti'. She was the apple of many young men's eyes back then, and most women were jealous of her gorgeous looks.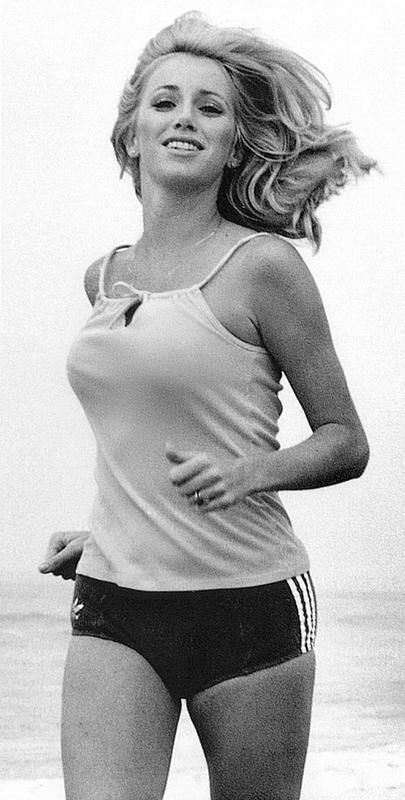 'American Graffiti' also featured several people who became Hollywood royalty like Ron Howard, Harrison Ford, and Richard Dreyfuss. Meanwhile, Somers had another small role, which went without credits, in Clint Eastwood's 'Magnum Force'. It was a different time, and maybe, she would have been taken more seriously nowadays. In fact, the actress wasn't paid as much as her male co-stars in 'Three's Company', and when she demanded $150,000 an episode, she was fired from the show.
41. WEIGHT GAIN AD
Things are incredibly different now, but in the 1930s, people were afraid that women were getting too skinny. Perceptions of beauty always change in time. It might be regarding clothes, hairstyles and such, but decades ago, women who had a little more junk were considered the epitome of beauty. Do you remember Marilyn Monroe? She was never fully skinny, and even today, she is still regarded as an idol for sex appeal and femininity.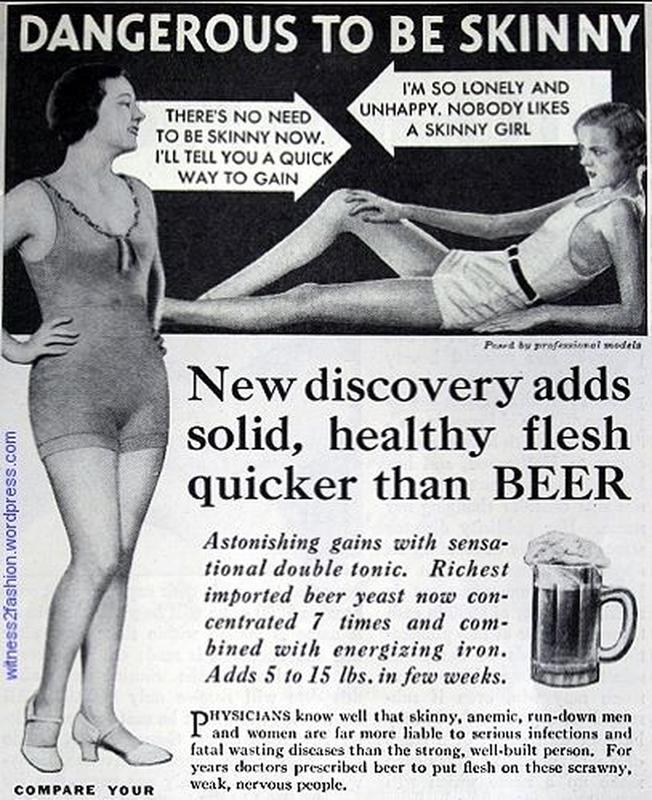 However, skinny girls were seen as week and nervous. No one can forget about Olive Oil from 'Popeye', who was just a stick figure. Therefore, there were ads in the paper that included recommendations to gain weight. One of them actually encouraged women to drink more beer, and it was apparently, a recommendation from doctors. They said that it would help gain around 5 to 15 lbs. It might sound crazy, but beer also contains hops, which has been used as holistic medicine since the 15th century.
40. MADONNA
Madonna is known as the Queen of Pop, and it's clear that current artist such as Lady Gaga and Nicki Minaj took inspiration from the original "material girl". This is a picture from 1974 when no one knew she would become one of the greatest recording female singers in the world. Her full name is Madonna Louise Ciccone, and she started her career around the 80s. As her name would suggest her parents were Catholics, who raised her in the suburbs of Detroit.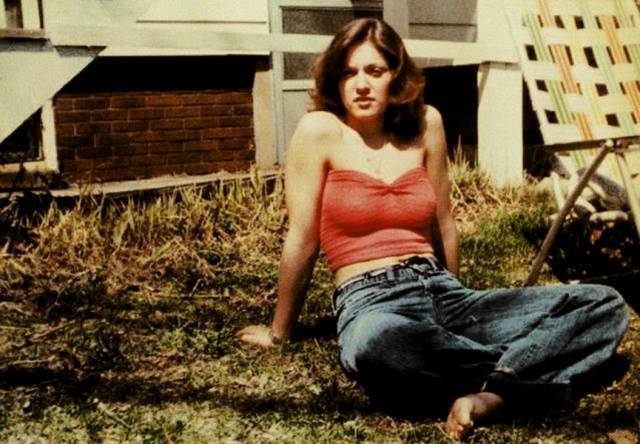 Her father was engineer designer for Chrysler and General Motors, and he was very supportive of his daughters' artistic aspirations. He enrolled her in piano lessons as well as ballet classes. However, she was also great at school, constantly getting As, and Madonna was also part of the cheerleader team. The singer received a scholarship for dance to the University of Michigan, but eventually, dropped out and moved to New York. The rest is history.
39. THE BALLOON FEST
This an image of The Cleveland Balloonfest from 1986, where around 1.5 million inflatables were released at the same time. It might look absolutely breathtaking, but things took a turn for the worse. On September 27, 1986, the city celebrated a balloon festival organized by the United Way as a fundraiser. The original plan was to release as many as possible to break the world record. It looks amazing, and they had Instagram back then, it would have been a viral moment.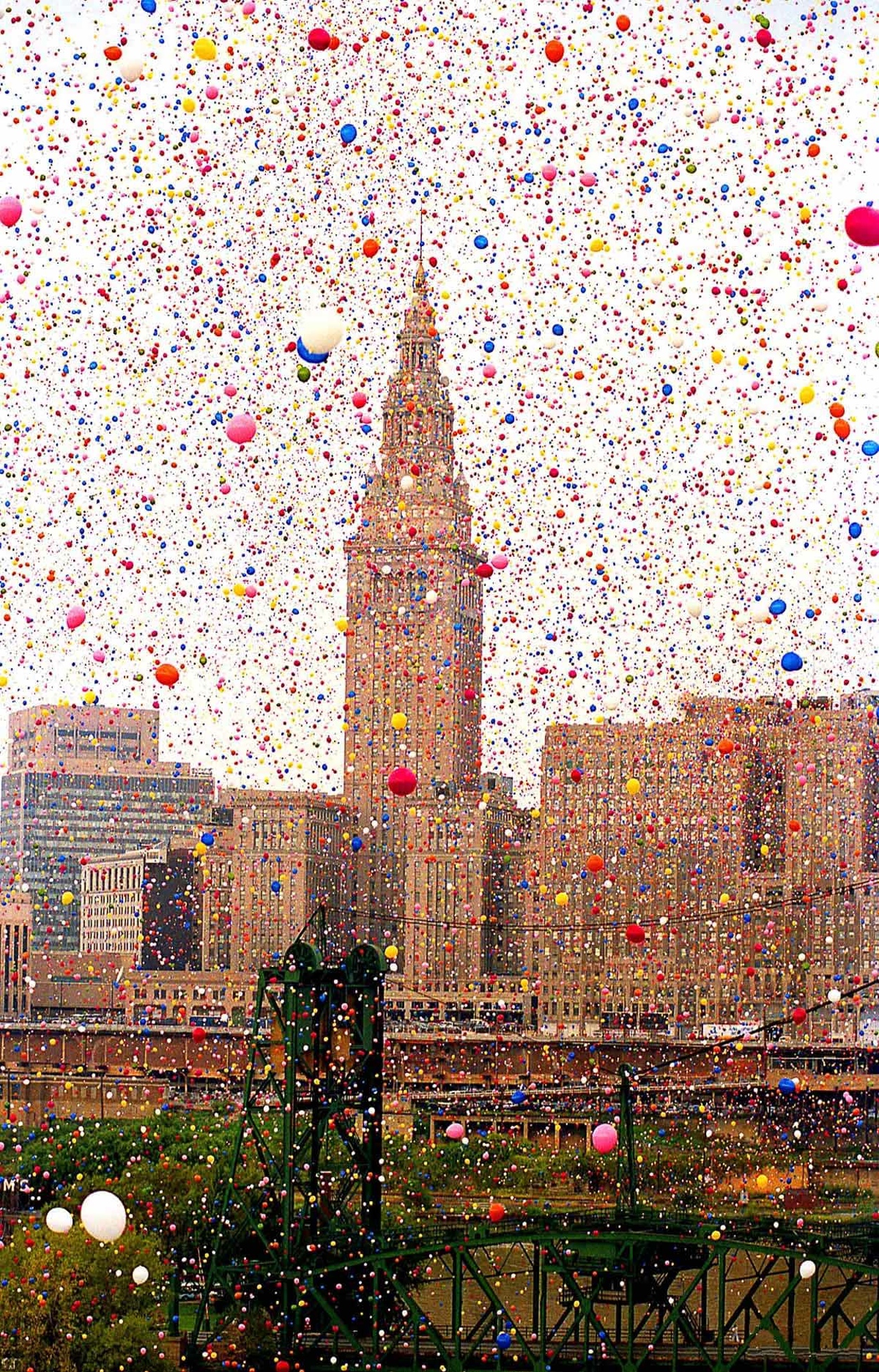 Unfortunately, it was horrible for the environment. A storm hit the city, and the balloons were sent back down to the ground. Additionally, due to how many inflatables were in the sky, it was hard to see, and a local airport had to close one of the runways as a result. The organizers probably got in a lot of trouble for the stunt. There were also several traffic accidents, and the obstruction also prevented the United States Coast Guard from finding two missing sailors in time. They were found dead.
38. LAWN MOWER FROM THE 50s
This machine looks like something from the Jetson's, and maybe that was the point all along. This is actually an air-conditioned lawnmower from the 1950s. Clearly, the 50s were a decade to think about the future and how to make life easier. There's nothing more idealistic than an air-conditioned lawn mower as if people cannot imagine sweating for a bit while they fix their garden. This product was launched on October 14, 1957, and it had the look of a futuristic machine.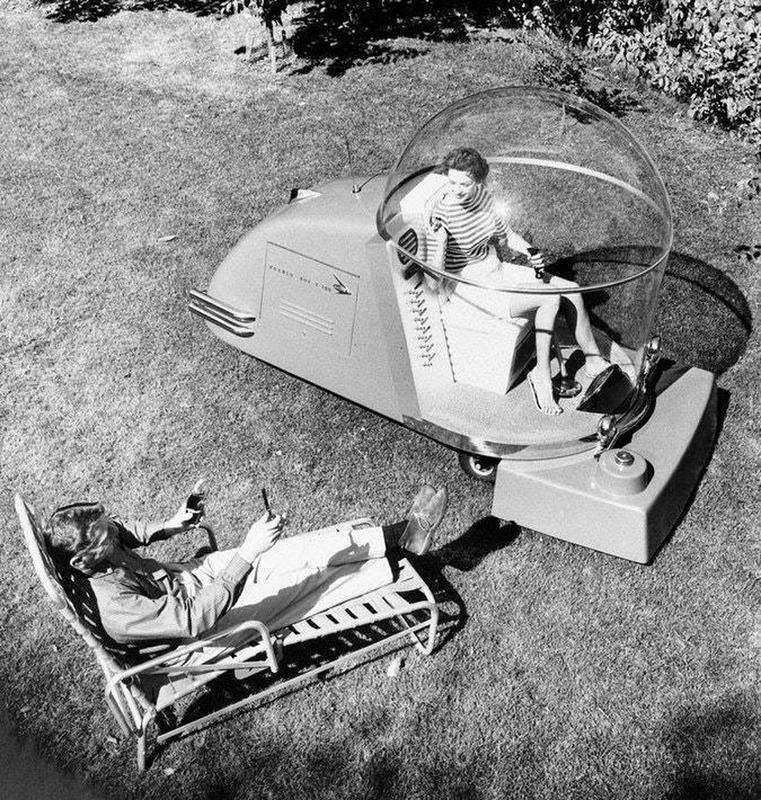 It was like a normal lawn mower mostly, but with a clear bubble for the person driving it. We wonder if she actually wanted to be trapped in there while completely visible to others. Aside from the air conditioner, it also featured an electrical generator to include other commodities such as a radiotelephone and a chilled drink machine.
37. BARBARA ROUFS
Roufs was one of the favorite women in drag racing back in the 70s. She was a 29-year-old mother of two at the time and widely considered the sexiest trophy girl of the Southern California drag racing world. This is one of her most iconic photographs taken by Tom West, who was known for his racing images that captured the essence of the era. However, that wasn't his daily job. The photographer was employed at General Mills, and he worked for the marketing department.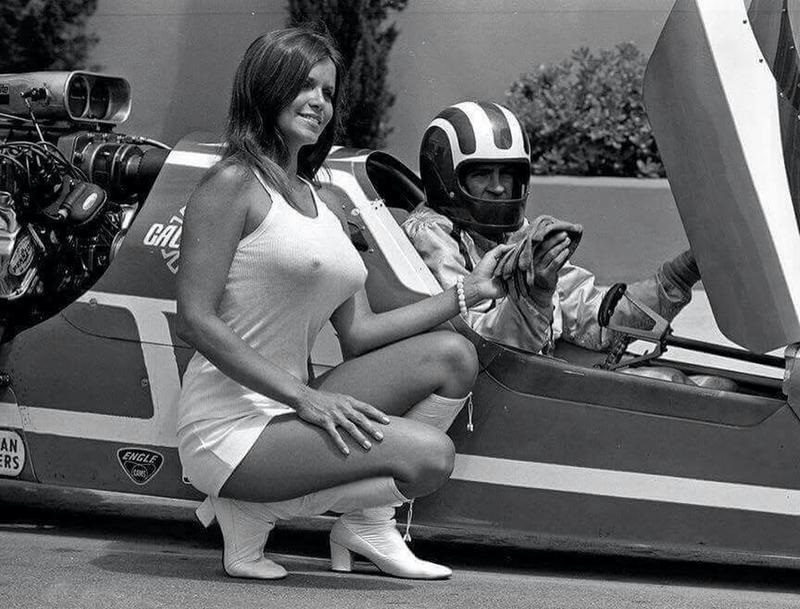 Luckily, he got to exercise his love of taking pictures later on. West ended up taking photos of Roufs after getting a gig with Revell/Monogram, a company known for creating plastic models for cars, truck, and such. They wanted pictures of the trophy models of the time, and we must admit, that they probably worked efficiently to promote their products. Meanwhile, Tom West also took many pictures of the vehicles while racing, both at the starting line and at the end.
36. LYNDA CARTER
While we all love Gal Gadot, Lynda Carter is still remembered for her role as Wonder Woman back in the 70s. She was in the TV show, and in a 2018 poll by AOL, the actress placed in 3rd place for "TV's Sexiest Women Ever". Obviously, people were not wrong. She is absolutely breathtaking, but the amazing part about this lady is that she performed her own stunts during her time on the famous show about the superheroine.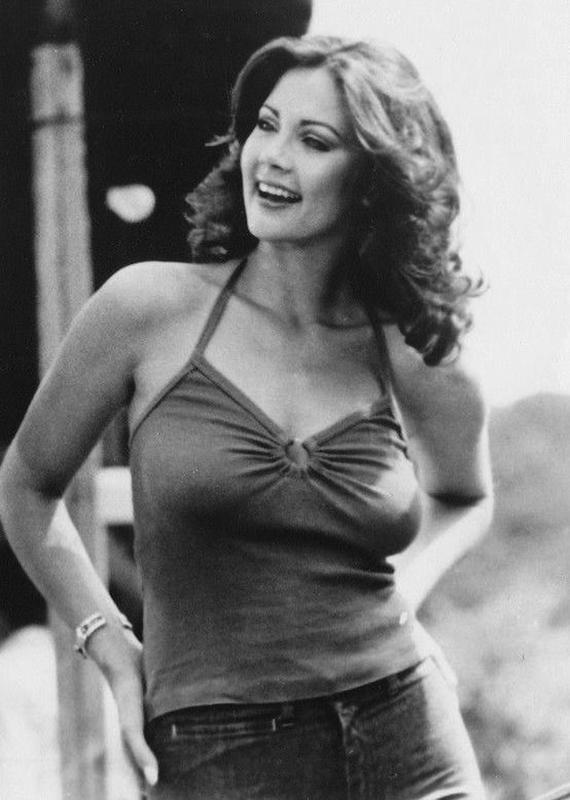 There was one stunt where the actress had to hang from a helicopter, and even though it made many of the executives at ABC nervous, Lynda did it herself. That might be why she landed the role of daredevil in the 1977 series, 'Circus of the Stars'. In it, darts were thrown at her by actor David Janssen, and luckily, he was not the best shot. Do you remember her?
35. ROBIN WILLIAMS' WEDDING
This is an image of the late Robin Williams during his wedding to first wife Valerie Velardi in 1978. Little did everyone know that he would become one of the best comedians in history, but his career was truly taking off at the time. Some women would not have chosen to marry someone whose fame kept growing in such a way. However, Valerie Velardi did, and she has the best stories to tell about her husband.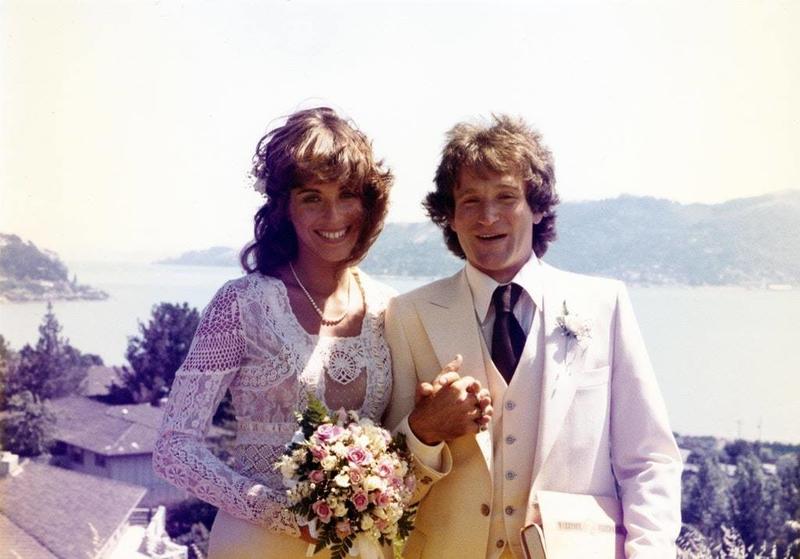 She actually revealed a lot about him in the documentary 'Come Inside My Ming'. The couple in 1976, back when Williams was still not recognized and working in San Francisco. They got married two years later and kept their relationship going for 10 years. Sadly, Velardi was the one who filed for divorce because Robin had allegedly been unfaithful to her. His wife even said, "He loved women. Absolutely loved women. And I got it."
34. MARK TWAIN
The famous author Mark Twain was known for his love of dogs, and he had a famous quote, which he coined in 1904: "The more I learn about people, the more I like my dog." His real name was Samuel Clemens, and canines were the inspiration for many of his works. Twain was not fond of poetry, but when he tried, it was mostly about his late dog Burns. One passage read, "She lived a quiet harmless life in Hartford far from madding strife."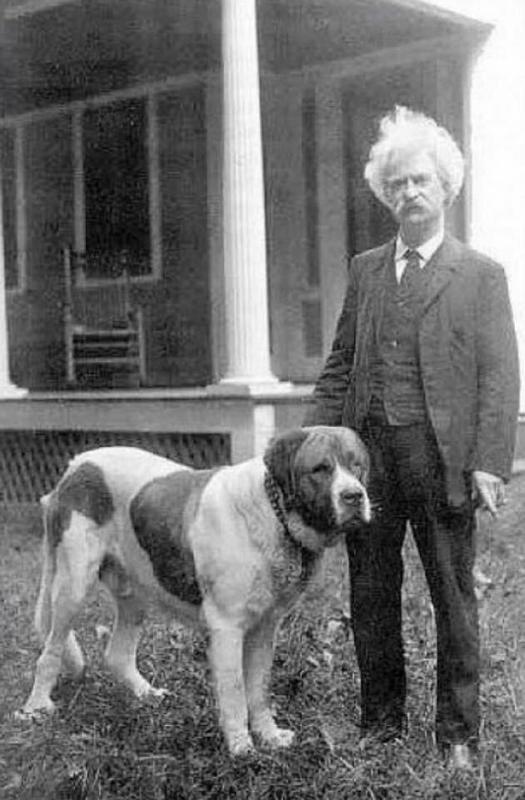 Through his entire life, dogs were his muse, and just a few weeks before he passed, the author talked about reaching the gates of heaven, where there should definitely be a lot of pets. "Leave your dog outside. Heaven goes by favor. If it went by merit, you would stay out and your dog would go in." On the other hand, he wasn't a big fan of cats, as he once wrote, "The only creature in heaven or earth or anywhere that don't have to obey somebody or other, including the angels."
33. A GERMAN SOLDIER AT THE BERLIN WALL IN 1961
This is a striking image of a German soldier helping a toddler crossed the newly-built Berlin wall back on August 13, 1961. It was major pandemonium that day, and everyone ran from side to side as soon as the wall started forming. The soldier from the East even has a look of fear on his face, which evidences how crazy it must have been to try to keep the peace.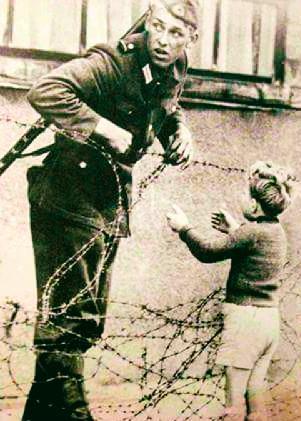 Fortunately, he helped the child passed the barbwire, although he was specifically told not to by the East German government. However, some rumor says that the officer was punished for his actions by a superior army man. Sadly, no one will ever know the truth because the descriptions of the picture have a scary message: "No one knows what became of him." But, we bet that child thanked him all his life and probably celebrated more years later when the wall was destroyed in 1991.
32. DAYTONA BEACH IN THE 80s
While many people enjoy the beach, it's hard to say what some more religious people did when the use of bikinis and more revealing bathing suits became the norm. This image is one example of what must have happened all the time. It was taken in Daytona Beach in the 80s during one of the wildest times of the year. Spring Break is famous on American colleges, and the shenanigans that young adults get into have been featured in many movies.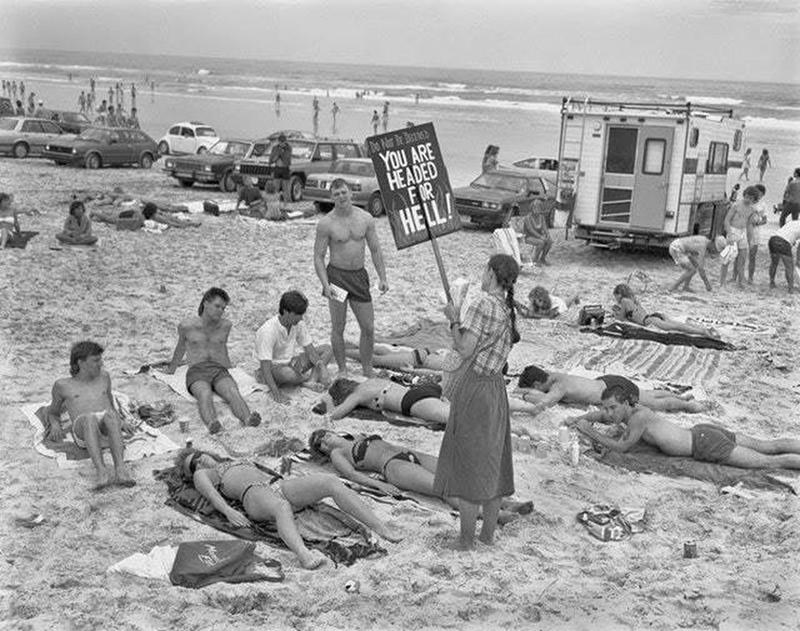 Daytona Beach is known for being the craziest spots for partiers, especially during those wonderful sunny days. The tradition actually started in the 30s when schools and universities took vacations from the academic period. The first recorded Spring Break was in 1935 when a coach brought the swimming team from College University to Ft. Lauderdale by train. However, conservative and religious people always have to rain on other's parades.
31. MORE LYNDA CARTER
In case you didn't get enough of Lynda Carter from the previous picture, here is another example of this amazing woman. Carter was the start of the ABC network in the 1970s, and aside from defeating bad guys in 'Wonder Woman', the actress also appeared in 'Battle of the Network Stars'. No one could wear swimsuits like her. During one episode from 1976, Carter threw champagne over host Howard Cossell after winning.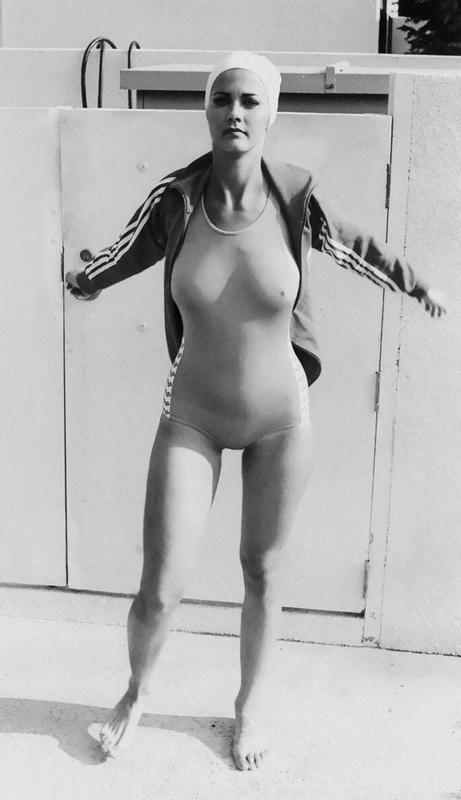 Her team has just emerged victorious from a tug of war match, and clearly, everyone wanted to celebrate. But, it didn't turn out as everyone hoped. Cossell had a hairpiece on, and the stunt made him insanely angry. Luckily, the actress was able to apologize after running into the host at a restaurant. That time, she sent over a bottle of champagne to his table, instead of over his head. It seems like that show was a hoot!
30. THE TWIN TOWERS IN CONSTRUCTION
A striking picture of the place where so many people lost their lives in the terrorist attacks of 2001. They began building one tower in 1968, and the other in 1969, but they broke ground several years before on August 5, 1966, to make the World Trade Center. The cost the site for the Port Authority was $900 million by the time they finished both towers. This is an image while it was still being built in the 1970s, and the first tenants started coming on December 15, 1970.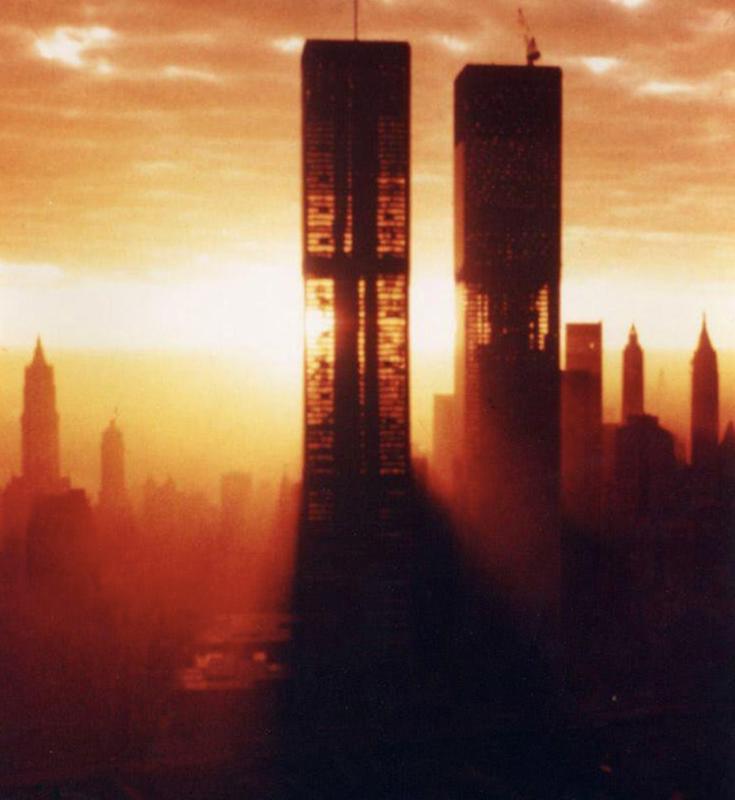 The South Tower started receiving people in January 1972. It took a long time, however, for the entire World Trade Center to be occupied. By 1979, everything was sold. They were built on a place in Manhattan original known as Radio Row, which was just a warehouse district with several electronic stores. Some say it was the birthplace of electronic distribution. In fact, there was a lot of backlash when they started work on the World Trade Center.
29. CINDY MORGAN
This is a picture of Cindy on the set of 'Caddyshack', where the actress played the unforgettable role of Lacey Underall in the 80s. She was Chevy Chase's leading lady at the time, and it has been said that the infamous oil massage scene was completely improvised. The line where Morgan yelled "You're crazy!" was her real reaction when Chase started doing weird things with the oil. Aside from 'Caddyshack', the actress was mostly known as a weather girl.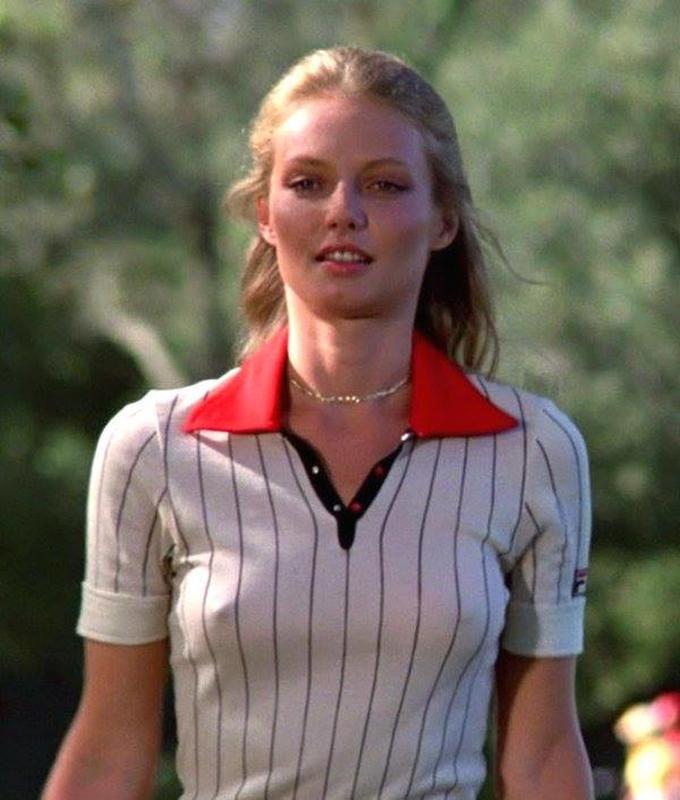 Then, she began modeling in auto shows, which got her the part of Irish Spring girl in 1978. Years later, in 1982, Morgan starred in the original version of 'Tron', which was groundbreaking at the time as the first computer-generated movie. Her real name was Cynthia Ann Cichorski and was born on September 29, 1954.
28. HEATHER TOMAS
This is a shot of Heather Thomas on 'Battle of the Network Stars' from 1983. The actress was best known for her role as Jody Banks in the television show, 'The Fall Guy', which also starred Lee Majors. It aired on ABC from 1981 to 1986. However, her first job on the small screen was on an NBC morning show titled 'Talking with the Giant', which only aired on Saturdays. Thomas was only 14 years back then, but she acted as one of the hosts.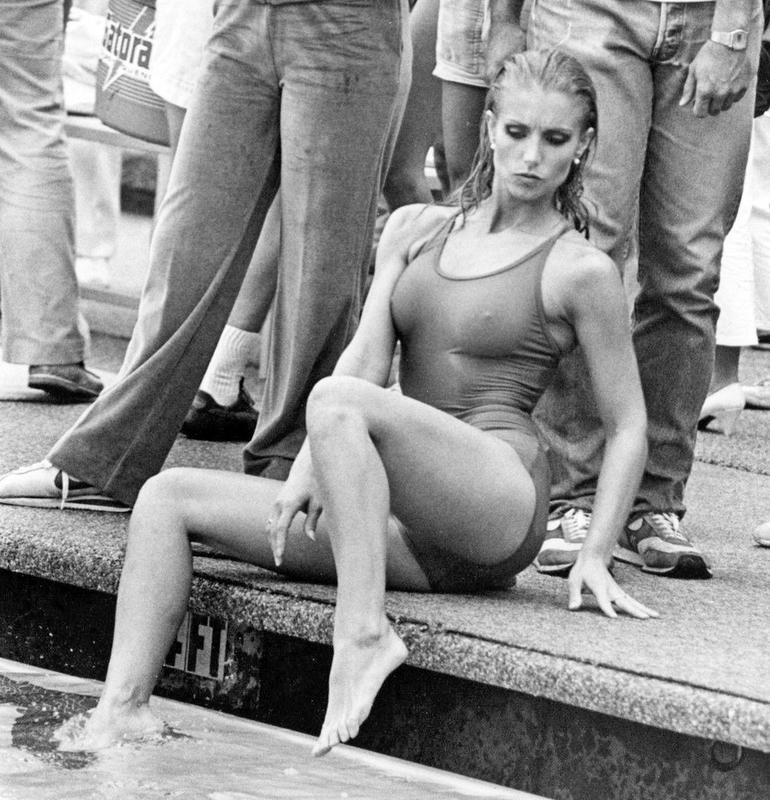 She would interview stars, and it seems like a great idea for a young girl. Before landing her most iconic part on 'Fall Guy', Thomas was the star of 'Zapped', the 1982 movie, which also had the heartthrob Scott Baio. Willie Ames also featured in the film where high school students found out that they had telekinetic abilities. Just like Lynda Carter, Heather looked amazing in her wet swimsuit on the variety show from ABC, but she does look a bit upset.
27. PAM GRIER
Pam Grier was known for her roles on 70s films about women in prison and Blaxploitation. In fact, she was the ruler of the genre with famous works such as 'The Big Bird Cage', 'Coffy', 'Foxy Brown', and 'Sheba, Baby'. After the success of those project, she landed a gig in Quentin Tarantino's 'Jackie Brown' from 1997. The film paid homage to the original genre that Grier was so famous for, and so, naturally, they had to include her.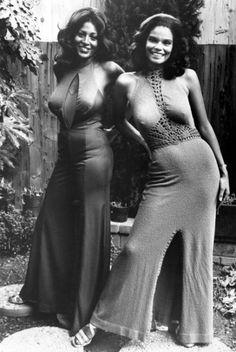 Grier was a young girl from Denver, who moved to Los Angeles in 1967 to pursue her dreams. However, she had to work as a receptionist at American International Pictures first. Luckily, her first job actually led to her big break, as director Jack Hill discovered and gave her a part in 'The Big Doll House'. The rest is history.
26. BEN BOWDEN IN 1946
This is an image of Ben Bowden who was holding a prototype bike called the "Bowden Spacelander", and it is from 1946. We think anyone with a bike like this one would've been the coolest kid on the block, but it wasn't produced until 1960. Furthermore, only 522 versions were made in the world, and it was probably due to its high price. Back then, it was worth $89.50, which factoring in inflation would be $774.33 today.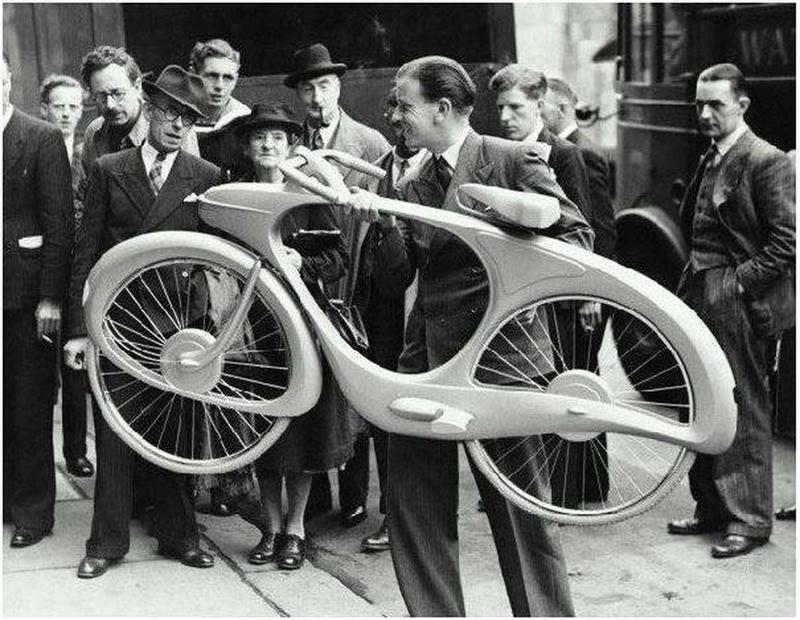 Not many parents would be able to afford such a luxury, although it's worth less than an iPhone. However, if anyone has a Spacelander lying around – but in mint condition, of course – they might be able to sell prices for thousands of dollars. Some estimated that it would go for as a high as $15,000. The Brooklyn Museum website has a description for this awesome bike:
"The Spacelander is a marvel of postwar biomorphic design. Its curving lines and amoeba-like voids represent the mutation of the prewar streamlined style into a new expression based on organic, rather than machine-made, forms."
25. BUFFALO BILL
When you think of the Wild Wild West, you might be thinking about Buffalo Bill Cody, as both terms go together. However, the truth is that the American legend was Canadian. His father was born in Mississauga, Ontario, and Cody lived there for a big chunk of his childhood. However, at 14, he became a Pony Express rider, as fought for the Union in the Civil War from 1863 to 1865. Furthermore, he acted as a civilian scout for the U.S. Army at the time of the Indian War.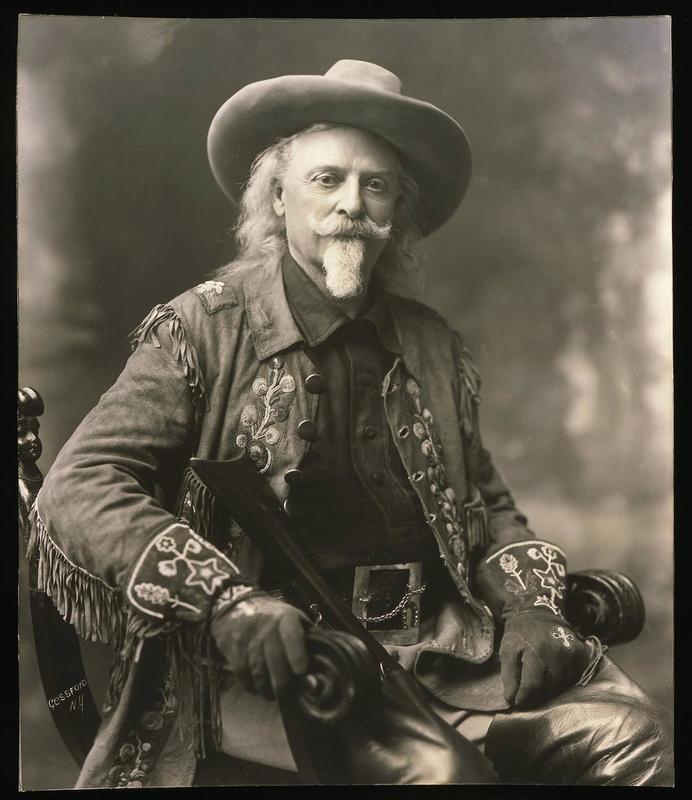 Additionally, Cody was given a Medal of Honor in 1872 for his work. But, he became a celebrity when he started performing in Buffalo Bill's Wild West. The show toured the whole country as well as Britain and other countries of Europe in 1883. Who do you think would be a great Buffalo Bill in a film adaptation of his life? In our humble opinion, Jeff Bridges would be perfect.
24. ANOTHER LYNDA CARTER
We just can't get enough of our dear Wonder Woman, but before she landed the iconic role, she won Miss World American in 1972. The actress was raised in Phoenix, Arizona, and she was part of a band in high school called The Relatives. In fact, Gary Burghoff from 'MASH' was the drummer of their band. They even had a gig at the Sahara Hotel and Casino Lounger in Las Vegas for several months. Back then, Lynda was underage.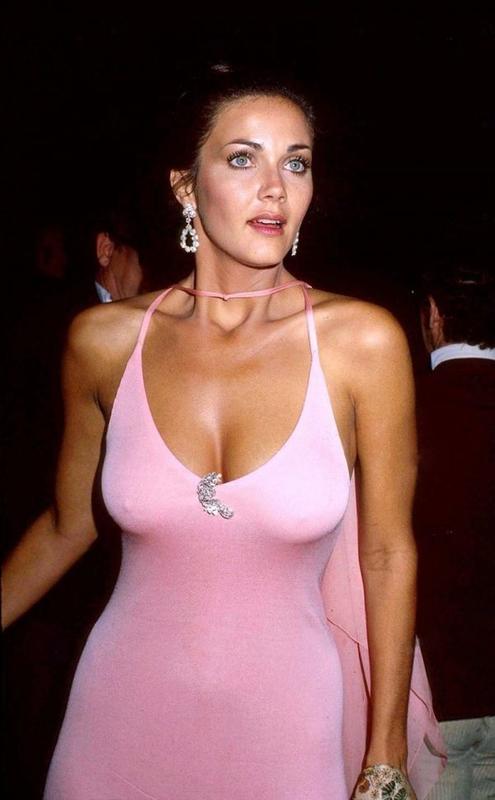 So, she had to enter the establishment through the kitchen. She ended up landing the role of 'Wonder Woman' in 1976. However, she had to make many appearances as just "the pretty girl" in shows like 'Starsky and Hutch', as well as variety show hosted by Bill Cosby, titled 'Cos'. She was born on July 24, 1951, which makes 68 years old, but Carter is still just as gorgeous as ever.
23. THE DALAI LAMA
The 14th Dalai Lama was born on July 6, 1935, in a farmer family that also traded horses in the village of Taktser. This is an image of His Holiness when he was just 2 or 3. In his autobiography, he wrote, "During my early childhood, my family was one of twenty or so making a precarious living from the land there." That's why he didn't aspire to much more than being a common Buddhist monk.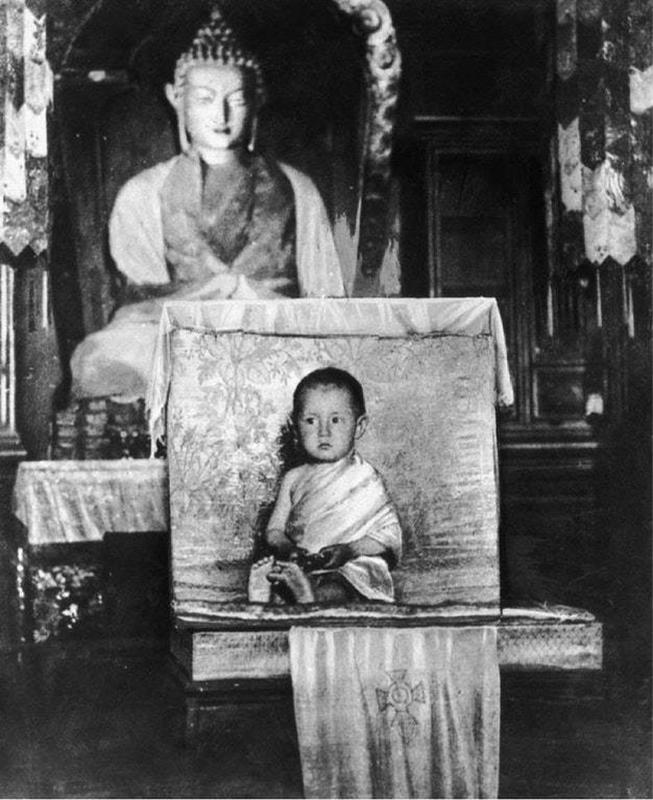 When he was 6, he started the monastic education, where he had to learn logic, fine arts, medicine, and Sanskrit grammar. Of course, there was a huge emphasis on Buddhist philosophy. Unfortunately, during the Tibetan revolution of 1959, he had to move to India, where he lives as a refugee. He even received the Nobel Peace Prize.
22. DOROTHY MAYS
This is an image of Dorothy Mays, who was a famous Playboy Playmate in the 70s, but she was definitely not related to Willie Mays. Many people often wonder about that fact when they learn her name. There is a famous shot that appeared on the Playboy centerfold in July 1979, which was captured by Richard Fegley, and it's a bit too mature for audiences. The cover of that issue had the line "The Girls of James Bond", as it was released right close to the release of 'Moonraker'.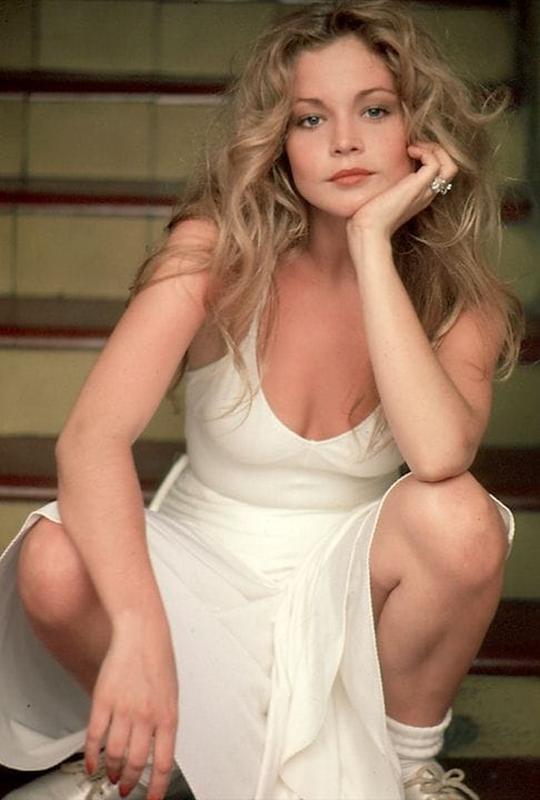 Mays was born in Nuremberg, Germany, but moved to America and worked as a hairdresser in Maryland. But, she was chosen to appear in the Playboy spread. Meanwhile, photographer Richard Fegley started his career in the U.S. Air Force, taking pictures for them. He joined the famous adult magazine in 1971 as a freelancer.
21. BRIGITTE BARDOT
This is the beautiful Brigitte Bardot during the Cannes Film Festival in 1953. The actress rose to fame in the decade of the 50s and is known as a French icon. She was originally discovered by a magazine editor at a young age, and later on, turned into the muse of many designers such as Dior, Balmain, and Pierre Cardin. There are several styles that are attributed to Bardot like that wide headband, the off-the-shoulder blouse, and the choucroute hairdo.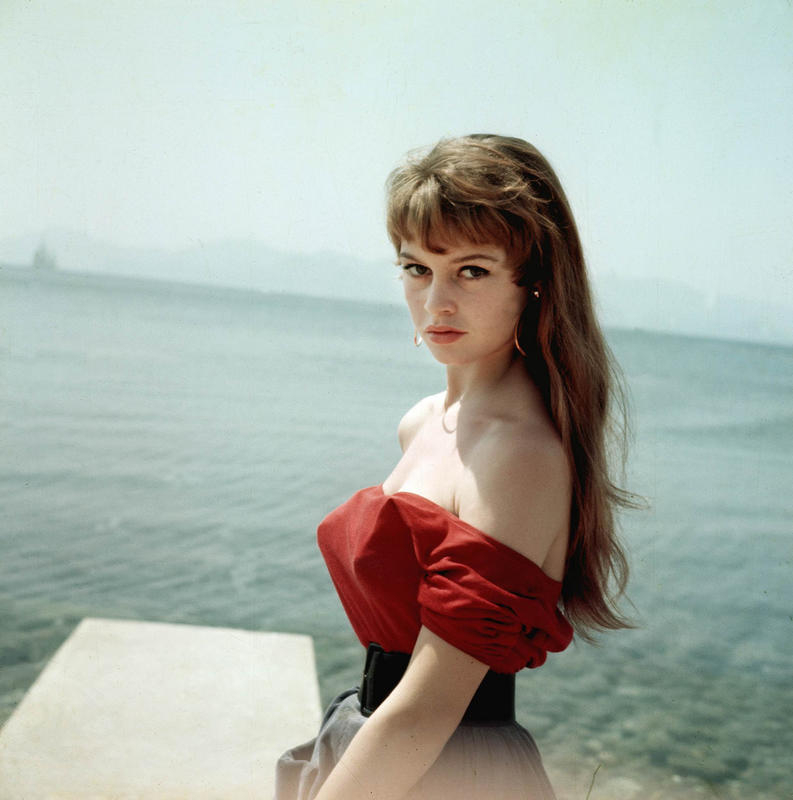 This picture shows her standing near the sea during one of the major films festivals in the world. The neckline she is revealing is often called the "Bardot neckline". No one could rock the look like this French actress. Additionally, she complimented her outfit with a mid-length skirt that it cinched tight with a belt.
20. INSTRUCTIONS FOR KISSING
It's hard to say why people needed instruction on how to kiss a girl, but this is an ad from 1911. Perhaps, these helpful tips could be used by many men today. Obviously, this was printed before the "MeToo" movement; so there are some questionable suggestions in there like "Do not tell her your intentions" and "Do not ask permission to kiss her". Never do that today, boys, it will get you a slap or a complaint filed at Human Resources.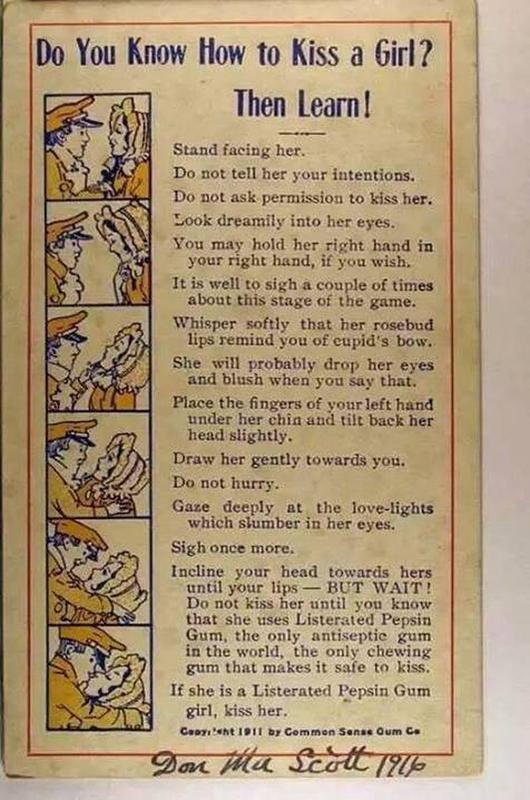 However, the most confusing part of these instructions is that they were meant to sell gum from the Common Sense Gum Company. Ironic, isn't it? We don't get gum or the "common sense" part at all. Of course, some people eat gum before kissing to have better breathe, but it is still pretty mindboggling. Additionally, the conclusion of this ad is that kissing a girl requires the element of surprise and no consent necessary. Thank you, next!
19. JOHN CANDY
This is a picture of John Candy when he was just 18 years old, and it was taken at Niagara Falls. Even when he was a teenager, he looked like an adult. Candy is considered from the best comedy actors of all-time in Canada. He was born in 1950 in Newmarket, Ontario to parents who came from Ukraine and Poland. The actor discovered his passion for the stage early on, and he started performing in the Second City Theater in Toronto in the 1970s.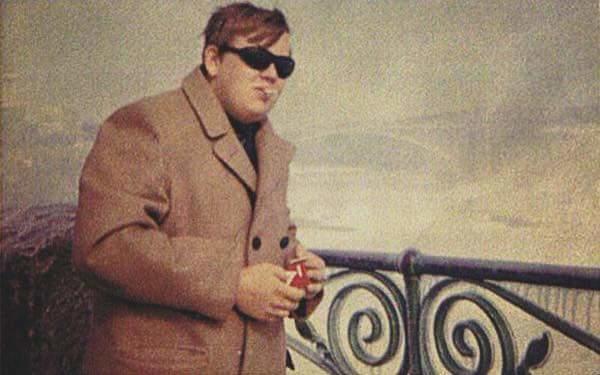 Before becoming a huge star, he appeared on many Canadian television shows and made his American debut in a series called 'Police Surgeon'. However, he landed an important part in the American sketch comedy film 'Tunnel Vision', which starred Chevy Chase. He was known for several movies such as 'Summer Rental' (1985), 'Uncle Buck' (1989), 'The Great Outdoors' (1988), 'Planes, Trains and Automobiles' (1987), and many others.
18. JAMIE LEE CURTIS
This is shot of a young Jamie Lee Curtis, who was born on November 22, 1958, in Los Angeles, California. She was literally born into Hollywood because her parents were already iconic actors in the industry. Her mother is Janet Leigh from 'Psycho', while her father is Tony Curtis from 'Some Like It Hot' and other major films. Her first acting gig happened in 1978 when she starred in 'Halloween', a low-budget horror film. Most people know that the film went on to make millions at the box office, and Curtis became a star of the "scream queen" genre.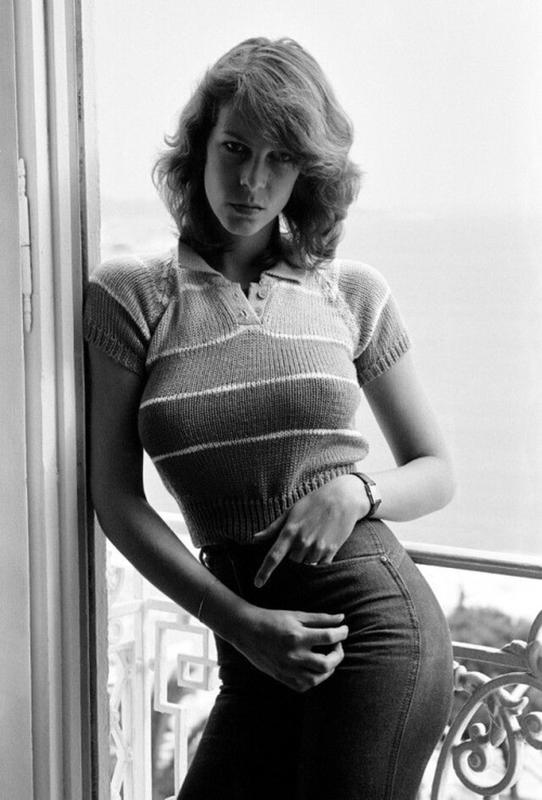 In 1983, the actress decided to change things up by venturing into comedy and co-starring in 'Trading Places' with Eddie Murphey and Dan Aykroyd, who were huge comedians from 'Saturday Night Live'. Younger audiences might remember her from an early 2000s Lindsay Lohan film called 'Freaky Friday'.
17. JOHN CLEESE
The legendary actor John Cleese is playing around on the set of 'Monty Python and the Holy Grail'. This happened in 1975, and the movie is still considered one of the top ten comedies in history. While the project was adored by fans, most of the cast revealed that filming was horrible for them. They had to do it in the blistering colds of Scotland during rainy season as well. On an interesting note, this movie was partly made because of Pink Floyd's album 'Dark Side of the Moon'.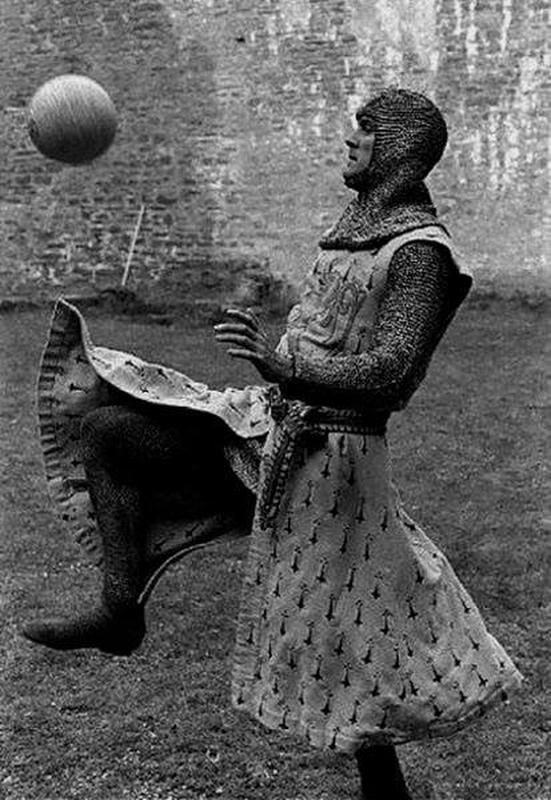 The band members were huge fans of Monty Python, and they utilized the royalties from the album sales to fund the film. It has been said that the musicians would stop recording sessions just so they could watch the TV Show, 'Monty Python's Flying Circus'. We must be grateful to Pink Floyd for more than just their music, although it did inspire an entire generation.
16. JOHN F. KENNEDY WITH HIS DAUGHTER
This is a picture of former U.S. President John F. Kennedy with his daughter Caroline in 1957. Kennedy became president when Carolina was just 3 years old, and the family moved to the White House. Unfortunately, she was just about to turn six years old when her father was killed in Dallas on November 22, 1963. Her mother moved her and her brother to the Upper East Side in New York City the following year.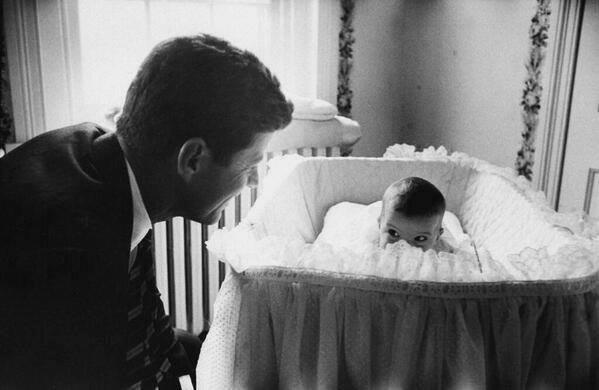 Caroline got a J.D. degree from Columbia Law School when she grew, and actually served as the United States Ambassador in Japan from 2013 to 2017. She is 61 years old now and has three children with husband Edwin Schlossberg: John Schlossberg, Tatiana Schlossberg, and Rose Schlossberg. Caroline has also authored several books throughout her life such as 'The Best-Loved Poems of Jacqueline Kennedy Onassis', 'A Patriot's Handbook', and many others.
15. MACKINAC BRIDGE
This is a picture of the bridge that linked Michigan's Upper and Lower Peninsula when they were still building it in 1957. Mackinac has a total suspension of 8,614 feet, although its complete length is 26,372 feet and it opened that same year. The designer was engineer David B. Steinman, and some called it the structure "Big Mac" or "Mighty Mac". Back then, it was considered the "world's longest suspension bridge between anchorages".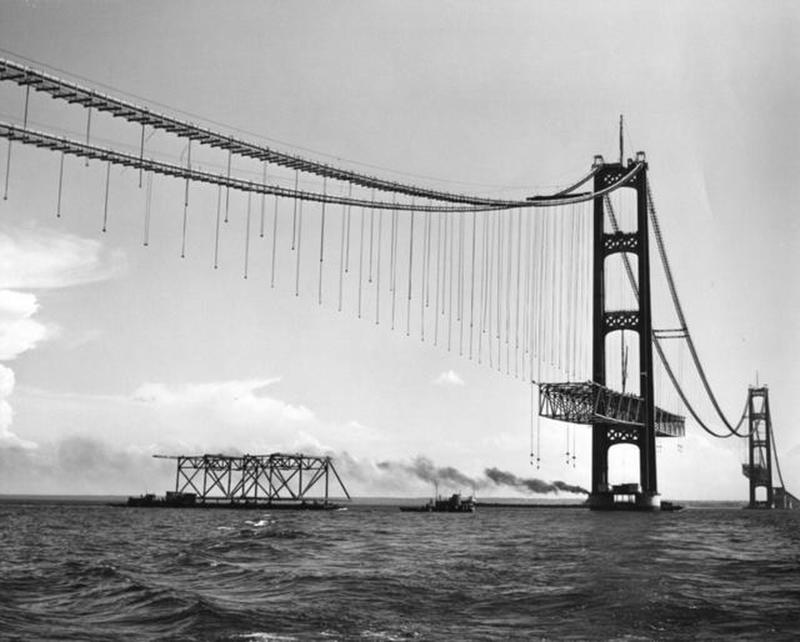 Many compared it to the Golden Gate Bridge in San Francisco. However, Japan broke Michigan's record in 1998, after finishing the Akashi Kaikyō Bridge, which is 12,826 feet. It is currently the third largest suspension bridge, as the Great Belt Bridge in Halsskov-Sprogoe, Denmark, which was also built in 1998, is in second place. It has a suspension of 8,921 feet.
14. THE MENU FOR THE TITANIC
This is a menu from the Titanic from 1912, and it absolutely insane to think that thousands of people boarded the boat not knowing that it would become one of the biggest tragedies in history. However, this menu is particularly scary because it is dated April 14, 1912, the day is started sinking. The major vessel went down between the 14th and the 15th. Therefore, this was many passengers last meal, and it is definitely eerie.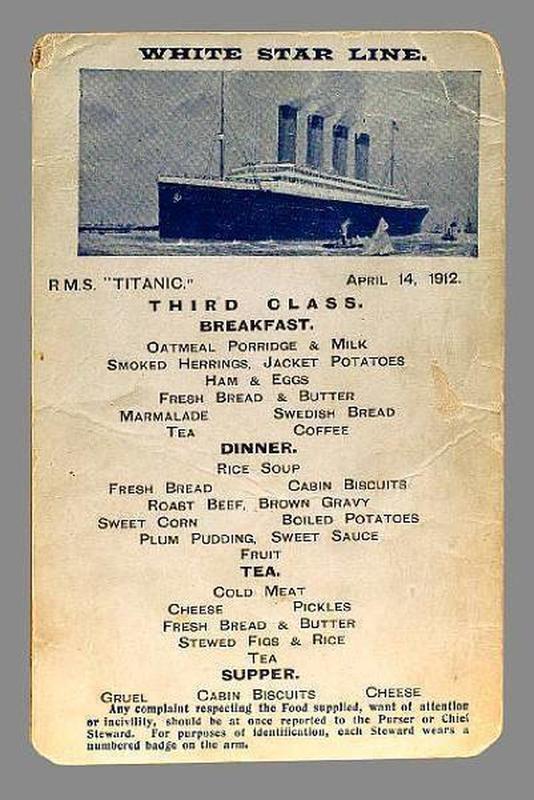 The disaster shocked the world because the makers of the ship had described as "unsinkable". There's something about karma. Additionally, there was a distinct lack of sufficient lifeboats. Most of the people died by drowning or from hypothermia because of the cold waters. The accident was dramatized amazingly in the James Cameron movie featuring Kate Winslet and Leonardo DiCaprio.
13. FIONA LEWIS
The British actress was huge on the big screen during the 60s and the 70s. She appeared in television edition of 'Dracula' in the UK with Jack Panace, and it was directed by the creator of the Gothic soap opera, 'Dark Shadows'. Luckily, she also gained recognition on the other side of the pond with the 1978 film 'The Fury' by Brian De Palma as well as the movie 'Wanda Nevada', which also featured Peter Fonda and Brooke Shields.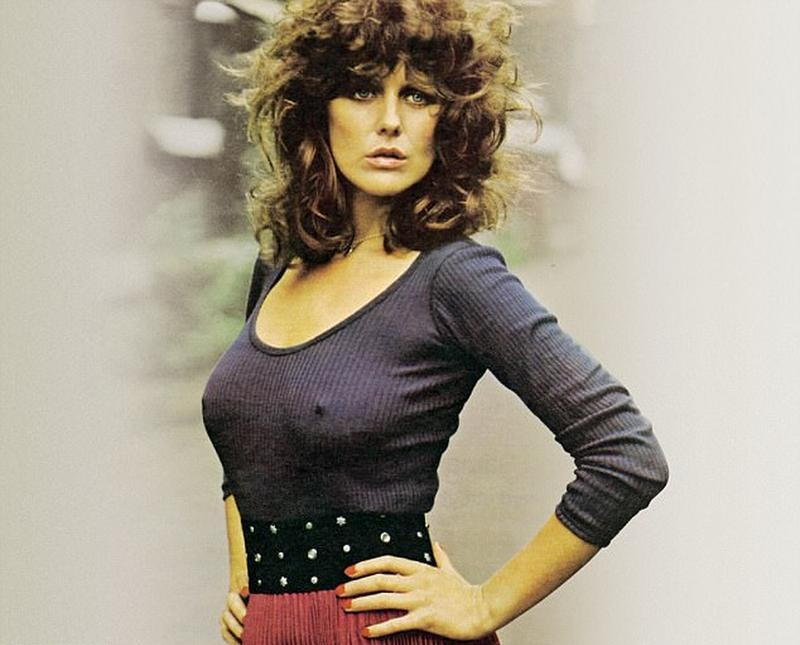 However, most people know her for appearing in a February 1967 issue of Playboy, which had a 13-page spread with a James Bond theme. It was called 'The Girls of Casino Royale'. She also starred in 'Innerspace', 'The Fearless Vampire Killers', 'Dr. Phibes Rises Again', 'Strange Invaders', and several other sci-fi films.
12. CONCENTRATE!
Apparently, some people had so much trouble trying to concentrate that someone came up with a machine meant to fix that problem. The Isolator was invented in 1925, and it was supposed to help employees and raise productivity. Can you imagine wearing something like that on your head for 8 hours in a workday? The device was created by Hugo Gernsback, the editor of Science and Invention Magazine, which is part of the American Physical Society.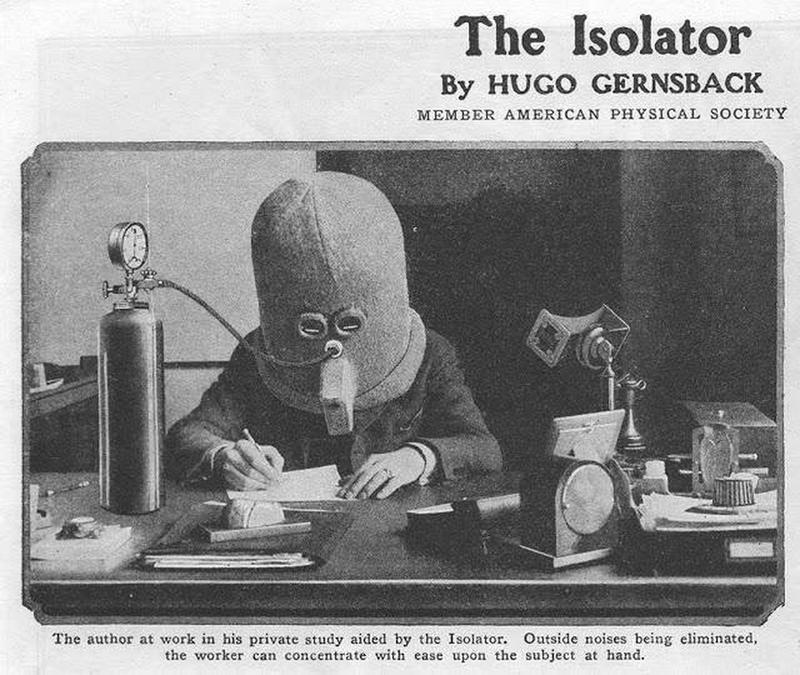 Gernsback was one of the visionaries of the science fiction and genre, and we can definitely notice why. It's hard to say how the Isolator works, but there is a helmet and apparently, oxygen is pumped in, while the user can only see a couple of things through the tiny slit. We are just glad that it never caught on.
11. GIANT SEQUOIA
This giant sequoia tree is located at Yosemite Park, and it is considered one of the largest living things in the world. These trees have been on Earth since before the existence of humans, and if we don't mess up, they will continue to be here many years after we disappear. This picture was taken in 1879, but sequoias can apparently live more than 3,000 years and reach lengths of 300 feet high as well as circumferences of 100 feet.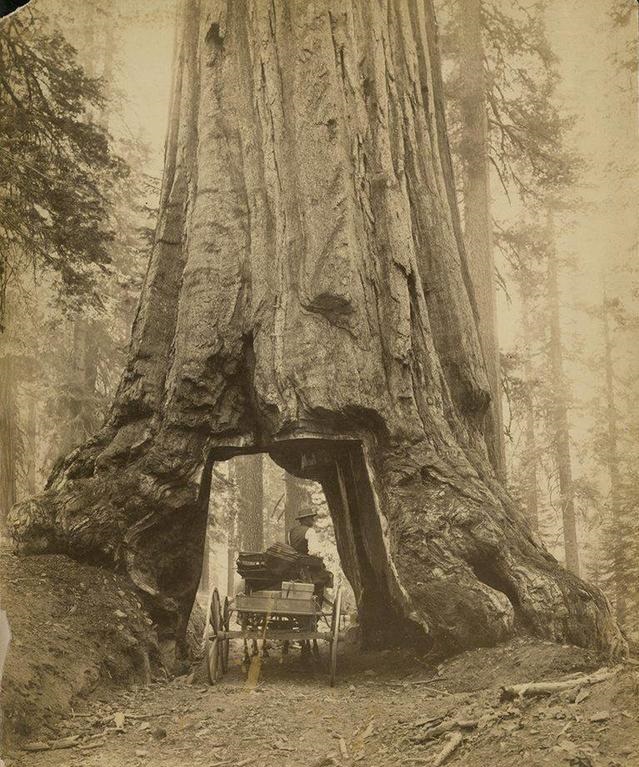 Just like many other trees, these giants were in danger of human involvement, but luckily, President Abraham Lincoln came up with the Yosemite Land Grant bill on June 30, 1864. The bill was meant to protect wilderness as well as wildlife, and it was the first of its kind in America. You can still visit it today, there is even one called General Sherman that is considered the biggest in the world.
10. PAM HARDY
Just like Barbara Roufs, Pam Hardy was also part of the 709s drag racing scene, and she was famously in favor of the legendary racer Jim "Jungle" Lieberman and the Funny Cars. She worked for four years in the circuit after she entered in 1973. Lieberman actually discovered her when she walking towards a store in West Chester. Pennsylvania. She was just 18 back then.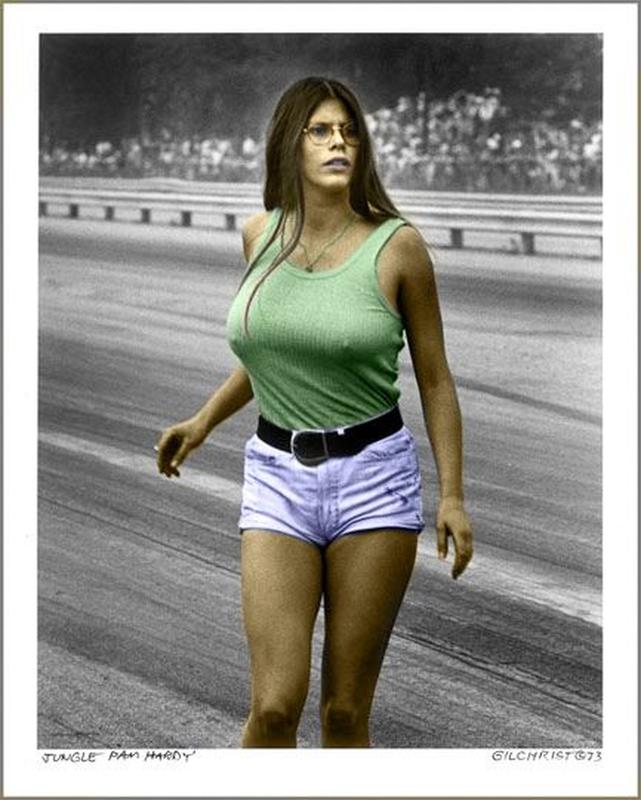 They went on to travel all of America together and worked on over 100 races during that trip on different tracks. Funny Car drag racing was all about a lot of fuel horsepower with lightweight models that would make sure vehicles went at top speeds. Fans went crazy for them as they were fast and colorful.
9. ATARI GAMES
This image shows a set of games from the famous Atari console from the 70s and 80s. Atari was more specifically popular from 1972 to 1984, and the first video game ever invented was called Pong. In 1977, they released a new version called Home Pong, which started a new trend of Pong consoles – because you needed different consoles for each game. However, they reached even more in 1979 when they presented their first home computer, the Atari 400 and 800.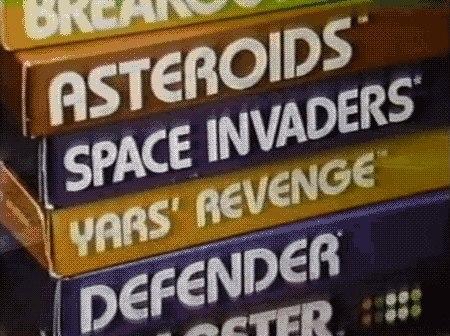 It was the first time that people could play games at home, instead of always going to the arcade. Meanwhile, in 1980, the company launched Space Invaders for Atari 2600, and it was one of the most popular ever created. But, it could seem like little more than a simple screen saver compared to today's games. It did have an awesome soundtrack, though.
8. QUEEN ELIZABETH 
This is a picture of Queen Elizabeth II back when she was just a princess. She served in the Women's Auxiliary Territorial Service in World War II. It's hard for many people to see her as a young person, especially for a volunteer at World War II, but the monarch has led a long life and ruled for more than 60 years. In 1944, however, she was just 18 years old, and many members of the royal family are known for joining the military.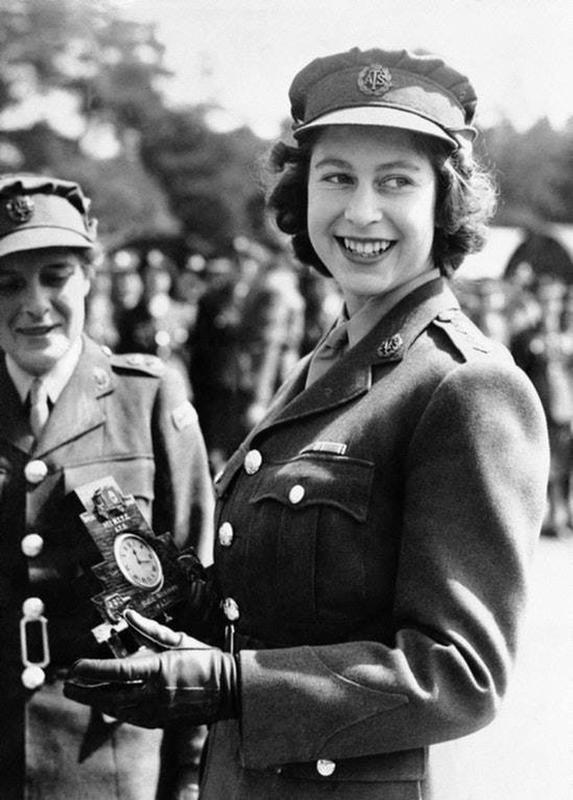 Elizabeth II wanted to work for the British troops during the hardest point in history just her father's subjects. In the force, she learned military driving, map reading, and how to repair engines. On the other hand, the princess wasn't exactly out on the limb. She trained and worked during the days but slept safely at Windsor Castle instead of a camp like her fellow soldiers.
7. ROD STEWART
This image shows a young Rod Stewart from the 1970s, and aside from being a rock legend, he was also a fan of soccer. His father was the manager of several local teams; so, it was only natural that the British star also followed the sport, which is called "football" everywhere except in the United States. In 1960, Stewart actually tried out for a Third Division team. Unfortunately, he was not that great, and the history of music is thankful for it.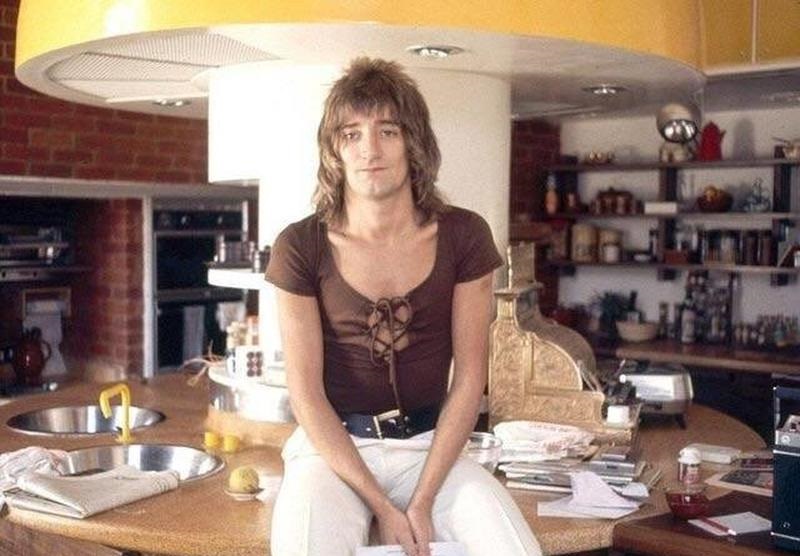 During his time living in Los Angeles, the rock star would play soccer on a team with other English friends such as Billy Duffy from the band The Cult. He might have lost touch with music later on in life, but his songs with The Faces are still some of the best ever made. Which one was your favorite?
6. NUCLEAR ATTACK DRILL
This image is a little scary as well, although it just a drill. These students are being taught what to do in case of a nuclear attack in the 50s. Due to the Cold War, the possibility of such a strike was very real, and American children had to be taught the "duck and cover" mover in case a bomb landed in the United States. The photo was captured in 1951, and it's hard to believe that doing this would actually save them in case of a bombing.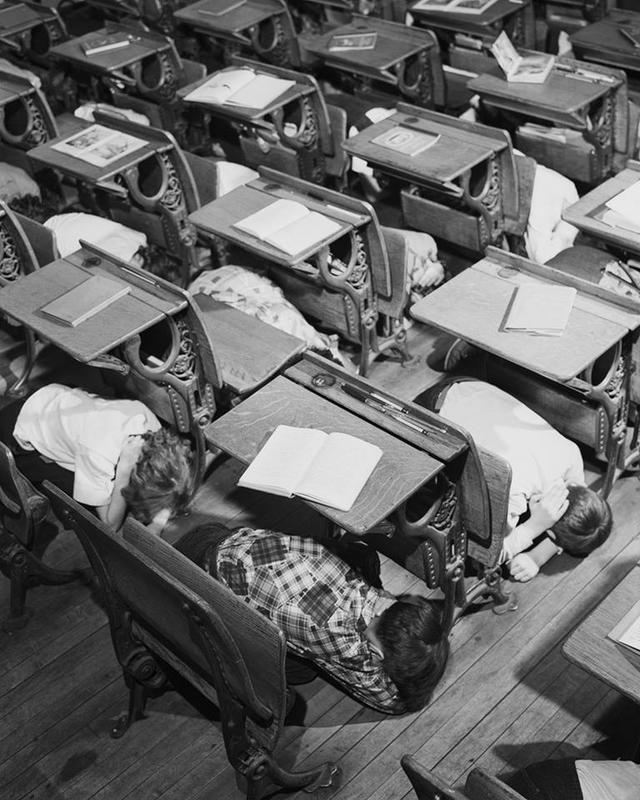 In fact, it wouldn't. The truth is that a nuclear attack would destroy the whole school with them inside it. But, it was better to prepare kids by also giving them hope that they could survive, instead of telling them that they would be doomed in such an event. The Atomic Age sounds extremely scary, and though it could still happen, the threat is not that eminent.
5. TEENS IN NEW YORK CITY
On a lighter subject, this image captures a group of teens talking in a corner of New York City in 1948. Apparently, the word "teenager" didn't even exist until the late 40s. People called them "young humans". However, during the rise of the Zoot suit, the youth movement brought in a new era. Bobbysocks, soda shops, and Frank Sinatra were all the rage at the time, and so, the term "teenager" also came along.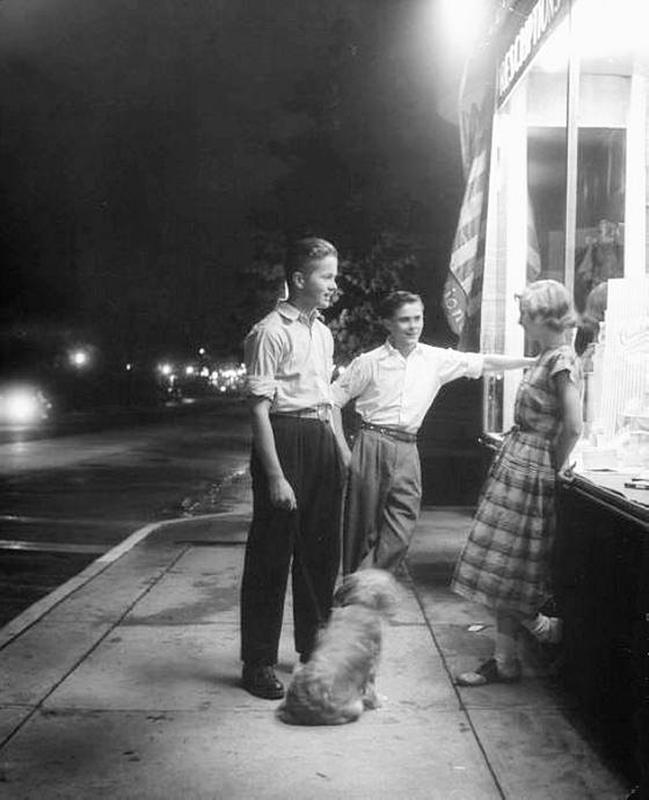 The mainstream media was quick to use it, especially for advertisements because most fashion designers, authors, moviemakers, and producers wanted these youngsters to be interested. IN 1944, Seventeen Magazine released its first issue, and it gave teens tips about makeup, clothes, and how to deal with their parents. Therefore, teen culture became a huge thing.
4. ST. EDWARD'S PARISH CHURCH
This marvelous door that looks like the set of the movie actually belongs to St. Edward's Parish Church in Cotswold, English. It seems like it could be featured in 'The Lord of the Rings', but it's very real and there is an interesting story behind it. It was the original site of the Saxon church, although that one was made with only wood. Cotswold is a rural area in central England, and this church has several different styles of architecture, mainly because it has been renovated so much over the years.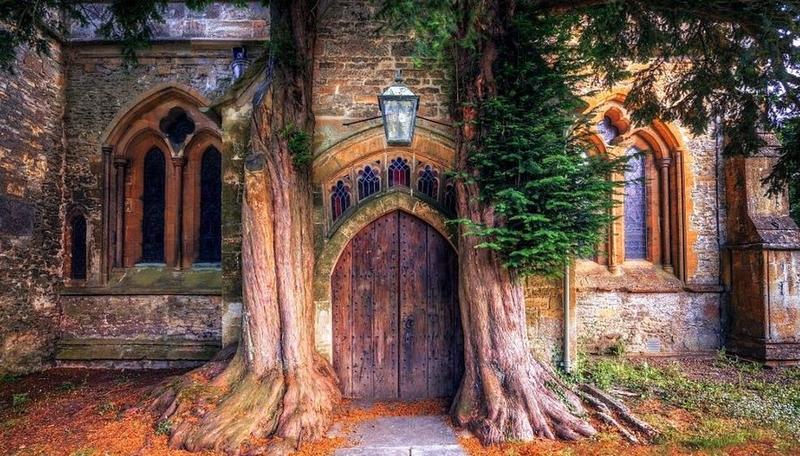 One of those styles clearly adopted the big tree, but many parts of it go back to somewhere between the 11th and 14th century. Meanwhile, the towers, as well as the clerestory, were constructed in the 15th century. In 2002, they held the funeral for the Who's bass player, John Entwistle, right in this spot.
3. WILLIAM HARLEY AND ARTHUR DAVIDSON
Bike lover will definitely get a kick out of this picture. These are William Harley and Arthur Davidson in 1914. For those that don't know, they are the creators of motorized bikes, and of course, the legendary company Harley-Davidson. They were childhood friends from Milwaukee, Wisconsin, and their first motorbike was made in 1903. They changed the world in a similar way to how the Wright Brothers pioneered flying.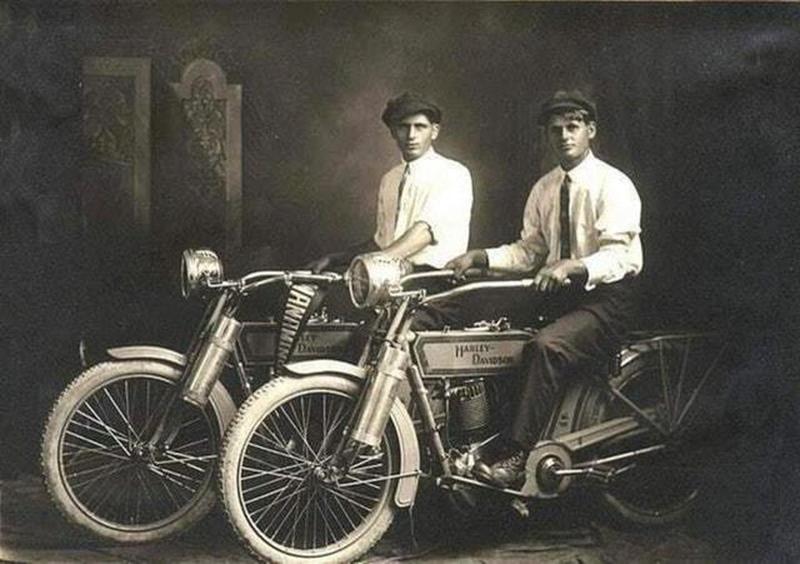 The pair had been thinking about making a bike that wouldn't need pedals. Davidson came up with the slogan "Take the Work out of Bicycling". They worked in a shed for a long time to create what they called Frankenstein. Their idea was a huge hit, and naturally, many people are thankful to them for another simple way of moving around.  
2. MORE WONDER WOMAN
This is our final Lynda Carter picture; we promise! It was also taken on 'Battle of the Network Star', but this one is from 1978. She was remembered for playing Wonder Woman, but her appearances on this variety show might have been even more adored. The reason could be that she would often compete in swimming matches, and American men got to see her wet swimsuits all the time. After all, sex sells. No one cared if she actually won or not.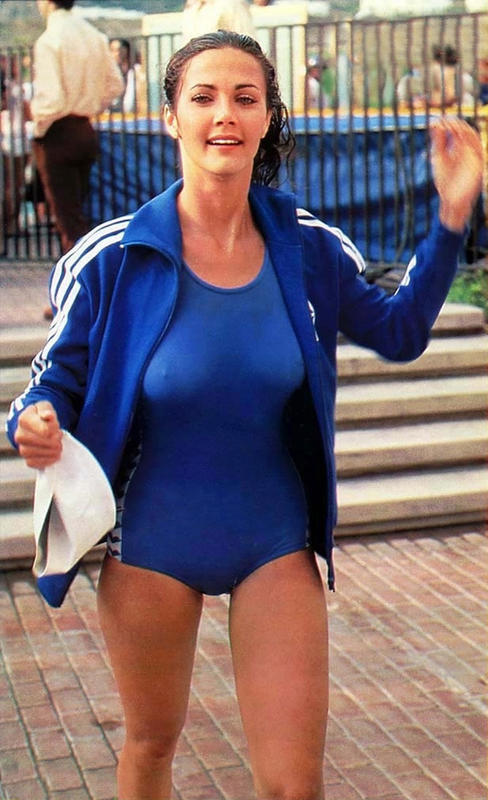 Everyone just had fun enjoying the view and the show. It might be considered one of the first reality shows, even though the term had not been coined yet. However, this series placed celebrities from different networks into athletic races. It didn't always feature tops tars from every channel, but it was still fun. It's like the competition version of 'The Love Boat'.
1. BARBARA ROUFS ONCE AGAIN 
Lynda Carter might our favorite girl from decades ago, but here is another image of the gorgeous Barbara Roufs, who was one of the sexiest women of the 70s. Let's face it. Drag race girls were like the Pin-ups girls of the time, and Roufs was a beautiful sight. You might be surprised to learn that it was all-natural too. She never wore makeup and had two children. But, after giving birth, she weighed around 200 pounds.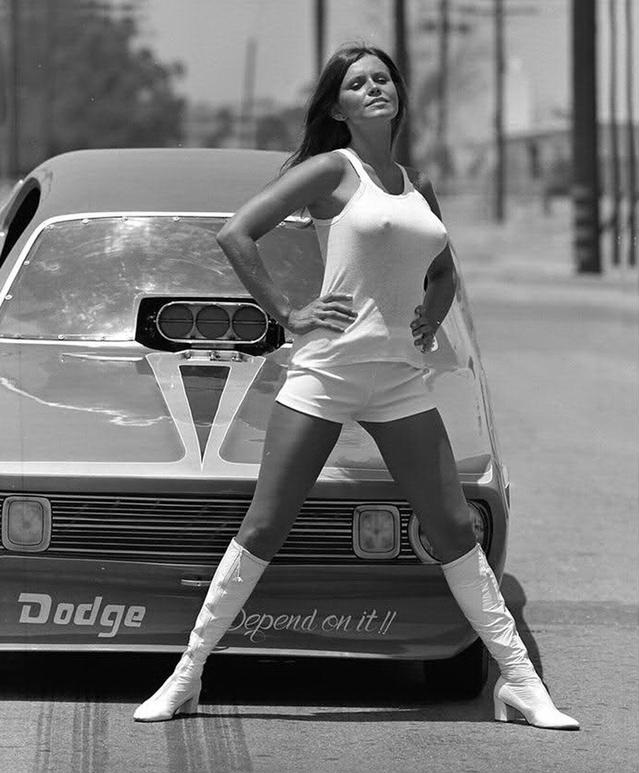 It was only after shedding a few of those extra chunks that Barbara returned to the scene, mainly those endorsed by Doug Kruse's Professional Dragster Association. Men loved seeing the girls as much as the races, but it might not work have worked that well in this day and age. After all, it did objectify women completely. On the other hand, Roufs sadly passed away in 1991 when she was just 47 years old.
Clearly, the camera, television, and film, in general, were the best inventions of humankind. We couldn't be happier that these images will be available for many generations to come. Let us know which one was your favorite. If you liked this article, share it with your friends who have a passion for retro stuff. See you next time!
Source: History Daily