Top Scientific Discoveries Found Wonderfully Preserved In Ice
Over the years, there have been some ice discoveries dug up from the ground by scientists, explorers, and archeologists. These professionals have set their eyes upon some outrageous things. Some are just absurd, while others are undeniably astonishing due to its longevity and composure.
Brace yourself for the ride ahead up north and south, as we delve into a world bizarre, intriguing discoveries.
42. Freeze House, Hands Up
The entire building has been frozen due to the harshness of the cold. It is no news to the people of Michigan as it happens regularly. This photo looks like a real piece of art! Well, this is St. Joseph lighthouse erected in 1844. The 35-foot lighthouse frequently accumulates a bulky layer of ice at the time of winter storms. In most times, during these periods, about 6 meters tall freezing waves smash into the piers. This reduces the air temperature to -20 degrees and freezes the lighthouse up.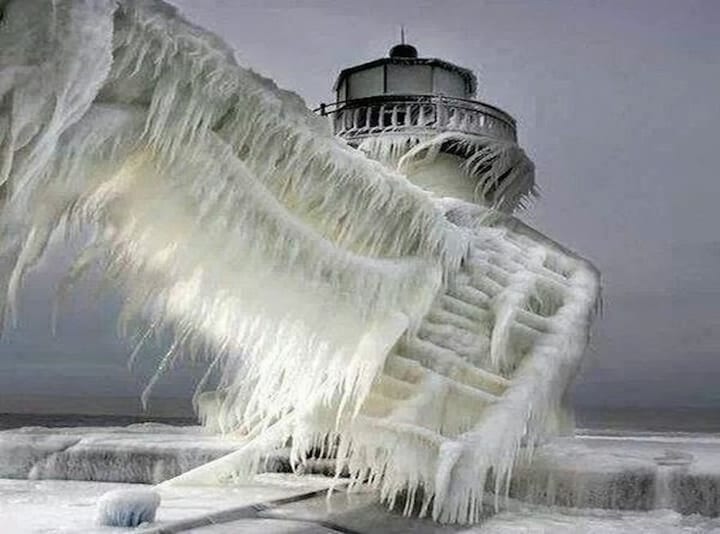 Here, this lighthouse has been frozen from top to bottom, inside-out. It's more like it has been arrested by the cold, and only time will tell how much longer before it gets bailed! You can spot the frozen lake which is estimated to be two or three-foot wide pathway from the lighthouse.
The path is regularly smooth during cold weather, and it is not safe for walking. More than 100 feet is separating the exterior light and the inner light from each other. Thanks, gracious, It certainly isn't human, which is a bit of a relief, but imagine being trapped in the house with the compelling temperature?
41. Mamm-what?
Notably, one of the most intriguing stuff scientists have discovered in ice is the brains of a mammoth. The creature had been nicknamed 'Yuka' by scientists. The enormous creature's brain was found encrusted in ice. Trust us; this is not a brain that could be consumed by humans even if we wanted. The mammoth was not found in a regular ice patch but something else. This hugely sized mammoth was discovered in abandoned permafrost in the Laptev Sea Coast. In case you don't know; permafrost is basically a rock or soil which remains frozen for years.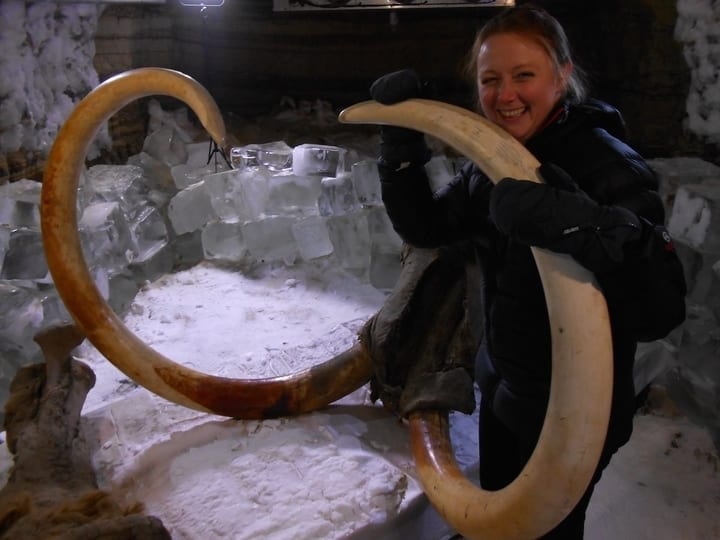 It may interest you to know that this particular species holds the record of being one of the preserved of its kind with an intact brain. Fascinatingly, it dates as far back as close to 40,000 years! Another mind-blowing fact? It was only a kid mammoth, presumably six to nine years old. The creature was discovered at its death spot. How sad! However, thanks to Yuka's brain, we can find out more about its species. Interestingly, Yuka belongs to the woolly mammoth which is an extinct species of mammoth that lived and walked on earth during a particular period until they all died out.
40. Iced Fox
While scientists may make certain discoveries involving stone age creatures, they also get accuracy at rooting present-day animals. The iced fox is proof that any being is susceptible to the harsh hands of the cold. A German hunter named Franz Stehle made an unusual find of a frozen fox in the village of Fridingen, in the southwestern part of Germany, on the Danube River. The hunter found the fox in a thick block of ice in 2017. He claimed that he carefully cut out the ice block with the fox inside out of the river. As strange as this discovery may seem for us, Stehle noted that it was pretty normal for animals to break through the surface of a frigid river. He recounted that he had discovered a frozen deer, and wild boar three or four times in the last few decades.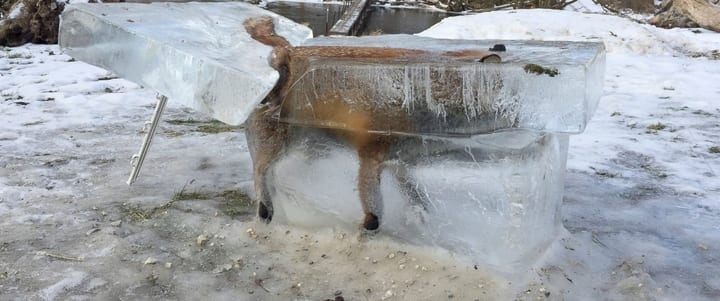 Apparently, the unlucky fox must have fallen into the Danube River, drowned and died as a result of the frigid temperature. Although frozen, the fox is guaranteed as an esteemed guest in a German hotel. The hunter put the iced fox on display at a hotel to warn people about the power of nature. While many believed, it was all a prank, Stehle stressed the point that the frozen fox was real and not a hoax. According to reports, until the ice thawed, the iced fox remained a warning outside the hotel for anyone who cared to see it.
39. Cold Life
There are times when these findings are not dead. Sometimes some creatures are found in some particular habitat due to their adaptation skills. An example is this dogged alligator. American alligators have existed for over 150 million years --right from the age of dinosaurs. The fact that they are still in existence shows that they possess some powerful survival skills. 
In intense winter weather, alligators have been found to employ mind-blowing survival methods to stay alive. One of their techniques for survival in frigid condition while in water is known as icing response. Alligators find a way to protrude the tips of their noses over the surface of the ice region. This way, even though their body is completely submerged, they can keep breathing even when the surface is frozen.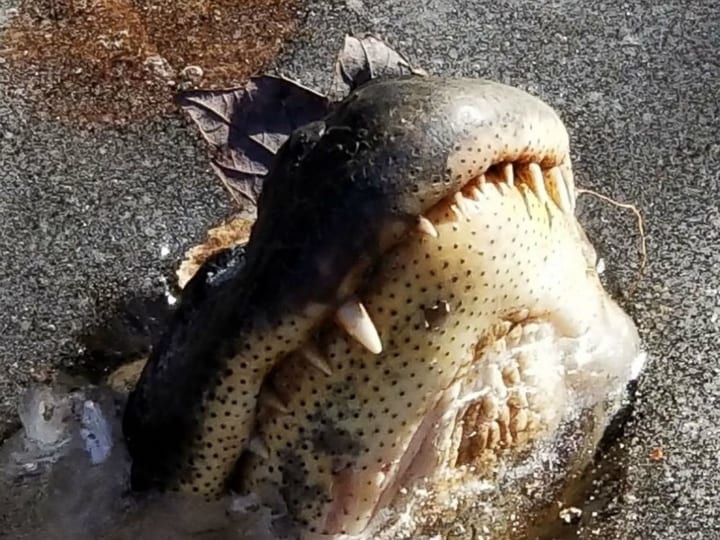 Alligators also possess another skill that enables them to survive in frigid conditions. Just like the way some mammals hibernate, alligators reduce the rate of their body's metabolism, which reserves energy for them. This process is known as brumation. In summary, this reptile possesses the ability to keep his organs and freeze them for as long as he wishes in the stiff cold! Funny how an alligator basks in hibernation mood in this kind of weather! Sadly, this is a feat that cannot be achieved by humans.
38. Iced Aircraft 
It is no news that sometimes planes experience some malfunction which often leads to them vanishing. Ice usually accumulates when little cloud droplets make contact and freeze on the front surfaces or edges, of the plane. The ice modifies airflow over the wing and tail. In doing this, a reduction in the lift force that keeps the plane up in the air occurs. This can lead to a temporary loss of control of the aircraft by the pilots. Some invention has been made to deal with ice forming on the plane's parts during flight.
However, what is scarier, is having an aircraft enveloped in ice with people trapped in it. They have been unaccounted tragedies of missing aircraft which vapor into thin air, but sometimes some are found much later. An example of such aircraft is the Anchorage army plane, in 1952, which was later found. The fatalities were about 54 recorded. No bodies were retrieved due to the obliterating effect of the crash. It crashed in a glacier, and it took five decades for the ice covering it to melt away.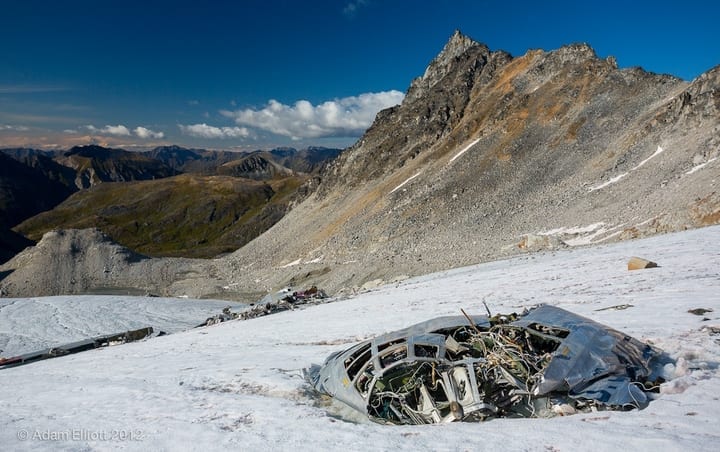 In another case, six P-38 Lightning fighter aircraft and two B-17 Flying Fortress bombers had an experience with blizzards and were forced to undertake an emergency landing on July 15, 1942. They landed on the glacier in Greenland. Fortunately, all the care members were successfully rescued. However, the aircraft were abandoned. After many decades, the aircraft were buried under the ice layers of Greenland. 50 years later, one of the aircraft was discovered and repaired for use.
37. Frozen By A Fishing Fish
Water bodies are the natural habitat for fishes. Have you ever wondered if, or how different species of fishes survive in extreme winter conditions? Beautifully, when water bodies become frozen, they freeze systematically -from the surface down. This implies that below the frozen surface, there is always a layer of non-solid water where fish can survive.  
Similar to humans and other animals, fish tend to be less vibrant in frigid conditions. Being cold-blooded animals, their metabolic rate slows down when the temperature is lowered. Nonetheless, some fish become frozen in ice. It is reasonable to assume that the cold would destroy the fish's organs and eventually kill it. However, fish can endure cold conditions and stay alive throughout the period. Such that when the ice melts, it swims back into the water. Fish cells possess salt water. In a way, salt water has a lower freezing point than pure water. 
This means that fish's cells can remain intact even when caught up in frozen water.  Also, some fish have an antifreeze substance in their body that allows them to survive in cold weather.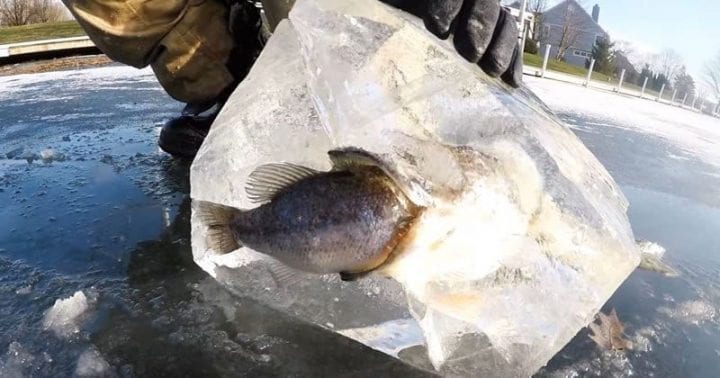 Interestingly, an ice fisherman discovered this hilarious revelation. The fish was in a pursuit to catch a meal but sadly got caught up in ice. It happened that the fish became iced as a result of a drastic change in the water's temperature. This posits the dynamics of the animal kingdom is, and the diversity of predator skills. It is a spectacular shot, and we're glad the fisherman was just in time!
36. Protection Dino
To truly understand how important this discovery is, we'd have to bore you with some scientific information. Nodosauridae belongs to the family of ankylosaurian dinosaurs, from the Late Jurassic to the Late Cretaceous era. Nodosaurids had a thick armored body with the presence of spines, and rows of armor nodules that were bony. These features were enveloped in keratin sheaths.
They were herbivores and had small-sized leaf-shaped teeth. One of the distinct features between ankylosaurids and nodosaurids is the difference in their tails. The former had mace-shaped tail clubs while the latter possessed flexible tail tips.  To protect themselves, many nodosaurids possessed spikes coming outward from their shoulders.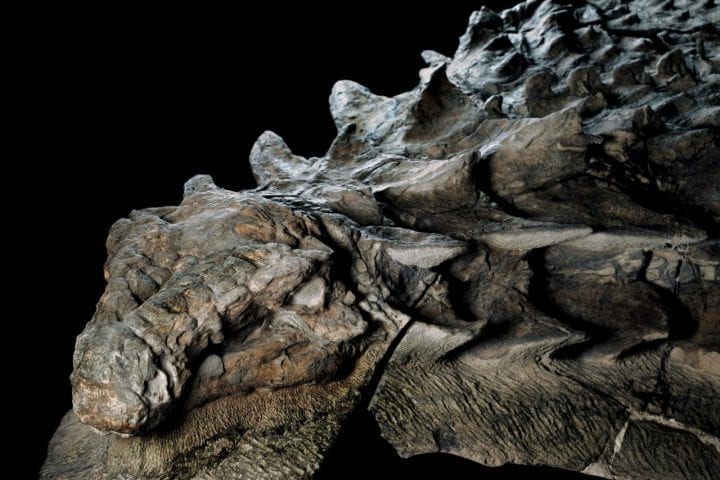 Some animals may be bigger than most, and possess unique skills for adaptation and hunting. They may not be a quick as a cheetah, or smart as a fox, but they sure are a hell of a size. An example is this gigantic looking dinosaur! The creature was uniquely preserved. It had an almost complete set of armor, and keratin covering its features. That's not all, some part of its underlying skin remained in mineralized condition. It dates as far back as 110 million years during the Cretaceous era. Truly, dinosaurs once walked on our planet.
35. A Wrong Turn
These winged creatures seemed to be having the time of their lives taking dips and dives. Sadly this splish splash movement in the water body was halted by the falling temperature of the water. Some seconds spent beneath the surface of the water caused the bird to become frozen. The Kingfisher is the regular victim of this mishap, and these species are located around northern Bavaria and Wessendorf.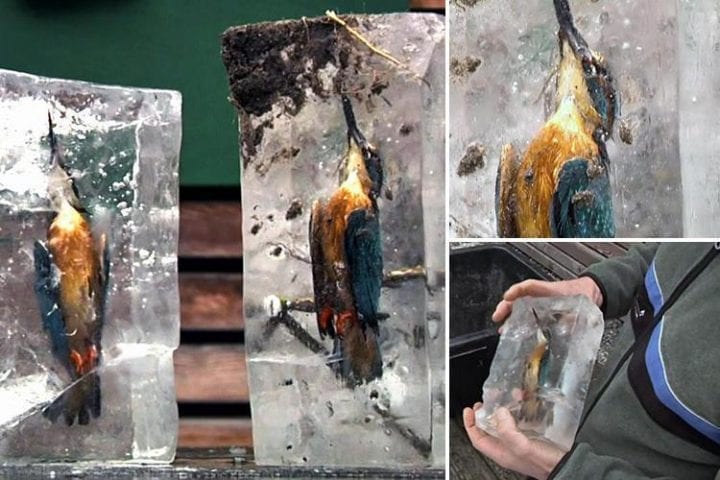 The discovery was made by a Priest. He claimed that he found the kingfishers close to Weisendorf, Northern Bavaria. The photo of these creatures immediately went viral on social media when it was posted. Who wouldn't marvel at something so beautiful? While it is tragic for the kingfishers to have met their death while probably trying to feed, their discovery is both amusing and intriguing. 
The birds that were found in diving positions is theorized to have dived into the water as it froze. Notably, Kingfishers frequently navigate through holes in frozen water to entrap small fish. They are believed to have been caught in the ice and had no way to escape. Experts assumed that the birds probably couldn't find a way to escape while they were stuck under the water or the hole they came in through got frozen before they could make exit. 
34. The Frozen Puppy
Surprisingly, an iced puppy was found ice by some scientists. Although the discovery did not maintain the same standard of preservation like most widely collected frozen animals, it had the adequate conservation of over 12,469 years! Alarming yeah? In the heart of the Siberian tundra, while scientists rummaged for mammoth husks, they encountered this excellent piece, which also helped to explain ice age the canine phylogeny better!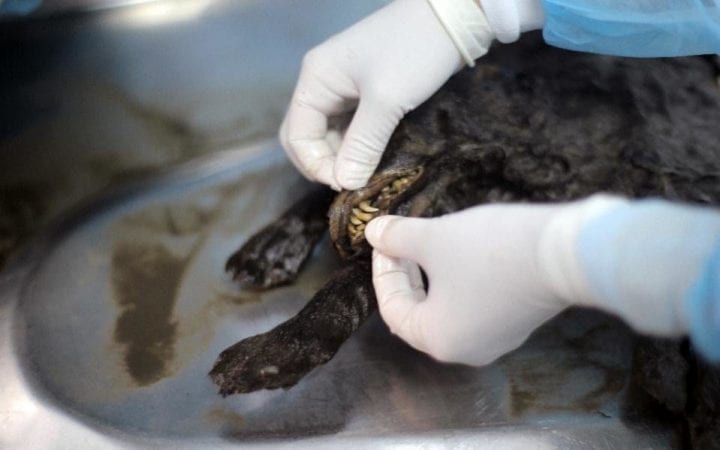 Scientists were able to melt the ice and performed autopsy on the old iced puppy. Like we noted above, it is researched to have been mummified in Russian permafrost about 12,469 years ago. The ancient iced puppy was found in a cold grave in the Sakha Republic of Russia right in the village of Tumat. It has been suggested that the dog belongs to an extinct race of canine. Furthermore, scientists hope to be able to clone the canine back to life due to its excellently preserved brain. Notably, the canine's parencephalon, cerebellum and pituitary gland were spotted. However, the possibility of the canine being successfully clone seems to be slim. Many times, scientists have not been able to achieve success in this area in the past.
33. Weapon-iced
This piece of Cooper arrowhead was found in ice. It presents an analogy of the concept of a previous civilization and their skillful use of metal for warfare. The barbed headed piece could have also served a hunting purpose, so older civilization adopted a technique for food gathering and gaming.  This explains how far the human race has evolved.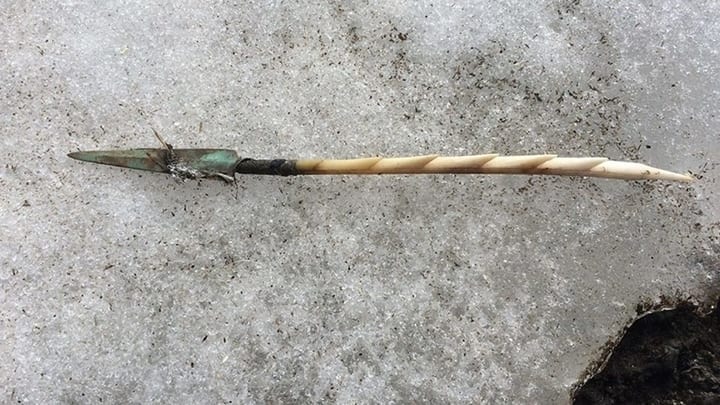 Fortunately, archeologist Greg Hare and his team found one of the oldest copper elements that have ever been found. Hare concluded that it was luck that led him to discover a hunting artifact in an ice patch while they were engaged in a film documentary. According to scientists, the existence of such tools like this copper arrowheads confirms the suggested period where humans became advanced and involved in copper metallurgy.
Scientists noted that the copper arrowhead is pure at 99.9 percent, and it was made from a local extraction. The material from which it was made was found in the metal-rich creeks of the southwest Yukon. They also found the artistry behind the arrowhead very impressive, as it was meticulously built. It is believed that the hunter who owned the tool would have extensively searched for it for weeks when it got missing.
32. Vikings Might Be Real
An intriguing development on the Vikings discovery was made in Juvfonna, Norway. The Vikings existence in that area has been linked with the equipment recovered in the area, which included shoes, reindeer-made gears, sticks, bows, and arrows. Other materials include reindeer traps which produced a particular sound to make the bait an easy catch. It appears the reindeer was a specie the Vikings men were accustomed to. They hunted it down and used it for meat as well as employed its skin for gears and probably clothing. Majority of the relics found were estimated to be around 3,400 years old.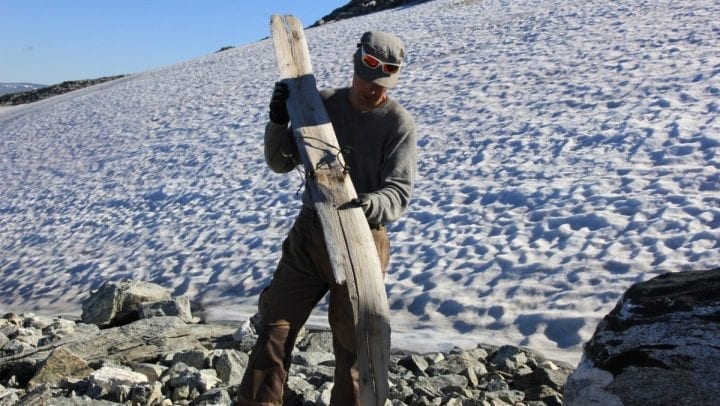 In Juvfonna, Norway, due to climate change, a lot of hunting tools used by the Vikings' have been found. As the ice thaws, more materials have been exposed. It has been reported that over 600 artifacts have been discovered in the location alone. Other melting ice fields in Norway have also unveiled more than 2000 human objects. Some were ascertained to be way back from 4000 BCE. Notably, a well-kept Viking sword was discovered by a reindeer hunter on one of the remote mountains in Southern Norway. These discoveries are giving us insightful clues about his the Vikings lived and survived in the past.
31. Bloody Water
This river's water is colored red; to this end, it has been termed the "Blood Fall Glacier." Its flow looks precisely like blood color. But its characteristic color is because the water body possesses a high quantity of iron, the semblance of what gives the planet, Mars it's color. It may be eerie, but it is only a composure of one of the earth's finest minerals.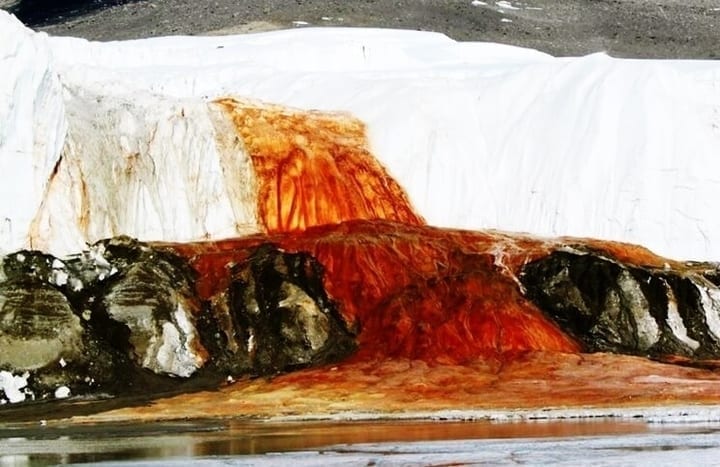 Let's go into details; for many years, scientists postulated that mysterious Antarctica's Blood Falls got its color due to the activities of algae. However, this claim was never backed up with evidence. Now, we know, as we noted above that the fall got its characteristic color from iron. As a result of oxidized iron in brine saltwater, the water's color became dark red. Just the same way, iron turns to dark red when it rusts. The water's source is from a lake below the Taylor Glacier.
The Glacier is famously known for picking up iron from bedrocks. Since the water is found below a bulky column of ice, it's quite reasonable to think it should be frozen, but it isn't. There are a couple of factors that enable the water to remain liquid. First, the latent heat released when water starts to freeze helps to preserve the water above the icing temperature. Also, because salt water has a lower freezing point than in freshwater, the water remains liquid even when the surface is frozen.
30. Crushing Force
The more the force of the glacier, the larger the wreckage. But sometimes in the course of the movement, some materials such as rock and debris are adopted, which leads to the repositioning of properties. Scientists refer to this as  'sediment moraine.' Moraines helps in restructuring, after removing of trees and shifting of the forest. The sediment moraine cushions some of the elements that would have been crushed. Consequently, this is the situation for many ancient forests.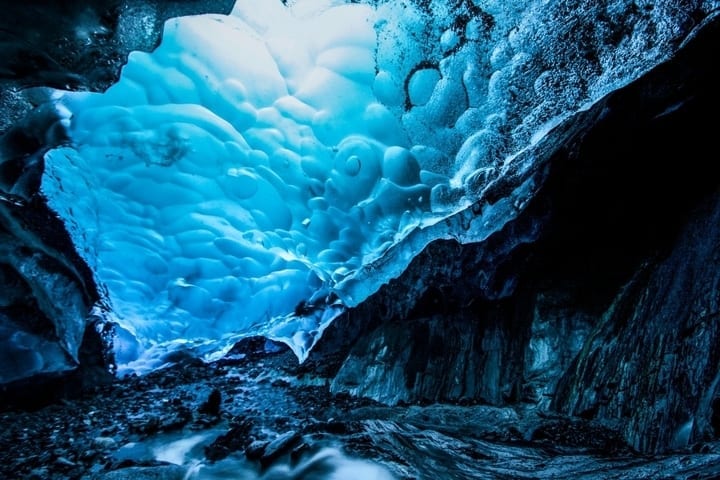 So, as the glacier moves along a path, rather than removing the trees and destroying the woods, the moraine allows a layer of less-abrasive matter to buffer the move. The forest is then left under the glacier. In some locations, one could discover a whole forest beneath the glacier. Notably, in southern Alaska, Woods and logs have been discovered under the Mendenhall Glacier.
The Glacier is approximately 36.8 square miles of ice river flowing into a lake for about 50 years. However, scientists also found many trees in their upright position. Some of the trees are still active and capable of bearing roots.  The old forest that thawed from under the glacier in Alaska which has been discovered had been beneath the glacier for over 1,000 years. Simply mind-blowing!
29. Human Sacrifice
This primitive yet crude practice was discovered to have been in existence in Chile. This spot, which was found in the ice, was used for a significant purpose by the inhabitants of Incas. They performed various human sacrifices on people of different age groups on the Andes mountains.
Several bodies have been discovered in quite several sacrifice spots ranging from 100-115. The indigenes subscribed to this form of bloodshed in the belief that they make a connection with their gods and ask for favors. In 1954, "Juanita," a young sacrifice was discovered at about 20,000 feet, close to the summit of Mt. Ampato.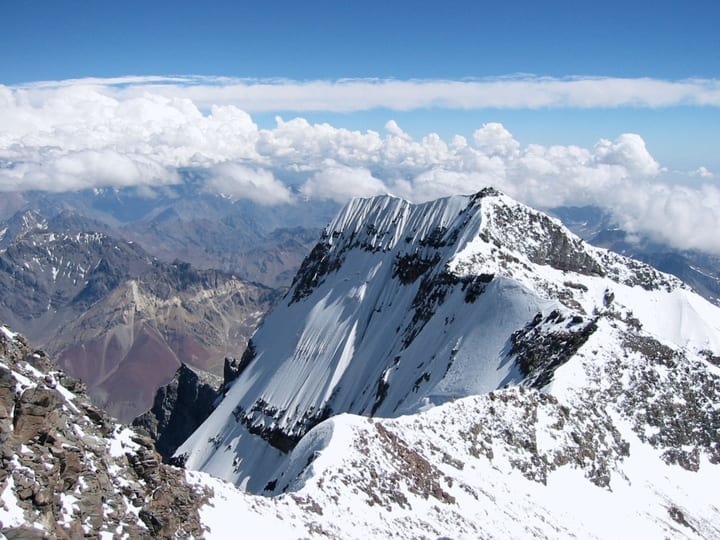 Particular circumstances brought about the discovery of Juanita. Apparently, the production of hot ash by the volcanic eruption of Mt. Sabancaya began melting away. While it melted, it gathered ice and snow which enveloped the mummy. Luckily, because the winter storms were yet to cover the whole body thoroughly, scientists were able to find the mummy.
Juanita's body was well-preserved in the ice, and its discovery can lead to incredible findings of the Inca people. Juanita whose body was almost completely frozen, had her skin, internal organs, blood, and some substances in her stomach intact.
28. Bloodshed On Mountain Top
While the Inca continued their act, they genuinely sought the god's good side but inappropriately condemned humans with this inhuman act by spilling their blood on mountain tops. They went to the top of these mountains to stare at their gods in the face and to please them.
The original frozen high mountain human sacrifice site discovered by scientists was on top of a peak in Chile in 1995. Before the discovery of Juanita, the mommy found on this peak was regarded as the most-preserved. Remarkably, Scientists were able to establish many findings of the mummy. They found out that the mummy was a male who was between the ages of 8 or 9 years. Also, he had type O blood, and it is theorized that he is from a noble family due to his physique.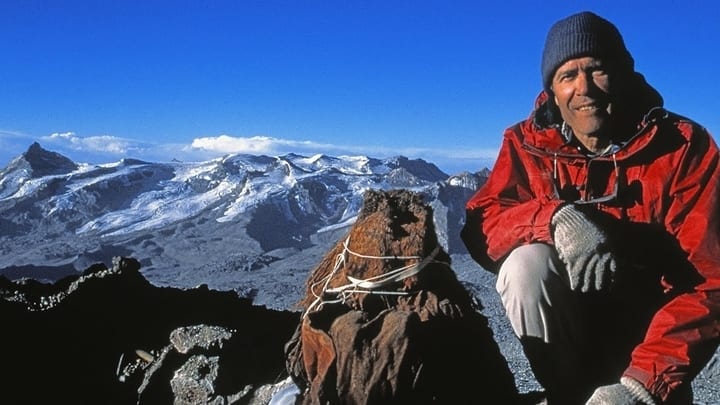 It is known that the Incas adored and revered the high peaks that stand out of the South American skies. Many sacrifices were offered on these incredibly cold and dangerous summits. They regarded the mountain gods are the ones in charge of nature, including livestock and crops. Basically, they were seen as the firm protectors of the Inca people and their lands.
27. Ice Keeps
In a cold environment, it is relatively hard for bacteria decomposers to operate, as they don't have enough energy. If in any case, they function it will be at a slow rate compared to being in a warm temperature.
For example, in the Arctic region, the temperature is so frigid and the lack of oxygen makes it impossible for these bacteria to be active. The icy nature has helped to preserve several things like bodies of humans and animals, as well as other remnants from decomposition. Consequently, it has fostered the knowledge of how primitive humans were and how we have evolved.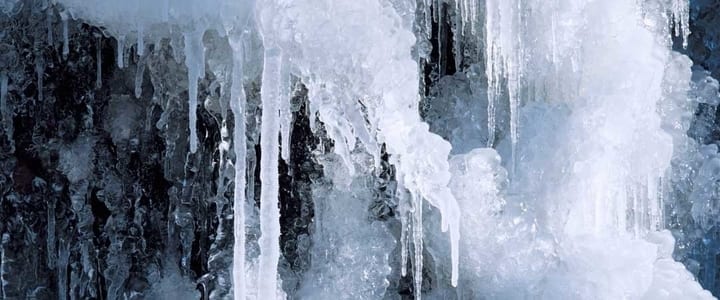 For humans, and living things, the cells become frozen, so it prevents it from decaying. There are several discoveries of bodies well-preserved in ice. The popular iceman found in the Alps in 1991 was an incredible find. Even though he had died in 3000 BCE, his body was so well-preserved that lots of information were gotten from it. Information such as his home, tattoos, and even the last two meals he consumed before his death.
Also, modern naturally frozen bodies can be found on Mt.Everest. Like that of George Mallory who attempted to climb the summit. Although we are not sure if he reached the top of the mountain, we are certain he died and his body is still preserved in ice.
26. War Remnants
The White War claimed lots of lives. Nature was actively involved in the snow-filled World War I battle between Italy and Austria in the Alps. The sites in which the battles occurred up in the Alps during this period was a very ugly spot for war. Due to the thawing ice, many well-preserved bodies of soldiers are being discovered. Sadly, these soldiers were preserved just like Captain America, if not, they might be the hope of bringing them back to life. Most soldiers died not from the battle, but from the cold temperate. Many suffered from frostbite and other-related conditions.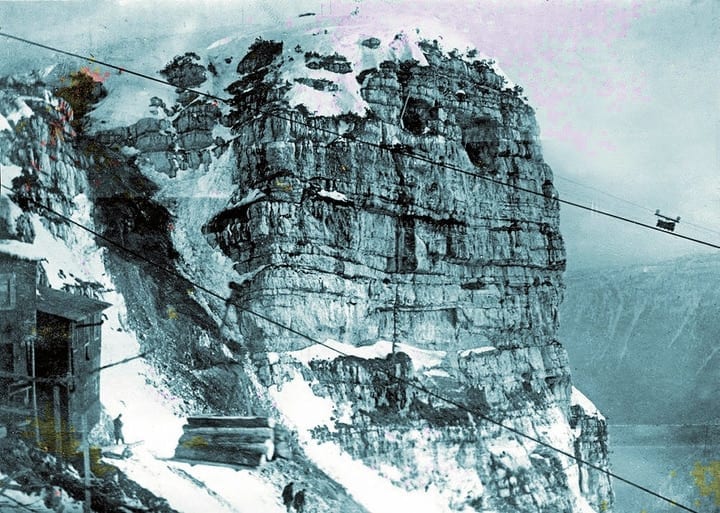 Over 80 mummified soldier bodies have been found in the last few decades. One of them is that of a 17 and 18 years old Austrians whose bodies were preserved but had bullet holes in their head. Apart from human bodies, other materials have been discovered on the site including poetry, and love letters that were never sent and other war tools. These soldiers may have pledged their allegiance to their country and sworn to defeat the enemy, but too bad the cold dealt with them first, leaving them frozen. Many of their bodies were preserved by the cold.
25. More People?
Apart from the soldiers and the Incas remains,  other findings support the theory of ice preservation. A 300-year-old body was found, and named the "Long Ago Man." He was discovered to have been clad in a ninety-five pelt of skin clothing, a stick, which explains that he was an ancestor of the First Nations People. He may be an outstanding individual due to his clothing and stick. Unfortunately, he fell prey to the destructive ice.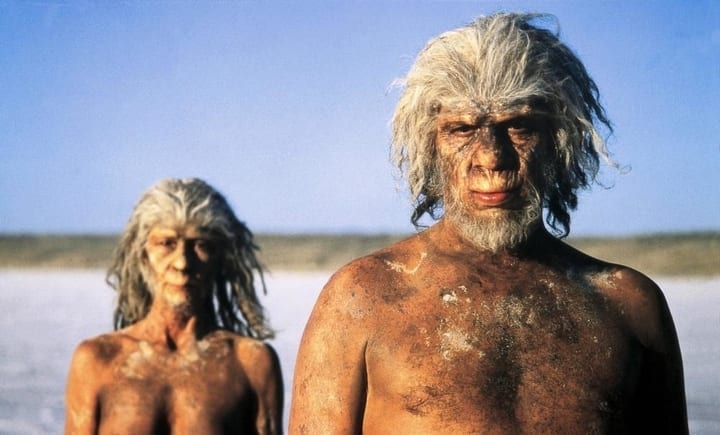 The Long Man is a naturally mummified body discovered in British Columbia, Canada in 1999. The first part of his remains was the torso, and left hand still attached to the arm.  A couple of meters away, the lower region of his body was found, and the thighs and muscles were still together. The head, right arm, and lower right leg were missing.
However, the hair on some part of his scalp was intact, and bones from his right foot and hand were found. His skull was later found in 2003. Scientists were able to estimate the time he was born, which was between  1450–1700 AD in British Columbia, Canada. Also, they predicted that he died between the period of 1450–1700 AD during summer when he was about 20 years old. His place of death is Tatshenshini-Alsek Provincial Park, close to the Yukon border.
24. Gigantic Mammoth
Apart from the mammoth discovered with an intact brain, explorers have found remains of a magnanimous mammoth to have lived in an ice tomb in Siberia. These prehistoric beasts roam through the Arctic around Siberia and Alaska. This 39,000 old mammoth was determined to have all its organs intact, and it was found in Novosibirsk Islands, an archipelago in the north of Russia.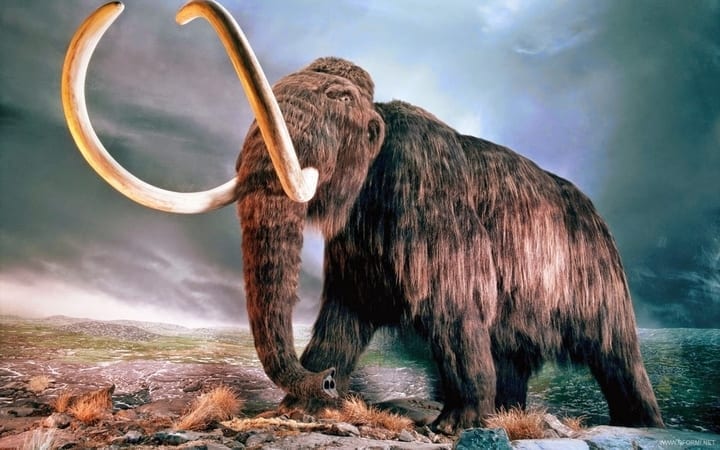 The woolly mammoth carcass found is an incredible discovery for scientists. The mammoth species have gone extinct; however, with this finding, a lot can be known about them. Scientists revealed that there is a likelihood that the blood cells are undisrupted. A particular scientist noted that the mammoth's muscle tissue was pink rather than the usual brown color for damaged blood cells.
This suggests that the proteins in the blood were excellently preserved as the blood also had a reddish appearance. Also, the blood maintained its liquid state, even its freezing environment. Several claims to support why the blood remained solid is the belief that mammoth possess antifreeze substances in their blood. However, not all scientists agree with this. In spite of this, scientists are very hopeful about this discovery, as it could lead to the cloning of the extinct species. Do you think scientists will be able to achieve this feat?
23. Sharp Edges
Thanks to melting ice, many ancient relics have been found in Yellowstone. Reportedly, archaeologists are making incredible finds in the Yellowstone National Park. The bodies of animals have been found. However, what's more, fascinating are the old tools, utensils, and spears found in the area. Ice patches do not navigate like glaciers. Hence it is quite easier to preserve materials in them.
Yellowstone is a region that is surrounded by mountains and forests. Scientists began accumulating these materials years ago. They have found materials from 10,000 years to a few hundred years old. Through carbon dating, they were able to date leaves and stumps to be over 5,000 years old.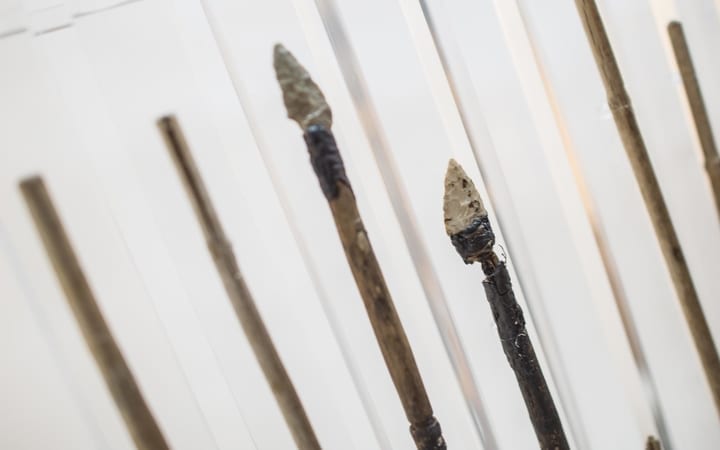 Like we mentioned, one of the most incredible findings are Spears in Yellowstone. It happens to be another scientific ice discovery. These weapons date as far back as 10,300 years. It is glaringly man's skillful use, and engagement of war implements tracks back to a long time ago. It showed man's involvement in hunting also and also explained that humans at some point resided in Wyoming, Cold Idaho, and Montana Climate. For years, scientists strongly believed no man had inhabited the area; now, we know it is not true.
22. Otzi Man
Famous for his Austrian ancestry origin. The first Iceman was found between Austria and Italy. His age was about  5,300 years, and his remains were duly preserved. The man was impaired with an arrow on his shoulder, suffered a skilled blow, and was plagued by a variety of diseases ranging from Lyme disease, gallstones, worn joints, gum disease, and parasitic worms. Phew! Was he truly preserved?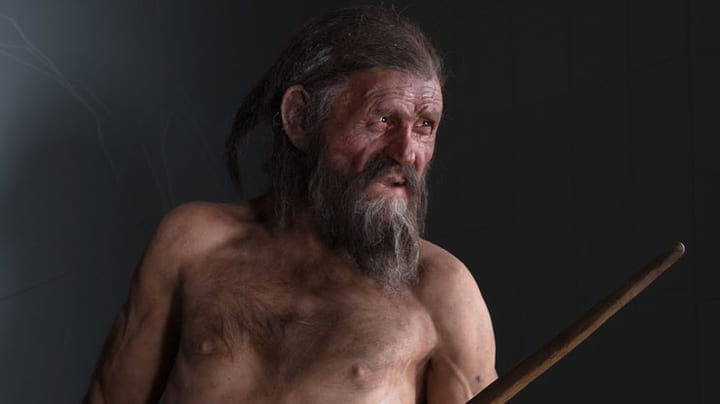 Otiz Man had been given a couple of other names over the years including 'The Iceman,' 'The Similaun Man' ' The Man from Hauslabjoch,' 'The Tyrolean Iceman,' and 'The Hauslabjoch mummy.' Notably, Otiz man was alive between 3400 and 3100 BCE. The mummified body was found in 1991 in September in the Otztal Alps, close to Similaun mountain and Hauslabjoch. The region founded in between Italy and Austria.
This was why he was named 'Otiz.' His body is the most ancient mummified remains in Europe. An insightful study into his body has revealed details of the Copper Age. Presently, the materials belonging to him are put on display in South Tyrol Museum of Archaeology in Bolzano, South Tyrol in Italy. According to studies, he was born in 3345, BCE in the village of Feldthurns, Italy. And he died in 3300 BCE when he was about 45 years old in Otztal Alps.
21. Wool Encrusted Rhino
This Rhino is about one year, and six months old. Its furs were preserved correctly and didn't suffer any damage from predators, thankfully! The last of its kind went extinct 10,000 years ago, and this species was discovered in Sakha, Northern Russia. It is said to be cold over there. Enormous predators help us understand that creatures that lived in their time had an adaptation mechanism. In this case, it was fur.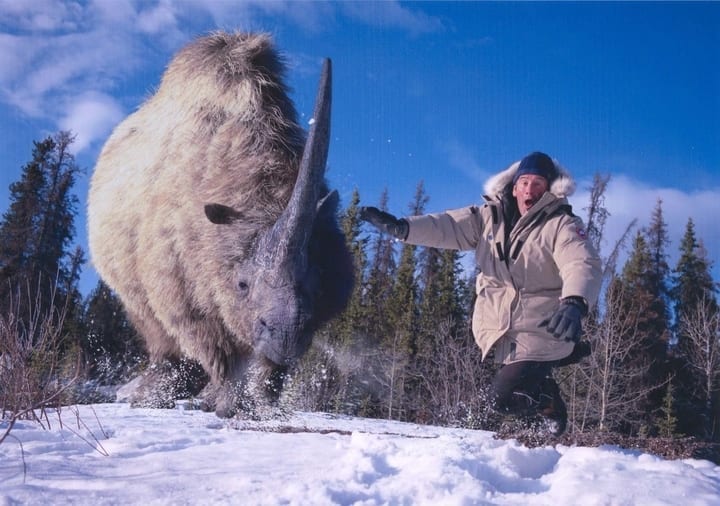 The rhino calf was named 'Sasha' after it was discovered by a hunter. Notably, it is the only fully complete mummified body of a young rhino calf ever found. The creature was released for study in the Yakutian Academy of Sciences in Russia. Scientists aspired to get its DNA and try to find its line on the family tree (mammal).
According to reports, the rhino was about 1.5 meters long and 0.8 meters high. Adults rhino could be about 15 feet long and 6 feet high. Since the species have been extinct for a while, modern scientists were able to understand how it looks like through the cave paintings found in Western European. This discovery will definitely add to the knowledge of what we know about extinct woolly rhino calves.
20. A Different Species Of Big Cats
This is one of the most popular prehistoric mammals. Even though its name is often accompanied by a tiger or modern cat, it is not closely related to them. The sabretooth tiger was found in Yakutia, Siberia, by Russian scientists. These cats possess furs that help them adapt to the cold weather, just like the Woolly Rhino. The last of its kind went extinct 10,000 years ago.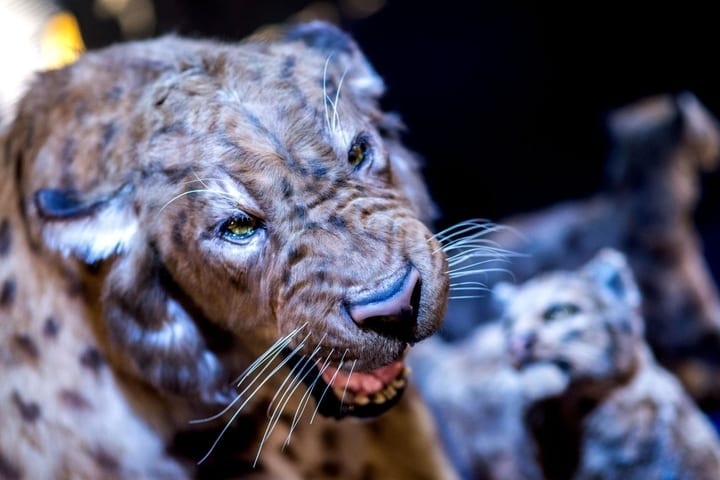 Two cubs of the sabre tooth tiger named -Uyan and Dina were discovered by scientists. Obviously, they were very young before they passed away. The cubs are estimated to have been in the ice for about 30,000 years ago in Russia. The cubs were well-preserved, and it was observed that they were yet to open their eyes and had not developed their teeth.
At first, the cubs were estimated to be one or two weeks old, however, as more findings were made. It was revealed that they might just be one or two-day-old before they met their tragic death The explanation by theorists is that global warming and hunting decreased its numbers. In the UK, a Sabretooth was found, and it weighed 881lbs.
19. Atlatl Dart
This is yet another historical discovery by scientists. This weapon was in existence before the bow and arrow. Usually, custom made, the weapon had a handle that supported the balancing of a spear. It helped the spear reach a farther destination than it would have if it were thrown. The Atlatl is an old wooden hunting tool used by Paleo Indians.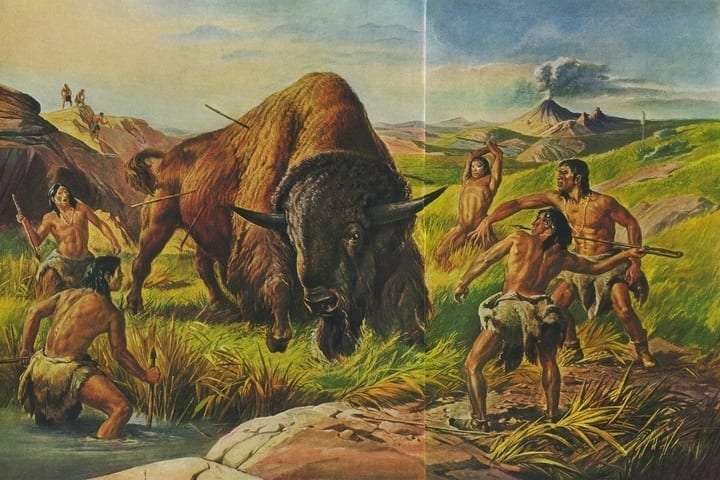 The 10,000 years old atlatl dart was found in a melting ice patch up in the Rocky Mountains near Yellowstone National Park. The weapon was built from a birch sapling. It also has customized markings from the old hunter, who made it. The 0.9 meter-long dart, had a cup on one end, and projectile point at the other attached to a throwing weapon known as an atlatl. Possibly, the native hunter must have used the 0.6-meter atlatl to attain bigger velocity.The tool was found with a bent dart and a pointed kink. This could likely be the result of mild avalanche and then a stomping from a big animal hoof. Scientists speculated that the curve looked like the shape of a big sheep hoof. It's amazing how ancient humans developed complex hunting tools for themselves; it shows how much humans had evolved during that period.
18. Daft Parts
Some daft shafts were found in the excrement of the caribou. This may sound irritable, but it proves how creative the hunters were in hunting down their prey, especially with the kind of instrument employed. This finding can also help to ascertain the movement of the animal and other species of animals in the environment.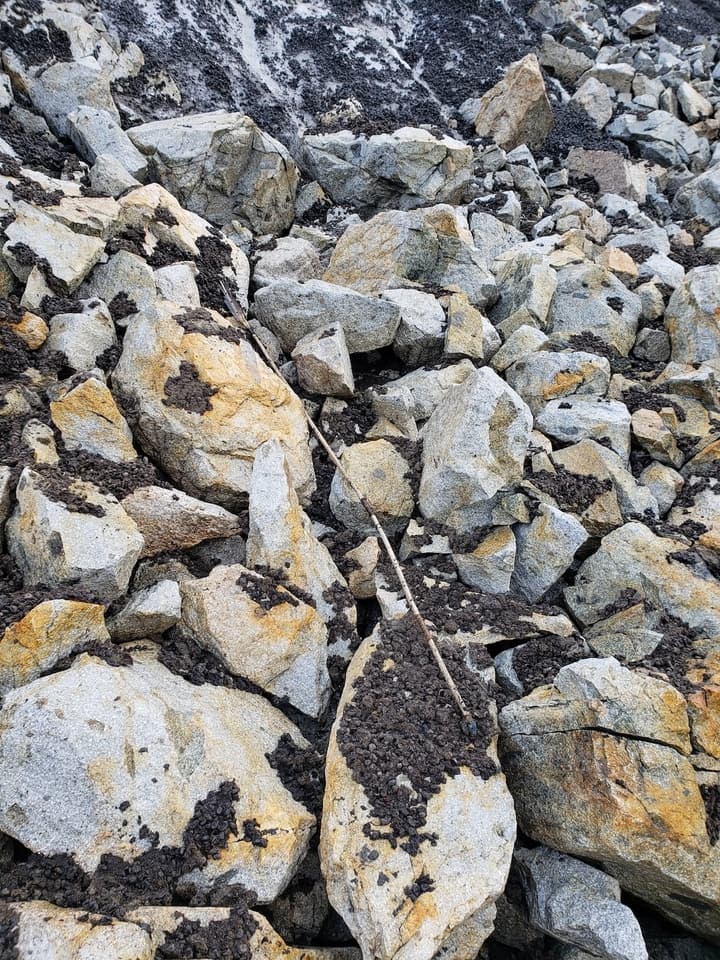 This finding can also help to ascertain the movement of the animal and other species of animals in the environment.
17. Historical Bacteria
Some pretty old bacteria were found in ice by scientists lately. They date as far back as 8 million years. Formation of spores happens to be the only way a bacteria can survive in the atmosphere after it can hibernate. Then, they can flow with the temperature of the environment.
The Arctic has been discovered. This help in unraveling how bacteria gained their resistance to other bacteria. Canadian scientists aspire to bring back to life more microorganisms that have been frozen for over 100,000 years in the future. Some scientists also stated that because the bacteria were iced at different periods, they can enable us to know the freeze-frame outlook of bacteria evolution.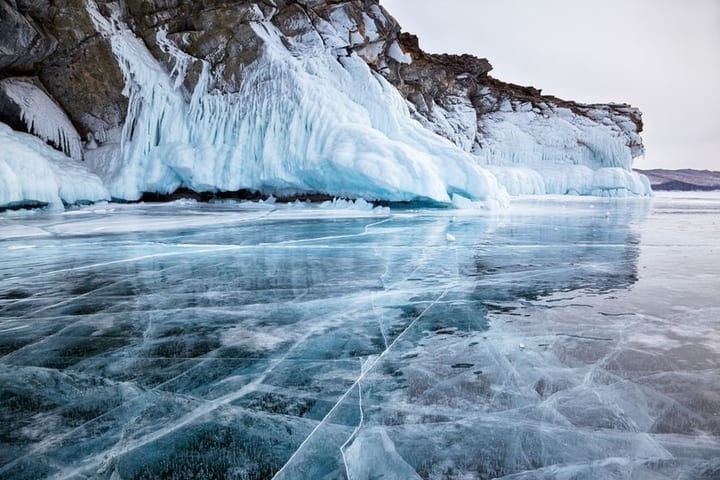 Martin Handfield who is one of the members of the Quebec team resuscitated microorganisms from a core which is 130-metre-long drilled from the top of the ice sheet. From the core, six yeast-like organisms, four Gram-negative bacteria and one organism yet to be defined were found.
It is postulated that the microorganisms were most likely transported by winds to the ice sheet, where they were subsequently buried. The depth of the core was about 109 meters and 120 meters. At this depth, the temperature was 20 degree Celsius below 0. The microorganisms were able to survive inside the ice sheet for millions of years without undergoing active metabolizing or reproduction.
16. More Bacteria
Some bacteria exist independently; sometimes, they are with a body. The types of bacteria found on the ice are deadly. Unlike in recent times, our immunity has nothing on these ancient microorganisms. To dig in further; as a result of climate change, the earth is getting warmer, so more permafrost is thawing.
Every summer, about 50cm deep of permafrost layers melt. Iced permafrost is the perfect place for bacteria to remain alive yet inactive for a million years. Melting of this frozen soil could lead to exposing these ancient bacteria to humans.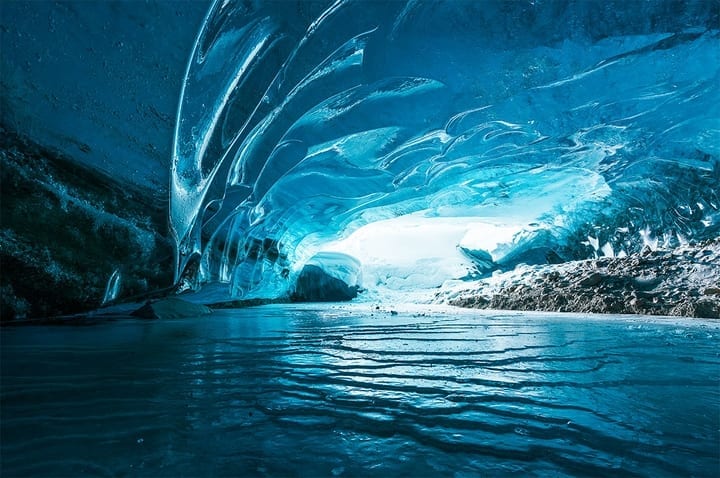 These bacteria that have been dormant for years are coming back to life. The consequences of this could lead to grave consequences. In a remote region of Siberian tundra in the Arctic Circle, a 12 years old boy passed away due to anthrax infection. Another 20 people were admitted into the hospital following the death of the boy.
It was later discovered that a reindeer that was suffering from anthrax died over 75 years old. Its carcass became frozen and buried under the permafrost layer. When summer came, the permafrost melted and released the bacteria.The exposed reindeer carcass released anthrax into the water and soil found nearby. Over 2,000 reindeer in the area were affected, which led to some humans contracting the diseases.
15. Global Warming 
Change is constant, and as the world evolves and changes the climate suffers for it. Global warming is a term used to define the long-term elevation in the average temperature of the Earth's climate. It is also used to express the various effects of warming. Due to the emission of greenhouse gases in the atmosphere in our contemporary economy.
Climate change and global warming are often used synonymously — however, global warming both referee to climate change and its adverse effects on our environment. During the Intergovernmental Panel In 2013 on Climate Change, the Assessment Report reached a conclusion. They noted that it is quite possible that human activities have been the main cause of global warming since the start of the 20th century.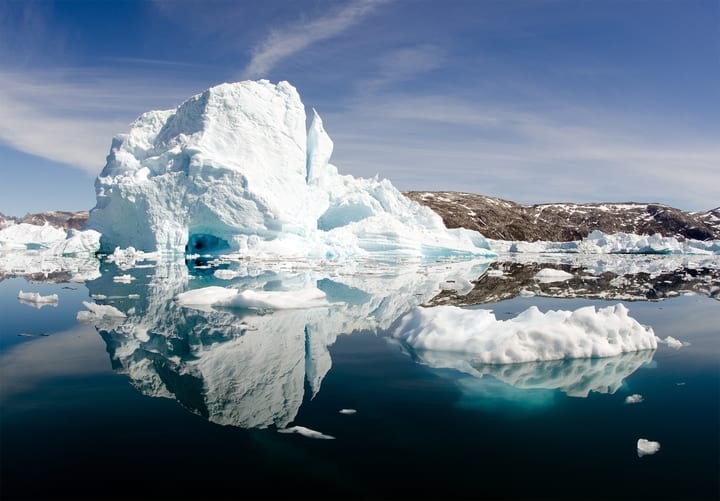 The biggest human influence on the climate has been the release of gases such as nitrous oxide, carbon dioxide, and methane. As it becomes warmer, the ice loses its rigidity. It may be unfavorable to experience global warming at this pace. However, the positivity in this situation is that more and more mysteries are unraveled. The ice loses its firmness and reveals hidden matter in it.
14. Caribou Waste
Explorers have found these on different icy patches. This dung could be used to attain a sizeable amount of information about the creature. When droppings are discharged mostly through the anus, a couple of things can be found in it. A notable one is the viruses that could be found in its droppings. Once, a thorough examination of frozen caribou poop revealed two new viruses unknown to humans. Both viruses are hundreds of years old.
It was discovered that one of them most likely formed the plants the caribous ate. While the other one probably infected insects that were around the animal. Also, animal droppings contain a  little quantity of metabolic waste products such as dead epithelial cells from the gut.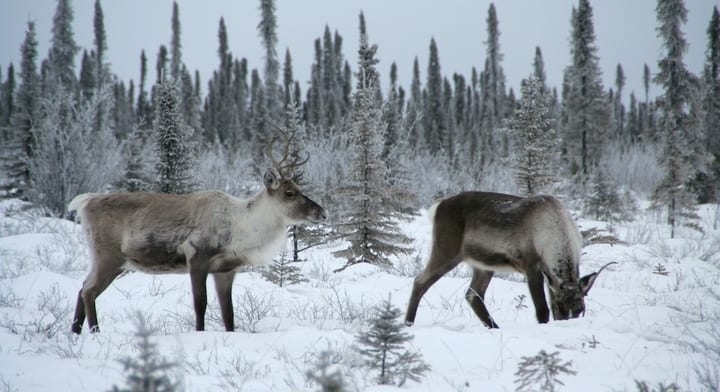 These findings do not just prove that virus can be kept intact in frigid conditions, but how animal droppings could hold the key to unveiled some facts. Also, several things, like the creatures diet, location of its meal, source, etc., can even help to find the animal's grazing land. While droppings might seem like a disgusting material, several important discoveries can be made from it. And Caribou droppings have played a significant role in unraveling many indigenous facts.
13. The demerits Of warming
Global warming poses a series of threat to us. There are significant effects of warming, including increasing sea levels, changes in precipitation, more recurring extreme weather events such as an increase in the desertification of more areas, and heat waves. Increase in surface temperature is significantly prominent in the Arctic, as permafrost, ice patches, glaciers, and sea ice are thawing. Also, generally, the rising temperature can cause more snow and rainfall. However, some area experiences more drought and wildfires.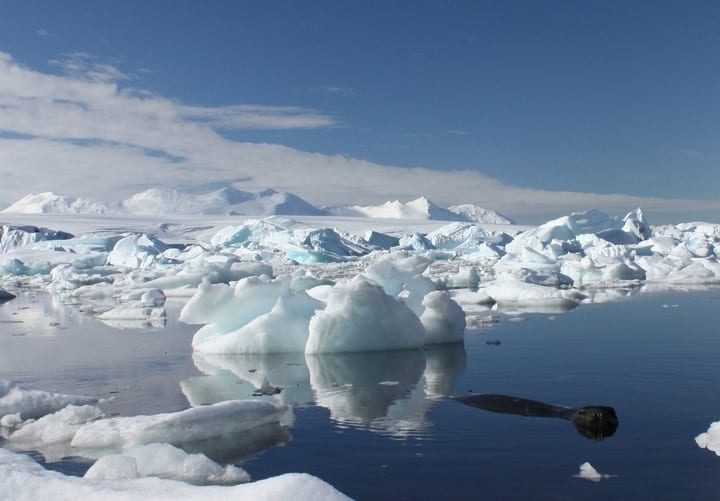 Possibly, the greenhouse gases will stay in the atmosphere for an extended period, and in this period, we'd have to face the consequences. However, it is best if the emission is reduced to remove any threat to the further. While global warming enables the tireless shedding off the ice from the permafrost and helps in the unveiling of hidden bodies, artifacts, and weapons, it is, however, costly. These discoveries will not be adequately preserved because of its longevity in the cold, as it will need more cold to survive. How many artifacts can we recover intact in time before all the frozen bodies get thawed?
12. Blurred Patches
The ice patches are starting to wear off as global warming effects change. These discoveries lose their potency. The spots of animal or any other print are melted in snow. If global warming continues, it may eventually obliterate these patches. Although it will take a considerable amount of years, it does not change the fact that it may be unavoidable but harmful.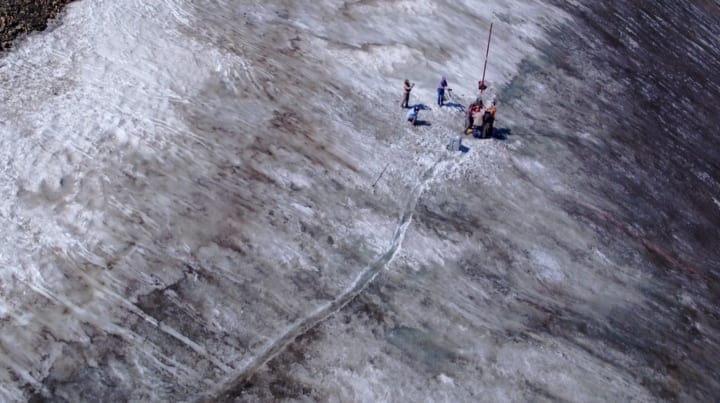 Ice patches form when snow accumulates and doesn't thaw for an extended period. They respond quickly to changes in climate. Winter precipitation, wind, summer temperature, and prevailing wind direction and agility during winter can effortlessly affect ice patches. Most relics are not discovered on the surface of the ice but in the ground. Materials are solely found on the ice at the point the melting gets to the ice layers formerly untouched by melting.
Only when the ice thaws can the artifacts be recovered. Animals frequently hang around these patches. In case they die, their bodies will be frozen on the layer. Commonly, most of the things scientists discover as the ones the animals leave behind. Tom Andrews was the pioneer scientist who showed considerable interest in examine ice patches. Well, even though the temperature is increasing, we still have lots of ice around the world --especially in the Arctic region.
11. Unique Shelter
Another incredible find by scientists are some rare woods. The woods were found in ice patches. According to reports, the woods were not located close to the location where the site was. This implies that the wood could possibly be many miles away. It was probably carved, striped and transported to the location of the ice patch. Scientists believe that the woods were used to build shelters during the hunt. The hunters would make a temporary shelter for themselves, then they would go ahead to look for reindeers to hunt.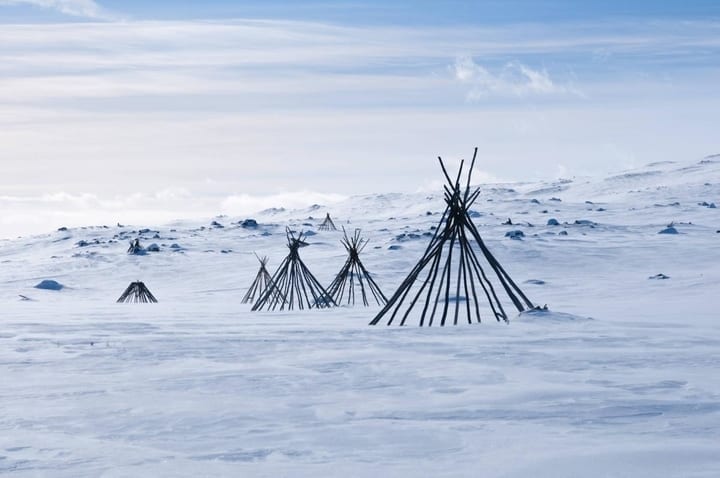 Safehouse is one of the most important needs for hunters — especially ones who will be out in the hunting location for days. It is no news that intense weather conditions can lead to death if they are no essentials in place for survival. Experienced hunters know that they must do all they can not to lose body heat. Due to this, shelter houses are built to protect the hunter from rain, snow, and wind.
Lack of body warmth can kill quicker than a lack of food or water. This also portrays how ancient men tried to use what they had to survive. The woods reveals man's need to survive as well as his craftsmanship enlisted in making shelters.
10. A Birch Basket
Birch back is a natural component, which is gotten from trees. It has a light, water-resistant, strong and flexible features. Due to its characteristics, it can be bent, shaped, cut out and made into anything the carpenter wants. Birch bark was found alongside the iceman close to the border of Austria and Italy in 1991. A couple of years ago, a scrap of birch bark entrapped William Manley's eye.
This happened while he moved in the Wrangell-St.Elias Mountains across the edge of an ice field. The scientists observed stitching patterns on the bark and found out it was a birch basket. They later estimated that Alaska residents had abandoned the basket in the area around 650 years ago.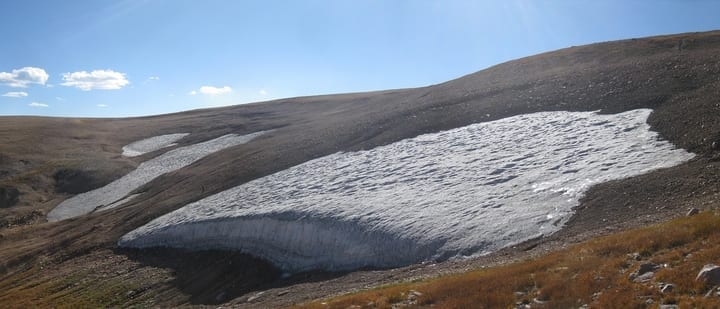 The melting ice patches found in Canada and Alaska have to lead to the discovery of various relics such as antler lines, arrow shafts and others. The Birch basket is just one of it. The basket was about 2.3 inches long, and 9.8 inches wide.
It was neatly woven and did not engage the use of plant components. It was said to be used by collectors. Maybe it was used for gathering berries! Who knows?
9. Studying For Preservation
The moment Ötzi the Iceman was found in the Tyrolean Alps in 1991, a new field of science was birthed -Glacier and ice Patch Archaeology.  Archeological locations are now found in various places such as Norway, Switzerland and the United States. Undoubtedly, the changes in climatic conditions are pretty much normal. However, the rate at which climate is fluctuating and the effects around us shows there is something more to it. Due to global warming, there has been a rise in the ocean and atmospheric temperatures, intense glacier melting, and an elevation of sea-level. 
Regardless of these, melting glaciers and ice patch allows us to discover ancient artifacts and bodies that have been preserved well in ice. Many materials such as ancient baskets, leather and hair cordage, swords, spears, wooden shafts, plants, bacteria, and carcass of animals have been found.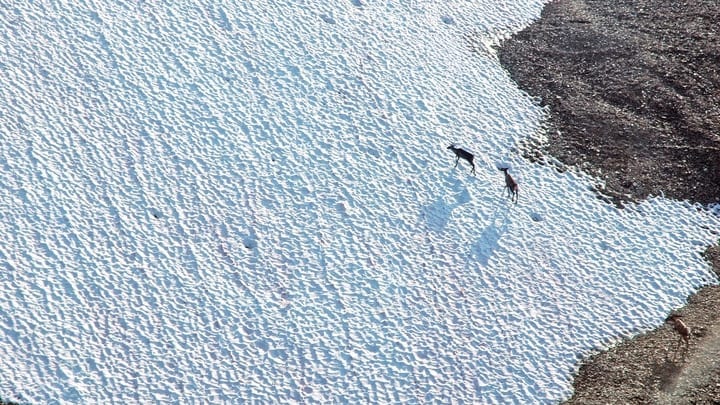 These materials were well preserved in ice patches and glaciers because they were formed in a persistent frigid environment that prevents thawing. These ancient materials are well kept and most cases, intact for years in the ice. Since global warming is clamping down on icy patches and making the icy preservation lose its essence, scientists have come together with a new idea. They aim to study the reason, and consequences of glaciers, permafrost, and blurred icy patches, to be abreast with information. It is, however, impossible to restrict global warming.
8. The Stick
Back in 2004, archaeologists found in an ice patch a 75 cm long stave. The stave had a point on one end and a hook on the other end. Scientists revealed that it was a gopher stick employed by Native Americans to trap ground squirrels and gophers. The device is primarily used to set snares few inches below the ground at the entrance hole. The part of the hook is at the end of the gopher stick is let down through the soil at the surface of the burrow. The stick puts the snare in place and leaves it inside the burrow.
The moment the trap is set, the person detaches the pole with one end of the trap line still attached to the end of the stick with a hook. The sinew snare line is pulled out, and the loop or noose is left in the den. The person then fixes the other end of the snare line to a bent branch fixed in the ground a few inches away. As the gopher leaves the hole, its head gets caught in the snare. The spring reaction of the best branch hauls it strongly around the gopher's head. This way, the animal will be unable to move.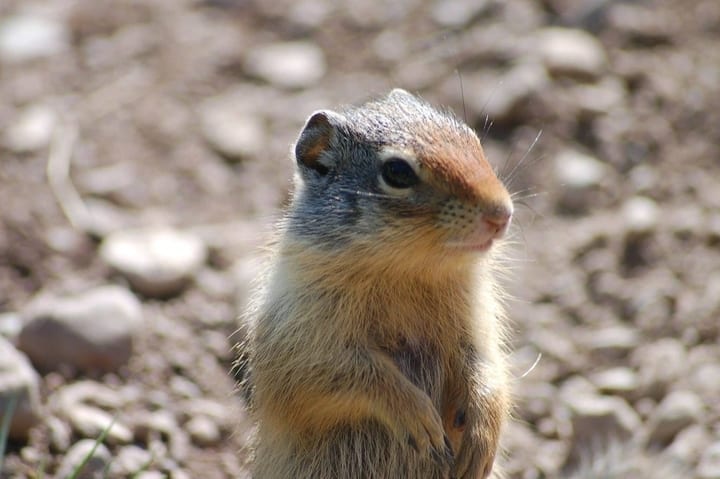 The gopher sticks dates as far back as 1,800 animals indicate that men of that era employed some use of craftsmanship in hunting. The complexity of this hunting implement involved looping a snare to a stick that is linked to a string. 
7. Locations And Materials
Thanks to the ice patch and glacier archaeology, we have been awarded the opportunity to study the past and how it affects the present and the future. Also, archaeologists have been able to understand how hunters employ the use of some kind of raw materials for building their tools.
The numerous hunting tools found have also given us an insight into the knowledge and depth of technological advancement of the people living in that era. Climatic conditions were better comprehended by some findings in ice. Information from ice patches and examination of pollen records found in caribou droppings revealed that the environment had remained almost the same way for the last 5,000 to 6,000 years.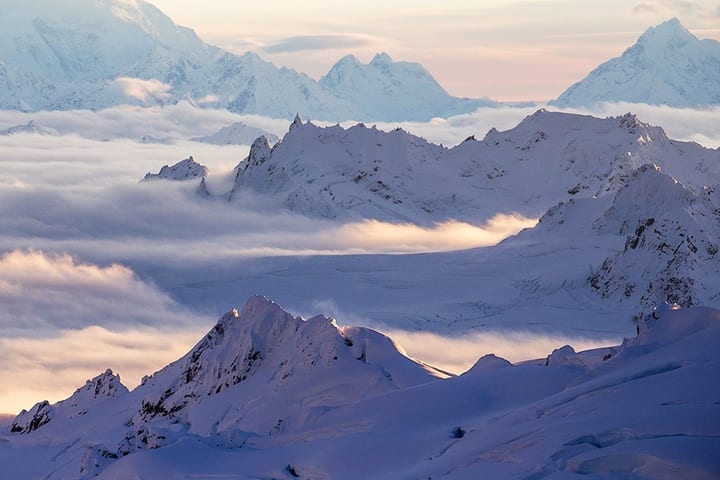 Furthermore, various centers and locations hold a different repository of knowledge with each finding made. In the icy mountains North American continent and Norway, hunting materials are usually gathered; showing that the set of early inhabitants were hunters. While in the Alps, the discoveries made a point to travel and movement, and in the south, it is mostly ritual rites. All this gratifies and increases our knowledge about the world we live in. So, kudos on these discoveries, dear scientists.
6. Willow Bow
Ice patches are melting in the Canadian Arctic region, and many artifacts dated back to about 2,000 years ago are being discovered. Archaeologist Tom Andrews has developed a significant interest in thawing ice patches, and frozen relics that could be found there. Often times, ice patches are situated in the deep mountain region in the Canadian and Alaska Arctic. 
Andrew was finally able to set off on his journey to find artifacts in ice patches after gathering enough funds. He was able to purchase aerial pictures of the Mackenzie Mountains of the Yukon Territory of Canada. He went further to explore potential ice patches with artifacts with helicopters five years later.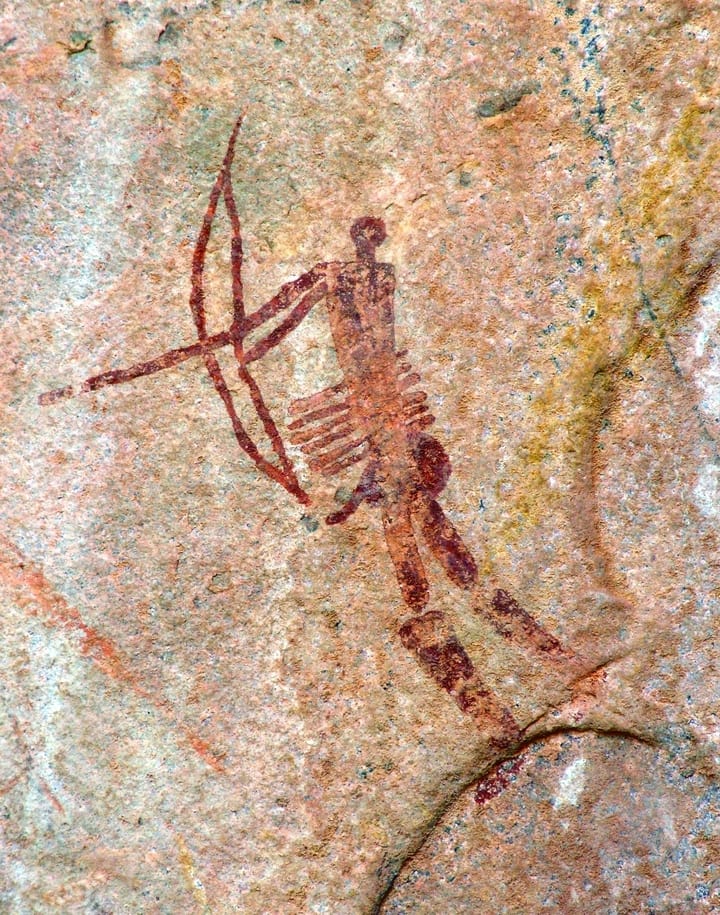 During that period, they discovered fragments of wood in an ice patch. They found out that it was a complete willow bow used for hunting. The bow was about 340 years old. They also located several other relics including a 2,400-year-old spear-throwing weapon, a 1,000-year-old ground squirrel trap, and bows and arrows found to be as old as 850 years. The willow bow was a weapon fundamentally enlisted to help with hunting and killing of reindeer and elks. The ancient men were surely people with admirable intelligence.
5. Frozen Historic Creatures
The moose, also known as elk is a member of the New World deer subfamily. It is the most enormous and heaviest species in the deer family. Moose can be differentiated by the broad, and open-hand defined antlers of the males. Most members of the deer family possess twig-like shaped antlers. Moose normally live in boreal, and mixed forests located in the Northern hemisphere and slightly Arctic region. Over the years, human activities such as hunting have caused a reduced in the population size of the moose.
Presently, the majority of the moose are located in New England, Russia, Maine, Alaska, Fennoscandia, Baltic States, and Canada. They primarily feed on terrestrial and aquatic vegetation. Gray wolves, bears, and humans are major predators of moose. Moose rarely establish herds as they are solitary animals. However, calves hang around their mother -cow for many months before standing alone.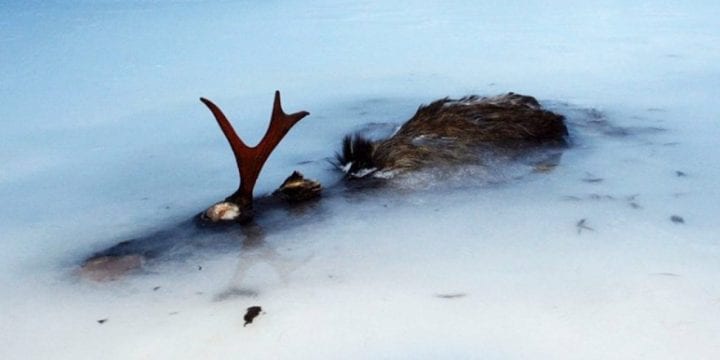 Even though moose can be regarded as a gentle animal; it can effortlessly become aggressive when threatened. No kidding, these magnanimous beasts help to reveal the adaptation skills of ancient animals. This special one is a pre-historic version of a moose. Although the creature is ancient, it is synonymous to a modern Canadian or Alaskan beast. It possesses antlers and furs.
4. An Awkward Looking Ice Squid
This frozen colossal looking squid seemed scary and was referred to as a horse squid. The rare sight showed that the frozen squid might have even had legs. The eerie looking creature appears to be frozen in a case, and it can only be ascertained when unfrozen.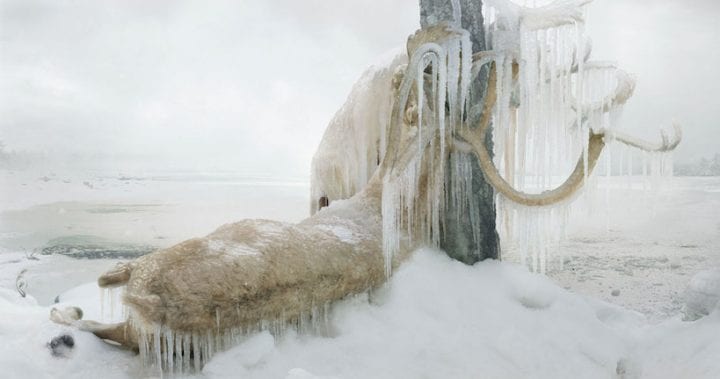 Reports later revealed lots of discovery about the squid. After it was defrosted, it was discovered that the squid's eye was 35 centimeters in diameter. It was also affirmed that it was a female squid. Furthermore, they even found out that it had some eggs in it. After floating to the surface, the squid was located by a fishing vessel in Antarctica. The crew packaged the squid and transported it to New Zealand for examination.
The squid weighed about 500 kilograms, and scientists have confirmed that it is the second of its kind discovered to be with eggs.  The squid has three hearts, and it is about 4 meters long. The squid has been frozen in Wellington, New Zealand at a museum since it was found. Interesting, this squid had both of her eyes intact!  Another squid which was found is regarded as the largest and most excellently preserved adult squid to be discovered in ice. It was 8 meters long and weighed about 495 kg.
3. Freeze! Hand's Up Frog!
This frog, just like the birds, was probably headed for a destination. He got frozen in the course of his journey. The cold climate and the water teamed up to this freezing act. Things like this are familiar to northern Norwegians. Remember to come fully prepared maybe with waterproof gloves, when it is time to cross the water to avoid getting frozen.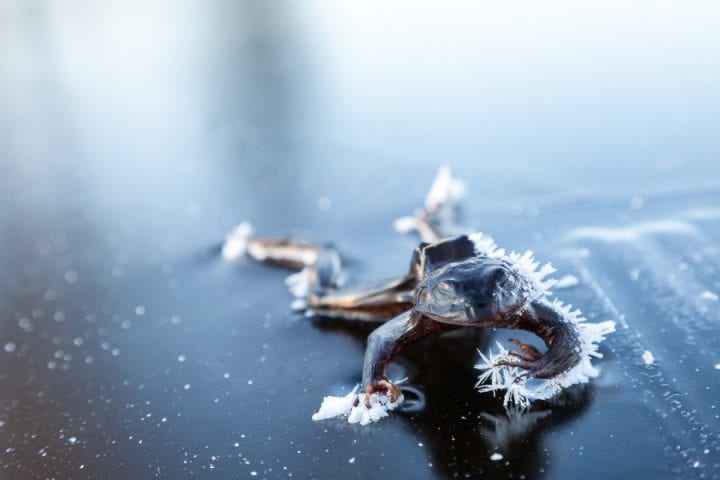 However, frogs have been known to have the ability to survive frigid conditions. Perhaps, just like the fishes we have on our list, this frog could still be alive. Do not let their fragile appearance fool you; frogs are endowed with survival skills that can help them in various weather conditions. Frogs can be naturally found in deserts, rain forests, and even in the Arctic Circle. Ultimately, they employ two strategies -hibernation and estivation to deal with environmental issues. Aquatic frogs hibernate under water when it cold.
In frigid conditions, they will most likely be found in locations with oxygen-rich water, or on top of the mud. They could also be slightly buried in the mud. The huge concentration of glucose in frogs' organs helps them to escape freezing. A partially frozen frog may be perceived to be dead because it's heart will stop working, and it will not be found breathing. Then, when the temperature becomes normal, the frozen part of the frog's body will melt, and its heart will start working again.
2. Iced Donkeys
Leaving your donkeys out in the cold might not turn out to be in your favor. An example is this frozen donkey. Rather than collapse, the poor creatures stood and froze. Unfortunately, they were abandoned by someone supposed to take care of them. Fortunately, it was later reported that they were saved. The five donkeys who stood so close together to get warm, and appeared to have been frozen was found in Siverek. Siverek is situated in the Sanliurfa province in south-eastern Turkey. The area often experiences extreme winter.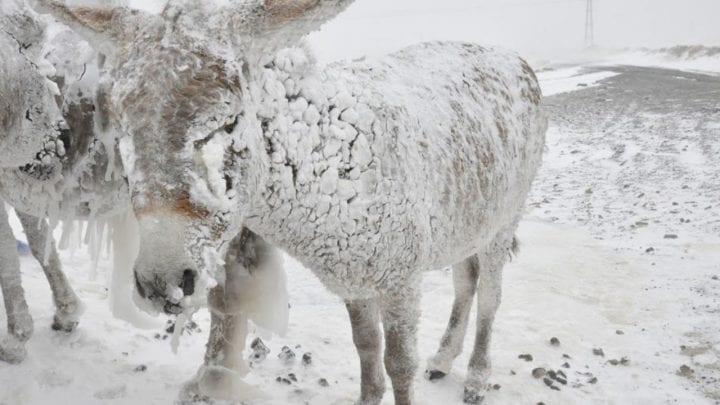 After photos of the donkeys were released online, sweet-hearted governor of Siverek - Hamza Erkal and Mayor Ali Murat Bucak immediately sent out a team to resuscitate the donkeys. When the donkeys were found, all of them were not able to walk and had to be lifted into the truck. They were transported to an animal shelter to receive care. The donkeys were examined by a veterinarian doctor, lodged in a sufficiently warm stable and well-fed. The rescue team was on the look-out for other animals left behind in the cold during that period. We are glad the donkeys were saved, and we hope no other animal goes through this gruesome experience.
1. What And What Found
In the course of global warming, glacier movement, and explorations, knowledge has been gathered, and it goes a long way to show the importance of scientific researches which should be immensely compensated and supported. We know glacial, and ice patch archaeologists will continue to rescue artifacts. With the influence of climate change, which is making the ice melt at a drastic rate, scientists have become more intentionally in discovering more artifacts before they become decomposed or lost forever. As more discoveries are made, they will continue to study the relationship between changes in climate and the extremities of human use of alpine spaces.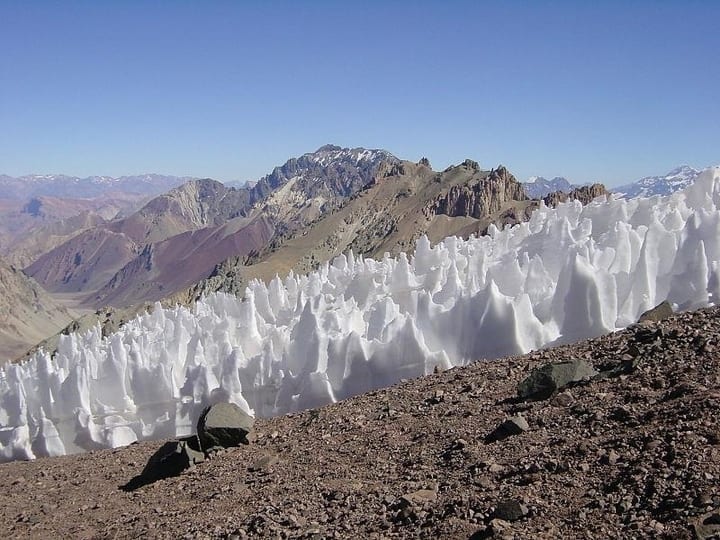 For example, in Jotunheimen and the surrounding mountain region of Oppland, an intense search was conducted. Scientists were able to recover materials such as textile, arrows, clothing items, hide, wood and other relics. Currently, over 2000 artifacts have been found. Some of them date as far as 4000 BC. Of course, coupled with lots of other incredible finds by scientists in various locations noted on our list. We are convinced that archeologists have been doing great work, and we are sure of more beautiful discoveries yet to be made by them. We are sure you think the same way too.
The world is an infinite site for discoveries of mysteries, and this article is proof of that. Did you find this an intriguing read? Have you learned one or two things? Be kind enough to share with Buddy!
Source: Science101