Top Illogical Construction Fails That Happened In Real Life
Change is constant, and as the human race evolve, man has learned to put things in place to help make life easier — good roads, bridges, sidewalks, just about anything that aids swift movement. Consequently, work is put into getting this done. Architects and building theorists showcase their expertise in creating various designs which are eventually constructed. They employ the skills from semi-skilled, skilled professionals, and work as a team to get the job done and bring their ideas to life.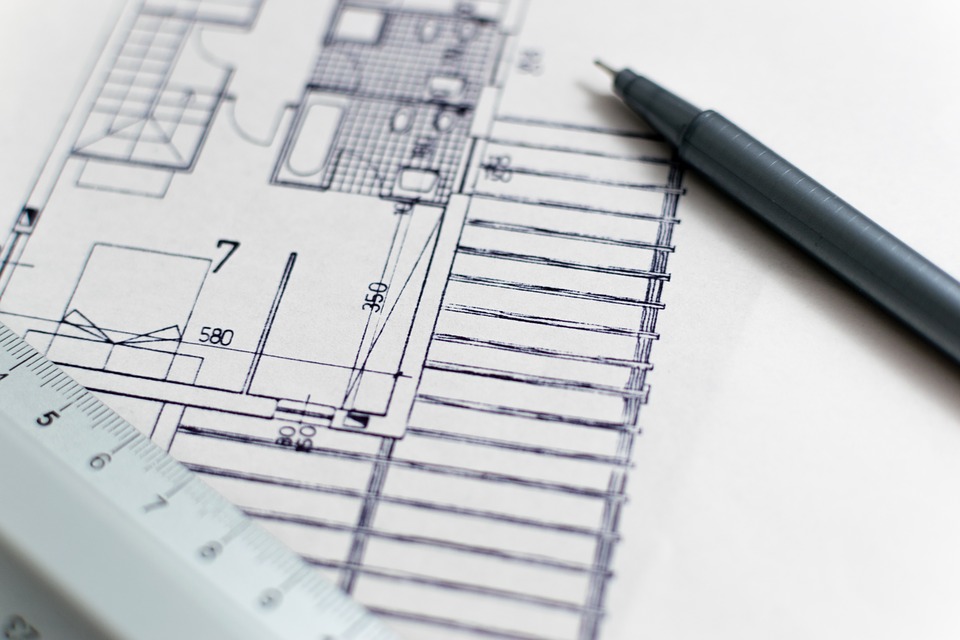 However, sometimes things head south, and these well thought out plans are a total mishap!  Care to find out just how incredibly humorous some of these supposedly detailed and unique construction plans turn out? Read on to get acquainted with these poorly constructed constructions, and be sure to tear up while laughing.  Laughter they say is the best medicine, so this article might as well provide some healing. The countdown has begun, so stay fixed!
50. Oops! Automated Machines Recognise Height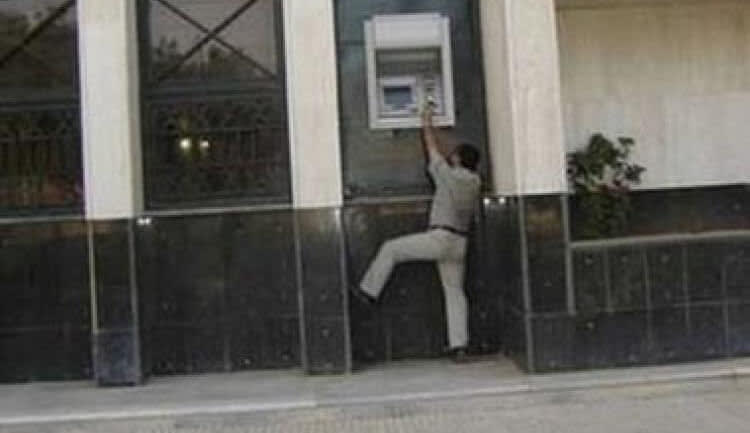 Whatever this installer was thinking, he or she certainly didn't have short people in mind! The unnecessary distance between the machine and the floor is alarming. But, it might serve as a great way of stopping robbers from taking money from the ATM, and even make some customers save their hard-earned cash instead of spending it on stupid things. Either way, we'll need to stretch to reach our goal!
49. Stairs? Not Needed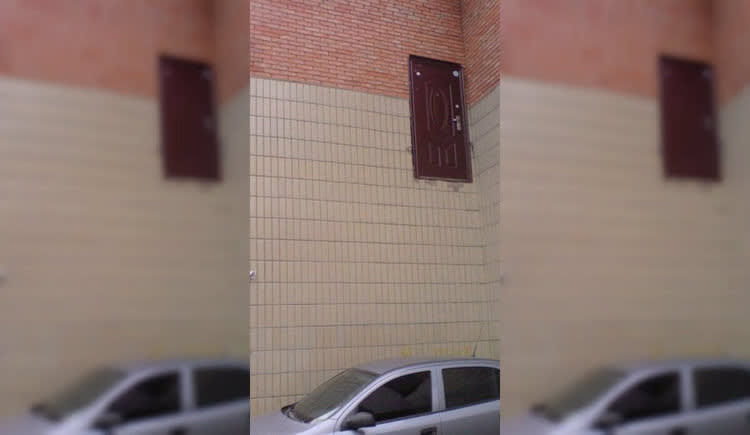 The door is usually a gateway to a house. But the experts on this one seemingly thought it crafty to look up to a door, or that the building was erected for gigantic creatures or winged creatures? 
Perhaps they ran out of money to install a staircase, or it is a trap door to distract people. It could serve the purpose of a window, and even prevent criminals from getting close. Otherwise, it is just confusing. 
48. Careful With Your Head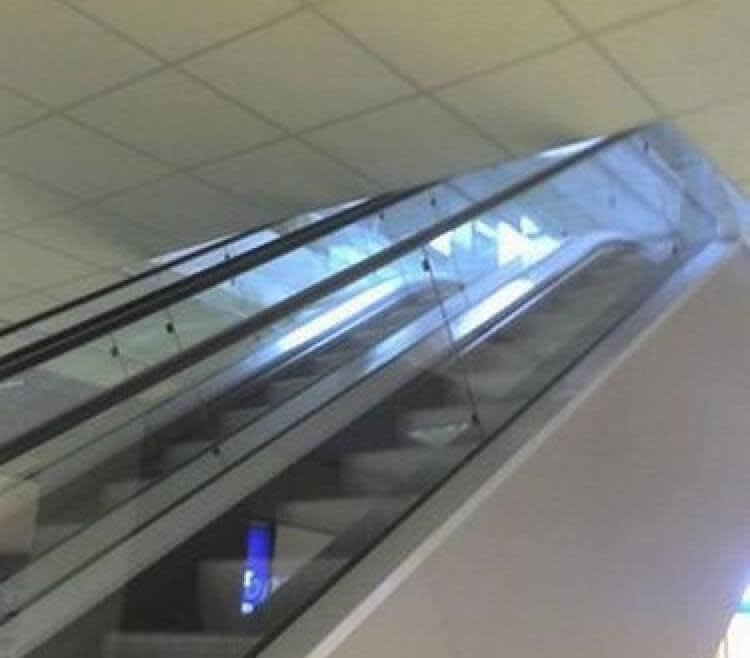 The position at which this construction is made guarantees head bumping every single time an individual tries to make use of the escalator. Not even the smallest person can get through incurring injury with that low ceiling. Sometimes saving on money on proper professionals can cost a lot.
The image reveals just how pertinent trial tests are in reality!
47. The Poor Alignment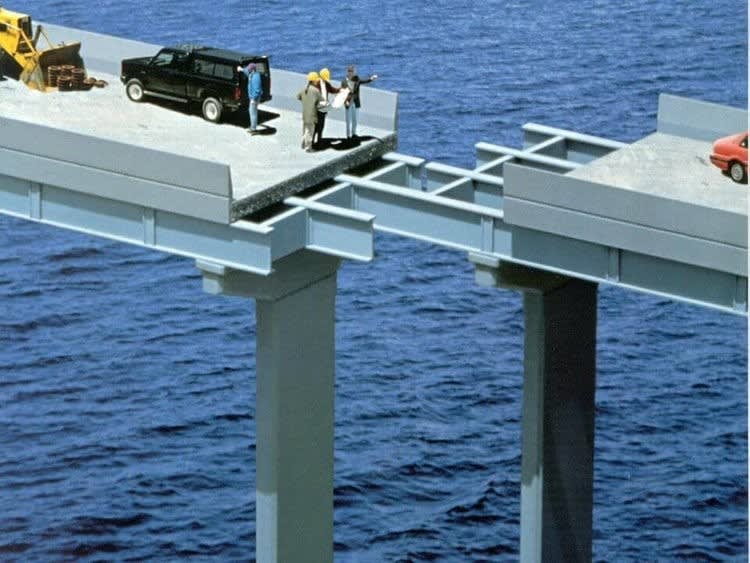 While bridges are built to foster smooth floor of movements, this right here shows the miscalculation of the architects. Instead of establishing a connection for vehicles, the bridge is poorly done, distastefully unconnected, and only serves as a falloff cliff! It's another clear example of why hiring the best people will lead to better results. This is an absolute disaster that will take a lot of money to fix. 
46. A Road To Nowhere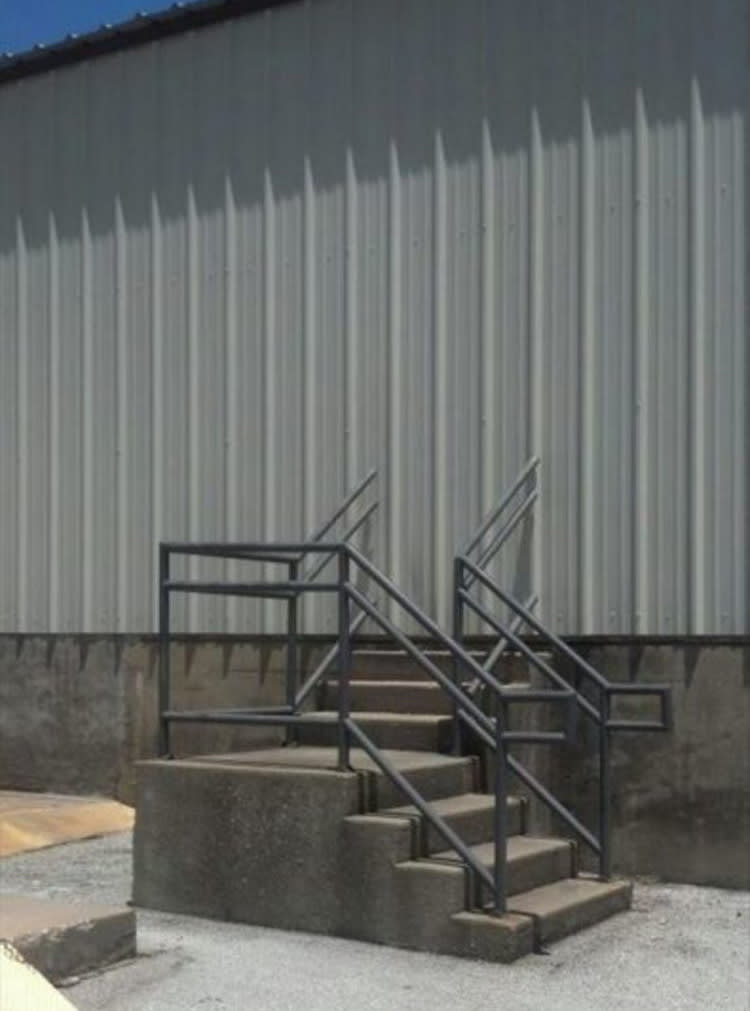 While some buildings need stairs, some stairs, well, don't need a building. Ardent fans of the suspense-magic-filled movie 'Harry Potter' might just be able to draw similarities with these stairs! However, it is not likely that these lead to Platform 9 and 3/4. Instead, they will cause a big headache. It's hard to say if the stairs were placed first, If the door was removed, or if it's some big Photoshop joke. 
45. Toilets Twinning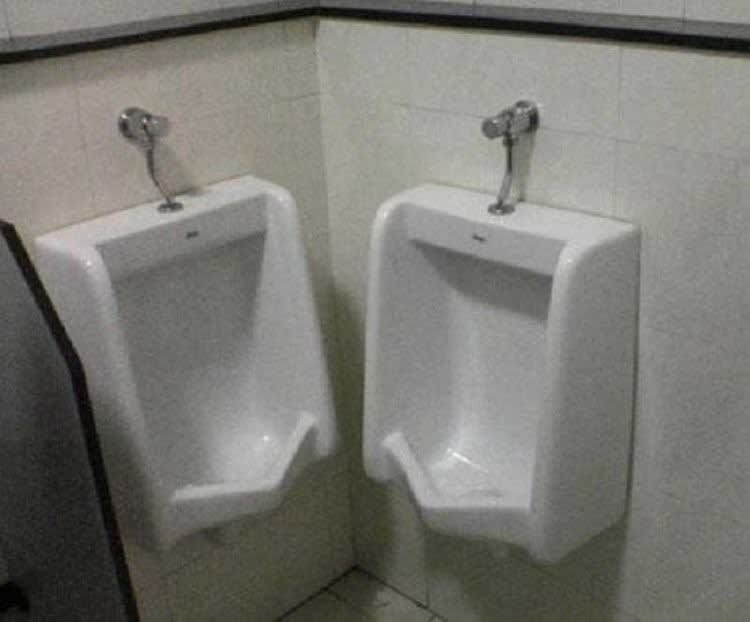 These toilets are like Siamese twins, and it is impossible for two people to engage in their business at the same time without brushing against each other. There's not even enough space for one person! In fact, most men will prefer not using the urinal right next to another person. The polite thing is to use the next one over. Whoever made this indeed loves to queue. 
44. Slide-dead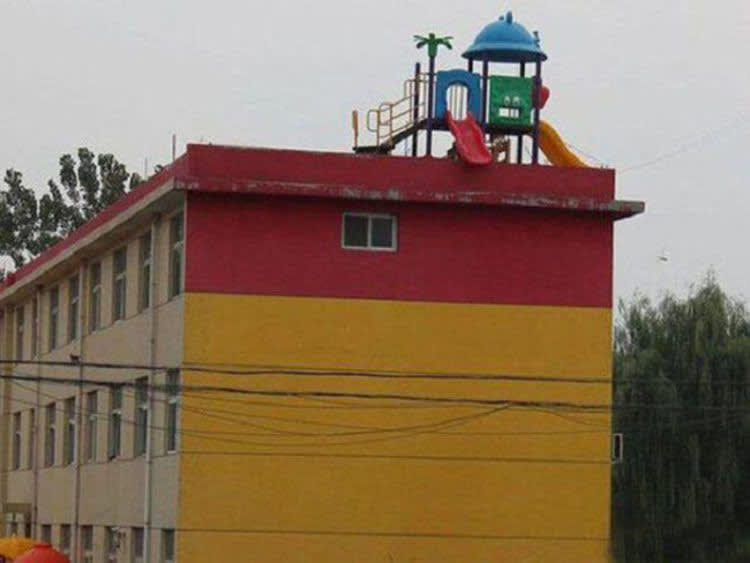 This isn't a death trap; there's nothing trappy about this, it is merely a death sentence! Anybody attempting the slide is looking for the swiftest way to kick the bucket! It's hard to say why anyone would place the playground on the roof instead of the ground floor, but this makes it even worse. In fact, the whole set is way too close to the edge, and no parents would ever allow their kids on it. 
43. The Mighty Has Fallen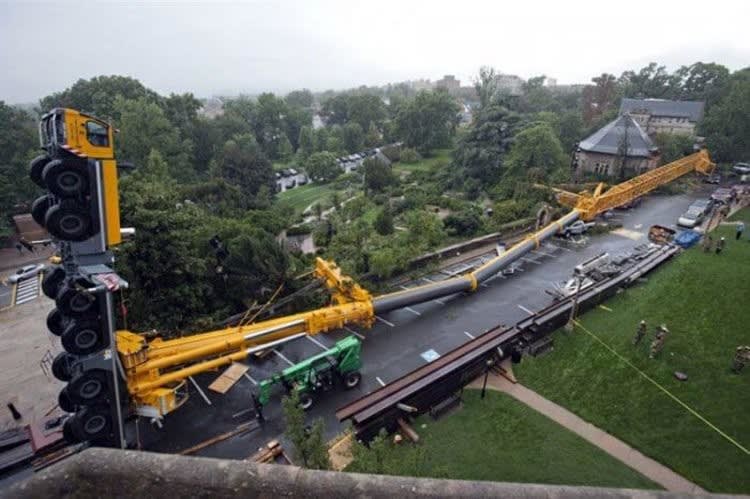 It may not be all laughs as this large machinery maintains an unbalanced position on the ground, after being driven by a human. Hope no fatalities were recorded! Cranes are supposed to help in construction sites, not be the cause of more damage. However, it's crazy to imagine what exactly happened to make this one fall on its side. Maybe, there were very fast winds. 
42. Too Much Work Makes Construction A Hard Task!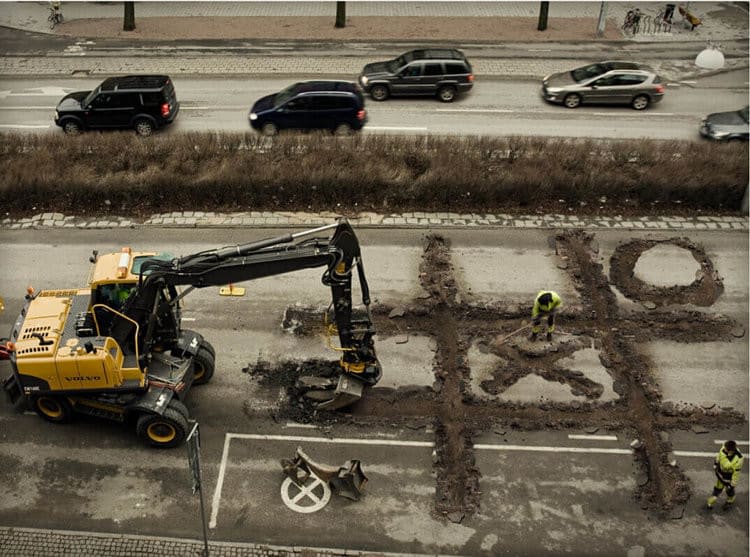 There's always a time for everything, but being on the job doesn't mean one can't loosen up on the stress. Oh wait, two can play the game. These gentlemen decided to engage in a game of Tic Tac Toe sing their equipment in a very clever way, and it's endearing. They probably did it for the picture, though, because it seems like even more work in the end. Who do you think won? 
41. In The Middle Of Something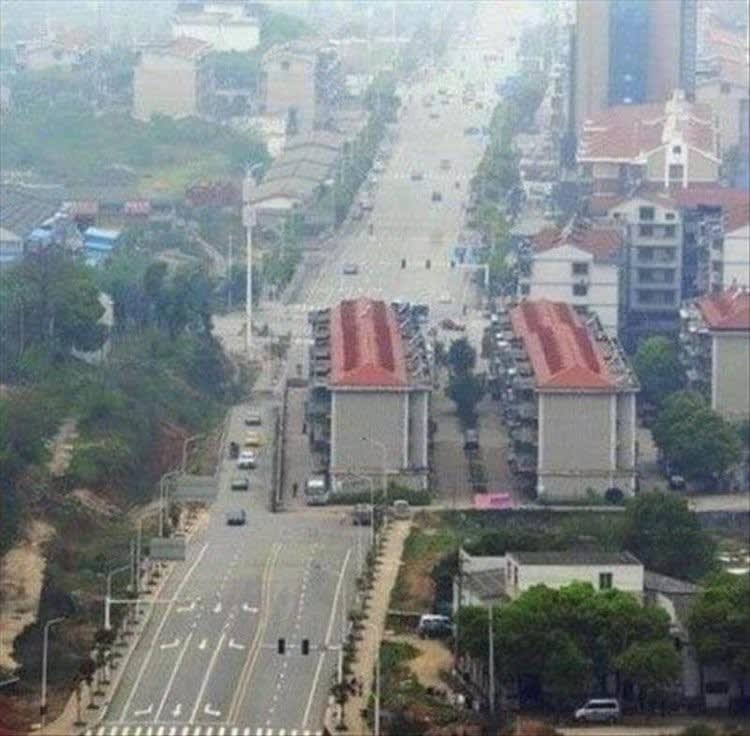 These buildings take up space on a busy road. We cannot stress enough that you need to hire the best professionals if you want the job done right. Clearly, the government's city planner was drunk during this creation, and the result is horrible. Also, it can be highly dangerous for drivers and the tenants in the building. What were they thinking?
40. An Alligator On Site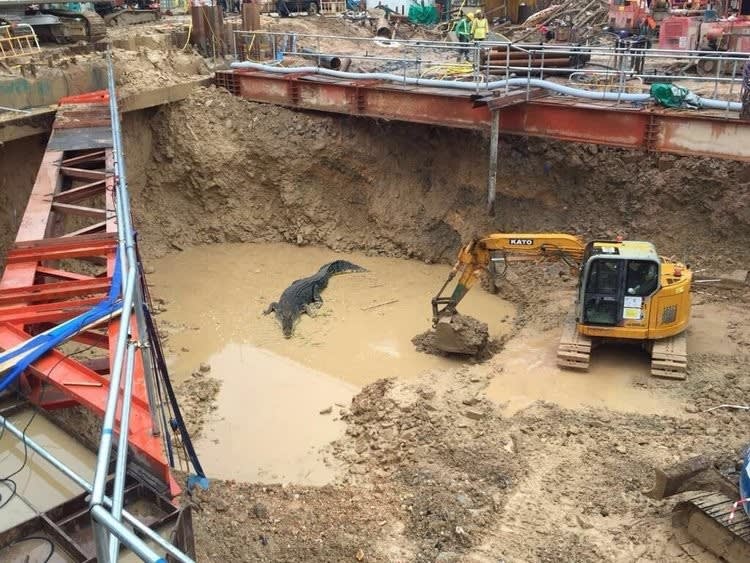 Why would an alligator be in such an environment? All construction activities were put on hold as no one would want to be a meal the sharp-toothed creature. How it got there? No one knows, but it seems like they are building on what used to be a river, and the big guy just wanted to be at home. 
It will be quite a task getting the humongous reptile off the site, all the best workers! 
39. To What End?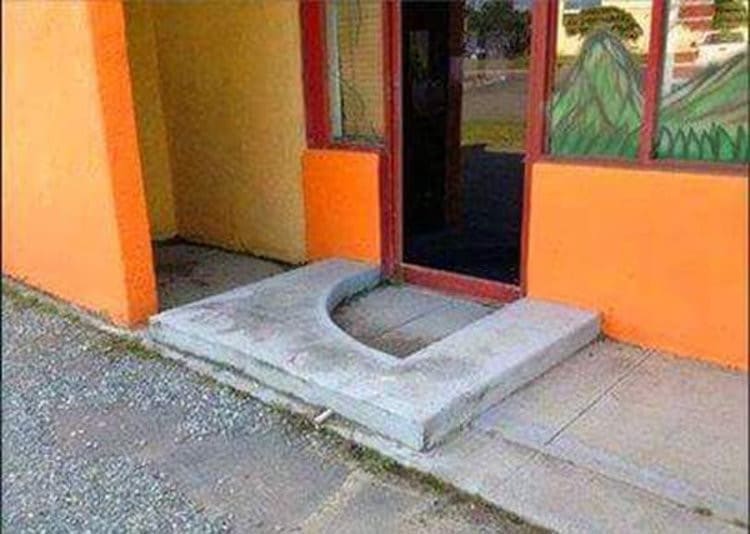 This doorstep design does not mean or even do anything, it's just there, sitting pretty. It offers no utility service! Maybe it is just a means to an end, as it is an entrance. But, it could also mean that the original plan was to build the house on higher ground, and it didn't happen correctly. Luckily, they managed to fix it without much hassle. It just looks odd now. 
38. Success Bound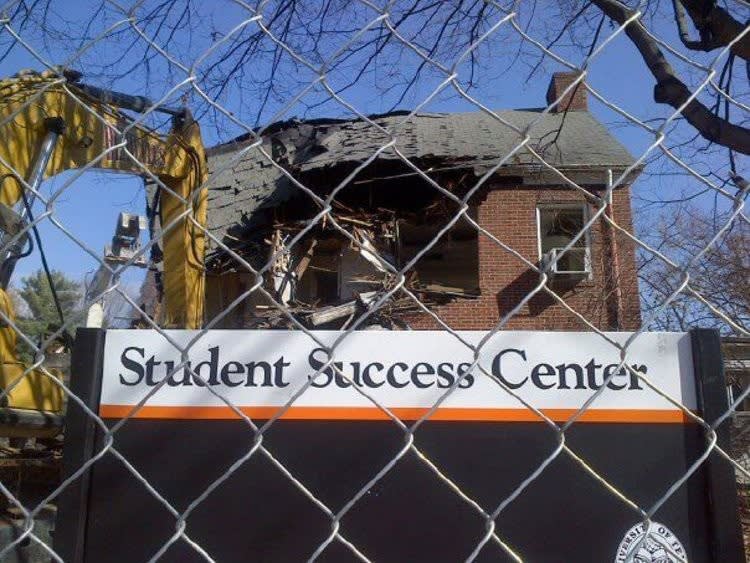 It seems like success wasn't in the picture for this institution despite their name. It takes a lot to make things happen, and the learning center is being demolished. We can only hope that it's being torn down to make something even bigger and better for the people. Anything that can help on the way to achieve our dreams is something to strive for all the time.
37. Wipes Apart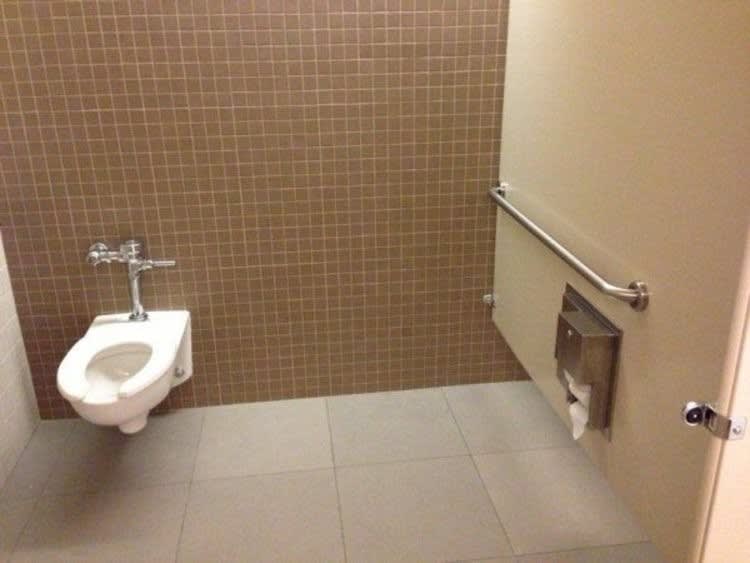 How can anyone think that this toilet stall works? Even the special ones for handicap people have normal designed. This is a waste of space, and there is no way someone can do their business and clean themselves when the toilet paper holder is so far away.
Obviously, whoever designed it is not going to win any architecture awards anytime soon.
36. No Road!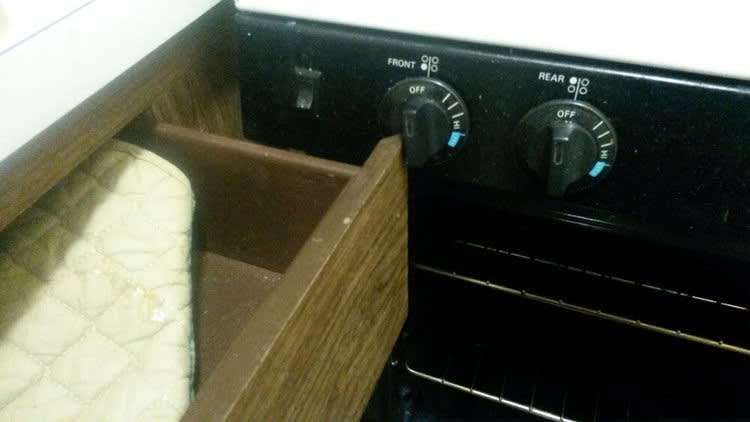 Blockage! No way here! Not after this inaccessible drawer being strongly guarded by a stove knob has spoken! Sometimes, there is little space in the kitchen of small apartments, but this is just ridiculous. the drawer will be left empty all the time just because it's such a hassle to open it. That's not efficient at all, and we would all complain to the landlord.
35. Two Purposes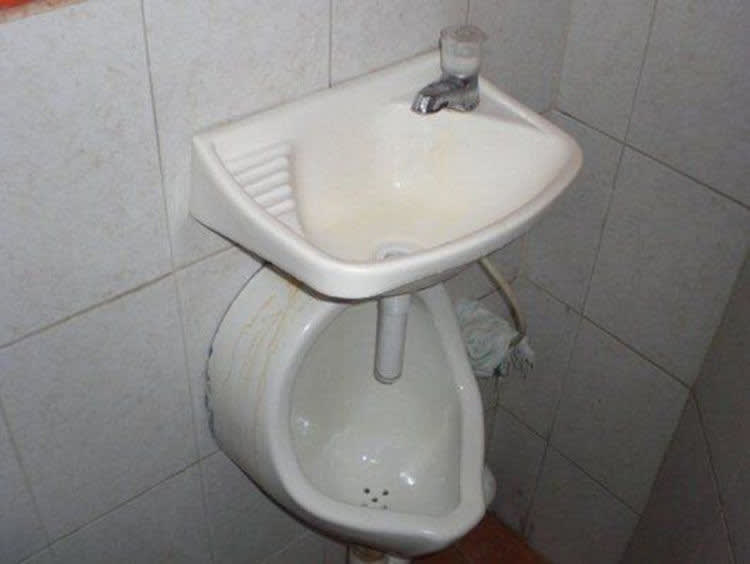 These pair of sink and toilet are hilariously attached yet disconnected closely. Some bathroom designs are looking for ways to reuse water and be more eco-friendly. This is not that disastrous, but it's not something anyone would want in their house. It just looks so ugly that no amount of efficiency will convince clients that it's a great idea. 
34. A Bridge Or A Glance-spot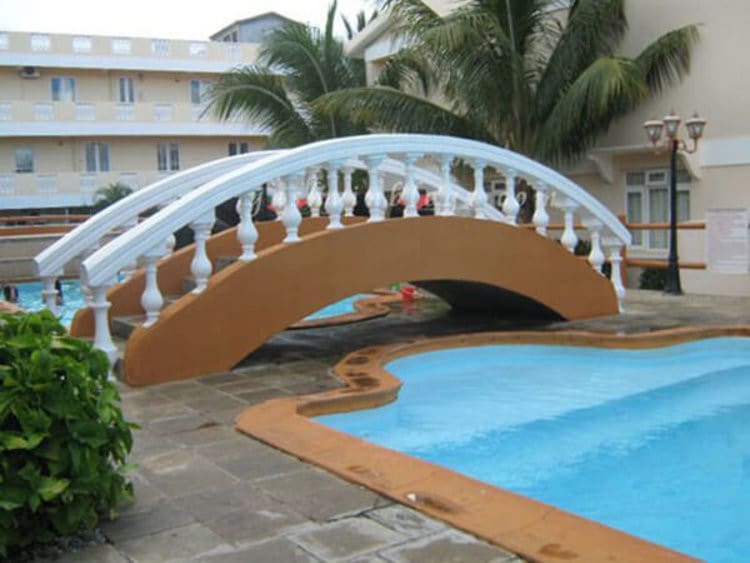 While bridges are constructed for connections over waters, this bridge is built to stare at the waters, and it is in front of a pool. Many pools have similar creations, except that you can actually swim under the bridge and to the other side. That is why the connecting structure is built in the first place. Otherwise, there is really no point in adding it, and it doesn't look good. 
33. A First Floor Garage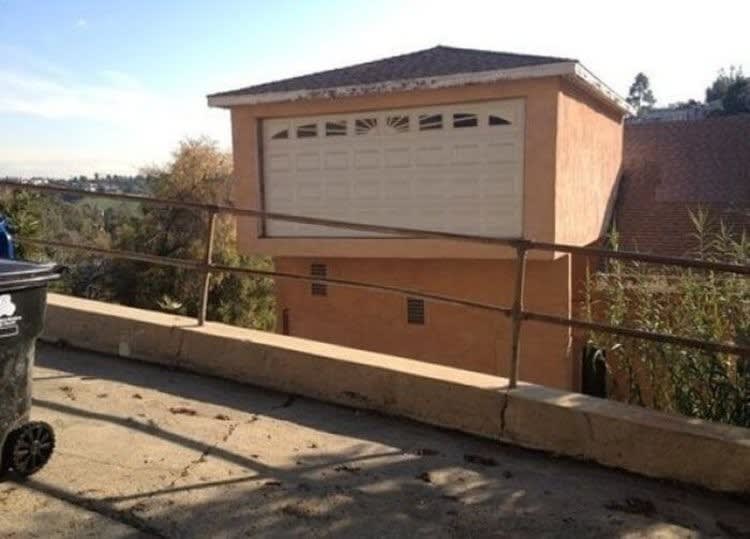 Obviously, these people are living in the future, and they secretly have flying cars to park in their second-story garage. There is really no logical explanation for this blunder, and maybe whoever owns the house didn't know much about architecture to complain about such an unnecessary addition. It looks awful, and it's also the source of extreme ridicule. 
32. Closely Knitted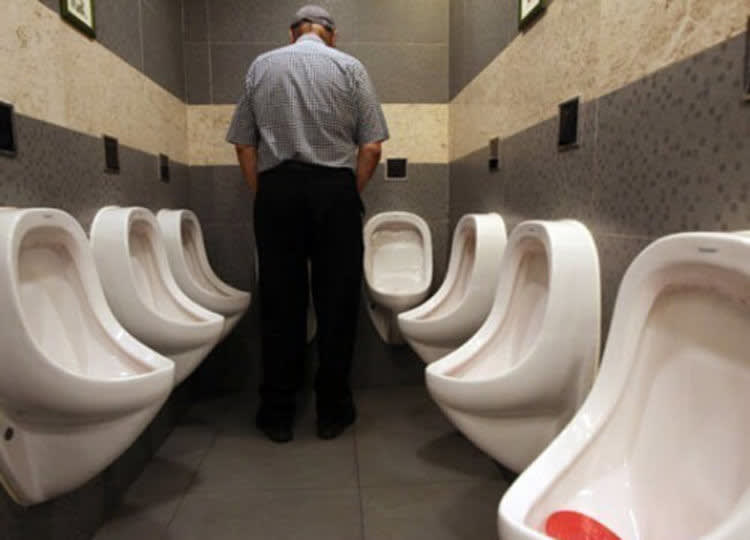 These toilets intend to stay together forever; they face each other and maintain just a few inches of space in between. Well done to the constructor. Say goodbye to queues. If you are not close to your fellow men, then this bathroom will change that immediately. You can easily make conversation while taking care of business. It's all about closeness. 
31. Bridge Or Slides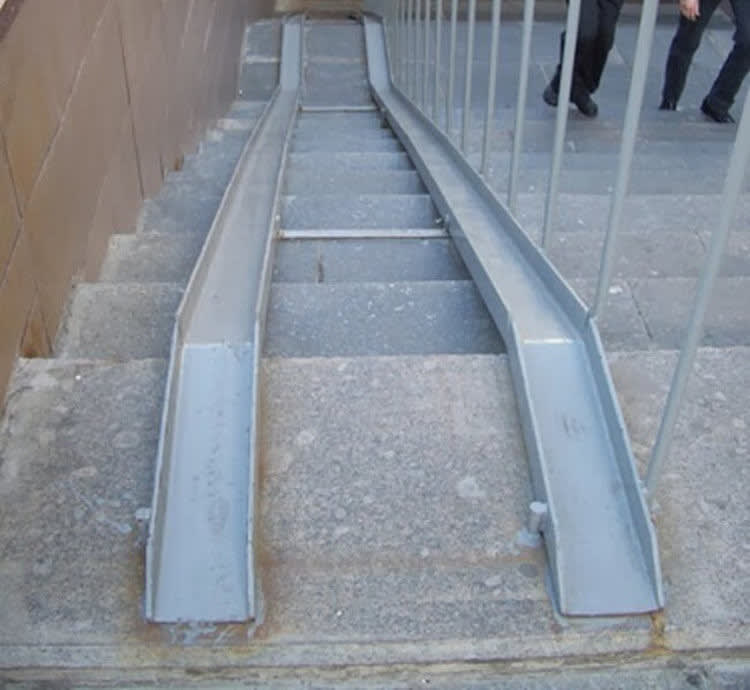 It is uncertain what this bridge-slide was meant for, but it could have been made for wheel-chairs. However, it does seem odd that they would make something that inefficient, instead of adding a ramp somewhere nearby. Sometimes, people will do anything crazy to save more money. 
30. The Other Way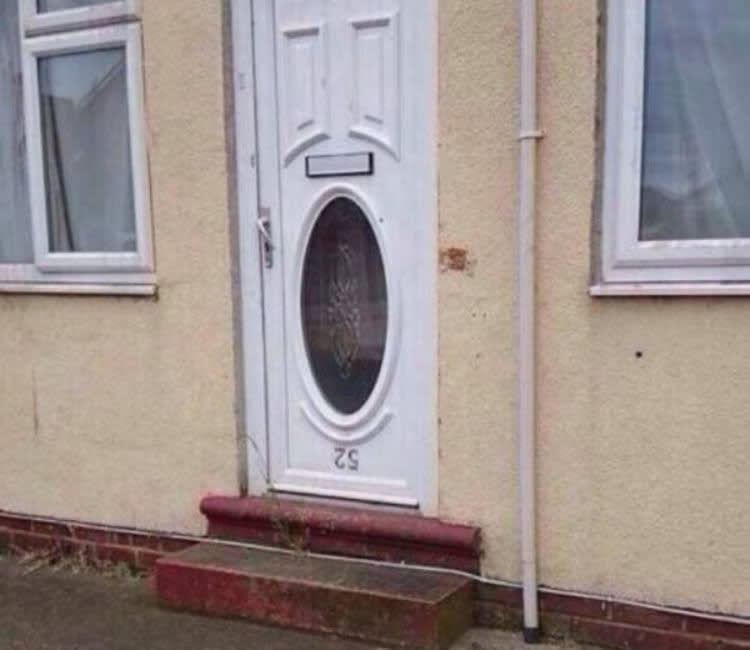 Whoever fixed this door has a peculiar sense of looking at things the other way. Let's try an upside-down way. Yes, perfect! But, we also have to wonder about the owners of the house that just decided to keep it that way. After all, they could just release the hinges and turn the door the right way. They might have gotten used to opening it to the other side. 
29. No Privacy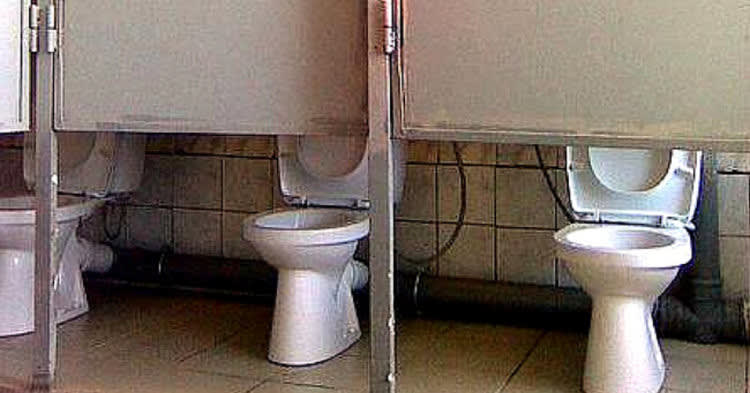 Everyone has to watch as it's going down! These doors don't care now, do they? What was even the point of having them there? Honestly, there is no reason to have doors now anyways, unless the architect wanted to see people doing their business, but not their faces. It's crazy how these mistakes just stay in place as if people are too lazy to fix anything. 
28. A Little Cringing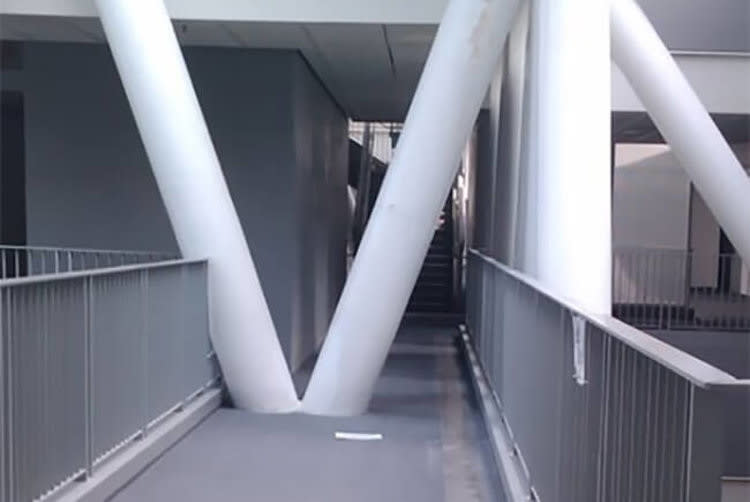 These tightly placed doors are only suitable for people who are really skinny. There is really no reason for these mistakes because the columns should have been there before anything else was completed. Therefore, we cannot imagine how such a huge blunder could have stayed there. The building also looks like a business place: so, that's inconvenient. 
27. The Leadway To The Unknown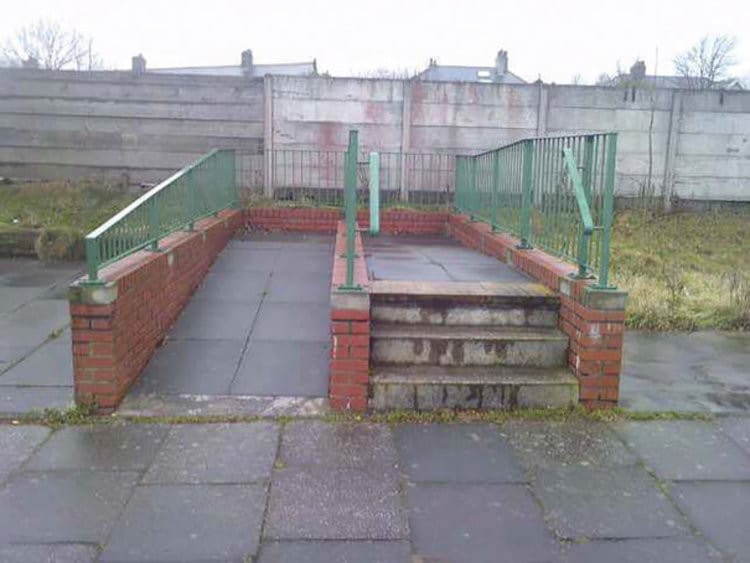 While placing ramps near buildings is important for handicap people, it is also important to create things that make sense. First, someone has to go up three stairs, and then they use the ramp for some odd reason. Or they can go up the ramp in a wheelchair and then go down the stairs. Either way, it's confusing.
26. Admitting Guilt?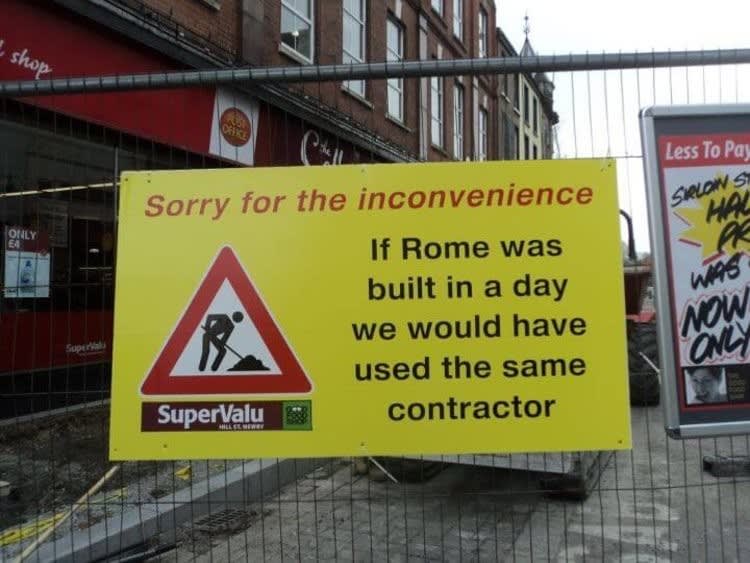 The set of these experts not only know about construction but read a bit of history. To this end, they justify their slow apprehension to the situation. How logical! It's also the best kind of hilarity to explain the delay of construction and apologize to passersby. "Rome wasn't built in a day" is a very common saying in the world, but we have never seen it used that way. 
25. Too Much For Too Little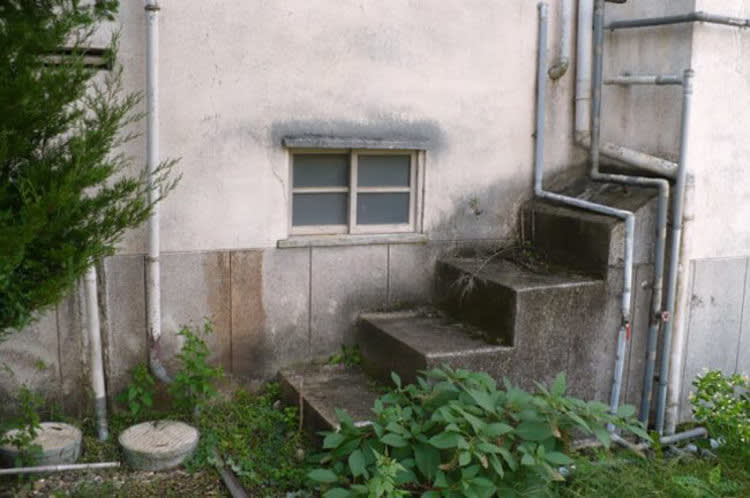 With such a colossal depository of cement, the constructor might just have built another house, but he thought it cool to create a set of stairs leading to well, nowhere. It would have been a good idea to build a door to the backyard through it, but the pipes are in the way. However, the stairs can be used to reach them in case there is a leak. 
24. Why Build A Gate?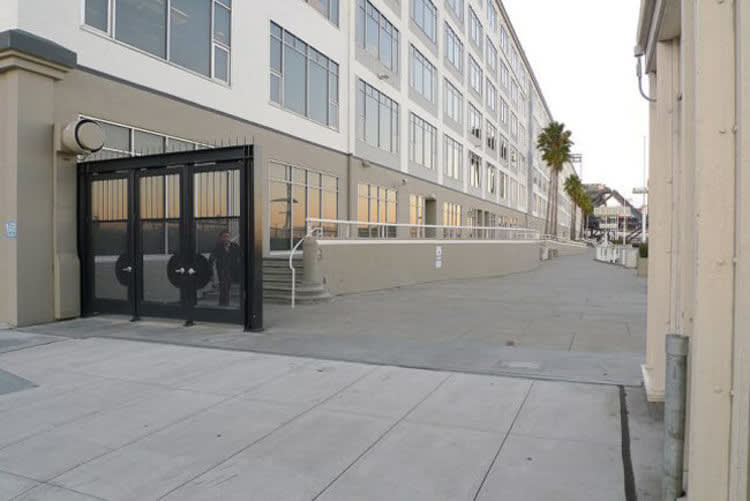 This gate was put up to make people walk towards the left and not straight. How smart! All kidding aside, gates and fences are supposed to prevent strangers from going where they are not wanted, and this might be a case of a renovation instead of a mistake. However, at the time the picture was taken, it looks pretty funny. Keep scrolling down to see more crazy constructions!
23. Time Travelers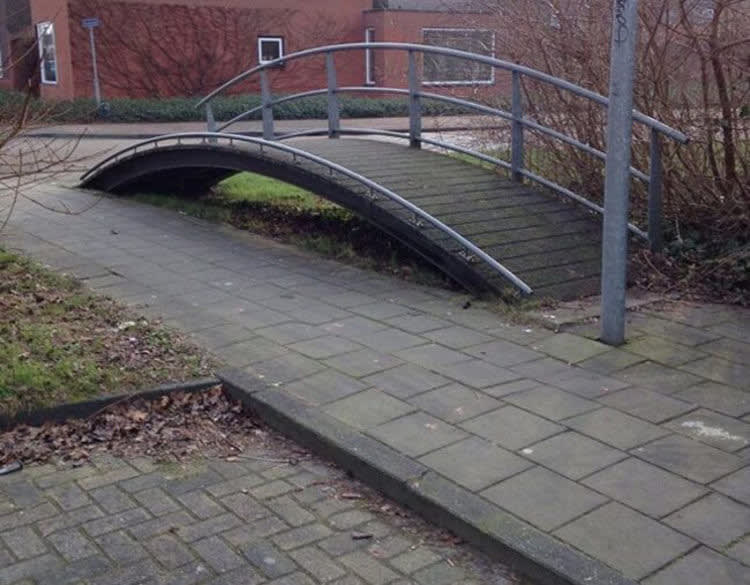 Eureka! This is from the future, built for the safety of individuals traveling from one point to another on the water that will flow under this bridge. 
While everyone is worried that the sea levels are rising due to climate change, this bridge wouldn't be much help in that aspect. The water will probably overflow the structure, and we would have to swim anyway.
22. Tunnel Purpose?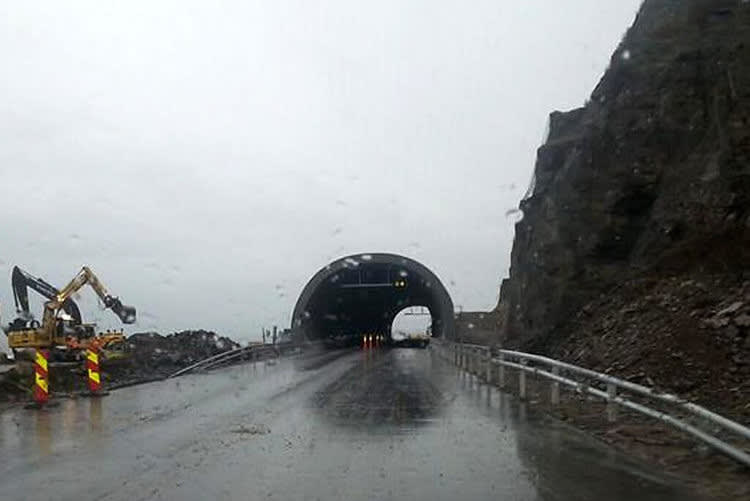 What this means exactly, no one knows. The mystery of this tunnel is genuinely enshrined in its construction. Maybe it was built to keep out rain or for some form of protection. It also looks like the remnants of an apocalyptic accident where the mountain was completely eliminated from sight. It might also be a trick of the photograph. Maybe, there is something there in reality. 
21. Stucked Volvo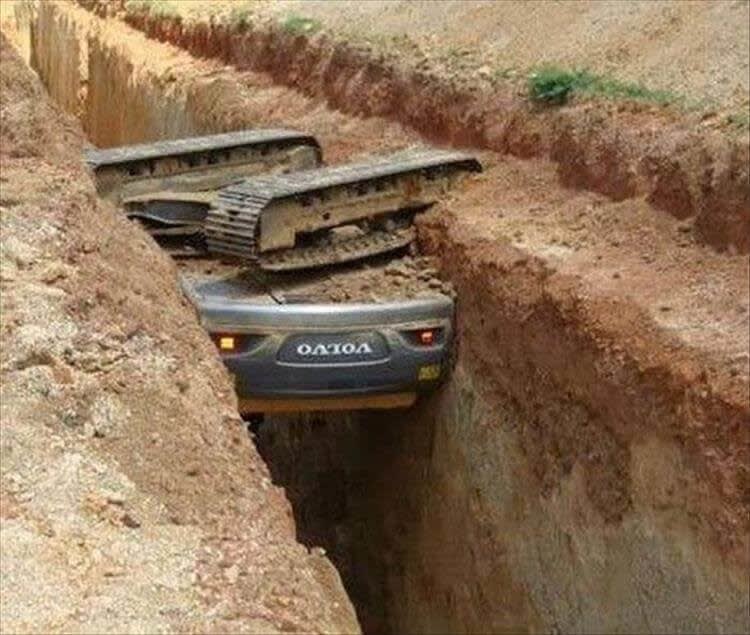 The vehicle appears to be waiting in line for some rescue. Hope it comes in time. Furthermore, it's a bit weird that those wheels are on top of a normal-looking car. It could be a specialized vehicle that has seen better days. We just hope that no one got hurt when the accident happened. 
20. Quite A Space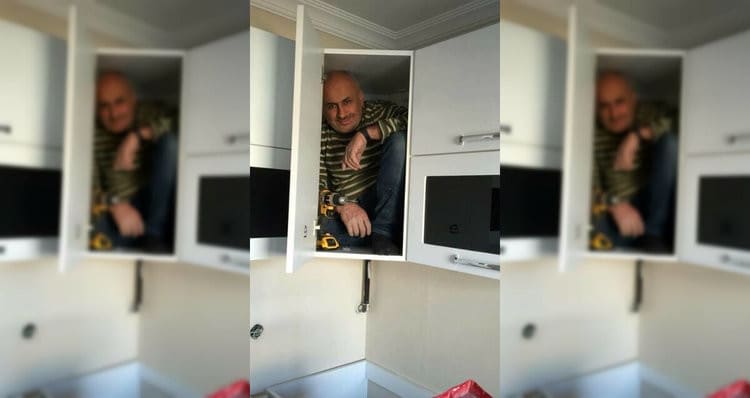 This kitchen cabinet is equivalent to a bedroom! The magnanimity is alarming, and it's not just the kitchen stuff that can go in, a human can fit in perfectly. It may just be a good hiding spot. So peek a boo, now you see me, now you don't! 
This is not so much a construction fail, but rather a waste of space. Because the shelf is in the corner, it might be inconvenient for people to store stuff there, and a good design takes advantage of space in the most efficient manner. 
19. In The Way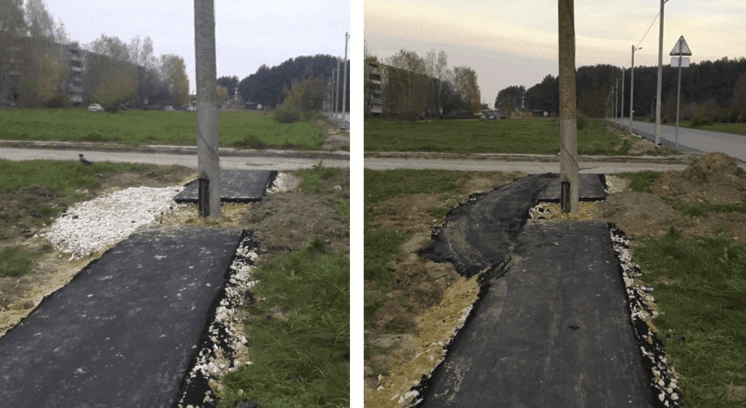 This road construction is utterly miserable. The pole is a barrier, and the road is in poor condition! However, the workers thought it wise to leave and create another path. If this isn't this description of where there's a will, there's a way; we don't what it! Additionally, we also have to consider the fact that the pole was not removed for a specific reason. Maybe, there is something below that uses it. However, the weird side-road looks awful. 
18. The Perfect Road Sign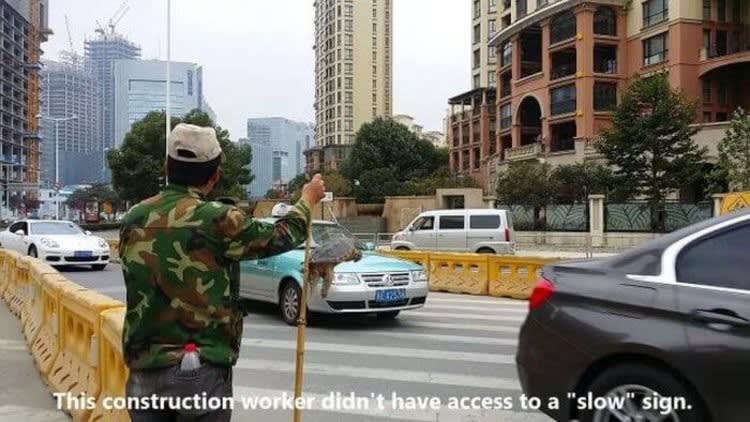 Necessity is the mother of invention, and when faced with a challenge, some people find the most creative solutions to any problem. We don't know if drivers can actually see the turtle from far away, but it's a good way to laugh when there might be traffic due to workers on the way. On the other hand, we hope that the turtle was not mistreated in the process. 
17. An Upper Frame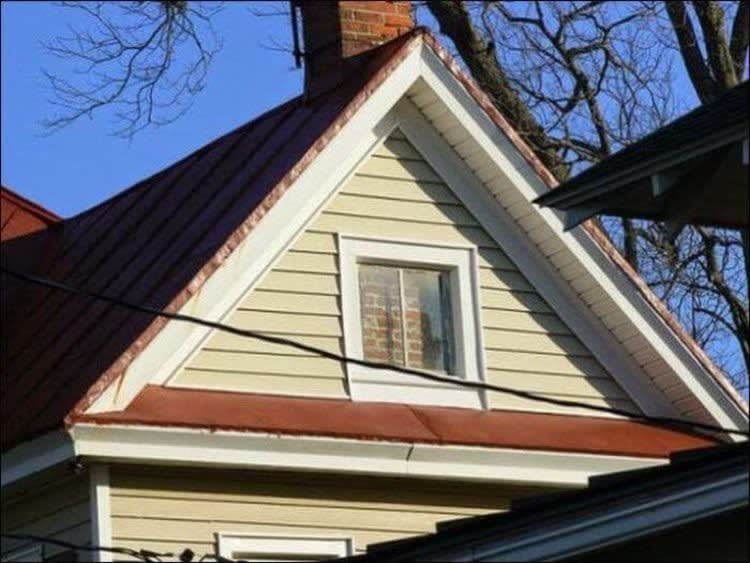 Some people might think that maybe the owners don't want anyone to see inside their home, and that's why they built that brick wall by the window. However, if you look at the ceiling, you can see a chimney coming out. This means that either the architect or the owner added a chimney that was not planned in the original design, and someone forgot to remove the window. 
16. Justice Overserved?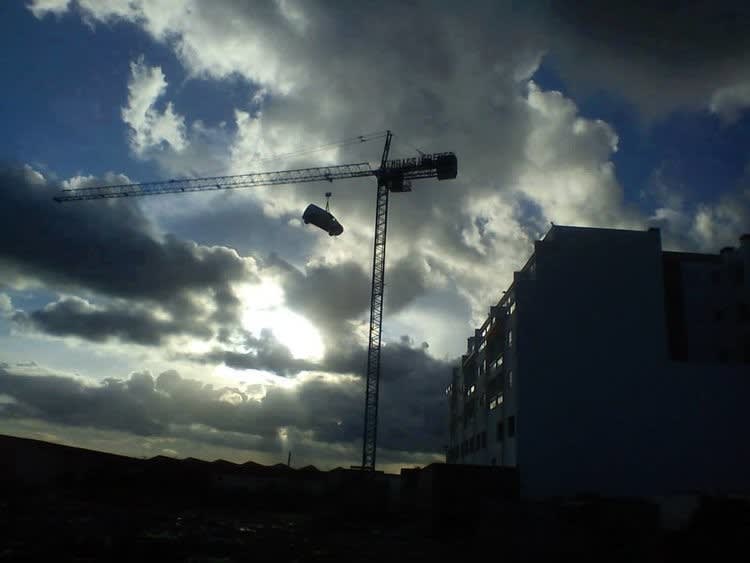 It's hard to tell what the real purpose of lifting a van with a crane is. Maybe, the owner left it parked illegally, or they needed to airlift towards the roof of that building. Either way, something weird is going on, and we just hope that no one was inside the vehicle at the time. That would be insane!
15. Words Speak As Loud As Actions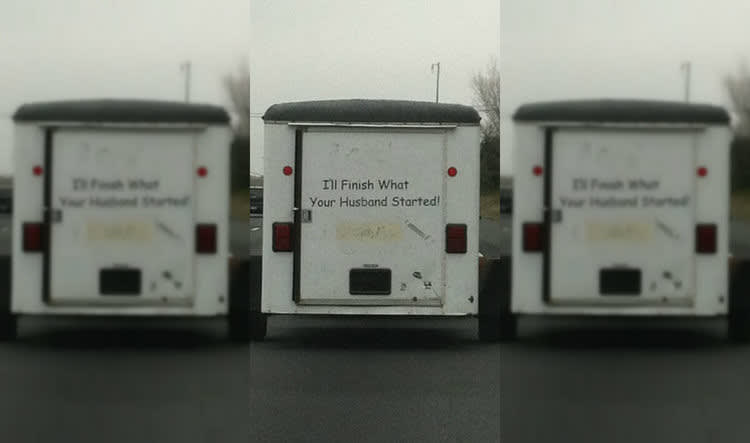 Everyone knows that sometimes spouses start DIY projects that they never end up finishing, or they say they will fix the sink but forget in the end. That message is perfect for women looking to have a finished home, and it is clear that this company knows their clientele well and how to advertise to them.  
14. A Little Too Soon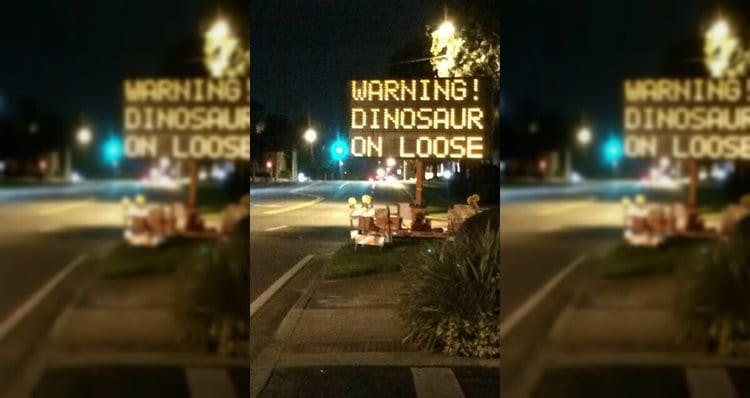 So a dinosaur is on the loose, and the warning sign is so close to the location? Just how many people were eaten that day? Many questions that beg for an answer. We heard that Jeff Goldblum did this. Hopefully, the sign served its original purpose of keeping people away, but we bet there might be a few that were enticed to get close to see if there was really a 'Jurassic Park' situation going on. 
13. Pull-ups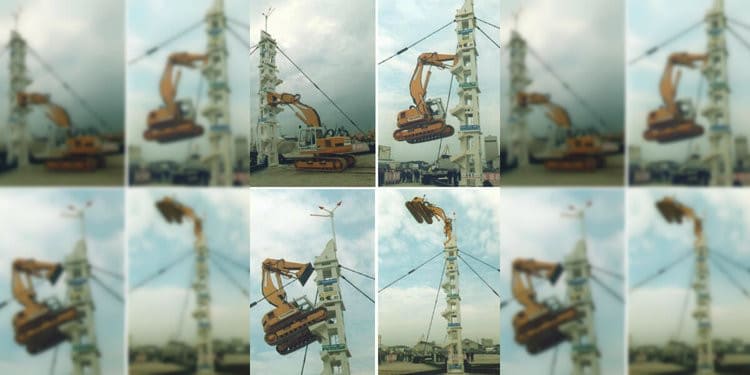 We cannot imagine how much experience you need with a forklift to be able to perform such as stunt successfully. While it doesn't look like it served a construction purpose, it does make for a mind-blowing moment. Additionally, it really tests the strength of the structure because the machines are pretty heavy. 
12. Observing Siesta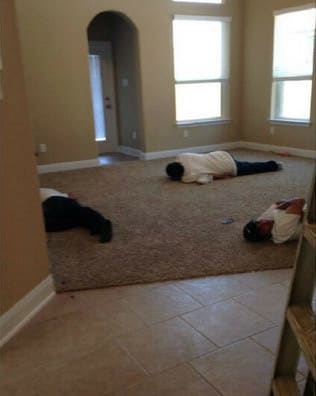 These workers seem tired and thought it wise to lay down to rest effortlessly even though their A-game is required to get the job done. Well, kudos to their ability to sleep with no worry that their boss might catch them. When you are tired, even a rug is a good place for taking a nap, but hopefully, they got everything done quickly. 
11. Words Speak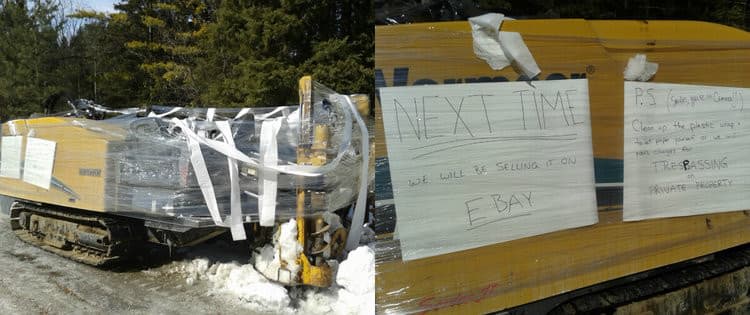 The first sign says, "Next time, we will be selling it on eBay", and the second sign is hard to see, but talks about private property, which means that someone left that machine on someone else's place. Naturally, it's an inconvenience because they are not easy to move. The subtleness in the threat-warning sign is just great, don't you think? There is no doubt that the message would be well-received.
10. Stuck On The Ceiling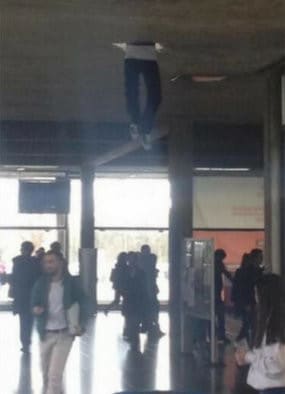 There is a good chance that the floor failed while this person was walking on the second story, but one crazy detail is that not many people below have actually noticed. It really makes us think that we don't look up that often. Back to the matter at hand, the material of the building is completely faulty, and everyone should leave immediately. 
9. Walls Have Eyes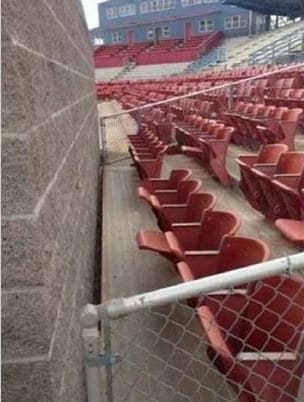 These seats are being barricaded by the wall. Thus, it will be impossible for the spectators behind these chairs to see what's going on. But the construction workers thought "if walls have ears, then they should have eyes too" These onlookers may be able to see through perfectly! Oh, that's right, eyes won't even help, the whole thing should just be removed!
8. Attention Please? Oh No Attention Was Paid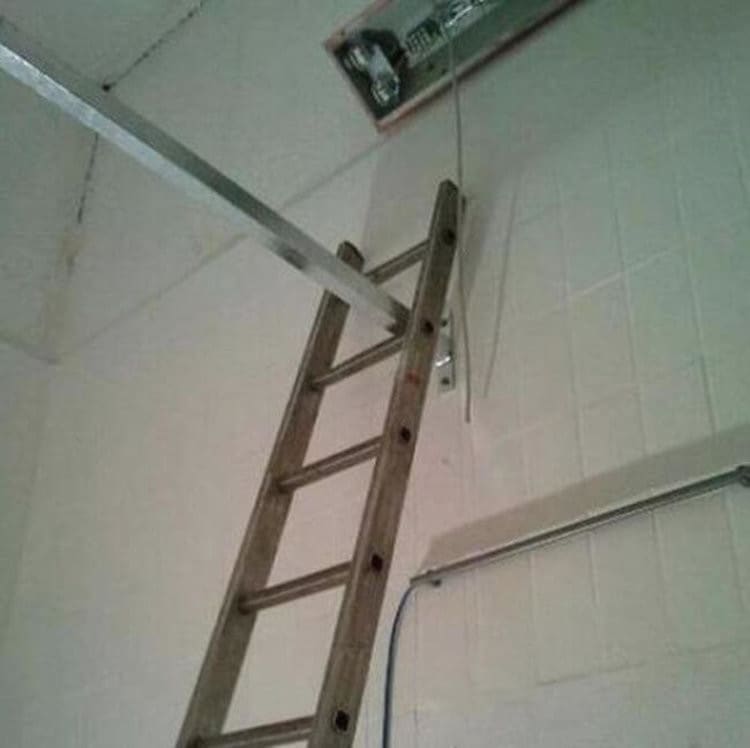 The ladder might have gotten stuck because the owner wanted it that way, or the construction expert was in a rush to go home and didn't care about leaving a good impression. However, something will have to be broken before they can fix this problem unless they decide to just leave the ladder there for future use. 
7. Controller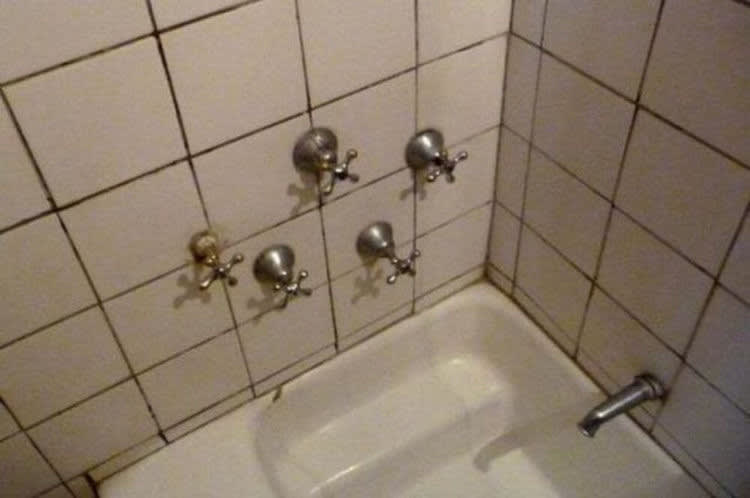 Taking showers or baths in someone else's bathroom can be a bit tricky if we don't know how the nozzles work, or if there is some problem with the plumbing. However, this image takes it to the whole new level, as getting clean was the equivalent of launching a rocket. There is really no reason for so many nozzles, and we wonder what the architect was thinking. 
6. Double Handle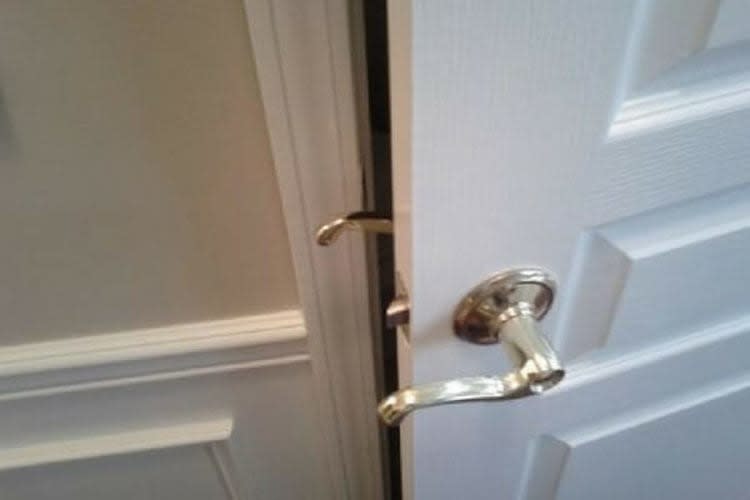 It seems that more than one construction site has had problems installing doors and their accessories. Maybe, the newest person in the crew took a shot at it, and it failed miserably. Now that the door won't close, there is really no use for the handles, and it can be a pain to remove and add them again. The owners might have left it like that to avoid the hassle. 
5. An Apt Sign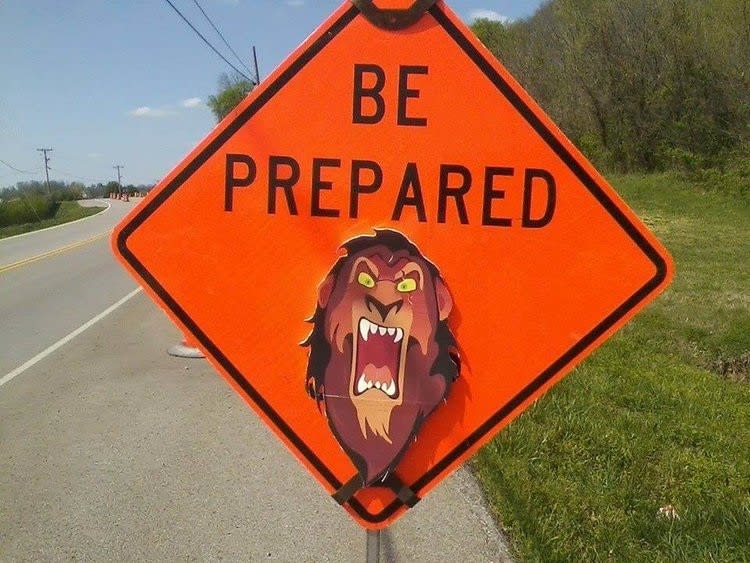 Fans of 'The Lion King' are familiar with Uncle Scar and his "Be Prepared" song. This sign is just on point. You know what? Just BE PREPARED! It may be unsafe to continue the journey, but that's what the sign says.
As kids, we identified with Simba and Nala, but as we grow older, it seems like Scar was more relatable in the end. The sign is clearly not just a road message; it's something everyone should take to heart in real life!
4. Bored In Line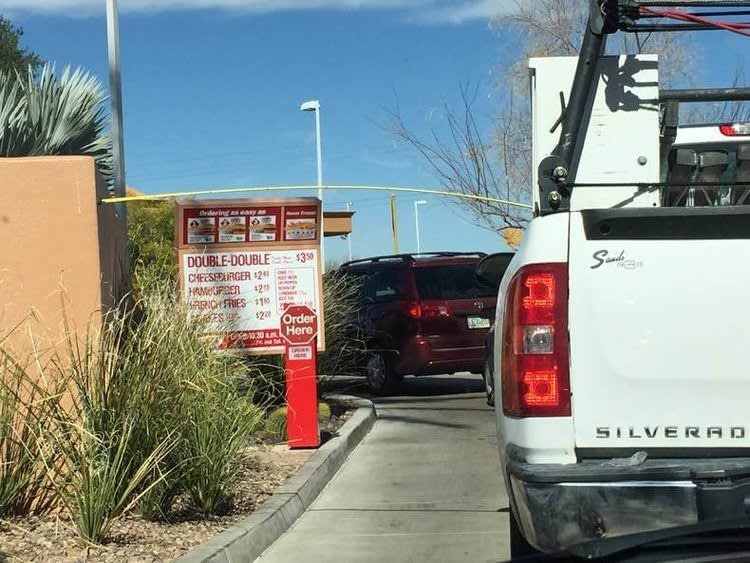 People find ways to entertain themselves on the road and on drive-thrus, and this guy captured the person in the front car, who decided to use his measuring tape to see how far away from that wall he was. It might have seemed like a good idea to him at the time, but looks weird to the rest of the world out there. 
3. Halt! No Road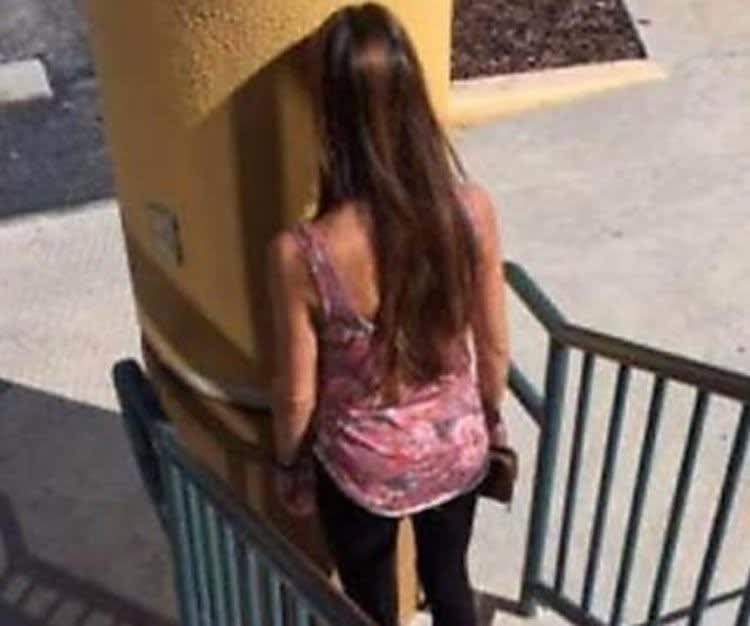 This is not the kind of fight anyone will win, and we have to wonder why someone placed some stairs right in front of a column. Normally, those are built before anything else unless they added it because of earthquake damage. It's just bizarre when these things happen, and it's clearly more common than you think. 
2. Kiddies Treat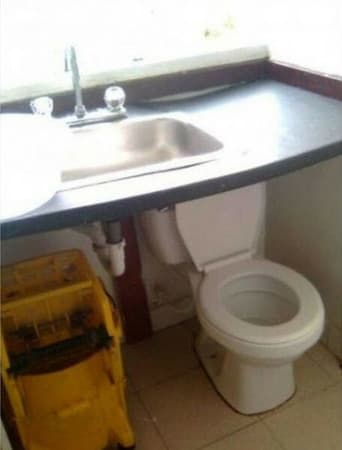 This is another example of how people are trying to reuse water to flush the toilet, as the used water from the sink will fill up the tank. But it seems like the designers were not taking into account comfort or have never used a toilet before. How is someone supposed to do their business when there is a surface covering that part? Apparently, we all have to poop with our chests pressed to our legs. 
1. A Ground Bridge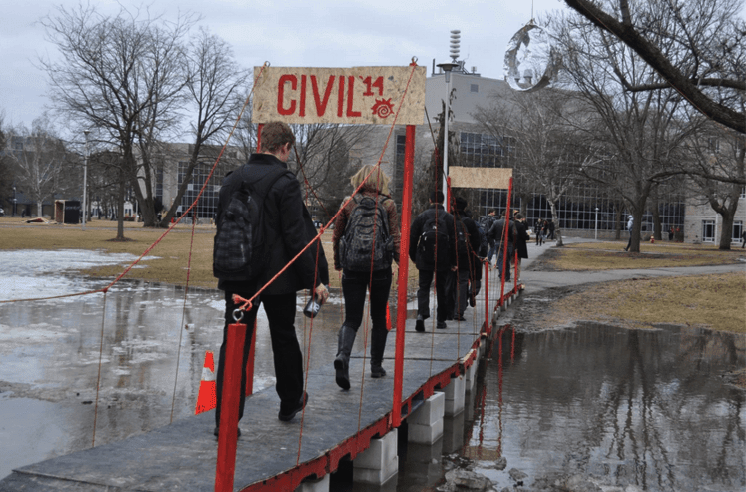 Sometimes, nature plays tricky things on people, and there was a flood near this school that prevented anyone from getting inside. Luckily, the trusty construction workers placed some cinder blocks together to solve the problem. We hope they were able to find a long-term solution because this structure looks like a kid's project made with popsicle sticks. It can be dangerous for students. 
It is unbelievable that fails like this genuinely exist. Inevitably, there were one or two things that piqued your sense of laughter; care to share? Let us know what number gave you a hearty laugh. Comment and be kind to share with a buddy to make their day!
Source: 24/7 Mirror
Get More Related Articles Here: