Body Language Expert Spots One Sad Difference Between Eugenie and Harry's Wedding Photos That Says A Lot About Relationships Within Royal Family
Today we take a look at the difference between Eugenie and Harry's wedding photos, which was revealed by a body language expert. Princess Eugenie's official wedding photo seem to highlight a vast difference between her immediate family and that of Prince Harry.  Princess Eugenie has today shared another intimate snap from her wedding day on Friday. The 28-year-old daughter of the Duke of York has now released five beautiful images from her big day. 
Body language expert has noted one fundamental difference between her official portraits and those of Prince Harry and Meghan Markle (read also: Meghan Markle And Prince Harry's Body Language During Pregnancy Gives Experts A Lot Of Food For Thought), and it paints a rather sad picture. After all, it would be challenging to stop yourself from drawing similarities between the two weddings, which took place just five months apart in the same chapel in Windsor Castle.
So, let's take a closer look at these photographs and see what all the fuss is about. 
Their royal photographer took this photo of the Duke and Duchess with the bridesmaids and page boys in The Green Drawing Room of Windsor Castle. Don't they look absolutely beautiful? This would be a dream wedding for most of us. 
Look at all those adorable kids! They certainly make a beautiful family portrait, and the fans are in awe at this stunning picture. We hope these kids are as angelic as they look behind closed doors with their parents.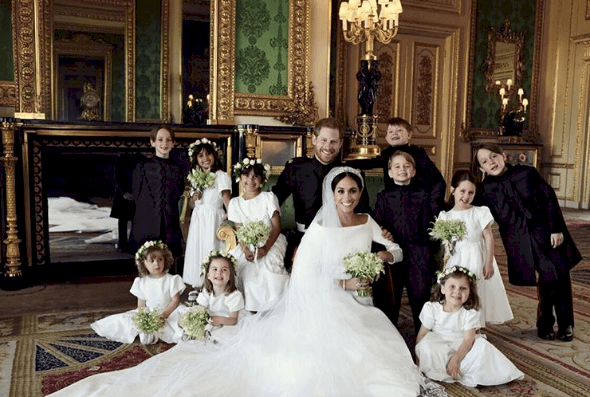 Princess Eugenie and Jack Brooksbank released this official photograph from their Wedding Day. Prince George and Princess Charlotte were Page Boy and Bridesmaid respectively for the ceremony at St George's Chapel, Windsor Castle.
Click 'Continue reading next chapter' to find out about the sad difference between Eugenie and Harry's wedding photos!