Marvel Is Preparing A Whole New Level Of Carnage. Venom's In Trouble
Carnage and Venom have been iconic enemies of Spider-Man for a long time, but in a new version, Carnage is going after every Marvel character that has ever hosted the symbiote like Deadpool, Wolverine, Rocket Raccoon, and more.
The comic book version was already fearsome enough, but now, he has taken on the mantle of God of Symbiotes to become the best version of Carnage ever seen. Eddie Brock has discovered his plan, so now we know that Carnage is looking for everyone along with a symbiote army, and they all will have to face the Cosmic Carnage.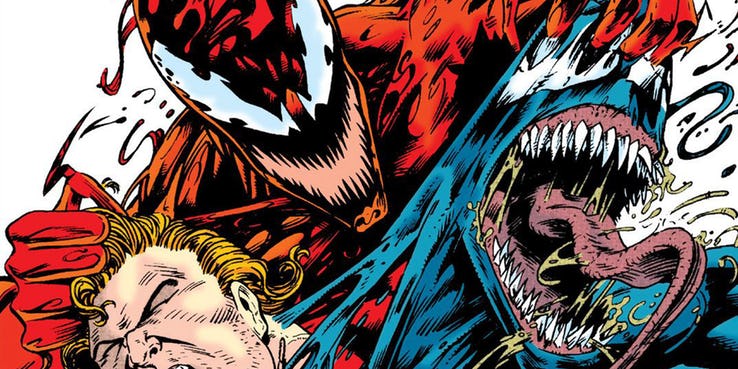 How did he become the Symbiote God?
There aren't many villains in the world of comic books quite as fearsome as Carnage, but writer Donny Cates has imagined an even deadlier version in the latest versions of 'Venom'. This happened after they revealed that Venom symbiotes are not really an alien race, but creatures born in the living void, the empty space that existed before the universe was created.
This empty cosmic land was under the command of Knull, the elder God of Symbiotes, whose life force still lives within all the symbiotes ever created. It's easy for many to believe in this god that came before anything else, which led to the formation of a cult, and also that all life must return to that abyss someday. The corpse of Cletus Kasady in 'Web of Venom: Carnage Born' was taken by this cult.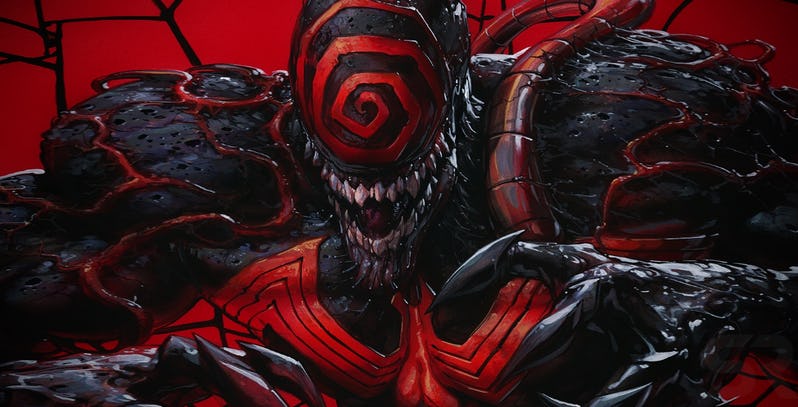 They were going to use it as a vessel for Knull, and it was the perfect idea because no other being had mixed with Carnage as easily as Cletus. Furthermore, it would mean that part of Knull's essence remained within that body. However, the people of the cult had no idea that Carnage would do what he wanted.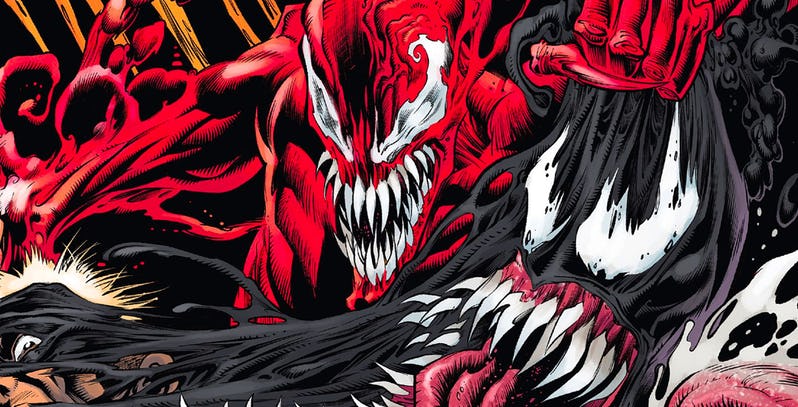 He has set out to eat every Venom host
Carnage screamed inside the mind of Cletus Kasady to overcome Knull and take over once again, discovering that he had even greater powers than before his death. The members of the worshiping group told the supervillain everything they had researched, which found that every time a symbiote mixed with a host, it left behind a bit of its essence for the symbiote hive mind.
If Carnage were to eat all those traces of other symbiotes, returning them to the source, he would become more powerful, and eventually able to defeat Knull again. The cult planned to find all the traces of symbiotes on Earth to return them to Knull, and that issue ends with a scene of Carnage looking at a board with the faces of all those who had previously bonded to Venom.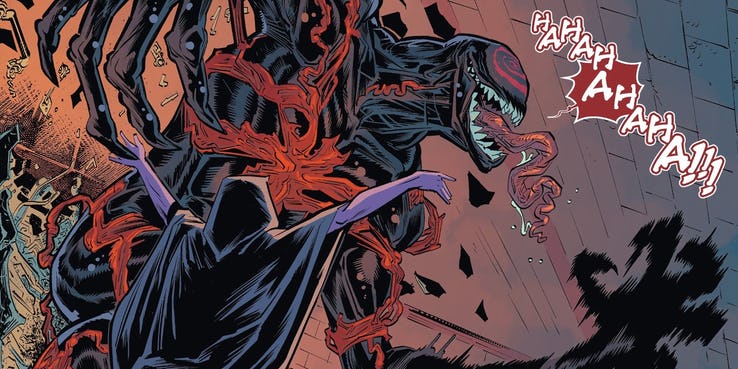 Carnage's army
Now, this is a daunting task for any character, even Carnage, but it could mean a whole new era for the Marvel Universe. Cletus Kasady becoming Carnage in god form would never go unnoticed by the other superheroes in that world such as the Avengers, so this would become not only Spider-Man and Eddie Brock's problem, but everyone's. After all, the "carnage" would be unparalleled if he is going after so many people.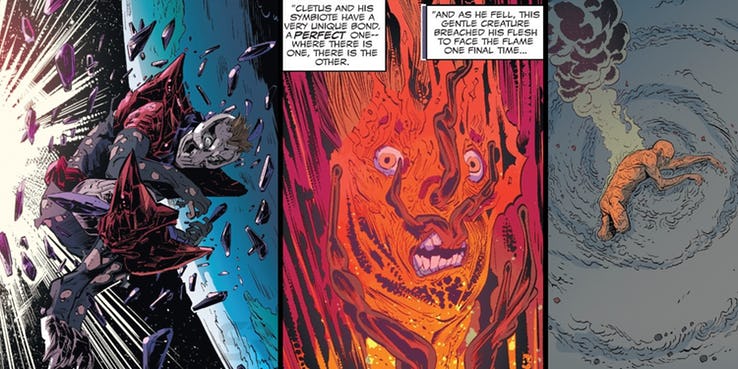 Furthermore, Cletus might be deranged in many ways, but he knows that he cannot accomplish this task by jumping into the fray and going on a killing spree. He must play things smart, and that is why he still hasn't come out from his underground lair, as he is currently residing in the sewers of San Francisco after following Venom's lead.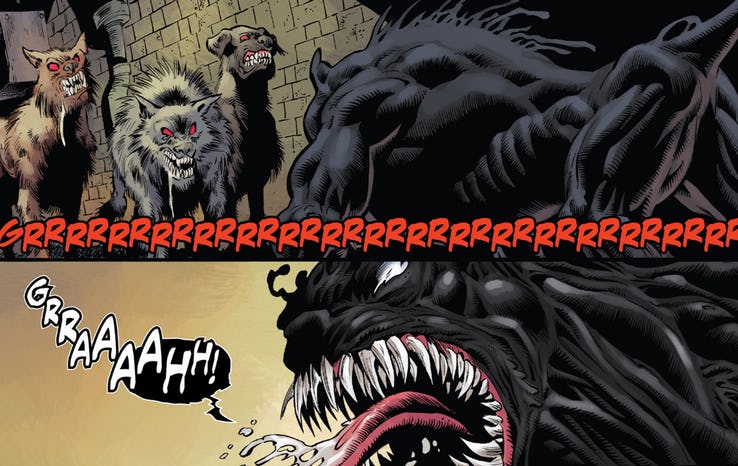 The difference is that Venom made friends with the homeless people that lived in there, and Carnage has managed to turn them into slaves. In 'Web of Venom: Unleashed', Carnage shows a new superpower, though we are not treated to the most gruesome parts of it, the gist is that he sends a worm up someone's nose. It borrows into that person's brain; now they are controlled by Carnage.
However, they are not that smart. The worms repeat the name of a target to steer the subjects to find that person. Luckily, Eddie Brock has his own symbiote that can sense trouble before anyone else, but the bad thing is that he would hate to face Carnage once again. Of course, Eddie is Carnage's first target for sure.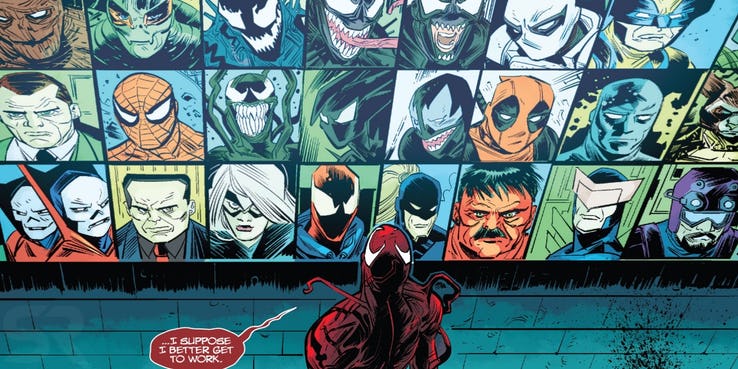 Are Eddie Brock and Venom the only hope for Marvel?
In 'Web of Venom: Unleashed', Venom can detect the presence of Carnage by his smell, even if it's faint. It makes sense because Cletus and Carnage have been the mortal enemies of Venom and Eddie since forever. Even just a whiff of the supervillain shows Venom an image of being him and Eddie being torn asunder by Carnage's brutality.
Furthermore, as if that was not enough bad news for Brock, the Venom symbiote has decided to remove the brain worms in the slaves' brains, and that might have alerted Carnage that they already knew he was up to something. Additionally, Brock did not even know the extent of Carnage's new powers, but after Venom removed all the brain worms, leaving a trail of blood behind, the cat was out of the bag.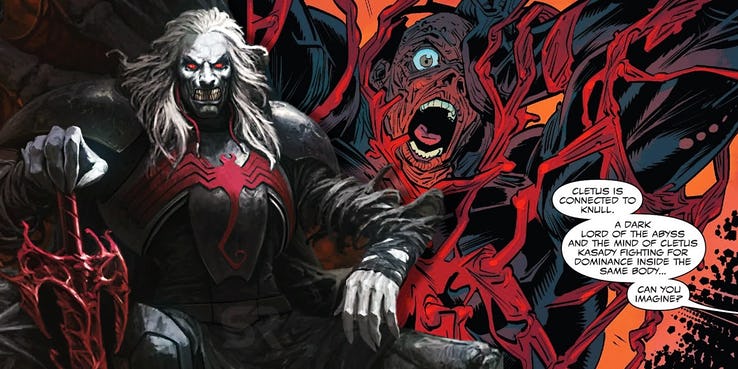 If it were only one, then Eddie Brock would be alerted about Carnage's come back, but the fact that there are many brain worms means a colossal fight is coming, and Brock might not be ready for it. 'Venom' was a blockbuster, but he is not as popular as the rest of the characters that Carnage is planning to eat.
The comic book issue ends with Brock on the floor, cowering in fear of what is to come, leaving us all in suspense. We have no idea which former Venom host could be devoured next by Carnage, but it's bound to make for an exciting and nerve-wracking story. It could also make for an incredible film with many crossovers.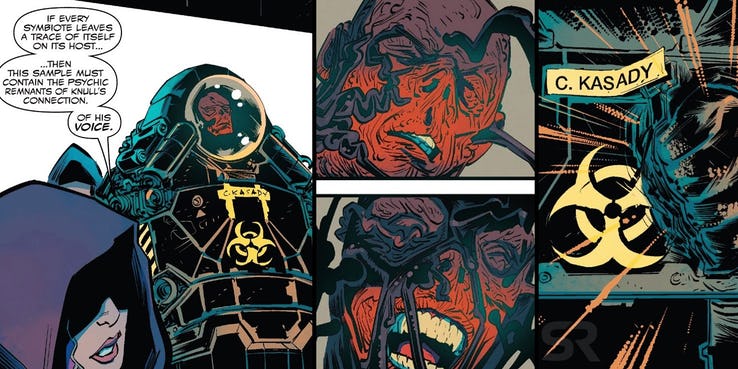 What do you think is going to happen next? How will Eddie Brock and the rest of the heroes fight against Carnage? This is going to be a bloodbath! If you liked this article, share it with your friends who love a good supervillain. See you next time!
Source: Screen Rant
Check out our most popular content: